US warplanes have dropped 40 tonnes of explosives on an island in northern Iraq to annihilate an Islamic State hideout.
F-15 and F-35 fighter jets were used in the joint operation between US-led coalition forces and the Iraqi Counter-Terrorism Service, which targeted Qanus Island in the Tigris River.
Footage of the attack on IS – also known as Daesh and ISIS – was released by the coalition in a tweet, saying: "Here's what it looks like when @USAFCENT #F15 and #F35 jets drop 36,000 Kg of bombs on a Daesh infested island."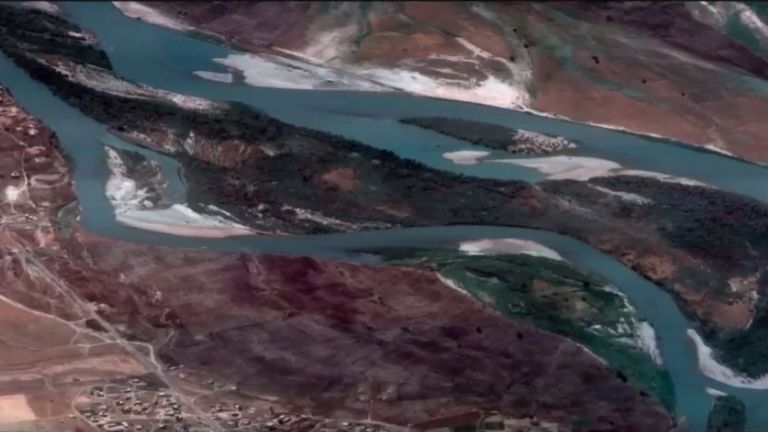 It showed aerial views of the mile-and-a-half-long island before, during and after its obliteration.
The island lit up as several dozens of bombs were dropped in quick succession, creating large explosions which unleashed huge plumes of fire and smoke into the sky.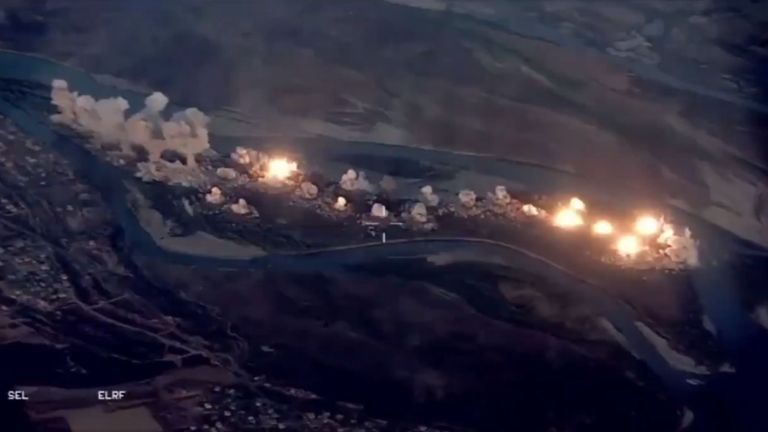 Soldiers and military vehicles could also be seen on the ground, against the backdrop of the airstrikes.
Based on the footage, the island did not appear to be inhabited, but areas on either side of the river, on the mainland, appeared to be settled. It is unclear if civilians were moved before the attack.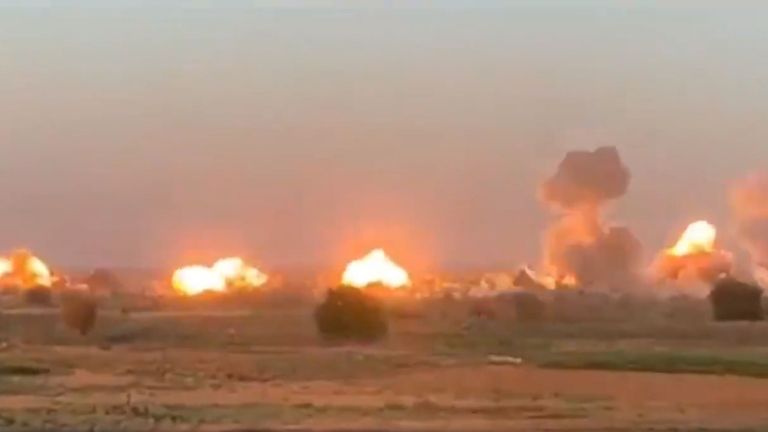 Major General Eric T Hill said: "We're denying Daesh the ability to hide on Qanus Island.
"We're setting the conditions for our partner forces to continue bringing stability to the region."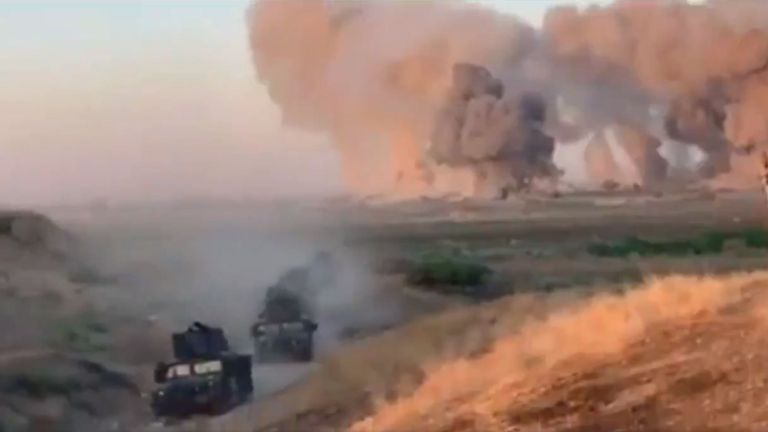 Follow-on ground clearance operations are currently being led by the 2nd Iraqi Special Operations Forces Battalion to destroy a major transit hub for IS fighters moving from Syria and the Jazeera desert into Mosul, Makhmour and the Kirkuk region.
In February, US President Donald Trump said coalition forces had "liberated virtually all of the territory previously held by ISIS in Syria and Iraq".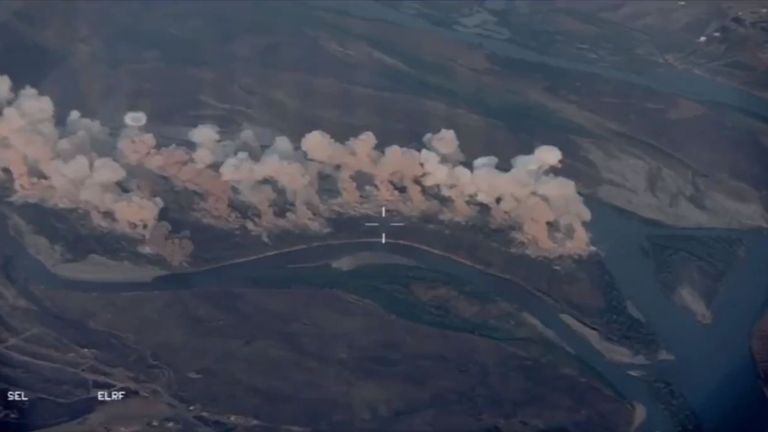 However, elements of the group remain active and it has been tied to numerous incidents in Iraq since.
The attack took place on the same day as Mr Trump announced that he had sacked his national security adviser John Bolton.
Mr Bolton – who was a strong supporter of the 2003 Iraq war – gave his own version of events, saying he had resigned.
Extinction Rebellion co-founder calls Holocaust 'just another f***ery in human history' | World News
Extinction Rebellion's co-founder, Roger Hallam, has caused outrage after telling a German publication that the Holocaust was "just another f***ery in human history".
In an interview with Die Zeit, the 53-year-old appeared to downplay the genocide of six million Jews by Nazi Germany and claimed Germans' attitude towards the massacre was holding them back.
He said: "The extremity of a trauma can create a paralysis in actually learning the lessons from it.
"The fact of the matter is, millions of people have been killed in vicious circumstances on a regular basis throughout history".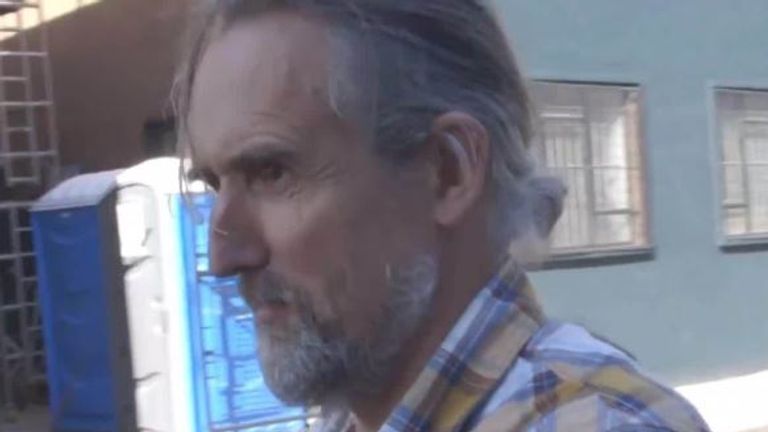 Hallam mentioned other mass killings during the last 500 years, including the Belgians' slaughter in the Congo, adding: "They went to the Congo in the late 19th century and decimated it."
He suggested that because other genocides had repeatedly taken place over the centuries, the Holocaust could be considered "almost a normal event".
His comments have been heavily criticised, with Germany's foreign minister, Heiko Mass, among those condemning them.
In a post on Twitter, he said: "The Holocaust is more than millions dead and cruel torture methods.
"To assassinate and destroy Jews industrially is uniquely inhumane. We always have to be aware of that, to make sure: never again!"
Extinction Rebellion's German branch has condemned Mr Hallam's comments and said he was "no longer welcome" in Germany.
In a post on Twitter, it said: "We explicitly distant ourselves from Roger Hallam's belittling and relativising statements about the Holocaust.
"In so doing he contravenes the principles of XR, which does not tolerate antisemitism, and he is no longer welcome in XR Germany."
Extinction Rebellion UK has also "unreservedly" denounced Hallam's comments.
In a statement, the group said: "Jewish people and many others are deeply wounded by the comments today.
"Internal conversations have begun with the XR Conflict team about how to manage the conflict process that will address this issue.
"We stand by restorative outcomes as preferable, although in some cases exclusion is necessary.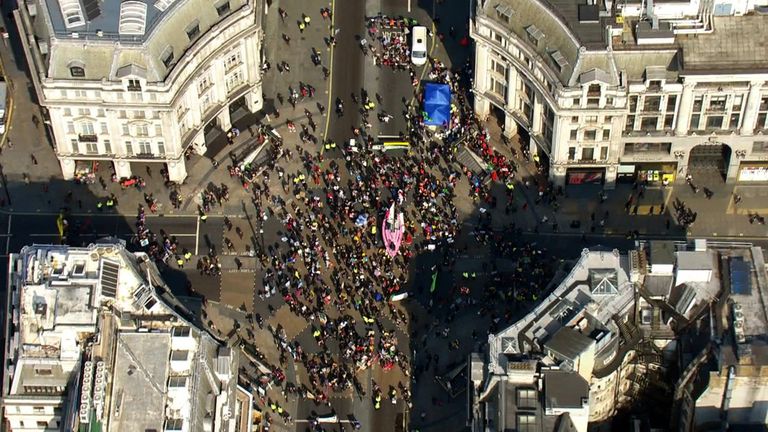 "Our 6th Principle states: 'We welcome everyone and every part of everyone working actively to create safer and more accessible spaces'. Our movement must be safe for Jews as well as all other minorities, marginalised peoples, and religious groups.
"We stand in solidarity with XR Germany, with Jewish communities, and with all those affected by the Holocaust, both in the past and in our times".
Mr Hallam's comments have also led to German publisher Ullstein announcing it would no longer publish his book, due to be released on Tuesday.
In a tweet, it said: "The Ullstein publishing house dissociates itself in form from current remarks of Roger Hallam.
"For this reason, his book 'Common Sense', originally announced for the 26.11.2019, will not appear. The delivery of the book was stopped with immediate effect".
Mr Hallam claimed his comments had been taken out of context, with The Guardian quoting him as saying: "I want to fully acknowledge the unimaginable suffering caused by the Nazi Holocaust that led to all of Europe saying 'never again'.
"But it is happening again, on a far greater scale and in plain sight. The global north is pumping lethal levels of CO2 into the atmosphere and simultaneously erecting ever greater barriers to immigration, turning whole regions of the world into death zones. That is the grim reality."
"We are allowing our governments to willingly, and in full knowledge of the science, engage in genocide of our young people and those in the global south by refusing to take emergency action to reduce carbon emissions," he added.
Patricia Devlin: Grandmother goes on hunger strike over climate change | Climate News
A 73-year-old grandmother has gone on hunger strike over Ireland's climate change policies, saying she fears for the kind of life her grandsons will have.
Patricia Devlin, a member of Extinction Rebellion, will give up food for four days in the hope of meeting Ireland's environment minister Richard Bruton to demand he does more to tackle the climate emergency.
Ms Devlin, who is originally from Australia, but has lived in Monasterevin, Co Kildare, for 20 years, launched her campaign outside the gates of the Irish parliament on Wednesday, while holding pictures of her grandchildren.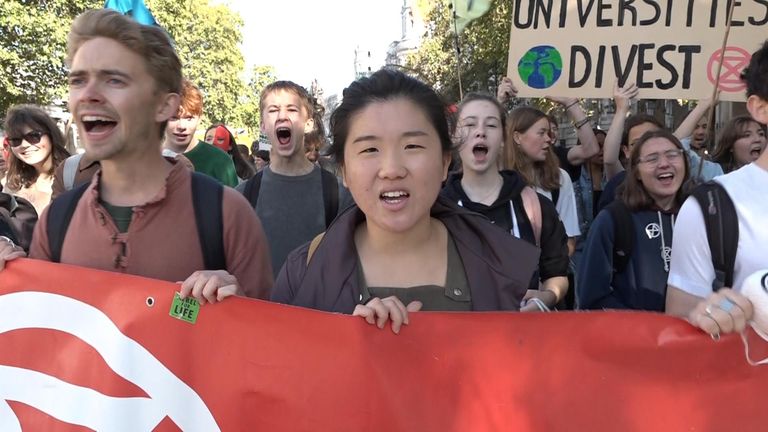 She said the arrival of Ollie, four, and baby Liam had sparked her back into action after 40 years as an occasional environmental activist.
"Since my grandchildren, they have just awakened in me a whole wonder at life. Being a parent is great but being a grandparent is just amazing," she said.
"You've got time to reflect on life in these little people and, knowing what's happening with climate change, I really fear for what kind of life will my grandsons have. Will they have a chance to have grandchildren like me?
"My emotion is wrapped up in fear that they won't enjoy the same blessings that we have."
Ms Devlin said she is blessed with good health for her age, and has done 48-hour fasts before.
Her strike, which runs until Sunday, began a week-long global action by Extinction Rebellion, which believes the current government's climate polices will not meet environmental targets.
"So far only six million euro has been set aside for climate change. They gave 16 million euro to the greyhounds, so it's not hard to see where we're at, really, it's not good enough," she added.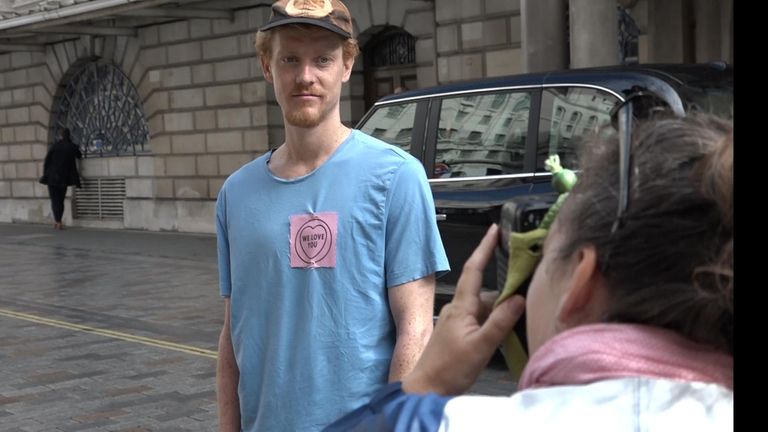 Much of this year's climate activism has been sparked by children and young people, and Ms Devlin said she believes older generations also have a duty to protect the planet.
"One of my regrets is that I didn't keep it up. Maybe if I did this 20 years ago and did it seriously then maybe I wouldn't need to be here today," she said.
British worker 'tortured' in China should tell Chinese officials, Hong Kong minister says | World News
A British consulate worker who claims he was tortured in Chinese detention should report the allegations to China, Hong Kong's justice minister has said.
Simon Cheng, who worked for the UK government in the former British territory, was arrested in August while returning from a trip to the mainland.
The Hong Kong citizen has alleged that secret police beat him, deprived him of sleep, forced him into stress positions and shackled him.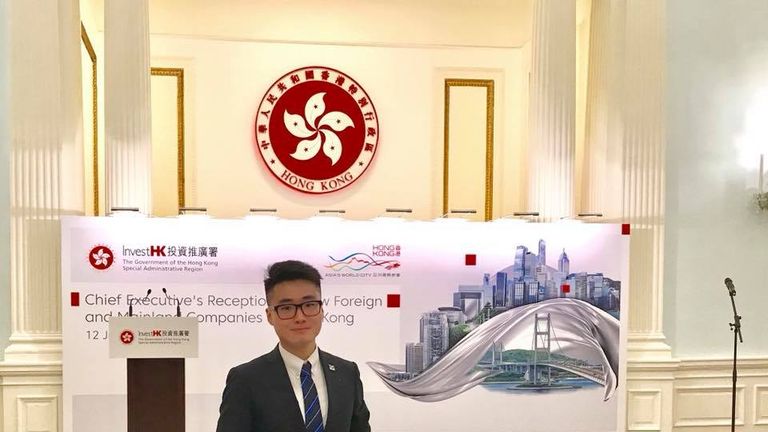 He accused them of trying to force him to give information about activists leading pro-democracy protests.
Justice minister Teresa Cheng, who is not related to the consulate worker, was asked about the case as she spoke to journalists for the first time since she was injured in London last week after being "besieged" by a group protesting against the Hong Kong government.
The justice minister appeared to draw parallels with her experience when asked whether she had raised Mr Cheng's allegations with Beijing.
"I have reported my incident to the police as soon as that happened and I would encourage him to do the same with the relevant authorities in the mainland," she said.
Asked if she was confident such a complaint could be launched, given Mr Cheng is accusing the Chinese police of torture, the minister said: "There is usually an avenue by which these matters can be aired."
Hong Kong might also be about to provide a route, but Ms Cheng said she had not yet received any information on the abuse allegations.
"I am sure when the matter is brought to my attention I will be looking at it and seeing what can be done in so far as it is within the laws of Hong Kong and the jurisdiction of Hong Kong," she said.
Pressed on what she personally thought about the allegations of abuse that he has made, she would not be drawn.
"There are many things that are often reported and sometimes it is extremely important to gather the whole facts, the veracity of it before any view is to be formed," she said.
"I prefer to hold my opinion until I have the opportunity to collect and analyse whatever information or evidence that I have."
Britain's foreign secretary said the treatment Mr Cheng allegedly suffered amounted to torture and summoned the Chinese ambassador to discuss the case.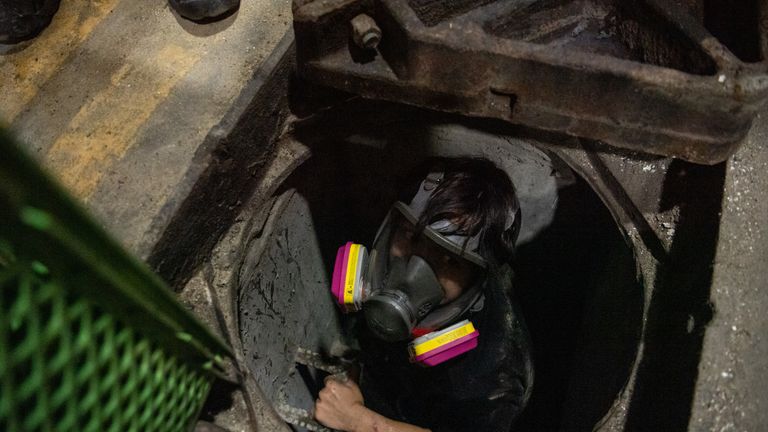 Mr Cheng was released in August after 15 days of detention in mainland China.
Authorities claimed he was detained for soliciting prostitutes, something China often uses against political targets.
Mr Cheng is a trade and investment officer in the Scottish Development International government agency, inside Britain's consulate in Hong Kong.
He failed to return to work on 8 August after a business trip to Shenzhen, which links Hong Kong to the Chinese mainland.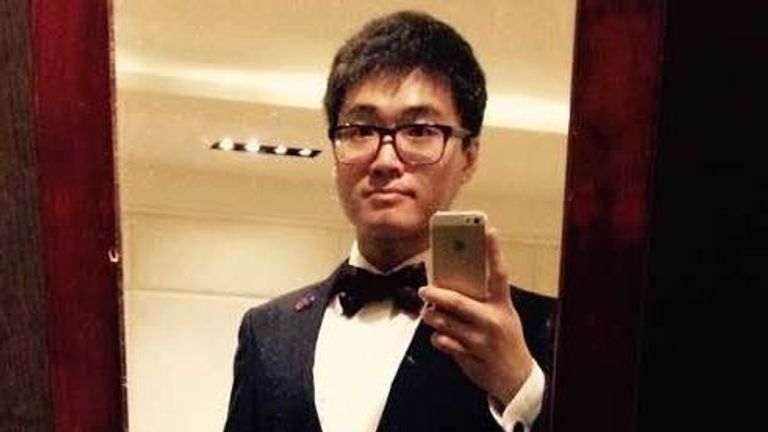 The justice secretary also revealed details about how she dislocated and fractured her left wrist after allegedly being pushed to the floor by protesters when she tried to attend a meeting in London last week.
"I was pushed to the ground after being besieged on my way to the venue," she said, describing the attack as being an "extension of Hong Kong's protests".