Jamal Khashoggi's final words were a plea to his killers not to cover his mouth because he suffered from asthma and could suffocate, according to a report.
The Saudi journalist was killed and dismembered by a Saudi hit squad at the Saudi Consulate in Istanbul on 2 October last year.
Mr Khashoggi, a Saudi dissident and US resident, had been visiting the consulate to obtain documents he needed to get married. He was killed soon after entering the building.
Recordings made before and during the killing were obtained by Turkish intelligence authorities and published on Monday by Turkish newspaper the Daily Sabah.
According to the report, in the moments before he was killed Mr Khashoggi had pleaded: "Don't cover my mouth. I have asthma, don't do it. You'll suffocate me."
Included in the transcript are gruesome discussions of how Mr Khashoggi would be killed and his body sawed into pieces.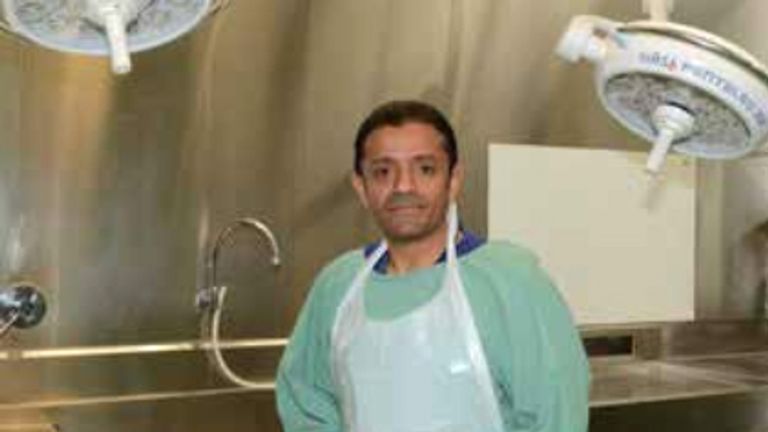 Minutes before the journalist arrived at the consulate, Dr Salah Muhammed Al-Tubaigy, the head of forensic evidence at the Saudi General Security Department, was recorded saying: "Actually, I've always worked on cadavers. I know how to cut very well. I have never worked on a warm body though, but I'll also manage that easily.
"I normally put on my earphones and listen to music when I cut cadavers. In the meantime, I sip on my coffee and smoke.
"After I dismember it, you will wrap the parts into plastic bags, put them in suitcases and take them out."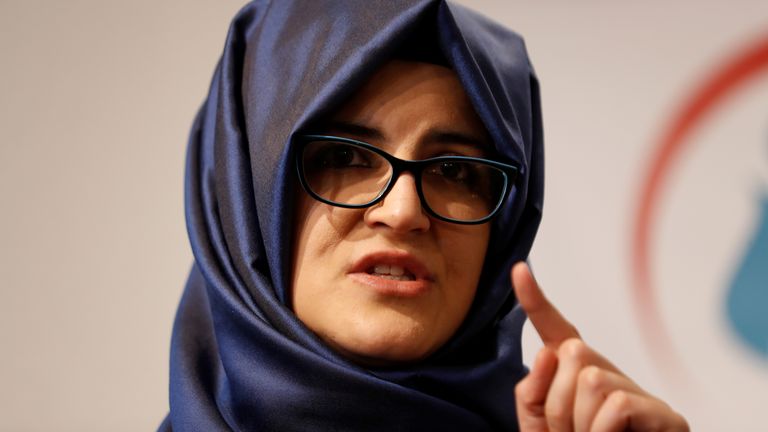 When Mr Khashoggi arrived at the consulate he was politely invited to an office on the second floor but he became suspicious and was pulled by the arm as he said: "Let me go, what do you think you're doing?"
When Mr Khashoggi was in the room with his killers, Maher Mutreb, a senior Saudi intelligence officer and the bodyguard of Saudi Crown Prince Mohammed bin Salman, told him he must be returned to the Saudi capital Riyadh.
Mutreb said: "Please sit. We have to take you back [to Riyadh]. There is an order from Interpol. Interpol demanded you be returned. We are here to take you."
Mr Khashoggi responded: "There are no lawsuits against me. My fiancee is waiting outside for me."
Later he was told to write a message to his son telling him not to worry if he is not heard from but he said: "I will write nothing".
Mutreb was later heard saying: "Help us, so that we can help you. Because in the end, we will take you to Saudi Arabia and if you don't help us, you know what will happen in the end."
Mr Khashoggi said: "There is a towel here. Will you have me drugged?"
Mutreb replied: "We will put you to sleep."
After Mr Khashoggi was drugged and suffocated, his body was cut into pieces, a process that lasted about 30 minutes in the recording.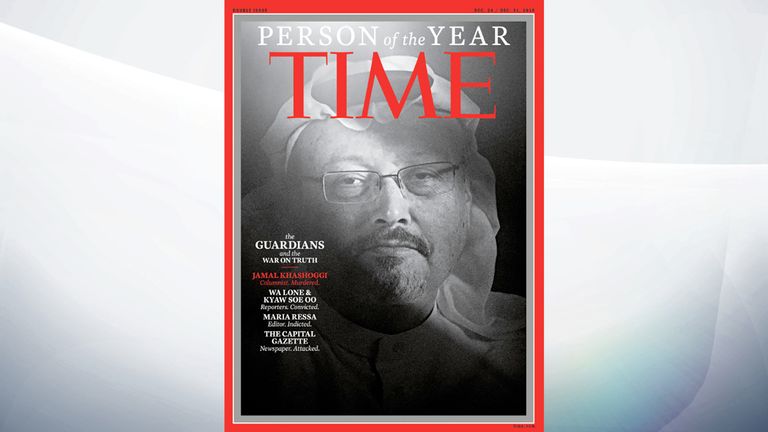 Some of the details were in a United Nations report on the murder, which was released in June.
The report blamed the Saudi state for the killing, saying that Crown Prince Mohammed bin Salman's possible role should also be examined.
Saudi Arabia had offered a number of different explanations for what had happened but eventually settled on blaming rogue officials during a brawl in the consulate.
Eleven people are being tried in private proceedings inside the kingdom.
Mr Khashoggi's remains have never been found.
Saudi Arabia drone attacks – Johnson refuses to rule out military action | World News
Britain has formally identified Iran as being behind drone and missile strikes on Saudi Arabian oil fields, raising the chance of the UK joining military efforts in the Middle East.
Boris Johnson says the UK government is attributing responsibility to the regime in Tehran "with a very high degree of probability".
Flying to New York for the UN General Assembly, the prime minister said he wanted to "de-escalate tensions" but refused to rule out taking part in any coordinated military action if Britain is asked to do so.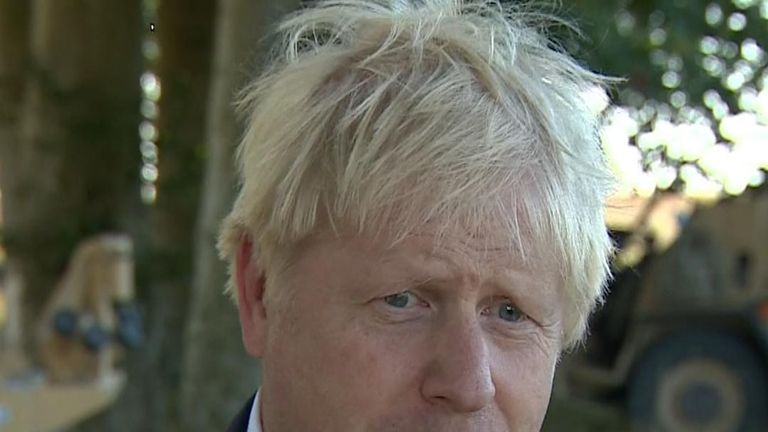 The UK has followed the United States and Saudi Arabia in pointing the finger of blame at Iran, rather than accepting the claims of responsibility by Houthi rebels for the attacks a week ago – the Iranians have denied any involvement.
Drone and cruise missile strikes crippled the Khurais oil field and Abqaiq oil processing facility in eastern Saudi Arabia, a key part of the country's oil production infrastructure.
Mike Pompey, the US Secretary of State, has called the attacks an "act of war".
Mr Johnson has made it clear that he was prepared to consider all requests for assistance as he prepares to meet both President Donald Trump and President Hassan Rouhani of Iran in the sidelines of the UN meeting.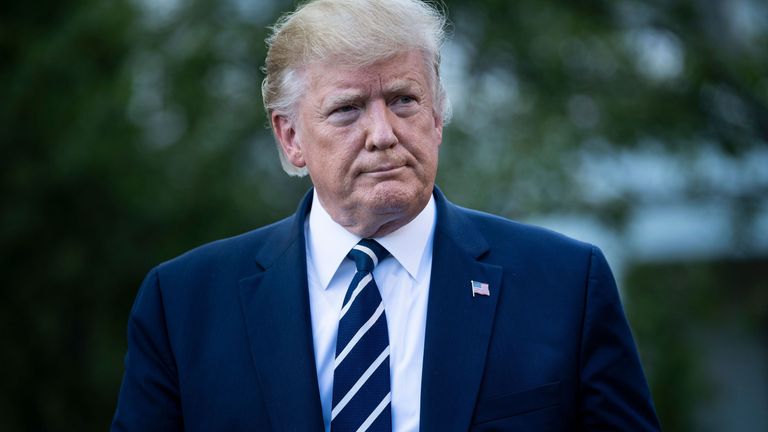 Speaking to reporters, Mr Johnson said: "Everyone wants to do what they can to bring the world together in response to what happened in Saudi Arabia in our management of Iran.
"The UK is attributing responsibility with a very high degree of probability to Iran for the Aramco attacks. We think it is very likely that Iran was indeed responsible. Using both UAVs, both drones and cruise missiles. The difficulty is how do we organise a global response – what is the way forward?
"We will be working with our American friends and our European friends to construct a response that tries to de-escalate tensions in the Gulf region."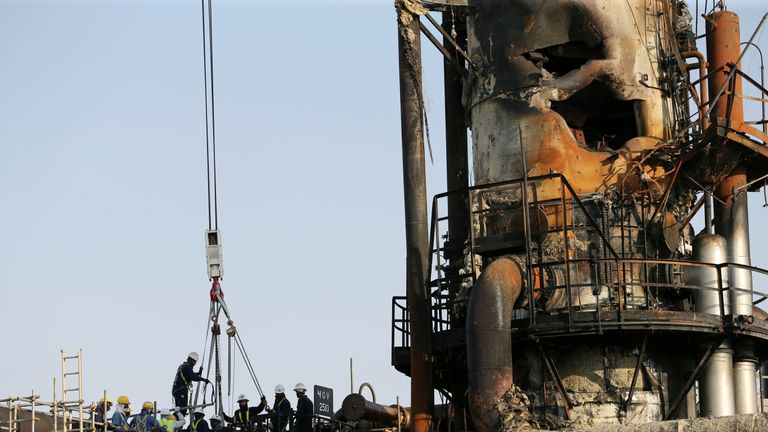 Britain is understood to have concluded that the Houthis claim it is responsible is implausible, based on imagery which sources said show remnants of Iranian-made missiles that have a range and sophistication inconsistent with the Houthis.
This level of sophistication, Britain believes, points to Iranian involvement which the British government has conclude is implausible without authorisation by the Iranian government
Asked whether he would rule out military action and stick with the Iran nuclear deal, Mr Johnson replied: "Well – on what kind of action we could take, you'll have seen the Americans are proposing to do more to help to defend Saudi Arabia.
"We will be following that closely and clearly if we are asked by the Americans or Saudis to have a role, we will consider in what way we can be useful."
Pressed on whether this could mean Britain taking part in military action, he replied: "We will consider all (options) if asked and depending on what exact plan."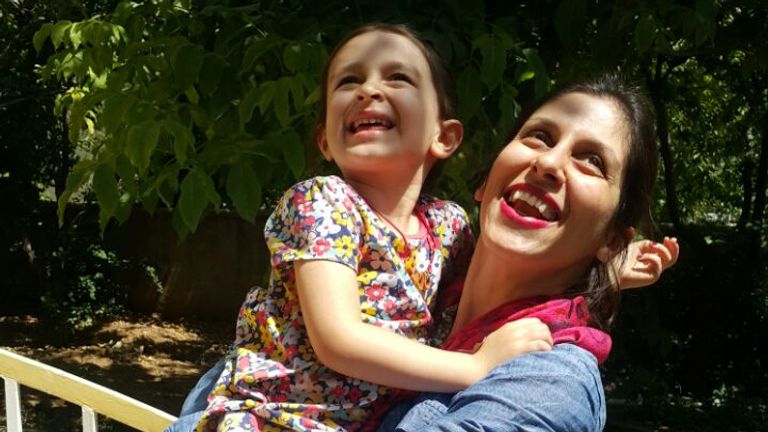 Mr Johnson said he would be raising the case of Nazanin Zaghari-Ratcliffe, the British Iranian jailed national when he meets with President Rouhani.
"On Nazanin Zaghari-Ratcliffe and other very sad dual national consular cases held in Tehran, as you can imagine in the course of my talks with President Rouhani which I will also be having – in my talks with President Rouhani I will not only be discussing Iran's actions in the region but the need to release not just Nazanin but others, and I will argue they are being illegally held."
Archie heads to South Africa for first royal tour with mum and dad | World News
Harry and Meghan's baby Archie will arrive in South Africa with his parents this morning for their first official tour as a family.
It is unclear how soon the Duke and Duchess of Sussex will be seen with their son after their arrival in Cape Town, as there is no formal photo opportunity at the airport.
The palace said this was due to South Africa's president Cyril Ramaphosa being at the United Nations General Assembly in New York. Buckingham Palace said earlier this month that they were hoping Archie would make a public appearance but were sorting out the details.
The palace said the couple are looking forward to the 10-day tour which will see them visit Cape Town and Johannesburg, with Prince Harry also travelling alone to Botswana, Angola and Malawi.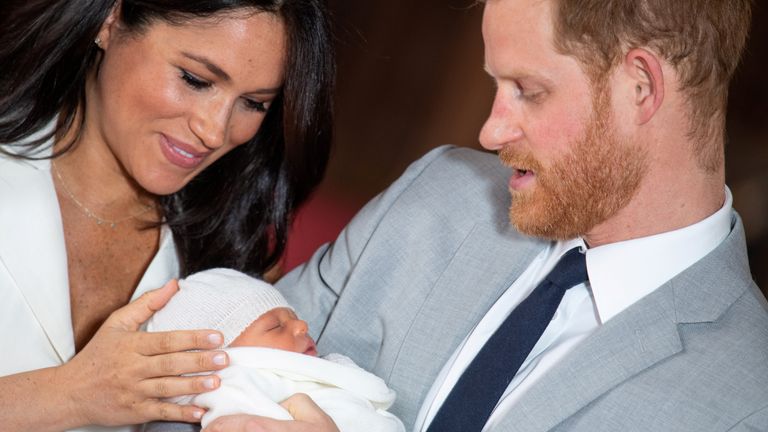 The prospect of seeing five-month-old Archie on his first overseas tour has increased international media attention, with 80 travelling media accredited to cover the trip, along with another 300 local journalists, TV crews and photographers.
It comes after a difficult summer for the Sussexes, including criticism of the £2m bill to refurbish Frogmore Cottage, and suggestions they were being hypocritical for using private jets for their holidays while campaigning about issues around climate change. Some royal commentators see this tour as an opportunity to rebuild their reputation.
One of the issues the couple will focus on is gender-based violence, as their visit follows a series of protests in South Africa against the increase in the number of women being raped and murdered. Mr Ramaphosa admitted the country is facing a national crisis of violence against women, and Meghan is expected to show support for those campaigning on the issue.
Zintle Olayi, the Cape Town spokesperson for #TheTotalShutdown intersectional women's movement, told Sky News: "I think our country is really broken, and we're not ok and I'm not sure really how we are going to receive them coming here but definitely it couldn't hurt to have someone of that profile or that magnitude to speak on the issues of gender-based violence."
Talking about the impact Meghan could have, Ms Olayi added: "It means the state will take us seriously, the private sector will take us seriously and in general men in South Africa will take us seriously, seeing someone as Meghan speaking against the behaviour men inflict on women on a daily basis."
:: Listen to the Behind the Headlines podcast on Apple Podcasts, Google Podcasts, Spotify, Spreaker
The first engagement of the tour will be at a township in Cape Town where the Sussexes will view a workshop that teaches children about their rights, self-awareness and safety and which provides self-defence classes and female empowerment training to young girls in the community.
They will then go to the District Six Museum to learn about how they are reuniting members of the community forcibly relocated during the apartheid era, when more than more than 60,000 people were forced to leave their homes.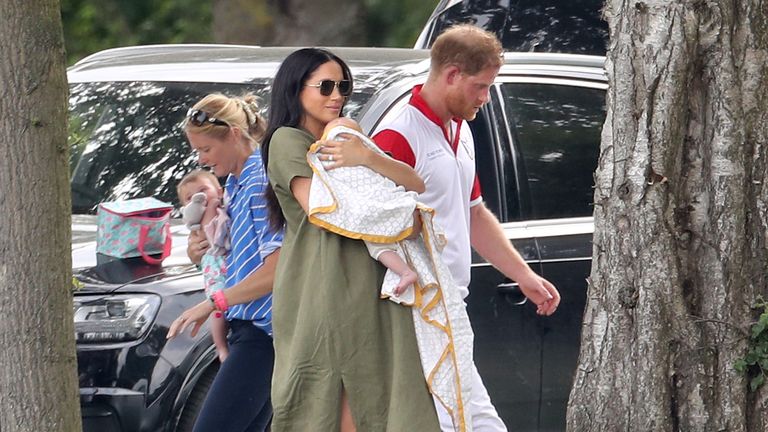 Shahied Ajam was living there at the time and now helps those still fighting to return. Speaking about the royal visit and the painful legacy of apartheid, he said: "For Prince Harry to come here, I must say, is a big step towards the what we call the healing process. If people see Harry and talk to him, maybe he will understand and identify with their plight."
He added: "In regards to the history of the English, or Britain, in this country, if we speak in terms of colonialism we can't wipe that away but Harry being of a new generation can turn the tables with a gesture. With a practical and tangible gesture to say to the people of District Six: 'I'm here for you'."
<a href='https://news.sky.com/story/sky-views-athletics-is-rarely-mentioned-and-it-only-has-itself-to-blame-11817526' target='_blank'>Athletics is rarely mentioned and it only has itself to blame</a>


<a href='https://news.sky.com/story/sky-views-athletics-is-rarely-mentioned-and-it-only-has-itself-to-blame-11817526' target='_blank'>Athletics is rarely mentioned and it only has itself to blame</a>

Source link