An employee adjusts bottles of Bud Light brand beer at an Anheuser-Busch InBev NV facility in Virginia, U.S., on August 8, 2018.
Andrew Harrer | Bloomberg | Getty Images
Anheuser-Busch InBev said on Thursday it is continuing to explore an initial public offering in Hong Kong of its Asia Pacific unit, Budweiser Brewing Company Asia Pacific, two months after saying it will not proceed with the planned listing.
The company's Asia Pacific unit has resumed its application for the listing of a minority stake of its shares on the Hong Kong Stock Exchange, it said on Thursday, adding no assurance can be given on whether the transaction will be completed.
AB InBev, the world's largest brewer, was aiming to sell as much as $9.8 billion in Budweiser stock to seek relief from its heavy debt burden before pulling out of the planned listing in July.
The resumption of the listing plans come as a boost for the Hong Kong Stock Exchange after Reuters reported last month that China's biggest e-commerce company Alibaba Group Holding had delayed its up to $15 billion listing in Hong Kong amid growing political unrest in the Asian financial hub.
The development comes after Hong Kong Exchanges and Clearing unveiled a $39 billion takeover approach to the London Stock Exchange on Wednesday that received a cool response from investors concerned about its regulatory and financial hurdles.
'Disaster' for Hong Kong if it loses status as financial center: China Citic Capital
If Hong Kong loses its status as one of Asia's top financial centers, it would be disastrous for the Asian financial hub, said the founder and chief executive officer of Citic Capital.
There is "no lack of competition for financial centers," said Zhang Yichen, who is also chairman at the investment firm — a Hong Kong-based alternative investment arm of the Chinese financial conglomerate Citic Group.
Investors can turn to other cities like Singapore, Tokyo and Shanghai to access global capital markets, he told CNBC's Amanda Drury at the Singapore Summit on Saturday.
"I think if Hong Kong doesn't shape up, you shouldn't have a sense of entitlement (that) it has to be the financial center," he said. If the territory should lose that status, it "spells disaster because that's the only industry these days that's competitive."
Protests in Hong Kong erupted more than three months ago over a now-withdrawn extradition bill, which would have paved the way for suspects in Hong Kong to be sent to mainland China for trial. While the pro-democracy protests started out as relatively peaceful in June, they have since turned increasingly violent.
Hong Kong protestors on Sunday trampled on a Chinese flag, vandalized a subway station and set fire across a wide street, the Associated Press reported.
I don't believe Shanghai and other Chinese cities can actually replace Hong Kong … If (Hong Kong) squanders that on its own, it'll be a shame.
Zhang Yichen
Citic Capital
Formerly a British colony, Hong Kong returned to Chinese rule in 1997. It is one of China's special administrative regions and is governed under the "one country, two systems" principle, which gives its citizens certain economic and legal freedoms not given in mainland China.
Zhang said the city has its advantages over other Chinese cities like Shanghai because of the "one country, two systems" policy.
Hong Kong's legal system is similar to what is followed in a lot of countries around the world, which gives investors a certain level of comfort, he said. In addition to that, its proximity to the Chinese mainland is another plus point for investors, he added.
"From that perspective, I don't believe Shanghai and other Chinese cities can actually replace Hong Kong," he said. "If (Hong Kong) squanders that on its own, it'll be a shame."
However, the violence and chaos have crippled the city and disrupted daily life, and in turn, hurt businesses and dented investor sentiment.
Zhang said the protests have not affected Citic Capital's business since it invests mostly either in China or around the world. "Hong Kong is just a base for us where a lot of our senior colleagues live and work," he added.
Citic Capital says on its website it manages more than $26 billion of capital. Last month, the firm said it raised $2.8 billion in its fourth China buyout fund and would look at China-focused investment opportunities in sectors such as consumer, health care and technology.
— Reuters and CNBC's Grace Shao contributed to this report.
'Game of Thrones' ends run with best drama award, 59 total Emmy Awards
D. B. Weiss (C, speaking), David Benioff (3rd L) and cast and crew of 'Game of Thrones' accept the Outstanding Drama Series award onstage during the 71st Emmy Awards at Microsoft Theater on September 22, 2019 in Los Angeles, California.
Kevin Winter | Getty Images Entertainment | Getty Images
Despite mixed fan and critic reactions to the final season of "Game of Thrones," the eight-season epic took home the top prize in the drama category at the Emmy Awards on Sunday.
Closing out the 71st annual television awards ceremony, David Benioff and D.B. Weiss thanked creator George R. R. Martin for entrusting his book series to the young producers more than a decade ago and praised the cast and crew for their work on the program.
Since 2011, HBO's "Game of Thrones" has garnered 160 Emmy nominations and taken home 59 prizes for everything from acting and editing to special effects and sound mixing.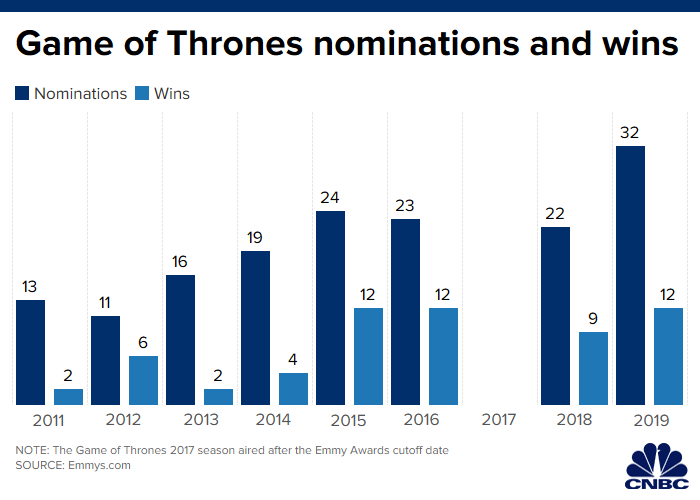 On Sunday, the program earned two Emmys, one for outstanding supporting actor, which went to Peter Dinklage for his portrayal of Tyrion Lannister, and one for outstanding drama.
Earlier in the month, "Game of Thrones" won 10 additional awards during the Creative Arts Emmy ceremony.
"Game of Thrones" final award tally falls short of the 67 Emmys that "Saturday Night Live" has accrued over its 44 seasons. "SNL" earned two statues on Sunday, one for outstanding variety sketch series and one for outstanding directing.
The final season was widely criticized by fans who felt the pacing and its treatment of previous character developments were not up to par. Still, the show continued to have record-breaking viewership.
Each episode, save for one, topped viewer counts from the season seven finale, which was the series high prior to season eight's release.
Disclosure: Comcast is the parent company of NBCUniversal and CNBC.
Chinese theft of trade secrets is on the rise, US DOJ warns
As President Donald Trump puts pressure on Beijing to end unfair business practices, the Department of Justice has a warning for companies: Bolster your defenses.
"More cases are being opened that implicate trade secret theft" — and more of them point to China, said U.S. Deputy Assistant Attorney General Adam Hickey.
Since 2012, more than 80% of economic espionage cases brought by the department's National Security Division have implicated China. The frequency of cases has been rising in recent years, according to Hickey.
If you are looking for a smoking gun and you wait for it, you might end up with a gunshot.
Adam Hickey
US Deputy Assistant Attorney General
"That may be because the victims are more attentive to what's happening, which is a good thing," Hickey told CNBC in Singapore on Saturday. "They may be more comfortable reporting to law enforcement, which is a good thing. They may be fed up, which is also a good thing."
The Justice Department launched the "China Initiative" in November 2018 with the aim of countering Chinese national security threats. It does so by identifying and prosecuting trade-secret and intellectual property (IP) theft, hacking and economic espionage.
'State-sponsored theft'
China has accused the United States of trying to protect U.S. firms from competition and block China's technological development.
Hickey is unequivocal in his defense of the Justice Department's motives.
"We expect other nations will want to become self-sufficient in critical technologies. That's what we'd expect of a responsible government," he said. "The issue isn't that China has set out to do that. It's that part of their industrial policy, part of the way they try to accomplish that, is state-sponsored theft or creating an environment that rewards or turns a blind eye to it."
He pointed to evidence of such behavior allegedly linked to the "Made in China 2025" strategic plan. The Chinese government introduced the plan in 2015, designed to reduce dependence on imported technology in 10 priority industries including robotics, IT, aviation, railway transport and biopharma. "We've charged cases, I believe, in eight of those 10 sectors, IP theft cases," Hickey said.
The justice department's China Initiative also puts an emphasis on cybersecurity threats and telecommunication vulnerabilities.
Hickey declined to comment on Chinese telecommunication giant Huawei as it is currently the subject of two prosecutions in the United States.
However, he weighed in on the perceived threat to national security from telecom companies and supply chains more broadly. "It's going to matter where that company is located and whether they can be leveraged to comply with an intelligence service without regard to the rule of law that has to be relevant," he said.
Huawei CEO and founder, Ren Zhengfei, told CNBC in April that his company would "never install a back door" on its equipment — even if ordered by the Chinese government to do so. Ren said: "It would be impossible for us to provide customer information to any third party."
Experts, however, have told CNBC that Huawei will have no choice but to comply with the Chinese government's requests.
Hickey stressed the need to look not only at whether there is a so-called back door or an intentional vulnerability, but also at whether there's intent and capability of a government to leverage that company.
"If you are looking for a smoking gun and you wait for it, you might end up with a gunshot," Hickey warned.