Pinyo Pukpinyo's job is not for the faint hearted – he's Bangkok's number one snake catcher.
The Thai firefighter has been doing the job for 16 years and with the number of call-outs rising every year, his services are in high demand.
Already, the force has responded to more than 22,000 snake intrusions this year, and the latest is a 53 year old man who has called to say a python is eating his chickens.
With no trace of fear, Pinyo enters the coup to find the culprit curled up behind a pot.
A big bulge in its belly shows it has swallowed a chick whole.
The owner watches behind the safety of a wall of chicken wire as Pinyo, 50, inspects the python which hisses and lunges for his hand.
"It's small, just a baby" he tells us unperturbed, before quickly grabbing it by the tail and deftly putting it in a bag to be taken to the fire station.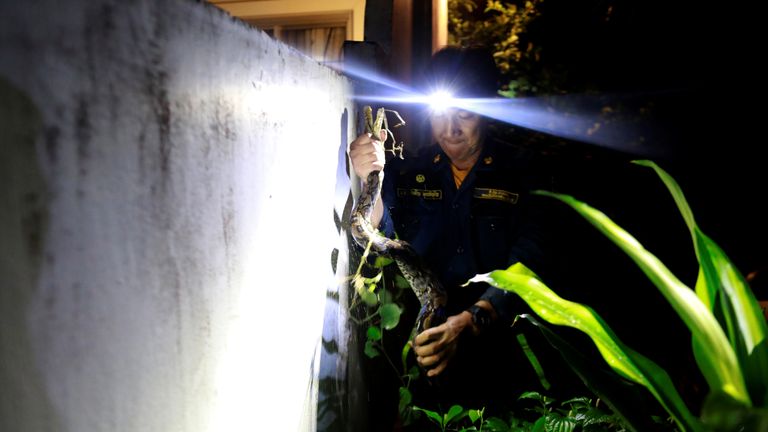 Rapid urbanisation and heavy rain mean encounters are common in Bangkok, with residents reporting snakes hiding under houses, on roofs and even in toilets.
In 2018, city authorities received more than 37,000 snake call-outs, an 8% increase from the year before.
"About 70% are pythons," Pinyo says, "The biggest [I've found] was around five metres long."
"Can that kill you?" I ask.
"Yes, it can wrap itself around your body."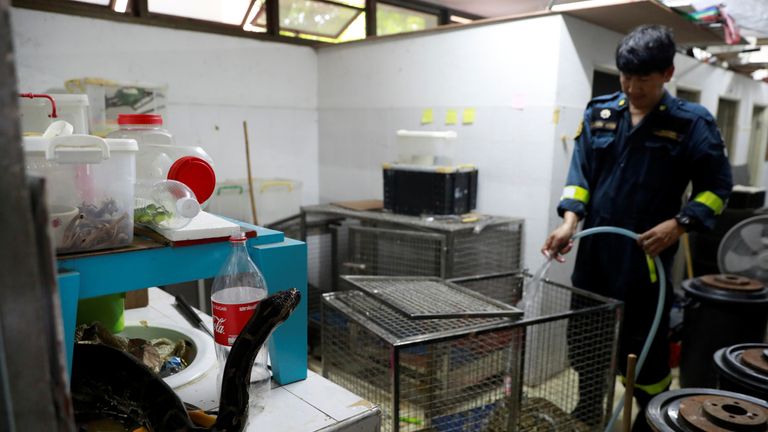 There are approximately 200 species of snake in Thailand and around 60 are venomous.
A scar running along the length of Pinyo's hand is a reminder of how dangerous some can be.
The skin rotted away after he was bitten by a venomous king cobra during his training.
Despite this he says people shouldn't be afraid, adding: "A snake will only attack if it's scared or we go near it but if we stay away most snakes will try to escape. Most are scared of humans."
During the morning, he rescues a 2.5 metre python stuck in a net, a bright green snake hanging in a wardrobe and a one hiding under some pot plants.
All of the snakes are brought back to the fire station where they are kept before being given to the authorities who release them back into the forest.
Among those waiting to be freed are four massive pythons caught in the city.
One of them is seven metres long and strikes at the camera as we go near.
Undaunted by its size, Pinyo is calm as he holds it gently while it wraps itself around his leg and waist.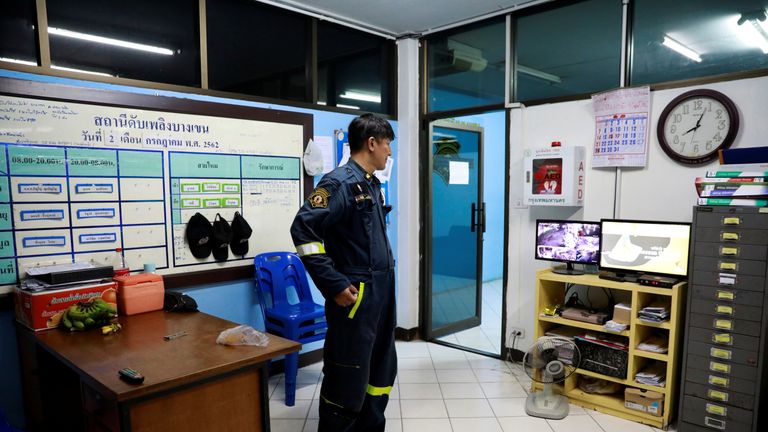 In just one day this year he received a record 100 calls.
But he believes the high numbers are positive because in the past people may have just killed the snakes they found but now they are being safely removed and released.
It's a rewarding sight for this snake wrangler as he and his team work to protect the humans and beasts of Bangkok.
KSI vs Logan Paul 2: British YouTuber wins boxing fight against social media rival | World News

British YouTuber KSI has won his highly anticipated boxing rematch against US social media star Logan Paul.
Both fighters were knocked to the ground at different points in the contest that lasted six rounds in Los Angeles.
Two judges scored the fight 57-54 and 56-55 in favour of KSI, with one judging scoring it 56-55 in favour of Paul.
The British internet star, whose real name is Olajide William "JJ" Olatunj, said after his victory: "KSI was scared to fight last time, scared to touch him, this time I went in there.
"Your boy has done it, I am victorious.
"I'm a dog, I keep saying it. I'm a fighter and I keep going!"
KSI has just over 20 million subscribers on his YouTube channel, while Paul has about 19.9 million subscribers on the site.
The two men fought a rematch after their major amateur bout at the Manchester Arena ended in a draw last year.
The pair traded insults before their bout at the Staples Centre in Los Angeles on Saturday.
KSI had to clarify remarks he made after telling his rival "you're going to f****** die" at a news conference.
He tweeted afterwards: "Just want to clarify a statement I made yesterday at the press conference.
"I don't intend to kill Logan physically tomorrow, I only intend to kill his YouTube career and spirit.
"After this fight, I still want Logan to be alive and well."
Australia bushfires: Firefighters urge residents to take action now | UK News
Australian firefighters trying to contain bushfires have warned people to take action now because they "may not get help" on Tuesday.
The New South Wales Rural Fire Service (NSW RFS) said on Sunday that they were expecting severe and extreme fire dangers across broad parts of the country's most populous state, including near the nation's largest city, Sydney.
The NSW RFS wrote on Twitter: "Tuesday 12 November will be a dangerous day. Widespread areas of severe and extreme fire danger.
"With so many fires already burning, homes and lives will be at risk. If you are threatened by fire, you may not get help. Start taking action now."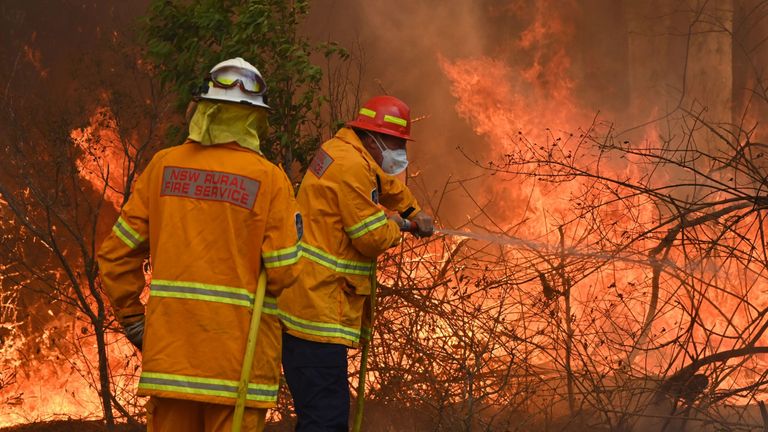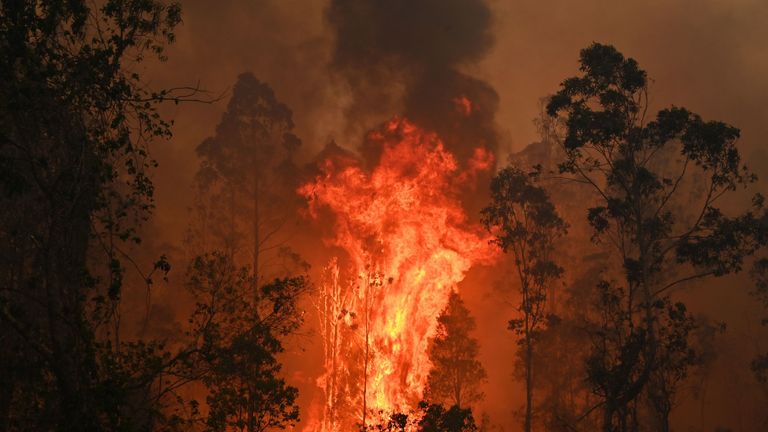 Bushfires in New South Wales have killed three people and at least 150 homes have been destroyed since Friday, when a record number of emergency-level fires were declared in the state.
More than 30 people are injured and about 350 koalas have been killed in the town of Port Macquarie in New South Wales.
The daughter-in-law of Vivian Chaplain, who was one those who died, spoke to the 69-year-old on the phone before her death.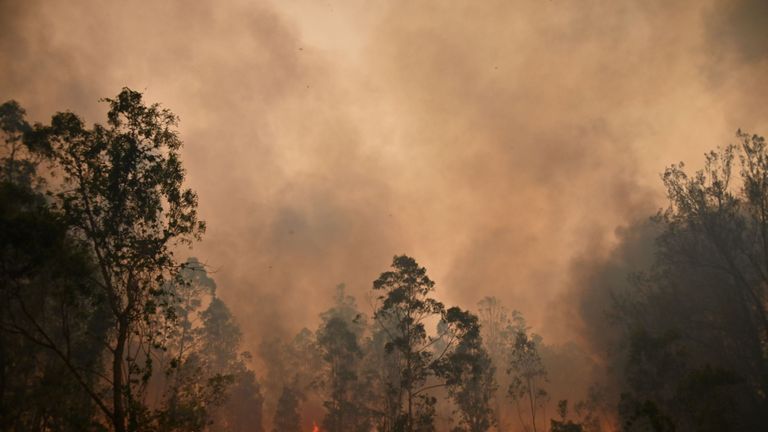 Chrystal Harwood said: "I was the last one to speak to her. She was in absolute panic. She said, 'We're on fire. There's fire everywhere. I need the boys here now.'
"Before I even got to tell her to just get out, she'd hung up on me. I couldn't get back through to her. I tried so many times."
The road to Mrs Chaplain's house was described as a "tunnel of fire" in an appeal for help on social media.
She died in hospital after being found unconscious with serious burns.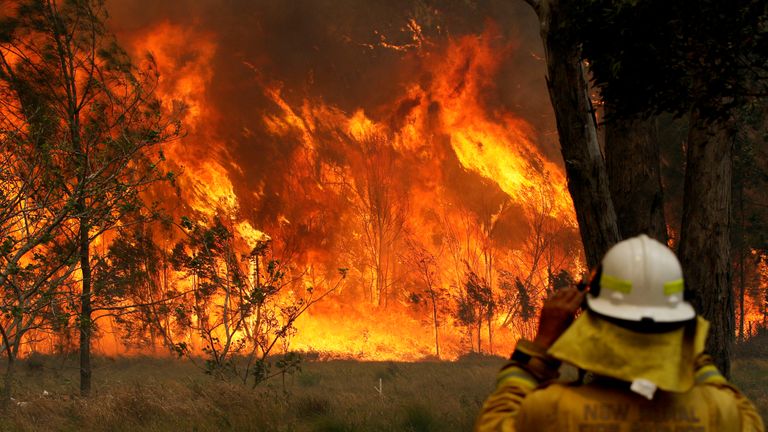 Rural fire service commissioner Shane Fitzsimmons said the most intense fires have been seen in the northeast of New South Wales, where flames have been fanned by strong winds.
He added that firefighters found a body in a burned car near Glen Innes on Saturday.
Five others who were missing have reportedly been accounted for.
More than 70 fires were burning in New South Wales on Sunday morning and, while none were at emergency level, 36 were not under control.
More than 50 fires were burning further north in Queensland on Sunday morning – and the lightning of any outdoor fires and certain activities that could cause fires have been banned in 42 local areas across the state.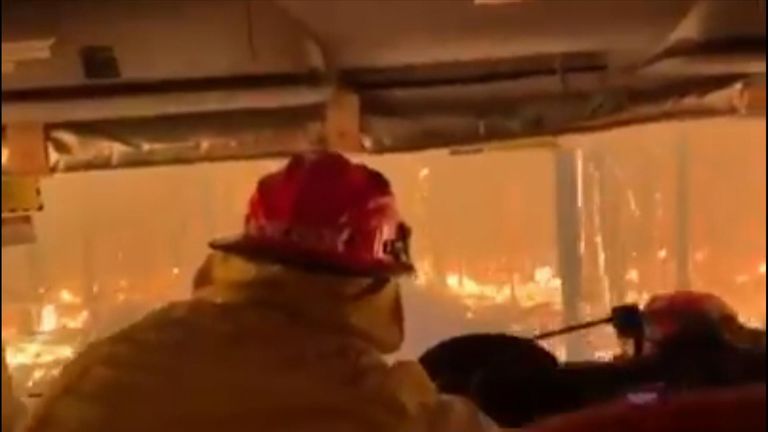 Queensland Fire and Emergency Services acting commissioner Mike Wassing said in a statement: "We're experiencing tinder box-like conditions across much of the state and all it takes is one spark to start a fire that may burn for days."
Almost 5,000 homes have been evacuated in Queensland over the last 48 hours with many residents unable to return, according to the Australian Broadcasting Corporation.
The annual Australian fire season which peaks during the Southern Hemisphere summer has started early after an unusually warm and dry winter.
Mr Fitzsimmons said little reprieve in fire conditions could be expected over the next week or throughout the summer months of December, January and February.
He continued: "The forecast for the balance of the season continues to be driven by above-normal temperatures (and) below-average rainfall to dominate over the coming months."
US has left many allies bewildered and stranded – they deserve better | World News
Lieutenant General Sir Graeme Lamb is the former Director of UK Special Forces and the ex-Deputy Commander of US-led forces in Iraq.
Here, he explains why he believes America's decision to pull troops from Syria and abandon the Kurds who helped fight IS is shameful
I met Captain Lewis 'Bucky' or 'Buckshot' Burruss Jnr from the United States in the autumn of 1977, in an old wooden building which passed for an officers' mess at Bradbury Lines.
Both of us were in the midst of SAS selection, but the contrast could not have been starker, whether in age or experience. He was a highly decorated Special Forces officer and I was not. Yet as I got to know my American brother in arms, our outlook, it turned out, could not have been more similar.
Four decades on those shared values that underpinned our outlook then and that have for more than a century nobly served the US and British Armed Forces' collective purpose is today in question, not among those in uniform, but under this current US administration.
Of course, America must do what America believes to be right.
But all that it stands for – a beacon for so many other like-minded nations and alliances – is part of its own and our wider collective defence; it is who we are.
Such questioning was unimaginable in 1977 as Bucky and I attempted selection into the Special Air Service (SAS).
The gap in operational experience was significant. He had been commissioned in 1966, completed two long tours in Vietnam and had been awarded the Silver Star, four Bronze Stars, the Air Medal and three Vietnamese Crosses of Gallantry.
I, on the other hand, had turned up in a blazer at the Royal Military Academy Sandhurst straight from school in 1971.
Bucky retired from Delta Force in 1987, while I went on to serve in Her Majesty's Armed Forces for 38 years – striving to emulate, though never coming even close, his formidable military courage and outstanding leadership.
One particular place where we did meet as equals, however, and from day one, was the moral battlefield – where values are tested and character is built. There, we were like two peas in a pod.
We fiercely believed in duty, honour and sacrifice. We appreciated that freedom was not – nor ever had been – free, and considered that what one did and what one stood for in life ultimately constituted the measure of one's worth.
Such unconditional willingness to fight for something greater than self matters immensely in a world that too often rewards greed, vanity and shallowness.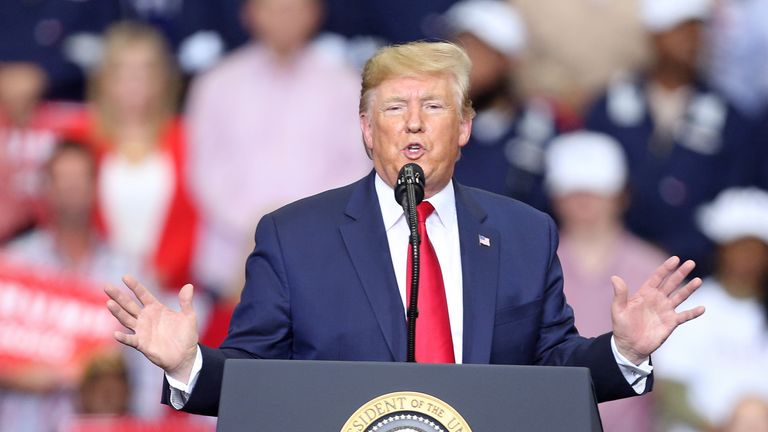 Bucky and I operated under the simple – yet liberating – understanding that luck, opportunity and at times unfairness would impact every decision, every action, and every outcome in our military lives.
We did not seek recognition by any other than our own, and we did not serve for riches or prestige. Soldiering was a vocation, a calling.
Abraham Lincoln's Gettysburg address, delivered during one of America's darkest hours, best encapsulates the obligation for any nation to become one and live up to its ideals.
It also reminds us of the singular importance of personal devotion: "Four score and seven years ago our fathers brought forth on this continent, a new nation, conceived in liberty, and dedicated to the proposition that all men are created equal (…)
"It is for us, the living, rather, to be dedicated here to the unfinished work which they who fought here have thus far so nobly advanced.
"It is rather for us to be here dedicated to the great task remaining before us – that from these honoured dead we take increased devotion to that cause for which they gave the last full measure of devotion – that we here highly resolve that these dead shall not have died in vain – that this nation, under God, shall have a new birth of freedom – and that government of the people, by the people, for the people, shall not perish from the earth."
With the end of the Civil War, America witnessed a nation reuniting – a slow and imperfect process that would see former enemies later defend, side-by-side, what the country stood for.
These individuals are no different than the men and women who, today, compose the United States Armed Forces.
These soldiers, sailors, airmen and marines represent the soul of America. They have chosen to serve others far beyond their country's borders and to fight for and alongside those who share similar values.
As with most old soldiers, Bucky and I aren't very good at keeping in touch or spending much time looking in the rear-view mirror. But I know that the old dog is still thriving – despite his legendary drinking habits, appalling golf etiquette, and dogged determination to live a full life and one of his own choosing.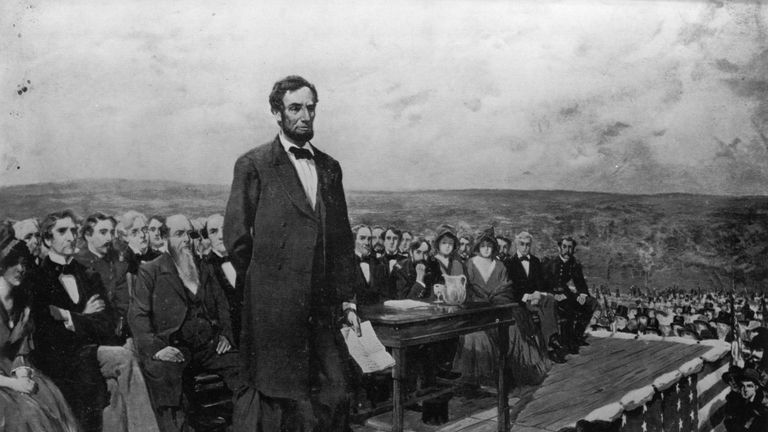 He defended and exemplified a nation I thought I knew and understood. Indeed in my time, I had the distinct honour and privilege to fight alongside so many great Americans – determined, dutiful, and courageous doers, much like Bucky.
Hence my struggle to comprehend, at this moment, who and what America is fighting for. Has the US lost its way, forgotten its past, embraced the superficial, and renounced the essence of what once made this country "A City Upon a Hill"?
America led the free world, went to the moon, and defeated communism not because it was easy, but because it was hard. It stood for something that we all recognised and cherished, offering a firm foundation in an ocean of constant change and colossal challenges.
The US also built alliances based on trust and common interests with vastly different people, who all shared a belief in America's democratic promise.
So many of them today are bewildered, stranded, and in harm's way because they chose to stand by the United States.
Of course there is no clearer and more egregious example of such disgrace than the fate reserved to the Kurdish people, who took 11,000 casualties as they checked Islamic State, bore the brunt of the fighting, secured thousands of square miles and millions of people from the grip of barbarians, while saving hundreds of American lives.
Our comrades deserve far better than the shameful treatment they have received by those they once called friend. This is not Bucky's America.