D. B. Weiss (C, speaking), David Benioff (3rd L) and cast and crew of 'Game of Thrones' accept the Outstanding Drama Series award onstage during the 71st Emmy Awards at Microsoft Theater on September 22, 2019 in Los Angeles, California.
Kevin Winter | Getty Images Entertainment | Getty Images
Despite mixed fan and critic reactions to the final season of "Game of Thrones," the eight-season epic took home the top prize in the drama category at the Emmy Awards on Sunday.
Closing out the 71st annual television awards ceremony, David Benioff and D.B. Weiss thanked creator George R. R. Martin for entrusting his book series to the young producers more than a decade ago and praised the cast and crew for their work on the program.
Since 2011, HBO's "Game of Thrones" has garnered 160 Emmy nominations and taken home 59 prizes for everything from acting and editing to special effects and sound mixing.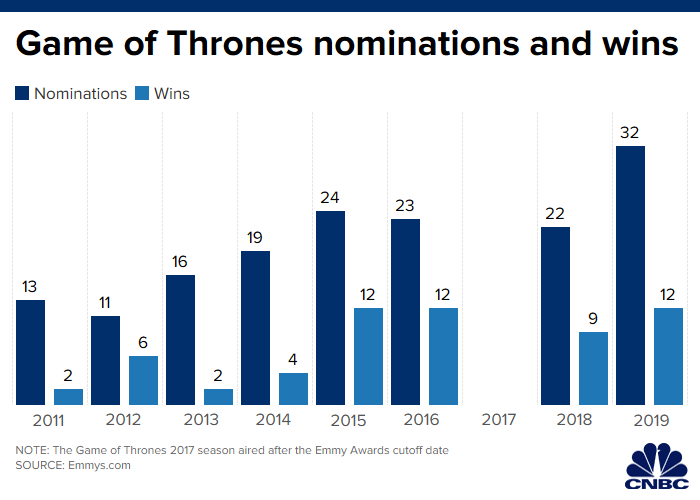 On Sunday, the program earned two Emmys, one for outstanding supporting actor, which went to Peter Dinklage for his portrayal of Tyrion Lannister, and one for outstanding drama.
Earlier in the month, "Game of Thrones" won 10 additional awards during the Creative Arts Emmy ceremony.
"Game of Thrones" final award tally falls short of the 67 Emmys that "Saturday Night Live" has accrued over its 44 seasons. "SNL" earned two statues on Sunday, one for outstanding variety sketch series and one for outstanding directing.
The final season was widely criticized by fans who felt the pacing and its treatment of previous character developments were not up to par. Still, the show continued to have record-breaking viewership.
Each episode, save for one, topped viewer counts from the season seven finale, which was the series high prior to season eight's release.
Disclosure: Comcast is the parent company of NBCUniversal and CNBC.
Top moments and highlights from October's Democratic debate
Sen. Elizabeth Warren has reached the top of the Democratic pack, and now she has the scars to prove it.
The Massachusetts senator weathered attacks throughout the fourth Democratic debate, which was held Tuesday night in Ohio. It was the first such event since Warren started beating former Vice President Joe Biden in several national polls.
Democrats also focused on the economy and the ongoing impeachment inquiry against President Donald Trump in a wide-ranging debate that, with 12 contenders on stage, was the most crowded in presidential history.
In addition to fending off the most attacks — 16, according to a tally by NBC News — Warren also spoke the most, clocking in at about 23 minutes in total. Biden spoke for about 16 minutes on Tuesday. 
Here are Tuesday's top moments.
Elizabeth Warren takes fire on taxes
Democratic presidential hopefuls Massachusetts Senator Elizabeth Warren (L) and Mayor of South Bend, Indiana Pete Buttigieg participate during the fourth Democratic primary debate of the 2020 presidential campaign season co-hosted by The New York Times and CNN at Otterbein University in Westerville, Ohio on October 15, 2019.
Saul Loeb | AFP | Getty Images
With no opening to statements to trudge through, the Democrats on stage wasted little time going after their main target, President Donald Trump. Their second target: Warren, whom they tore into after she repeatedly dodged questions about middle-class tax hikes under her health care plan.
Warren, whose campaign has rocketed to front-runner status in recent weeks, supports the "Medicare for All" plan pushed by Vermont Sen. Bernie Sanders, a democratic socialist. She promises that the plan would raise taxes on the wealthiest Americans and lower costs for middle-class families. But she refused to provide a straight answer on whether middle-class taxes would go up.
"At least Bernie's being honest here," Minnesota Sen. Amy Klobuchar said of Sanders, who acknowledges a tax hike under the plan, which would also abolish private insurance.
"I don't understand why you believe the only way to deliver coverage for everybody is to obliterate private plans," South Bend, Indiana, Mayor Pete Buttigieg told Warren.
Joe Biden addresses allegations against his son Hunter
Democratic presidential hopeful former US Vice President Joe Biden speaks during the fourth Democratic primary debate of the 2020 presidential campaign season co-hosted by The New York Times and CNN at Otterbein University in Westerville, Ohio on October 15, 2019.
Saul Loeb | AFP | Getty Images
Biden addressed President Donald Trump's allegations of nepotism and corruption related to his son Hunter's work in Ukraine and China. The allegations have threatened to distract from Biden's candidacy.
"My son did nothing wrong. I did nothing wrong. I carried out the policy of the United States government in rooting out corruption in Ukraine," Biden said when pressed by the debate moderators. And Biden also went after Trump and his personal lawyer, Rudy Giuliani, who has been pursuing the claims against the Delaware Democrat and his family.
"The president and his thugs are flat lying. He doesn't want me to be the candidate. If I'm the candidate, he knows I will beat him like a drum," Biden said.
Hunter Biden has come under attack by Trump and his conservative allies over his work overseas while his father was serving in government. Hunter Biden held a lucrative role on the board of a Ukrainian energy company, Burisma Holdings, while Biden was the point person for U.S. policy in Ukraine, and recently said he would leave the board of a Chinese private equity firm.
In an interview published this week with ABC News, Hunter Biden defended himself and said he "did nothing wrong at all," though he conceded "poor judgment" for taking roles that complicated his father's presidential bid. And he chastised Trump and his supporters for spreading conspiracy theories related to his work.
"I gave a hook to some very unethical people to act in illegal ways to try to do some harm to my father. That's where I made the mistake," he said.
At the debate, Biden repeatedly said that his son's statement speaks for itself.
"My son made a judgment. I'm proud of what he had to say," Biden said.
Buttigieg, O'Rourke battle over gun control
(From L) Democratic presidential hopefuls, Mayor of South Bend, Indiana Pete Buttigieg (L), entrepreneur Andrew Yang (C), former Representative for Texas Beto O'Rourke, participate of the fourth Democratic primary debate of the 2020 presidential campaign season co-hosted by The New York Times and CNN at Otterbein University in Westerville, Ohio on October 15, 2019.
Saul Loeb | AFP | Getty Images
In a heated faceoff, Buttigieg told former Rep. Beto O'Rourke that the problem with gun violence "is the policy," while accusing O'Rourke of being unable to specifically answer how he'd get every AK-47 and AR-15 off the streets.
O'Rourke, in turn, said he believes that Americans will follow the law, no matter the provision. "We don't go door to door to do anything in this country to enforce the law," he said. "The expectation is that Americans will follow the law. I believe in this country. I believe in my fellow Americans. I believe they will do the right thing."
Buttigieg hit back and called attention to O'Rourke's lack of details.
"Well, congressman, you just made it clear that you don't know how this is actually going to take weapons of the streets. If you can develop the plan further, I think we can have a debate about it. But we can't wait. People are dying in the streets right now," he said. "We have to just get something done."
O'Rourke said policymakers should follow the suggestions of the students who led the March for Our Lives movement and the leaders behind anti-gun group Moms Demand Action. But Buttigieg pushed back, saying that he hopes every Democrat on that stage recognizes that the common problem is the National Rifle Association "and their enablers in Congress," rather than the varying ideas on how to handle gun violence from the Democrats on stage.
Bernie Sanders addresses his health
Democratic presidential hopefuls Vermont Senator Bernie Sanders (C) and former US Vice President Joe Biden, flanked by California Senator Kamala Harris (L), smile during the fourth Democratic primary debate of the 2020 presidential campaign season co-hosted by The New York Times and CNN at Otterbein University in Westerville, Ohio on October 15, 2019.
Saul Loeb | AFP | Getty Images
Less than three weeks before the debate, Sanders suffered what turned out to be a heart attack.
The 78-year-old senator — the most senior candidate in the race — abruptly canceled his upcoming stops on the trail and underwent a procedure for an artery blockage, his campaign said. But a spokesperson promised that Sanders would appear at mid-October debate.
When the subject came up, Sanders was quick to assure the audience that his health was not an issue. "I'm healthy, I'm feeling great," Sanders said to a round of applause.
"We are going to be mounting a vigorous campaign all over this country," he continued. "That is how, I think, I can reassure the American people. But let me take this moment, if I might, to thank so many people from all over this country, including many of my colleagues up here, for their love, for their prayers, for their well-wishes. And I just want to thank you from the bottom of my heart, and I'm so happy to be back here with you this evening."
This Saturday in Queens, freshman Rep. Alexandria Ocasio-Cortez, a fellow democratic socialist, will endorse Sanders' bid for the presidency.
Trump's Twitter account takes center stage
Sen. Kamala Harris (D-CA) and Sen. Elizabeth Warren (D-MA) appear on television screens in the Media Center as they go back and forth during the Democratic Presidential Debate at Otterbein University on October 15, 2019 in Westerville, Ohio.
Chip Somodevilla | Getty Images
The president's Twitter account often sets the day's political agenda. On Tuesday, it formed the basis of a head-to-head between Warren and California Sen. Kamala Harris, who called on her colleague to urge Twitter to take down the president's account.
"I just wanted to say that I was surprised to hear that you did not agree with me that on this subject of what should be the rules around corporate responsibility for these Big Tech companies, when I called on Twitter to suspend Donald Trump's account, that you did not agree," Harris said. "I would urge you to join me."
But Warren did not seem interested in discussing the matter.
"Look, I don't just want to push Donald Trump off Twitter. I want to push him out of the White House. That's our job," Warren said.
"So join me. Join me in saying that his Twitter account should be shut down," Harris responded.
To that, Warren responded: "No."
"No?" Harris asked.
Warren then pivoted to "why it is that we have had laws on the books for antitrust for over a century and yet for decades now we've all called out how the big drug companies are calling the shots in Washington."
Zilingo says it will help train women entrepreneurs in Indonesia
The logo of Zilingo is displayed on a window at the company's office in Singapore.
Ore Huiying | Bloomberg | Getty Images
Southeast Asian fashion start-up Zilingo on Wednesday said it is launching a program in Indonesia, where it will provide microloans, vocational training and resources for women to run their own garment manufacturing businesses.
Those micro-businesses would receive and fulfill small-scale apparel orders from fashion brands on Zilingo's network. For its part, Zilingo will make money by taking a cut from every transaction.
Zilingo was founded in 2015 as an online marketplace where independent fashion and lifestyle retailers can sell directly to customers. Those retailers get access to suppliers from places like Bangladesh to procure their products, and Zilingo helps them with cross-border shipping, inventory management and customer service. Zilingo charges retailers commissions between 10% to 20%.
The program, called SheWorkz, is aimed at providing women with the resources and flexibility to return to the workforce, according to Zilingo CEO and co-founder Ankiti Bose.
"One of the biggest problems that we have, it's not only a social challenge but an economic challenge in Asia, is just how many women are not in the workforce," Bose told CNBC.
"And, there are several reasons for it — some are economic, but many are social. They've gotten married, they've had kids, they've fallen off the workforce."
Women made up about 38.9% of Indonesia's total labor force in 2018, while their participation rate was 52% compared to 82% for men, according to World Bank data.
Various studies have said having more women in the workforce can boost countries in their economic ambitions and help companies drive better profits.
The program is supported by Indonesia's ministry of economic affairs and state-owned lenders Bank Mandiri and Bank Negara Indonesia. For the pilot project, Bose said Zilingo will start with about 300 women who used to work for the start-up's manufacturing partners, but who eventually left the workforce. New participants will be sought out after that.
"What we're doing is going and extending them an option to work from their homes with all the facilities provided by us," Bose said. The goal is to increase the program's capacity to about 5,000 women in Indonesia over the next 12 to 18 months, she added.
If the program is successful in Indonesia, then Zilingo intends to bring it to other countries like India, which has one of the lowest female labor force participation rates in the world.
Zilingo, which launched in the United States this month, has raised more than $308 million in funds and is backed by well-known names such as Sequoia Capital and Singapore state investor Temasek Holdings.
Alibaba Group thwarts 300 million hack attempts per day
Alibaba's company logo at its office in Hong Kong on February 22, 2012.
Aaron Tam/Stringer | Getty Images
Chinese technology giant Alibaba Group is the target of some 300 million attempted cyber attacks per day, according to the company's founder and former executive chairman, Jack Ma.
Ma said he was "proud" that despite the tirade of subterfuge, Alipay — the group's payments arm which reports close to 1 billion users and processes $50 billion worth of transactions per day — has yet to lose "one cent" to hackers.
"For Alibaba Group, we have over 300 million hacking attempts per day. Every day. But we deal (with) it. We don't have even one problem," Ma said at the Forbes Global CEO Conference in Singapore on Tuesday.
By way of contrast, embattled Chinese technology giant Huawei is subject to around 1 million daily cyberattacks, according to its security chief. Until now, other technology companies have been less forthcoming in revealing their cyber attack vulnerabilities.
Give my data to a machine. I trust a machine more than (I) trust people.
Jack Ma
Alibaba founder and former executive chairman
Alibaba faced a sweeping cyber attack attempt in February, which threatened to compromise the accounts of 20 million users on its Taobao e-commerce site. The company said it detected the attack "in the first instance."
Ma cited the company's advanced tech capabilities, which he dubbed "AI: Alibaba Intelligence," for its continued success rate, noting that machines are superior to humans in using logic to thwart malicious online behavior.
"We teach the machine all the ways people (are) cheating," said Ma. "The machine remembers over millions of ways of cheating, so when we start the cheating, (the) machine already knows you are cheating. In this way we are protecting all the technology."
Jack Ma (right), co-founder and former executive chair of Alibaba Group, speaks next to Steve Forbes (left), chairman and editor-in-chief of Forbes media, during the Forbes Global CEO Conference in Singapore on October 15, 2019.
Roslan Rahman | AFP | Getty Images
To achieve that degree of accuracy, however, Ma noted the company must collect vast swathes of customer data. He argued that doing so allowed Alibaba to develop safeguards to detect bad human actors.
"Give my data to a machine," said Ma. "I trust a machine more than (I) trust people."
"I give my data to people, I worry about that. People say 'ah, this is Jack Ma, I want to know about him.' Machine(s) don't care if you're Jack Ma or Jack Lee. Machine cares whether you do good things or bad things."
Ma retired from Alibaba last month, 20 years after the company's founding. At the conference in Singapore, he was honored with the Malcolm S Forbes Lifetime Achievement Award for his "outstanding" contributions to entrepreneurship.