Britain has formally identified Iran as being behind drone and missile strikes on Saudi Arabian oil fields, raising the chance of the UK joining military efforts in the Middle East.
Boris Johnson says the UK government is attributing responsibility to the regime in Tehran "with a very high degree of probability".
Flying to New York for the UN General Assembly, the prime minister said he wanted to "de-escalate tensions" but refused to rule out taking part in any coordinated military action if Britain is asked to do so.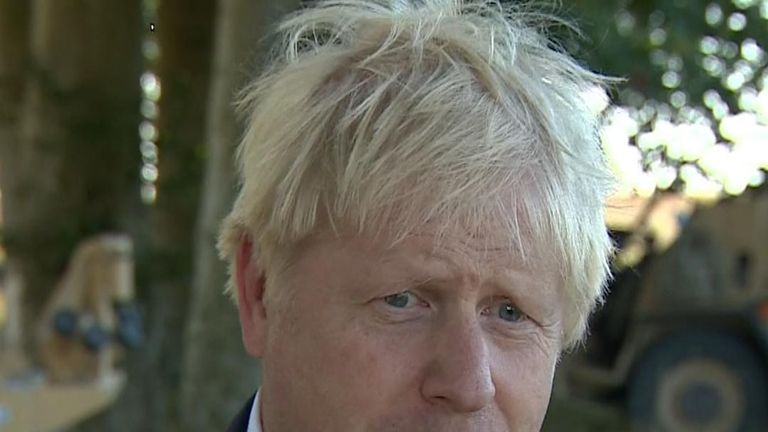 The UK has followed the United States and Saudi Arabia in pointing the finger of blame at Iran, rather than accepting the claims of responsibility by Houthi rebels for the attacks a week ago – the Iranians have denied any involvement.
Drone and cruise missile strikes crippled the Khurais oil field and Abqaiq oil processing facility in eastern Saudi Arabia, a key part of the country's oil production infrastructure.
Mike Pompey, the US Secretary of State, has called the attacks an "act of war".
Mr Johnson has made it clear that he was prepared to consider all requests for assistance as he prepares to meet both President Donald Trump and President Hassan Rouhani of Iran in the sidelines of the UN meeting.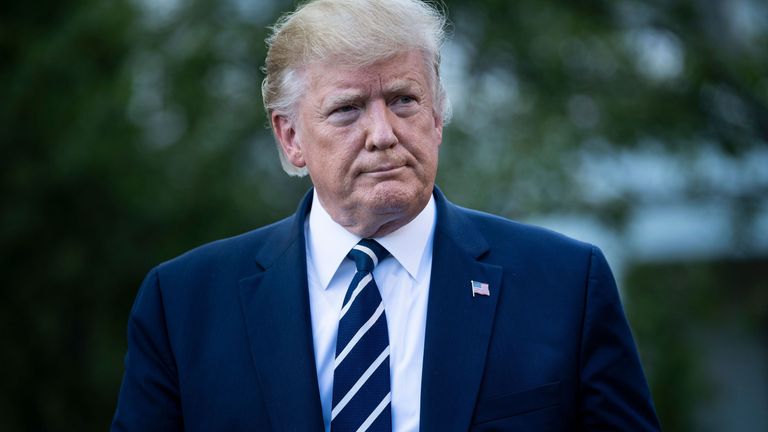 Speaking to reporters, Mr Johnson said: "Everyone wants to do what they can to bring the world together in response to what happened in Saudi Arabia in our management of Iran.
"The UK is attributing responsibility with a very high degree of probability to Iran for the Aramco attacks. We think it is very likely that Iran was indeed responsible. Using both UAVs, both drones and cruise missiles. The difficulty is how do we organise a global response – what is the way forward?
"We will be working with our American friends and our European friends to construct a response that tries to de-escalate tensions in the Gulf region."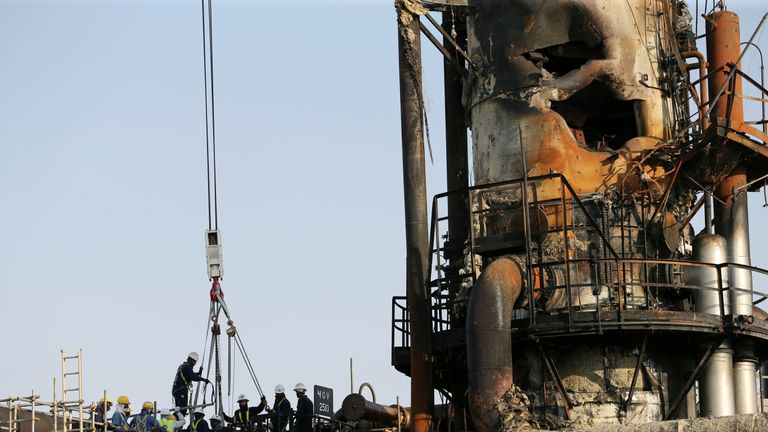 Britain is understood to have concluded that the Houthis claim it is responsible is implausible, based on imagery which sources said show remnants of Iranian-made missiles that have a range and sophistication inconsistent with the Houthis.
This level of sophistication, Britain believes, points to Iranian involvement which the British government has conclude is implausible without authorisation by the Iranian government
Asked whether he would rule out military action and stick with the Iran nuclear deal, Mr Johnson replied: "Well – on what kind of action we could take, you'll have seen the Americans are proposing to do more to help to defend Saudi Arabia.
"We will be following that closely and clearly if we are asked by the Americans or Saudis to have a role, we will consider in what way we can be useful."
Pressed on whether this could mean Britain taking part in military action, he replied: "We will consider all (options) if asked and depending on what exact plan."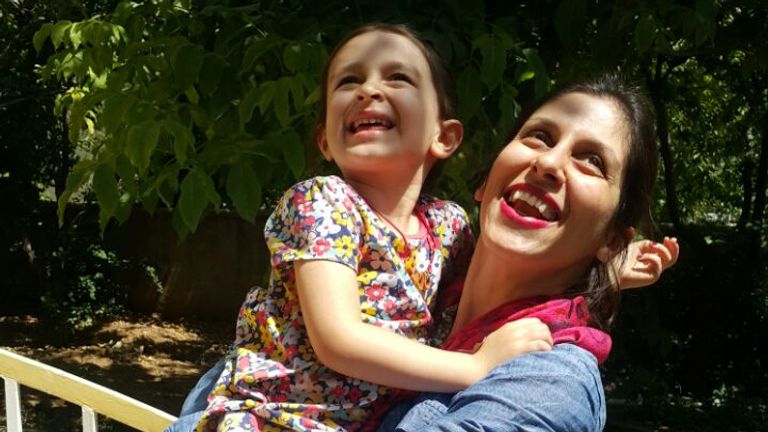 Mr Johnson said he would be raising the case of Nazanin Zaghari-Ratcliffe, the British Iranian jailed national when he meets with President Rouhani.
"On Nazanin Zaghari-Ratcliffe and other very sad dual national consular cases held in Tehran, as you can imagine in the course of my talks with President Rouhani which I will also be having – in my talks with President Rouhani I will not only be discussing Iran's actions in the region but the need to release not just Nazanin but others, and I will argue they are being illegally held."
'I was a big fan of my mother too': Prince William's touching reply to school child | World News
Prince William shared a touching moment with a 14-year-old student as the pair reminisced about his late mother Princess Diana on the second day of the royal tour of Pakistan.
The Duke and Duchess of Cambridge were visiting a school in Islamabad where Aima told the duke that the students were "big fans of your mother".
"Oh that's very sweet of you," William replied.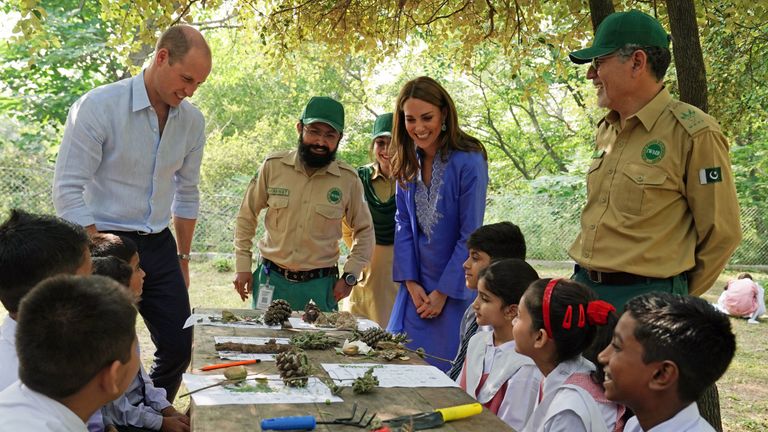 "I was a big fan of my mother too. She came here three times. This is my first time and it is very nice to be here and meet you all."
William and Kate later met Pakistan's prime minister Imran Khan, and they discussed the former test cricketer speaking of his political ambitions more than 20 years ago.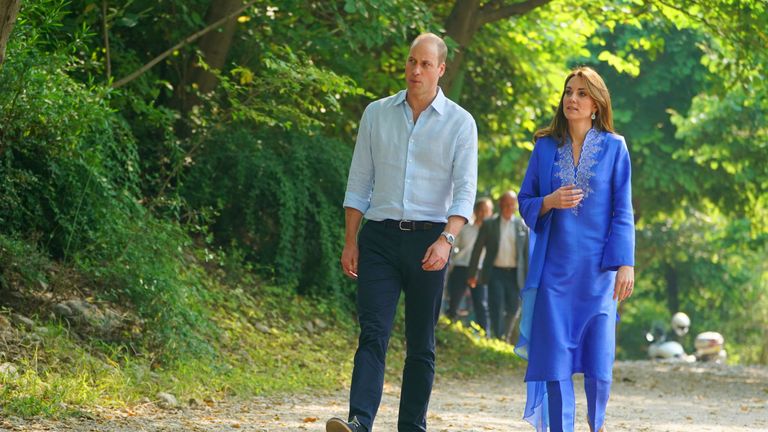 The former international cricketer was a friend of Diana, Princess of Wales Diana, who had taken the young duke to visit him and his then wife, Jemima Goldsmith.
On his younger aspirations of becoming a cricketer, Mr Khan said: "When I went with my mother to see a Test match my cousin was playing and he scored a century and I told my mother I wanted to be a Test cricketer.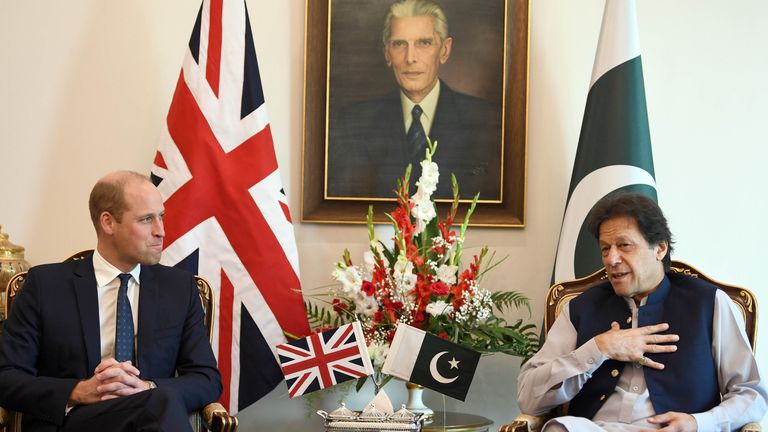 "I never realised how difficult it was to eventually become one.
"Similarly, when I told you that I wanted to succeed I didn't realise it would take me 22 years."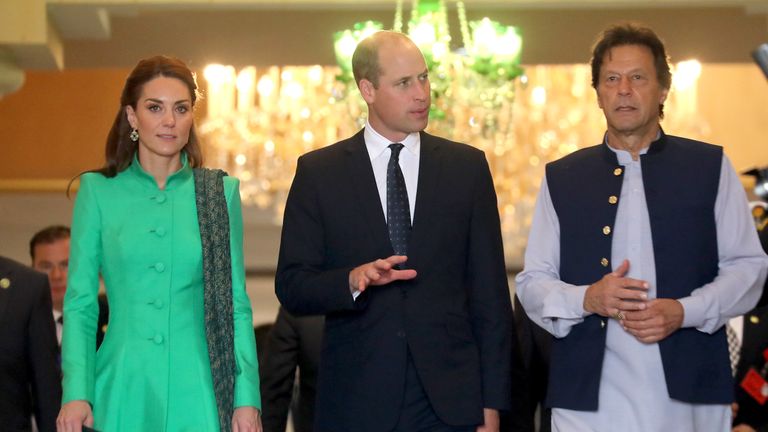 The duke replied: "Sure. It's not so easy."
Kate, wearing white trousers by the Pakistani designer Maheen Khan and an emerald green tunic by Catherine Walker, said: "You stuck with it."
The duchess also wore a navy patterned scarf by local designer Satrangi and earrings by Zeen – a Pakistani jeweller whose earrings she has worn in the past.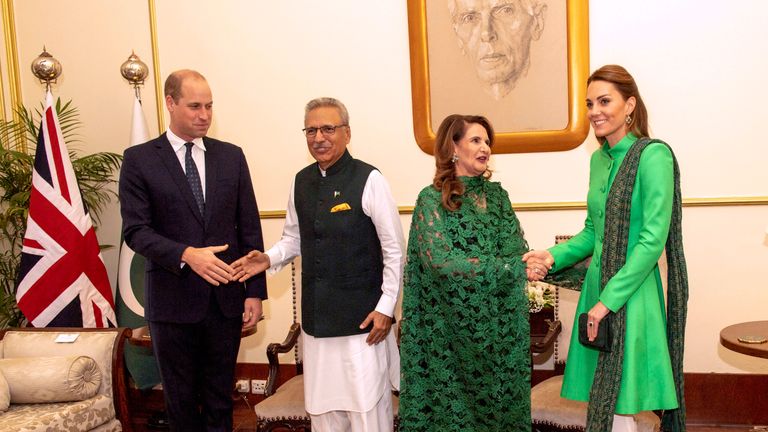 Diana visited a cancer hospital in Lahore as a guest of Mr Khan and his then wife, Jemima Goldsmith, in May 1997 – just three months before she died.
William and Kate also met President Arif Alvi and first lady Samina Alvi.
Welcoming the Duke and Duchess of Cambridge on their first tour of the country, the 70-year-old president recalled running along Victoria Road in Karachi to catch a glimpse of the Queen during her 1961 state visit.
"It was miraculous to see her," he told William, who spoke of the Prince of Wales's visit to Pakistan in 2006.
The duke will make a speech later at an evening reception hosted by Thomas Drew, the British High Commissioner to Pakistan.
He is expected to say the UK will continue to support the Commonwealth country as a "key partner and friend" during a visit which is aimed at strengthening ties between the two nations.
"We share unique bonds and so it will always be in our best interests for Pakistan to succeed," the duke is expected to say.
"You can always rely on the UK to keep playing an important role as a key partner and friend."
Jeffrey Epstein's inner circle Ghislaine Maxwell and Jean-Luc Brunel traced to Brazil | US News
Jeffrey Epstein's death has not silenced his victims.
The prosecution of the disgraced billionaire might be over, but global investigations into his inner circle of alleged enablers are only just beginning.
Among the names most mentioned are Ghislaine Maxwell and Jean-Luc Brunel.
Ghislaine Maxwell's friendship with Epstein goes back years, she was reportedly his girlfriend at one point. It's also claimed she played a significant part in the recruitment of girls and young women.
Jean-Luc Brunel ran successful French model agencies with high profile names on his books. It's alleged he also procured women for Epstein.
The pair haven't been seen since Epstein killed himself on 10 August, while facing trial for sex trafficking.
They've gone to ground, but Sky News understands they've recently been in the Brazilian riviera.
Information gathered by a former US police officer, who was not paid or commissioned by Sky News, shows that Brunel's phone was traced to the Infinity Blue Resort and Spa in Santa Catarina. It is an upmarket holiday area popular with wealthy tourists.
At the same time, Ghislaine Maxwell's phone was also connected to a network in Santa Catarina state.
Sky News visited the hotel but by the time we arrived there was no sign of either Brunel or Maxwell.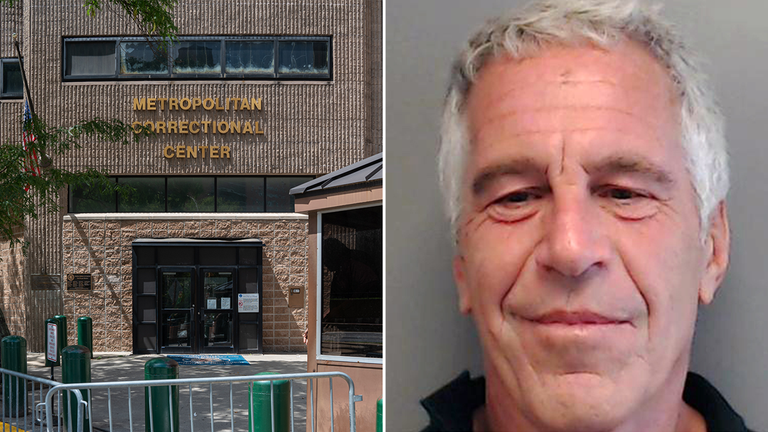 Ghislaine Maxwell was last seen in Manchester-by-the-Sea, Massachusetts, in mid-August.
Brunel's lawyer denies he is on the run, insisting he is willing to cooperate with investigations.
Yet there has been no sign of him since 5 July when he was pictured partying at the exclusive members-only Paris Country Club. He was a guest at the club's Soiree Blanche where tables cost over £1000. This was his last public appearance.
Similarly, Ghislaine Maxwell hasn't been seen for weeks.
She shut down her ocean protection TerraMar Project in the US on 12 July, just six days after Epstein's arrest.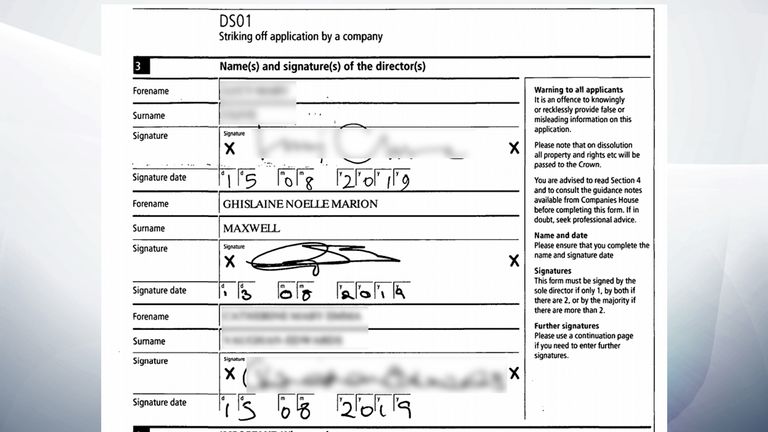 Sky News has learnt she has also formally started proceedings to shut the UK arm of the project too.
Companies House records show she signed off the closure on 13 August, three days after Epstein was found dead in his cell.
Maxwell and Brunel both enjoyed a lavish, luxury lifestyle, hanging out with huge names in politics, business and entertainment.
Since the death of Epstein questions have been asked about their role in his trafficking and abuse of young girls.
Ghislaine Maxwell, daughter of disgraced newspaper tycoon, Robert Maxwell, has been named in a number of papers filed in the US.
Among them a case brought by Virginia Roberts, now known as Virginia Roberts Giuffre.
She claimed Maxwell had recruited her as an underage teenager, to have sex with Jeffrey Epstein.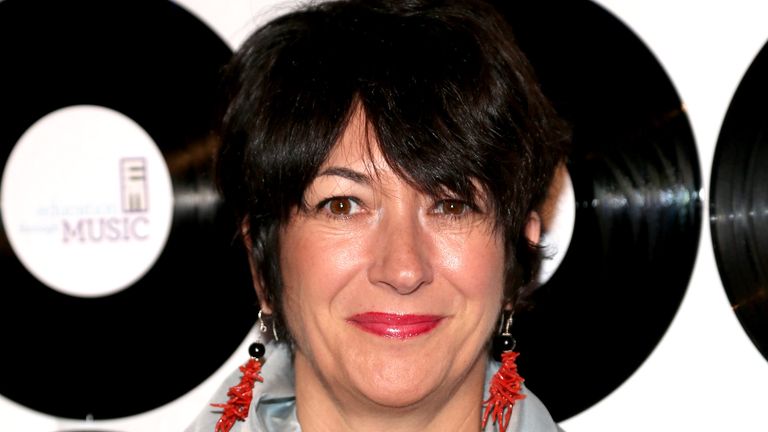 Her case also mentioned Prince Andrew. She says she had sex with him on three separate occasions when she was seventeen years old.
A now infamous photo of Prince Andrew with his arm around her waist, shows Ghislaine Maxwell also in the shot. The image reportedly taken at Maxwell's central London mews house.
A statement from Buckingham Palace strenuously denied "any form of sexual contact or relationship with Virginia Roberts".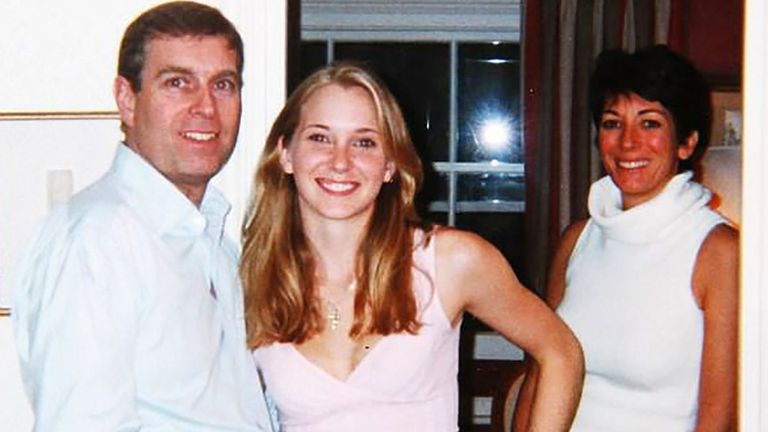 There has been much scrutiny of the Duke of York's friendship with Jeffrey Epstein. Epstein and Maxwell were among the guests at a large royal birthday party at Windsor Castle. They were also invited to Sandringham, the Queen's country retreat.
The Prince and Epstein were photographed holidaying together in Thailand, on board a private yacht surrounded by young women.
Even after Epstein was convicted of procuring a minor for prostitution and put on the sex offenders register, Prince Andrew continued seeing him.
They were photographed in 2010 walking in New York's Central Park. And video recently emerged from the same time, of Prince Andrew looking out from the door of Epstein's Manhattan mansion.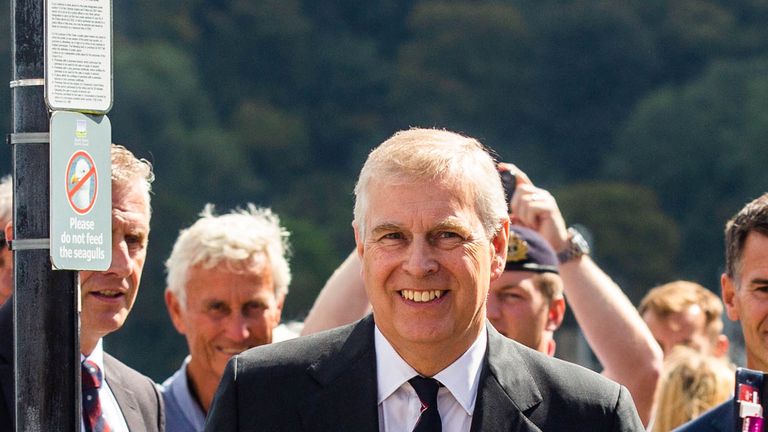 In a statement Prince Andrew said: "I have said previously that it was a mistake and an error to see him after his release in 2010 and I can only reiterate my regret that I was mistaken to think that what I thought I knew of him was evidently not the real person, given what we now know.
"This is a difficult time for everyone involved and I am at a loss to be able to understand or explain Mr Epstein's lifestyle. I deplore the exploitation of any human being and would not condone, participate in, or encourage any such behaviour."
The FBI is investigating claims from Epstein's alleged victims, which might include his links to Prince Andrew.
There are private cases underway too. Ghislaine Maxwell is named in a well-documented case brought by Jennifer Araoz.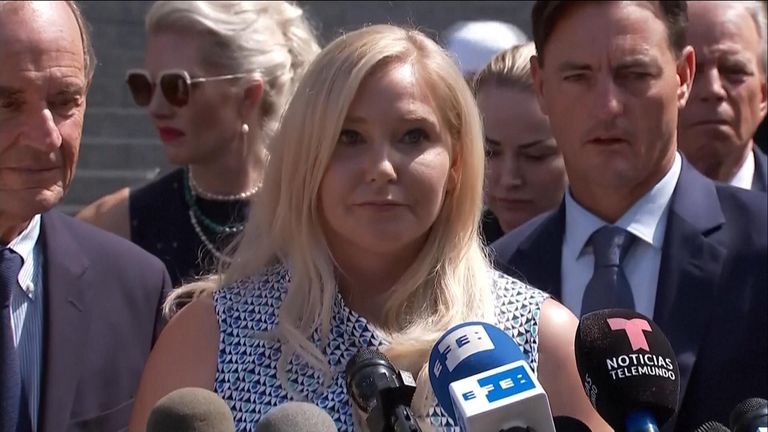 Ms Araoz claims Epstein frequently masturbated in front of her and raped her. She's suing Epstein's estate and others including Ghislaine Maxwell.
She claims Maxwell was complicit in Epstein's sex-trafficking. Lawyers acting for Ms Araoz say they've not yet been able to serve her with legal papers because they cannot find her.
They've hired private investigators to try to find her, but so far her location remains unknown.
Other women have made similar claims against Ghislaine Maxwell, alleging she recruited them and facilitated encounters with Epstein.
Meanwhile in Paris, preliminary investigations are also underway into Epstein and his associates, relating to the rape and sexual assault of women and girls aged under fifteen.
Prosecutors in France are trying to find out whether claims of sex-trafficking took place on French soil.
As part of the investigations, one of the model agencies which was founded by Jean-Luc Brunel was recently searched.
Virginia Roberts Giuffre claims Brunel offered girls modelling jobs in the US, but was actually recruiting them for Epstein.
Brunel, who has been accused of sexual assault in the past, has strongly denied any wrongdoing in his work as a model agent.
His lawyer says he would help any investigation but hasn't yet been contacted.
The search for Jean-Luc Brunel and Ghislaine Maxwell is far from over.
Turkey rejects Syria ceasefire because 'you cannot negotiate with terrorists' | World News
Turkey will not back down after launching a military operation in northern Syria and there will be no ceasefire, its vice president has told Sky News.
In an exclusive interview, Fuat Oktay also said there would be no negotiations with the Syrian regime or Kurdish forces.
"You cannot talk or negotiate with terrorists," he said.
He added: "It's unrealistic and I wish they (Europe/NATO partners) would change their policy."
Mr Oktay claimed that anyone who questioned Turkey's actions had not taken time to consider the country's position.
It is already hosting four million refugees and a further three million could potentially arrive from the city of Idlib in northwestern Syria.
"Anyone who opposes us should understand Turkey first," Mr Oktay said. "This is unsustainable."
US vice president Mike Pence, who is travelling to Turkey, has called on Ankara to "stand down, end the violence and come to the negotiating table".
He added: "The United States of America simply is not going to tolerate Turkey's invasion in Syria any further."
The United Nations says 160,000 people have fled their homes to avoid the advance of Turkish troops.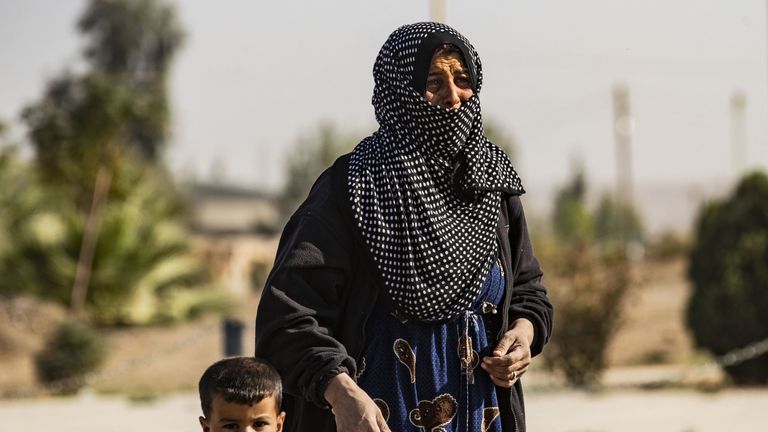 Mr Oktay denied Turkish forces had bombed a civilian convoy at the border town of Ras al Ain, describing such allegations as "a lie".
He said: "It could take a matter of days to complete the operation and create a buffer zone but we are being extremely careful about civilians."
Mr Oktay also denied accusations that Turkey had sparked a humanitarian crisis.
"There is already a humanitarian crisis," he said. "There has been one for more than eight years. Naming our operation a humanitarian crisis is easy."
Regarding the strategically important town of Manbij, Mr Oktay said he hoped his country would not have to fight the Syrian regime.
"We hope it will not happen but we are determined to take control of Manbij," he said.
"SDF (Kurdish forces) changed the demography of Manbij by force. We were promised they (the YPG) would leave within 90 days (under agreement with the US), but it's been more than a year."
Mr Oktay appealed to other countries for assistance in constructing villages and towns in a safe zone.
"We want some help from the international community to let the refugees go back," he said.
Discussing a phone call with Donald Trump on 6 October, when the US president announced that US troops were being withdrawn from the Turkey-Syria border region, Mr Oktay said Turkey "didn't ask for permission".
He added that "the conditions forced us to take action" and we "tried to make the case".
Mr Oktay said the US was warned that unless the refugee situation and border security issues were addressed, Turkey would start its own operation.
He said Turkey would respect Syria's borders, adding: "No one should look for any other goals than our stated objectives."