More than half of Antarctica's emperor penguins could be wiped out over the next 80 years due to melting ice, scientists have warned.
Researchers from British Antarctic Survey said that rising temperatures and changing wind patterns from global warming will negatively affect the sea ice on which emperor penguins breed.
After reviewing more than 150 studies on the species, scientists indicated that emperor populations will decrease by more than 50% by 2100.
In a new paper published in the journal Biological Conservation, they concluded that improvements in climate change forecasting in relation to impacts on Antarctic wildlife may help the penguins' chances of survival.
The researchers also recommended that emperor penguins should be listed as a specially protected species, warning that more than half of the birds – at least 300,000 – would die as sea ice melts due to rising temperatures.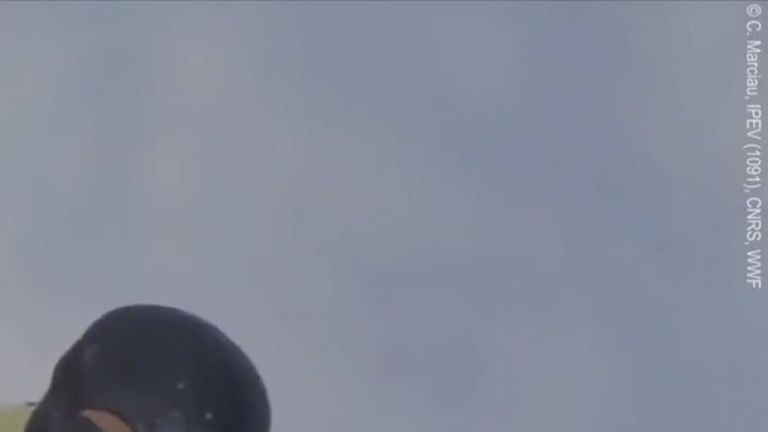 The emperor penguin – which is the tallest and heaviest of all living penguin species – is the only penguin species that breeds during the Antarctic winter and breed on seasonal sea ice.
The species is considered to be highly sensitive to climatic changes. In the 1970s, population declines of 50% in the Terre Adelie region were observed during an abnormally prolonged warm period which resulted in reduced sea-ice coverage.
Other primary causes for an increased risk of species endangerment are declining food availability and industrial fisheries on the crustacean and fish populations.
Lead author Dr Philip Trathan, head of conservation biology at the British Antarctic Survey (BAS), said: "The current rate of warming in parts of the Antarctic is greater than anything in the recent glaciological record.
"Though emperor penguins have experienced periods of warming and cooling over their evolutionary history, the current rates of warming are unprecedented."
He added: "Currently, we have no idea how the emperors will adjust to the loss of their primary breeding habitat – sea ice. They are not agile and climbing ashore across steep coastal land forms will be difficult."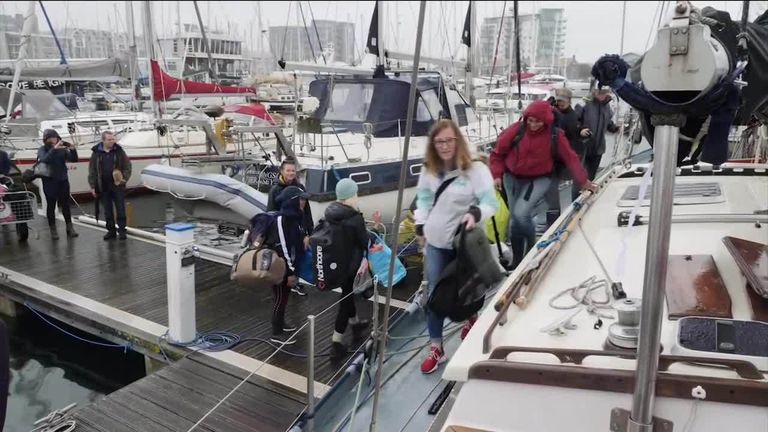 Dr Peter Fretwell, remote sensing specialist at BAS and co-author of the paper, said: "Some colonies of emperor penguins may not survive the coming decades, so we must work to give as much protection as we can to the species to give them the best chance."
Rod Downie, chief polar adviser at the World Wildlife Fund, which funded the study, said: "Emperor penguins are perfectly adapted to survive in the most remote and extreme frontier of our planet.
"But even they cannot hide from the global climate crisis as they lose the sea ice from beneath their feet.
"We need to take urgent action to protect this incredible species through the creation of vast marine protected areas and rapid and deep cuts to greenhouse gas emissions."
Pictured: Rescue workers scour volcano during body recovery | World News
New Zealand authorities have recovered six more bodies after a team landed on White Island to begin a high-risk operation to bring back victims of Monday's volcanic eruption.
The bodies are now on board the Royal New Zealand Navy's HMNZS Wellington.
The mission to recover two other bodies was eventually abandoned, however, with police saying there would be a "very limited" opportunity to look for them. Either people were killed in this week's eruption.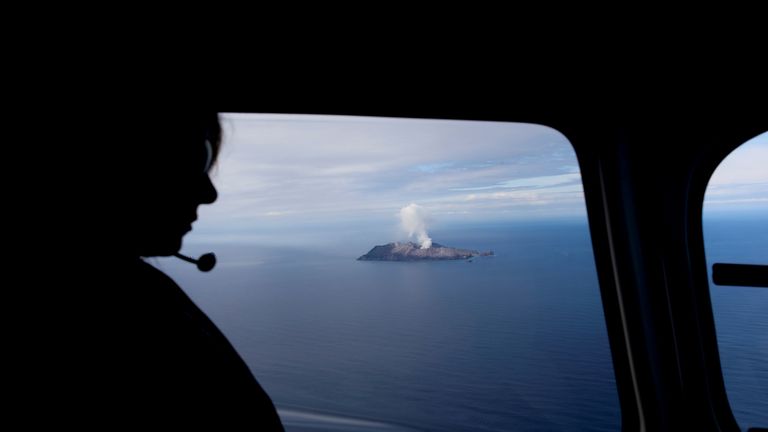 Authorities have faced growing pressure from families of the victims and the local community to bring back those killed as soon as possible.
New Zealand police had previously refused to go in due to safety risks, as experts warn the island remains highly volatile.
The country's geological science agency (GNS Science) said on Thursday that the risk of a further eruption over the next 24 hours was 50% to 60%.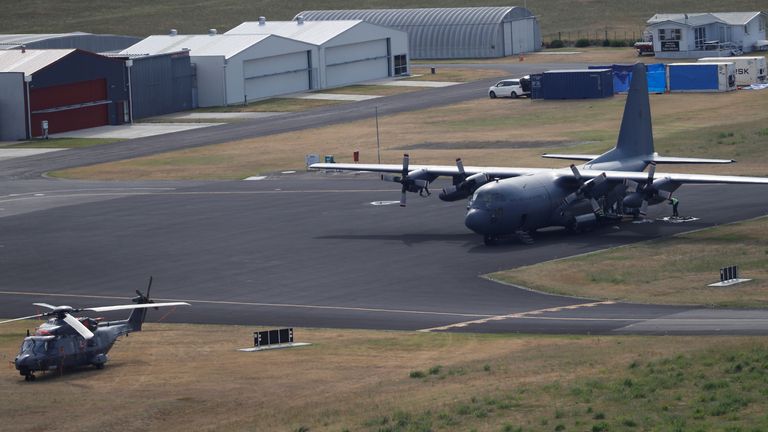 Early on Friday morning, a blessing was held at sea with representatives of the families of those killed.
Just after first light, two helicopters from the New Zealand Defence Force left the township of Whakatane and began the 30m (50km) journey to the island off the country's eastern coast.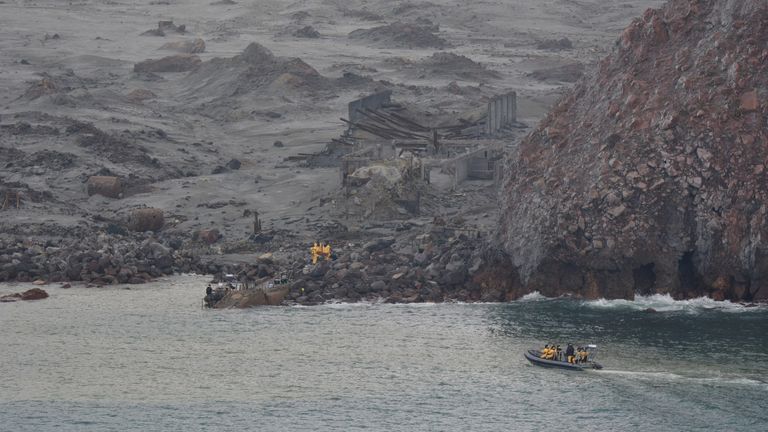 Scientists had warned gasses on the island are so toxic and corrosive that a single inhalation could be fatal.
Earlier, deputy commissioner Mike Clement said he expected the operation to take several hours and added that "the risk has not passed".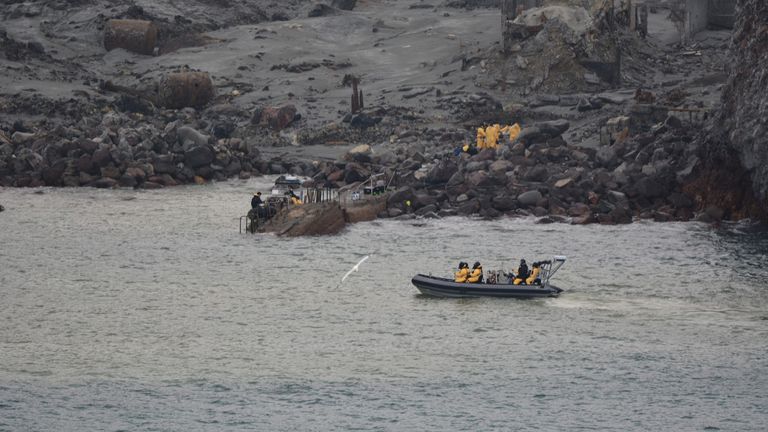 Specialist teams are due to arrive from Australia, Britain and the United States to treat the injured survivors in hospital burn units.
Dr Peter Watson, a chief medical officer, said during a previous news conference that extra skin had been ordered from US skin banks.
He said they estimated needing an extra 120 sq meters (1,300 sq feet) for grafting on to patients.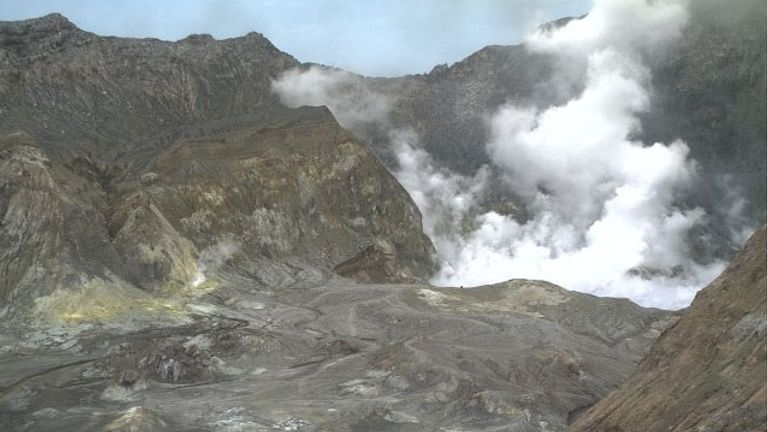 Authorities say 47 people from seven nationalities were visiting the island when it erupted – many were from a Royal Caribbean cruise ship that had left Sydney two days earlier.
There were 24 Australians, nine Americans, five New Zealanders, four Germans, two Britons, two Chinese and a Malaysian in the area at the time.
While no lawsuits have yet been filed, legal experts say they expect action in US courts by injured passengers and families of those who died.
Maritime lawyers claim the firm's potential liability could hinge on whether the eruption was an unforeseeable "act of God".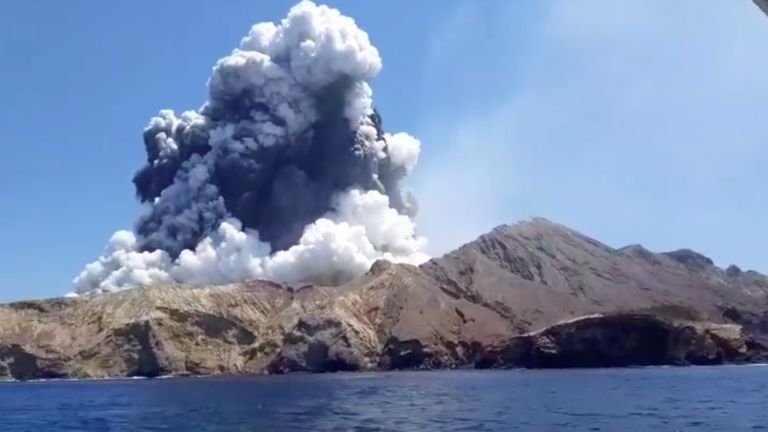 Royal Caribbean ticket terms posted on its website suggest the company is not liable for any injury, death or loss of property caused by an act of God – as well as war, terrorism or other events beyond the company's control.
It will likely argue the disaster was an extraordinary event no one could reasonably foresee, according to Robert Kritzman, a lawyer with Baker Donelson in Miami.
He said: "If a volcano were to erupt, clearly that isn't negligence on anyone's part, that's nature."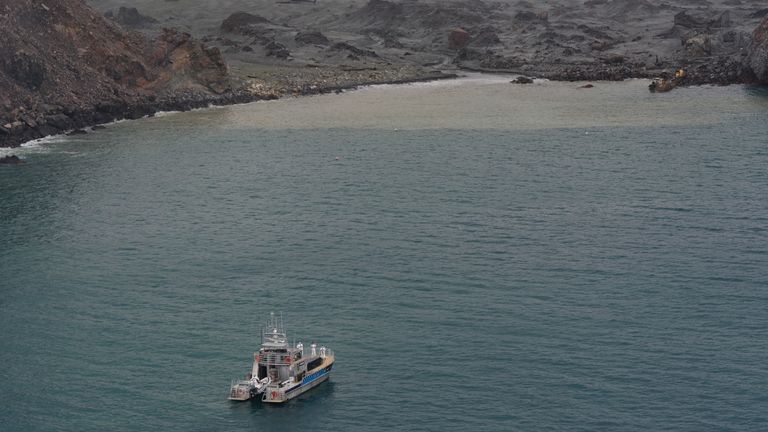 Royal Caribbean did not respond to questions about missing passengers or whether it told passengers of the risks of visiting the island.
In an email, the company said: "We grieve this tragic loss. We will to continue to offer our support and services to the families during this difficult time".
New Zealand Prime Minister Jacinda Ardern said on Thursday that some injured Australians had been medically evacuated and such flights would continue.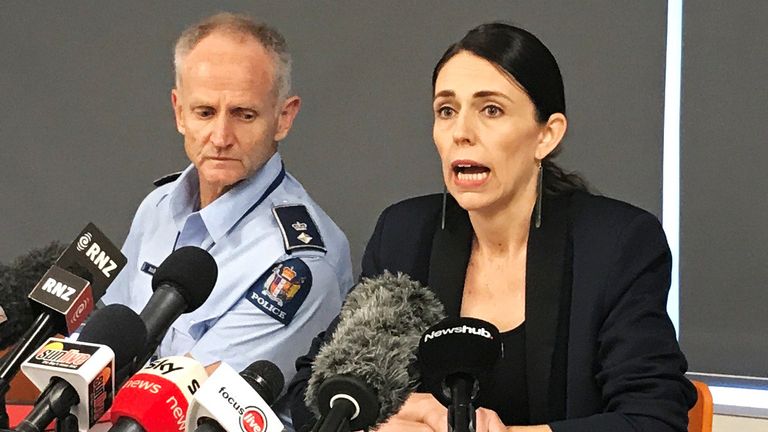 Australia previously said up to 10 such patients would be transferred to hospitals in Victoria and New South Wales states for further treatment.
White Island's volcanic alert has been lowered to two – there has been no further eruption since Monday, when the level had briefly been raised to four.
Its alert level since late Monday had been three, on a scale where five signifies a major eruption.
Donald Trump impeachment a step closer after vote to press charges | US News
The impeachment of Donald Trump has moved a step closer after a committee voted to press formal charges against the US president.
The House of Representatives judiciary committee approved two articles of impeachment on Friday.
Mr Trump is accused of abusing his power by trying to force Ukraine to investigate political rival Joe Biden and of obstructing Congress when politicians tried to investigate.
A full vote will now be held in the House of Representatives next week.
If that vote passes in the Democrat-majority House then impeachment proceedings will continue to a full trial in the Senate.
However, the Republican-led chamber is unlikely to vote to remove Mr Trump from the White House.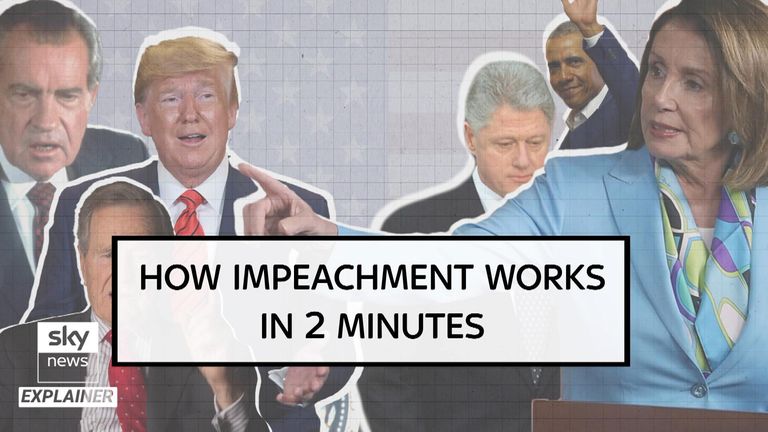 Mr Trump will be only the third US president in history to face impeachment proceedings. He claims the proceedings will assist his election campaign.
The debates among the committee members have been very partisan.
Democrat Representative David Cicilline argued there was "overwhelming evidence" that the president, in pushing Ukraine to investigate rival Mr Biden, was engaged in an abuse of power "to corrupt American elections".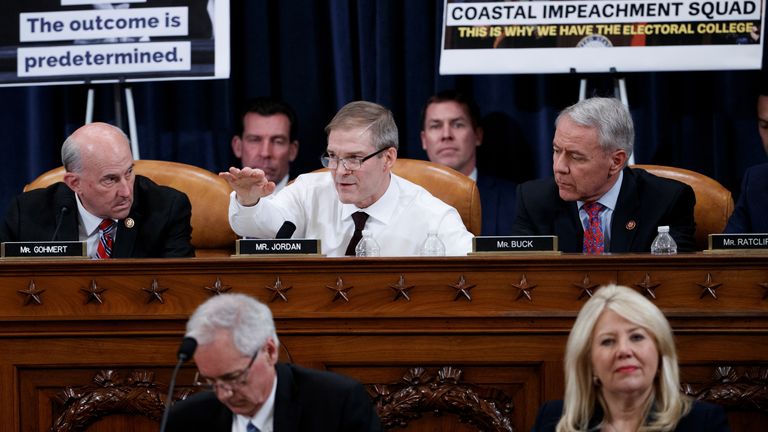 But on Thursday, Republicans on the judiciary panel complained about the procedures followed by Democrats in the impeachment inquiry and requested another hearing.
They said their rights had been ignored in the inquiry but they were voted down by the panel's Democratic majority.
Republican US Representative Debbie Lesko said: "Rules have just been thrown out the window in this process.
"It continues to amaze me how corrupt, how unfair this process has been from the start."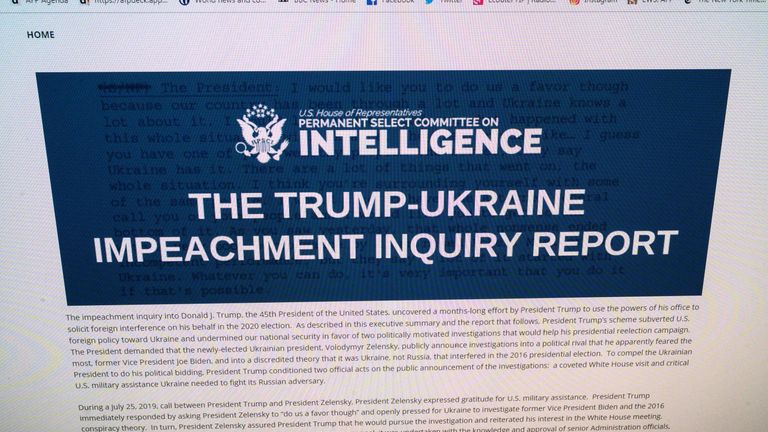 Democrats said the Republicans were not addressing the substance of the charges against Mr Trump, which were set out in an impeachment report at the beginning of this month.
Democratic Representative Joe Neguse said: "Let us dispense with these process arguments and get to the substance of why we are here today."
Former vice president Mr Biden is a leading contender for the Democratic nomination to run against Mr Trump next year.
The president has vociferously denied any wrongdoing and condemned the impeachment inquiry as a hoax. In a tweet on Thursday he said: "No crime!"
Can Boris Johnson really 'Get Brexit Done' by end of 2020? | Politics News
The election message was a pledge to "Get Brexit Done". Repeated on posters, adverts, aprons, T-shirts. Printed wherever there was a space.
The challenge now is to fulfill that promise, or perhaps even to define it. What counts as Brexit? Is it simply leaving the European Union, come what may, on the last day of the year, or is it about achieving a comprehensive trade deal?
What sort of relationship does Mr Johnson want with Europe, and what sort of compromises is he prepared to make?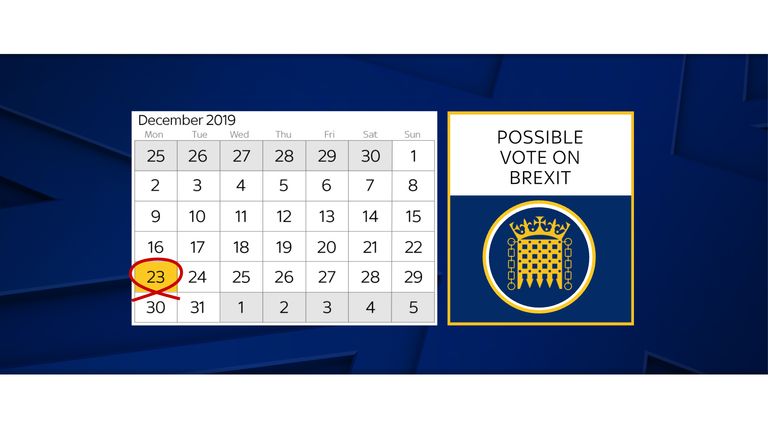 You might have thought those questions would have been answered during the campaign but – emphatically – they weren't.
Mr Johnson, for instance, insists there will be no checks or tariffs on goods crossing the Irish Sea from Britain to Northern Ireland.
Many think that promise is simply impossible to keep, even if a trade deal is signed.
If Britain were to leave without a trade deal, it is even harder to work out how Mr Johnson can live up to his promise.
And that is a prospect that many take realistically in Brussels.
At the moment, Britain doesn't have a structure for negotiating a trade deal – no specialised teams up and running yet, no guarantee of who will be in charge of each different bit, or how power will be devolved and then used.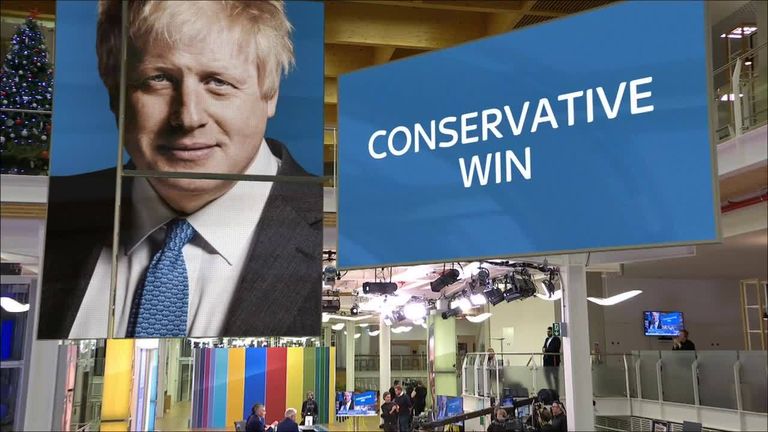 The EU, on the other hand, has a department ready and willing, under the auspices of Michel Barnier, the highly experienced French politician who led the first phase of Brexit negotiations.
What's more, the European Commissioner in charge of trade is Ireland's Phil Hogan, who brings his own deep knowledge of cross-border trade.
Stacked up behind them is the machine of the European Commission which, love it or hate it, has huge experience in framing trade deals.
The UK is up against a formidable team of negotiators, and Mr Barnier has already talked of it being unrealistic to sign a fully-formed deal by the end of 2020.
But there are plenty of others across Europe who think a deal of some kind can be reached, even if it isn't the sort of deal that many really want.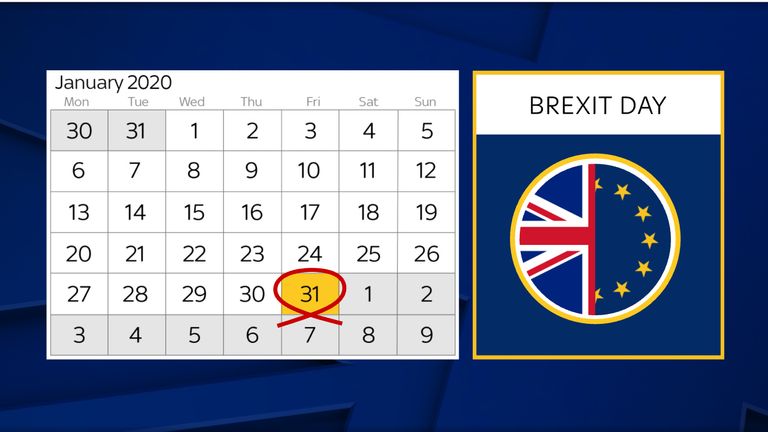 Instead, as I first reported on Sky News a couple of months ago, the momentum is swinging towards a "pared-down" sort of agreement that would allow a basic flow of trade but would, at least in its first iteration, inevitably leave holes.
It would be the bare minimum required to establish some sort of trade agreement, but comes with a couple of big problems.
The first thing is whether it can be achieved in the time left. Despite the cheery confidence of some leaders arriving at the European Summit this week ("you can do an awful lot in 11 months," smiled Luxembourg Prime Minister Xavier Bettel), no deal of this sort has ever been signed off in such a short period of time.
The flip side is that a deal between the UK and the EU should be a lot more straightforward than one between, say, Europe and Canada.
You start from the position where both sides already share the same regulatory structures, and neither wants to diverge hugely from them.
You also have acceptance, on both sides, that it's in nobody's interest to rip-up existing agreements on, for instance, airplane travel or security information.
Multiple well-placed sources have told me that these things will be fiddly, but achievable, in some form, by the end of the year.
The sticking point will be something called Level Playing Field regulations – in other words, the requirement that the UK should align itself to regulations laid down by the EU.
The Europeans don't want to back down, fearing that the UK will reduce its standards in order to obtain a competitive advantage.
That flexibility, though, is precisely the sort of thing that Brexiteers have desired from day one.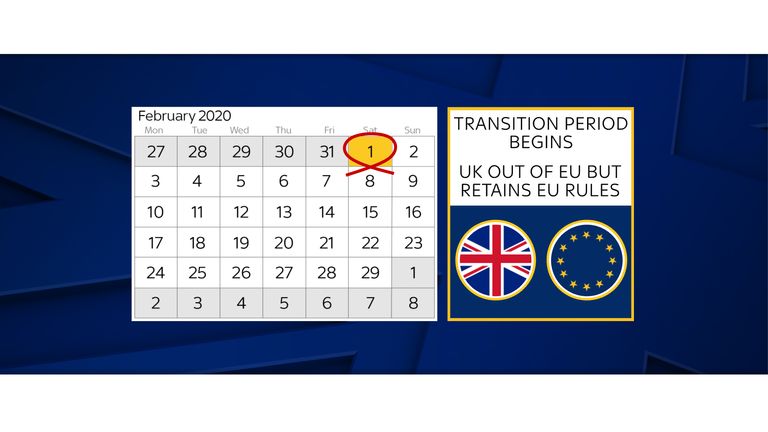 Compromise won't come easily, but one model being considered is the idea of drawing a line in the sand now – and having both sides promising not to regress from present-day regulatory standards.
The British are enthusiastic about this; the Europeans much less so. That may be the key obstacle to getting even a "pared-down" agreement.
But a fully-fledged trade deal? Talk about that, and that's when people start to shrug their shoulders, and whistle through their teeth.
These are complex deals that require huge scrutiny in every member state and, right now, few believe such an agreement can be reached by the end of the year.
The EU is already suggesting that it would like an extension, so talks could stretch on into 2021, or even 2022. Mr Johnson says that won't happen; that the UK will leave, come what may, at the end of 2020.
But it's worth noting that, even if the prime minister changed his mind and decided to extend trade talks beyond the end of next year, it can't – in theory – be done at the last minute.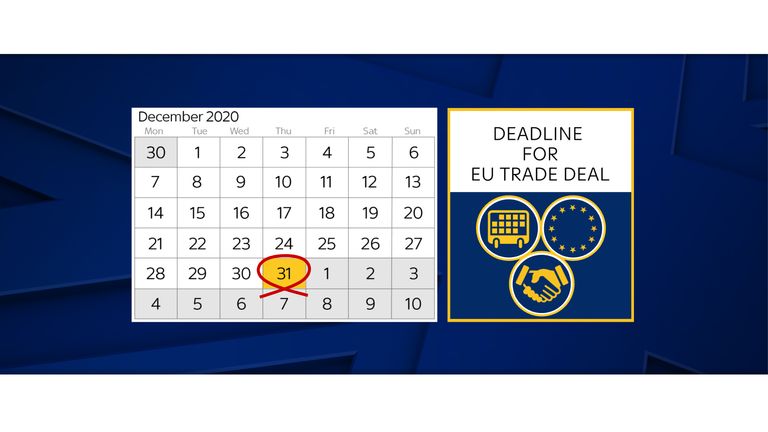 A request for an extension would require a change to the treaty, and would have to come before 1 July.
Most European deadlines are flexible, but rewriting a treaty would require plenty of time, and also goodwill from across the EU. And there are lots of countries where patience with the UK is running thin.
So if the government does decide to give itself more time to "Get Brexit Done", it will have to make that call within the first half of the year.
For some of Mr Johnson's supporters, that will surely feel like a backtrack. Whatever happens in the coming year, getting Brexit done won't be easy.
The Brexit Election on Sky News – the fastest results and in-depth analysis on mobile, TV and radio.
·Watch John Bercow with Dermot Murnaghan live through the night
·Follow the Election Social show on Sky News' website, app and social media channels
·Watch KayBurley@Breakfast election special on Friday morning