I cannot remember a sequence of events, bloodshed and geopolitical machinations in a single day that involved so many countries and so many people. In a single day.
We were on the road again, had been for four days, but as each hour passed, our ability to move safely in Kurdish northeast Syria lessened.
We overtook cars, trucks, flatbeds, and pick-ups laden with belongings, but there were fewer and fewer. Almost anyone who could, had already left the border lands between Syria and Turkey.
On the side of a road, near a truck stop, we came across five lorries, they were full of families. They had grouped together and were living there.
They were so confused by the fighting and the ever-changing shape of this battle that they decided to be mobile so they could move in any direction at any time.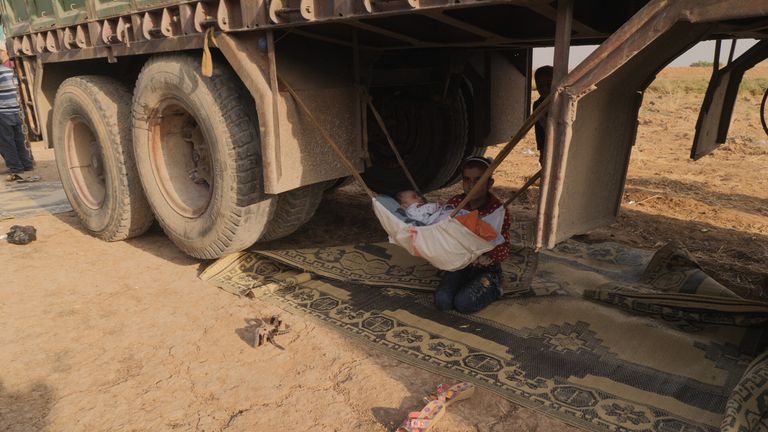 The families had left the battle for Aleppo six years ago to find safety. The war has caught them up. They are fleeing once again.
This day on the road and the subsequent 24 hours became one of the most remarkable of my entire career.
The fighting between the Turkish backed militia and the Kurds intensified along a huge battlefield – basically the border between Turkey and Syria.
Claims and counter claims of success and failure filled the airways as the battle raged on. In truth nobody knew what was going on. We constantly had to stop to assess our routes.
News emerged that in the chaos of fighting, hundreds of Islamic State families and fighters had escaped from a camp and prison.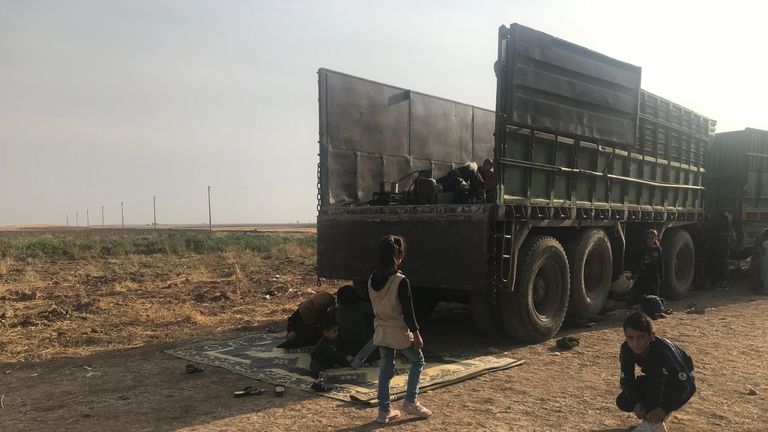 We had been in the de facto capital of Kurdish Syria, Qamishli, when an Islamic State car bomb destroyed a restaurant this week; now we were told in frenzied messages by Kurdish intelligence that IS sleeper cells had been activated and that our hotel was a target.
It brought panic to the staff and the guests, many of whom, like us, were Western journalists.
Our local producers rushed upstairs and said that we needed to stay away from the hotel front windows and pack and get out as soon as possible.
We peered into the street and could see armed intelligence officers surrounding the building, closing down the road and inspecting all cars coming and going.
We packed and left for a safe house.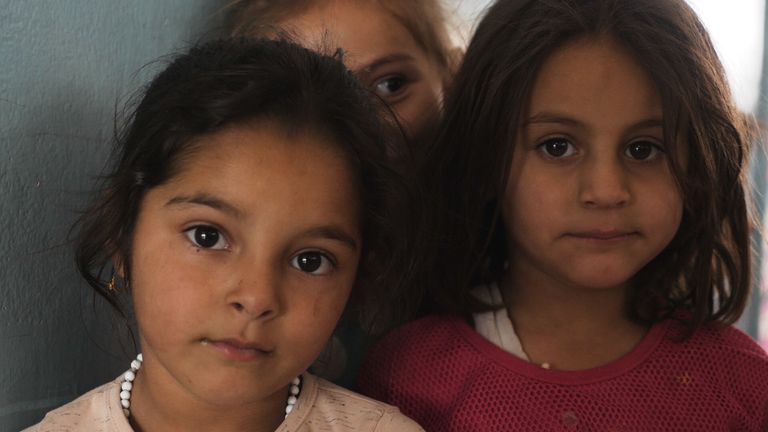 It was eerie outside. The streets were quiet. The Turkish invasion and the news of the IS breakout and the threat of suicide bombers on the loose had spooked and depressed everyone.
On this day the Turkish invasion had intensified, nearly a thousand IS families and fighters had escaped, the capital was under attack and then from nowhere news of another even more shocking atrocity – a Turkish strike on a civilian convoy heading to act as human shields in the border town of Ras al Ain.
:: Listen to the Daily podcast on Apple Podcasts, Google Podcasts, Spotify, Spreaker
Our local guys watched in horror on social media as the videos flashed around. The pictures were horrendous.
We have good contacts with aid agencies as well and soon they were sending us their own videos of the hospitals and clinics where the injured were being treated.
We wanted to file this story and all the others from the day so far, but were stuck in a courtyard waiting to be told we could move to yet another safe place.
We sat with our friends and talked. In those moments, as they spoke in Kurdish, smoked heavily and occasionally hugged each other, it dawned on me as it had with them that the Kurdish grip on the homeland they call Rojava was slipping away.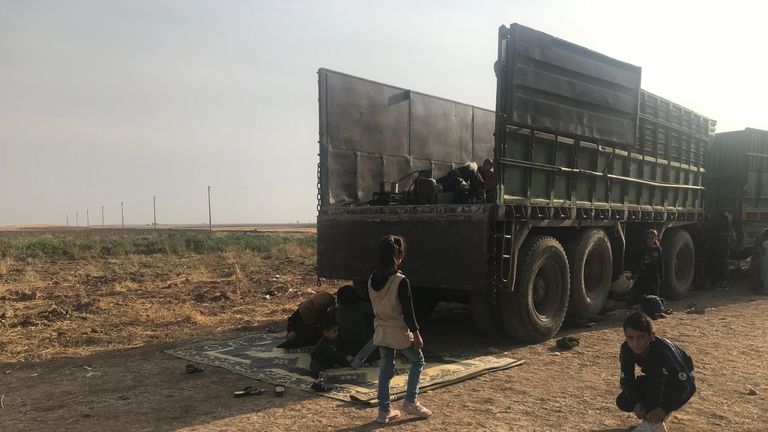 As night fell we moved to our new accommodation deep in a Kurdish only district of the city. They said it would be safe forever, until this bombshell: the Kurds had done a deal with the regime of Bashar al Assad and the Russians.
Abandoned by the USA, the UK and France, the Kurds had no choice. The Kurds have always done deals with some pretty dubious regimes to maintain their autonomy or even their existence for generations, but this latest move meant our safe area was soon to come under the control of Damascus once again.
"It is bad or very bad, those are the options," our Kurdish cameraman said.
He sounds matter-of-fact. He had tears in his eyes.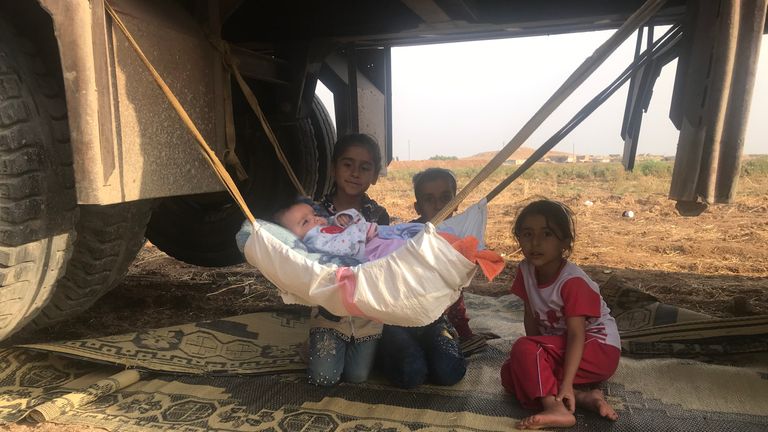 As the night skies filled with tracer rounds and as the sounds of gunfire echoed around the Arabic parts of the city in celebration that the regime was returning, our friends sat with their heads in their hands and wept. We all did.
How quick the regime would start to take back control of the region we did not know.
Local officials said we were fine but I was dubious. Syria considers us illegal entrants to the country and would accuse us of consorting with terrorists. The sentence is 12 years in prison.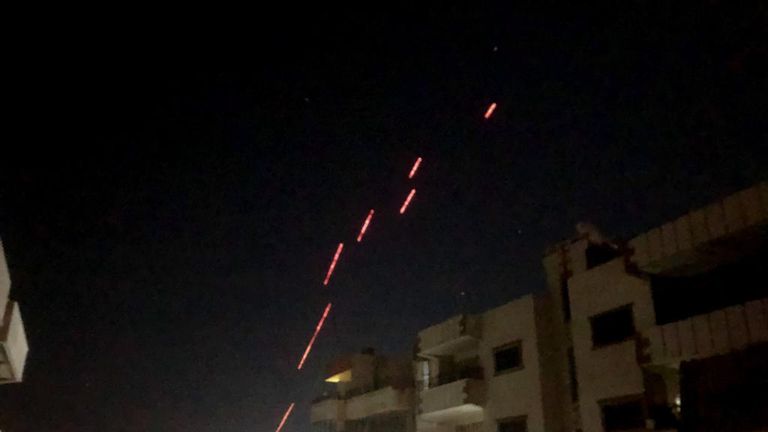 I have been wanted by the regime since 2012 and I'm on a blacklist. Given their previous form for murdering people, I was in no doubt Bashar's people would kill me if they caught me.
We woke early after a few hours' sleep. Everything seemed fine. Nothing much appeared to have changed. Rather than rush we had coffee and talked to our foreign desk about some live appearances on our morning show and where we could film.
Then messages came through.
The border would be taken back by the regime in four hours. We were three hours away.
We scrabbled downstairs with our kit – 20 plus pieces. We sped off towards the border with Iraq. Iraq a safe haven? You couldn't make it up.
We made the final crossing from Rojava. We left our friends behind and waved as our bus moved away and past rows of people trying to leave as well. As foreigners we were given priority. There is no discussion. It's the system.
As we crossed the pontoon bridge to safety I thought of the children I had seen within this 24 hours; displaced from home and camping in schools where they will be taught Arabic, not Kurdish from now on.
Rojava was a dream but it has gone.
For sure though, the children will learn one thing in Kurdish: the meaning of betrayal.
Israel Folau: Disgraced rugby star links bushfires with Australia's same-sex marriage laws | World News
Disgraced rugby star Israel Folau has linked bushfires in New South Wales and drought to Australia's decision to legalise same-sex marriage and abortion.
The 30-year-old, who was delivering a sermon at the Truth of Jesus Christ Church in Sydney on Sunday, said "God is speaking" to Australians and called for the laws to be reversed.
His remarks come months after he was sacked by Rugby Australia and his club side for saying "hell awaits" homosexuals and other groups.
The former Australia international full back said during the sermon on Sunday: "I'm doing this out of love, for people to be able to hear this message and hopefully receive it with open hearts, that they may come to know the truth of his word."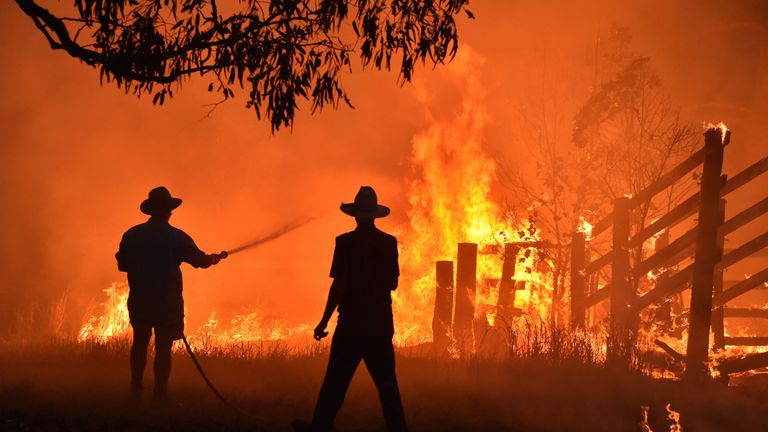 He continued: "I just want to see the events that have happened here in Australia in the last couple of years.
"God's word says for a man and a woman to be together, one man and one woman in the covenant of marriage to be together.
"Abortion; it's now OK to murder and kill unborn children and they deem that to be OK."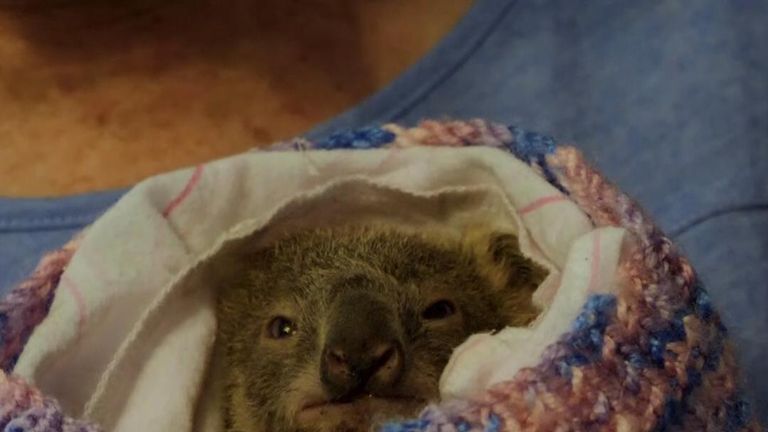 More than 470 homes have been lost and six people have died as bushfires rage across the east coast of Australia.
Folau added in his sermon: "Look how rapid these bushfires, these droughts, all these things that come in a short period of time.
"You think it's a coincidence or not?
"God is speaking to you guys. Australia you need to repent, take these laws and turn it back into following what is right by God."
Australia's Prime Minister Scott Morrison criticised the rugby star's remarks on Monday.
He told reporters in Australia: "He's a free citizen, he can say whatever he likes, but that doesn't mean he can't have regard to the grievous offence this would have caused to people whose homes have been burned down."
Folau is fighting Rugby's Australia's decision to terminate his four-year contract.
<a href='https://news.sky.com/story/sky-views-evidence-is-a-strong-weapon-when-deployed-against-fake-news-11863240'>Evidence is a strong weapon when deployed against fake news</a>


<a href='https://news.sky.com/story/sky-views-evidence-is-a-strong-weapon-when-deployed-against-fake-news-11863240'>Evidence is a strong weapon when deployed against fake news</a>

Source link
Hong Kong police tear gas protesters as they try to leave scene of stand-off | World News
Police in Hong Kong have used tear gas to drive back dozens of protesters trying to leave a university campus.
Around 200 protesters have occupied Polytechnic University for days, even setting fire to the entrance in an effort to keep police out.
They fired arrows and catapulted petrol bombs at police who deployed tear gas and water cannon before entering the university in the early hours of Monday.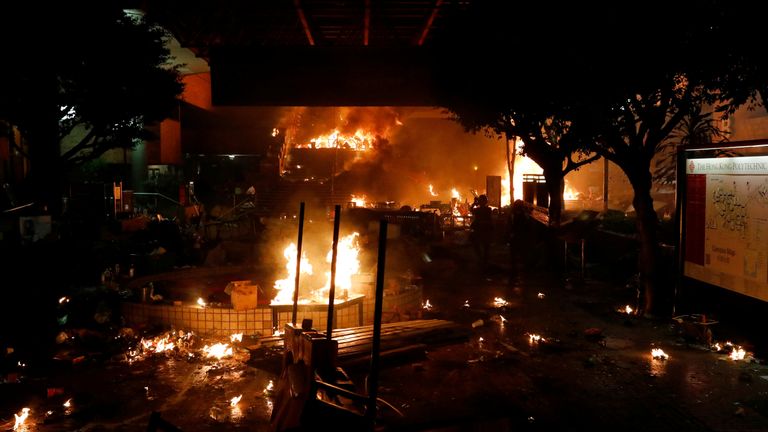 Sky's Asia correspondent Tom Cheshire, who is inside the campus, said police had broken through some barricades but there was "layer after layer of defence".
He said protesters had been trying to get out of the university because "they think there's not a future here and the best thing they can do is chance it with the police".
"There are running battles all around campus," he added.
Police had earlier threatened to use live bullets if protesters remained at the campus.
However, dozens of protesters tried to leave after reassurances from the university's president, who said police had agreed to suspend the use of force.
Jin-Guang Teng said he would accompany protesters to the police station to ensure their cases would be processed fairly.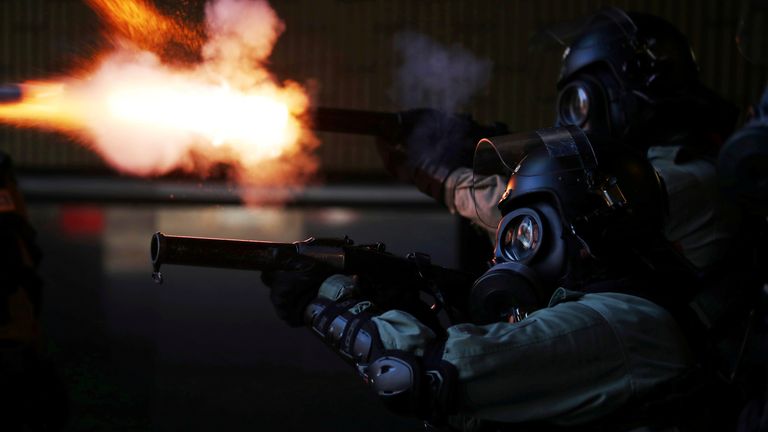 He added: "I hope that you will accept the proposed temporary suspension of force and leave the campus in a peaceful manner."
As some of the protesters tried to leave, police fired tear gas, forcing them back inside the campus.
One protester named Dan, 19, said: "We've been trapped here for too long.
"We need all Hong Kongers to know we need help.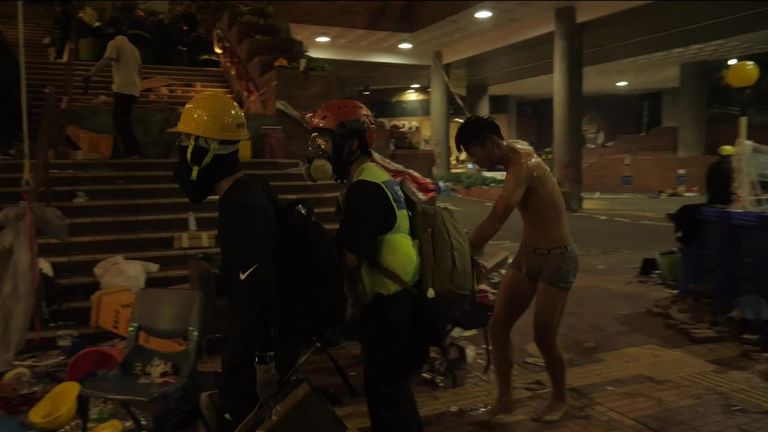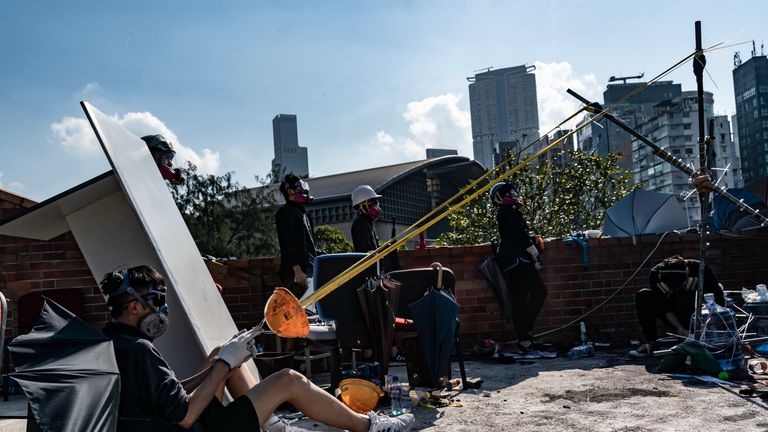 "I don't know how much longer we can go on like this. We may need international help."
The violence seen over the past few days has been among the worst in six months of demonstrations, with 38 people injured on Sunday alone, the hospital authority said.
The campus occupation at #PolyUHongKong is coming to an end. After a night of flames, tear gas the protestors had to abandon the demolished campus area, exposing themselves to potential mass arrests by the waiting police. pic.twitter.com/t4ST0TXxLy

— marc hofer (@marchofer) November 18, 2019
A police media liaison officer was treated in hospital after being hit in the leg with an arrow as the clashes spread across the central Kowloon district.
Police said the protesters' activities had "escalated to rioting", adding: "Rioters continue to launch hard objects and petrol bombs with large catapults at police officers."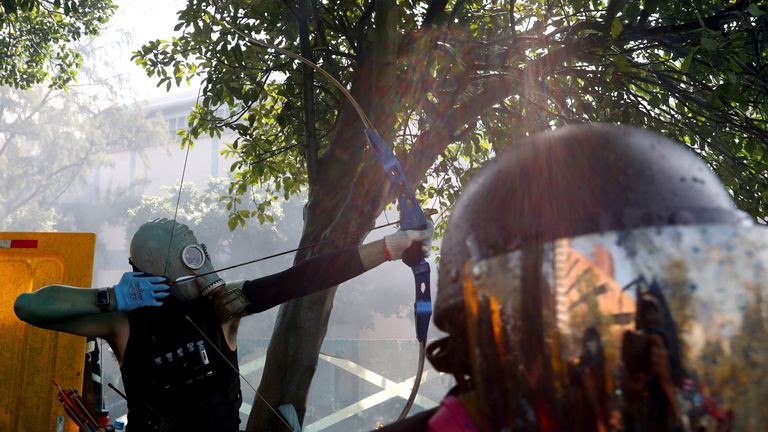 Sky's Tom Cheshire said the university had been "fortified" by the protesters and was the only one still occupied by them.
Reporting from the scene, he said: "All day long, police have been getting closer and closer. They've sealed off every exit.
"The reason this is different now is that things feel more violent. The protesters have occupied the bridges and set fire to them. Massive explosions. We presume there were gas canisters in the fire.
"And police gave a deadline to protesters. They said, 'If you are not out of here by 10pm we're going to come in and we're going to get you'.
"And now this whole place is on lockdown. Protesters aren't allowed out and no one is allowed in. It feels a bit like the end game. That's what protesters are telling us."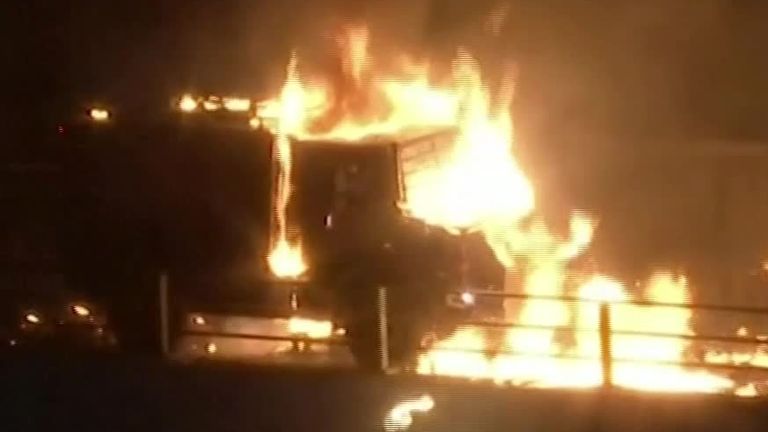 On Saturday, dozens of Chinese troops, wearing shorts and T-shirts, picked up paving stones, rocks and other obstacles that had cluttered the street near another university.
The military is allowed to help maintain public order, but only at the request of the Hong Kong government.
The government said it had not asked for the military's assistance, calling it a voluntary community activity. But their presence on the streets risks stoking tensions further.
The protests were sparked by proposed legislation that would have allowed criminal suspects to be extradited to the mainland.
The bill has been withdrawn, but the protests have spread into a wider resistance movement against Beijing's perceived growing control, along with calls for full democracy for the territory.
Meanwhile on Monday, Hong Kong's high court struck down a face mask ban aimed at protesters trying to hide their identity to avoid arrest.
The court said that the ban infringes on fundamental rights more than is reasonably necessary for the furtherance of its goals.
The government used its emergency powers to impose the ban last month.
The court said it did not consider anti-mask laws unconstitutional in general, but in this case, the law infringed on fundamental rights further than was reasonably necessary.