Google is celebrating the 218th birthday of Joseph Antoine Ferdinand Plateau, whose invention led to the birth of cinema.
The Google Doodle in his honour has been created by animator and filmmaker Olivia Huynh and features artwork inspired by Plateau's invention.
But who is the Belgian physicist and what impact has his work had?
The young prodigy
Plateau was born in Brussels in 1901 and was the son of a talented painter.
He had learned to read by the age of six – making him exceptionally smart for the time period – and developed a keen interest in physics at primary school.
The young prodigy began inventing instruments at home.
He had lost both his parents by the age of 14 and moved to a village near Waterloo, shortly before the battle broke out in 1815.
Inventing moving images
Although he initially studied law, Plateau's 1829 dissertation focused on light and vision.
His research looked at how images form on the retina and the persistence of visual impressions, such as how we see falling raindrops as lines.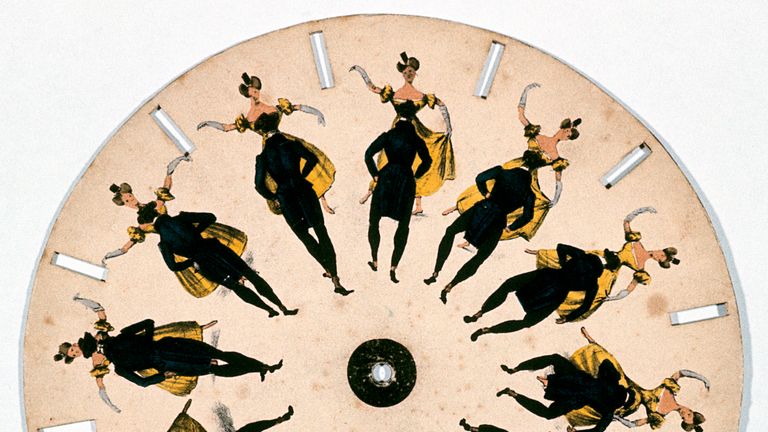 Three years later, he used his findings to create a phenakistoscope – and the first ever moving image.
The phenakistoscope is an instrument which comprises two rotating discs moving in opposite directions. One disc is fitted with small windows and the other features images of a dancer.
When the discs are turned at the right speed, the images create the illusion of a dancer in motion.
It is believed the device was simultaneously invented by Austrian professor Simon Stampfer, who was also studying the same optical illusion.
The invention has paved the way for modern cinema.
Losing his vision
In what may have been a cruel twist of fate, Plateau eventually lost his sight.
He believed his blindness may have been caused by an experiment he did in 1829 in which he looked directly into the sun for 25 seconds to understand the effects of light on the retina.
For several days afterwards, he became blind and later saw brightly coloured halos around light sources.
In 1841, he began suffering from choroiditis, which led to his total loss of vision two years later.
Although he believed the disease to be related to his experiment, modern opthalmologists think it may have been unrelated and possibly caused by a problem with his immune system.
Later discoveries
Despite his sight loss, Plateau went on to make further scientific discoveries.
A mathematical problem named after Plateau shows the existence of a minimal surface with a given boundary.
He also showed the tendency of liquids to shrink into the smallest possible surface area, known as the Plateau-Rayleigh instability.
Hundreds of elephants die in Zimbabwe during severe drought | World News
Hundreds of elephants have died during a severe drought in Zimbabwe – with a mass relocation planned to help the animals.
At least 200 elephants have died in Hwange National Park alone since October, Zimbabwe National Parks and Wildlife Management Authority spokesman Tinashe Farawo said.
Other parks are also affected, as are other animals including giraffes, buffalos and impalas, but the situation can only improve once the rains return, he said.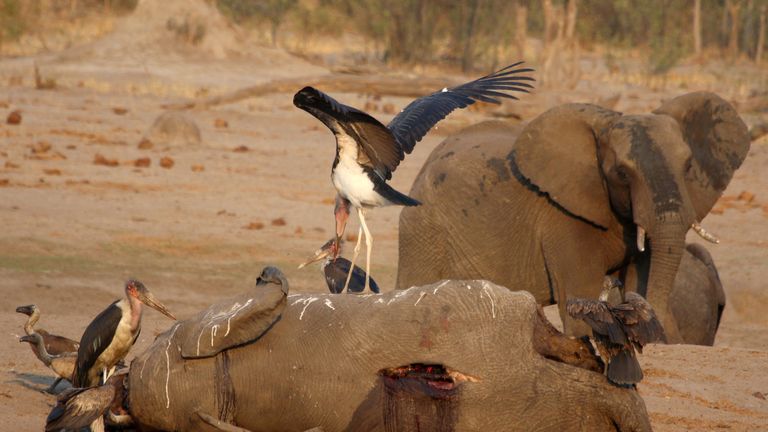 "Almost every animal is being affected," he said.
"Of course, elephants are easily noticed during patrols or game drives, but some bird species are seriously affected because they can only breed in certain tree heights and those trees are being knocked down by elephants."
The country's government called a national emergency after the October rains it was counting on never emerged, leaving land parched and farmers unable to harvest crops.
Watering holes previously full of water remain nearly empty, with elephant and buffalo carcasses becoming commonplace as they get stuck in clay trying to reach the small pools of water left.
Rangers are resorting to putting out drinking water for animals, something that is usually unheard of.
Humans are also suffering as a third of rural households – about 3.5 million people – have dangerously insecure food sources, according to the World Food Programme.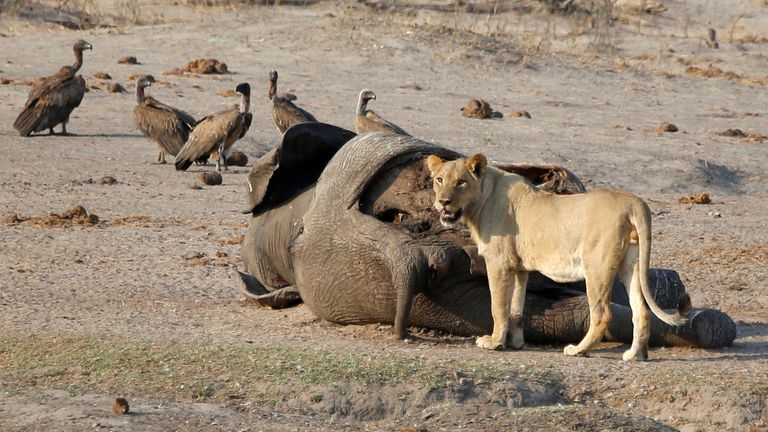 But it is not just the lack of water that is affecting numbers, as Zimbabwe says it is struggling to cope with booming numbers of wild elephants, with an estimated 85,000 in the country – second only to neighbouring Botswana which has more than 130,000.
Many animals, of all species, are straying from Zimbabwe's parks into nearby communities in search of food and water.
This year alone has seen 33 people die from conflicts with animals, the parks agency said.
It said it plans to move 600 elephants, two prides of lions and other animals from the Save Valley Conservancy in the southeast to less populated parks.
A pack of wild dogs, 50 buffalo, 40 giraffe and 2,000 impala will also be relocated, Mr Farawo said.
He said the animals "have exceeded their ecological carrying capacity".
"If the populations go unchecked, the animals will threaten the very ecosystem they depend on for survival," he said.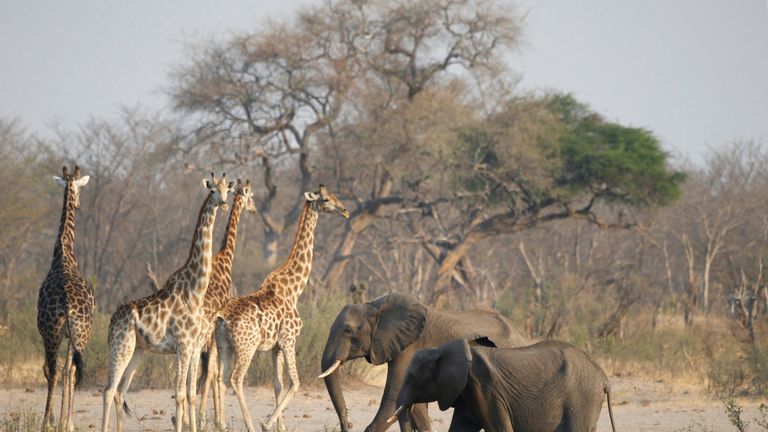 The country wants to deal with its massive elephant population by being allowed to sell its ivory stockpile and export live elephants to raise money for conservation and ease numbers in the drought-affected parks.
Zimbabwe has raised more than £2.3 million for conservation efforts by exporting 101 elephants between 2016 and this year.
However, the move is controversial as they have been sold mainly to China and the United Arab Emirates where animal rights are regularly brought into question.
Further Hong Kong clashes after man shot and leader calls protesters 'enemy of the people' | World News
Further clashes have erupted across Hong Kong a day after leader Carrie Lam called pro-democracy protesters the "enemy of the people".
The city-wide protests kicked off early as morning rush-hour trains and major roads were disrupted for the second day in a row during unusual weekday clashes in the five months of anti-government demonstrations.
Chief Executive Ms Lam called the morning commute blockage "a very selfish act" as she expressed her "gratitude to those who are still going to work and school today".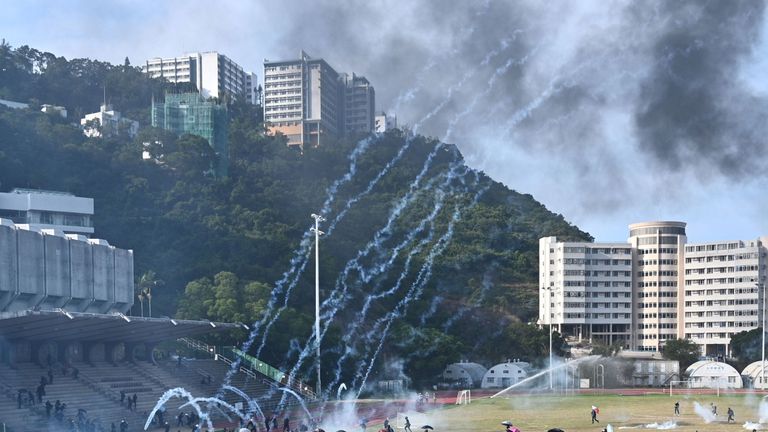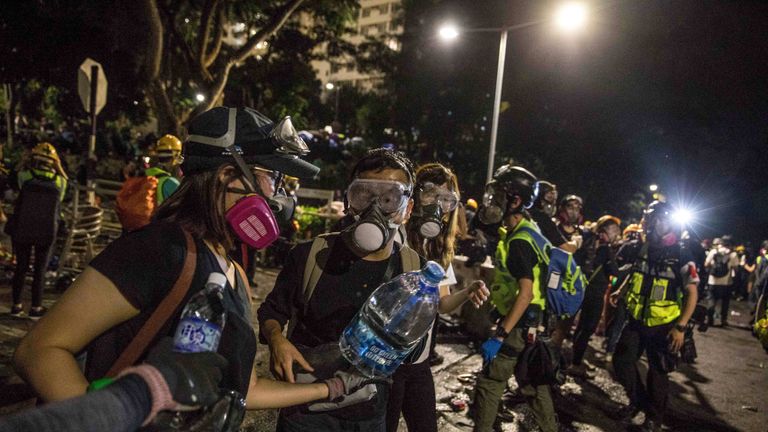 Many of the protests were in reaction to a 21-year-old student being shot and critically wounded by a police officer on Monday morning, while a man was set on fire in one of the most violent days of the protests.
The Chinese government, which has said relatively little about the protests, accused the US and the UK of hypocrisy after both expressed concern over Monday's shooting, but China said they did not condemn a man being set on fire.
In a rare disagreement between China's and Hong Kong's leaders, Beijing said district council elections in the former British colony on 24 November would only go ahead if there was peace, while Ms Lam insisted they must go ahead whatever the situation.
The day before, she said the violence has far exceeded the call for democracy and said "rioters" would not succeed in securing their demands – as she called them the "enemy of the people".
At several university campuses on Tuesday classes were cancelled as riot police and protesters faced off, with water cannon used for the first time at the Chinese University of Hong Kong (CUHK) in Sha Tin on Tuesday night.
Earlier in the day student protesters erected barricades, threw objects and petrol bombs, causing a large fire to break out in the middle of the campus.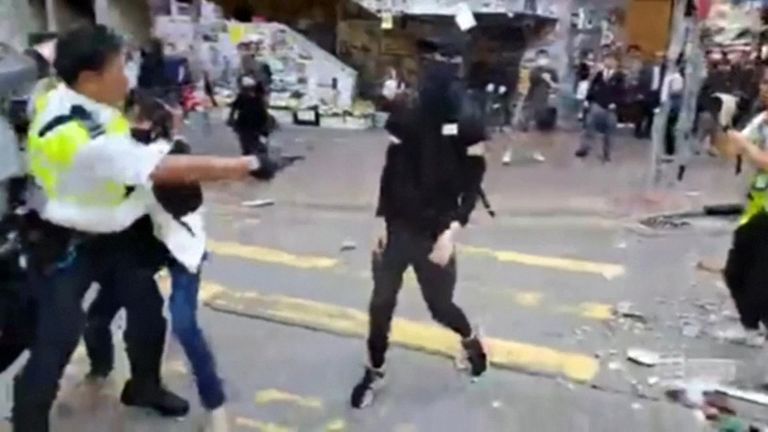 The university's vice-chancellor, Rocky Tuan, was hit with tear gas as he and other senior executives tried to negotiate with police, eventually saying officers were willing to retreat if security guards prevented any more objects being thrown from a height.
As he tried to ask police to stop advancing towards the students, he was told via megaphone: "Don't provoke the police. don't come over, because there are people following you and you can't control them."
They then fired tear gas at him.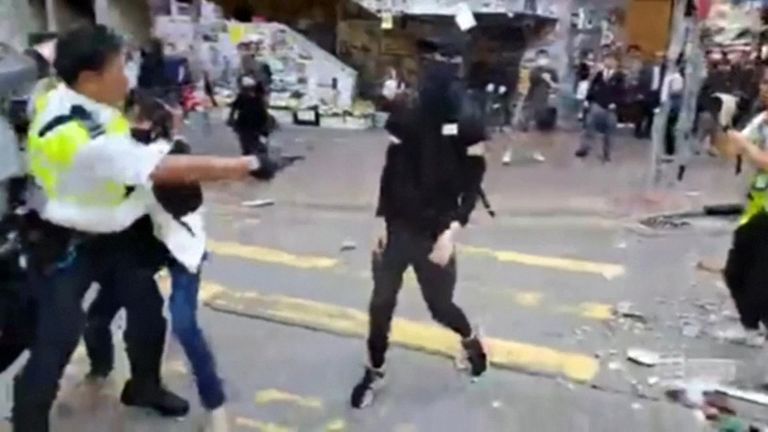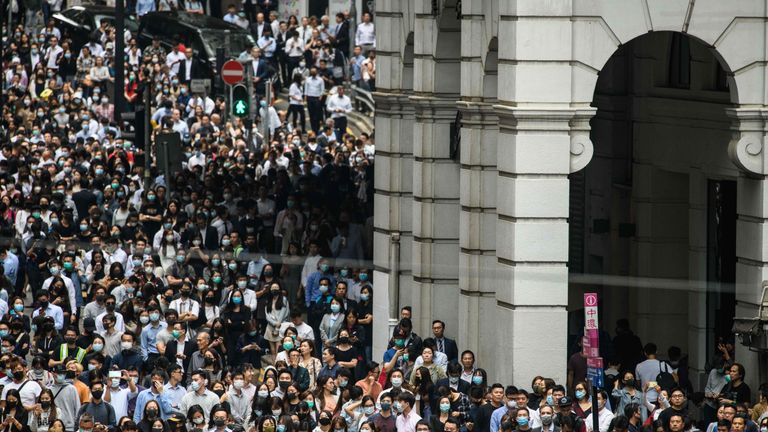 In central Hong Kong, protesters occupied the streets, with thousands of office workers joining them on upmarket Pedder Street during their lunchtime break, before more violent clashes broke out in the evening.
The lunchtime protest included a few thousand people who chanted "five demands, not one less" in reference to the changes they are calling for, including democratic changes and an independent investigation of police treatment of protesters.
A shop in the popular retail district of Causeway Bay was set on fire, with flames reaching residential flats above.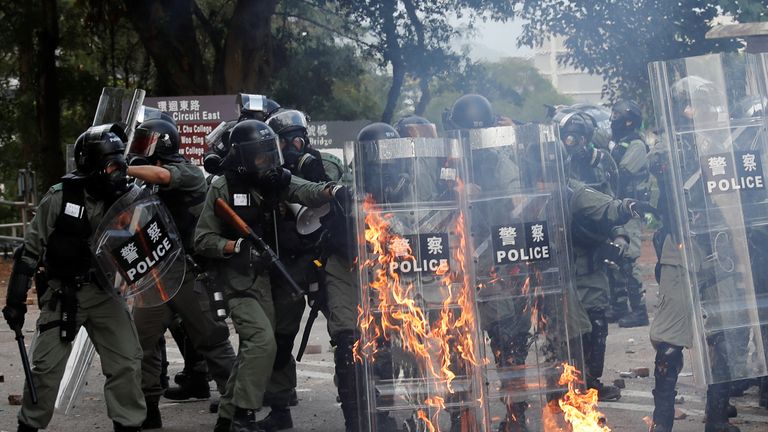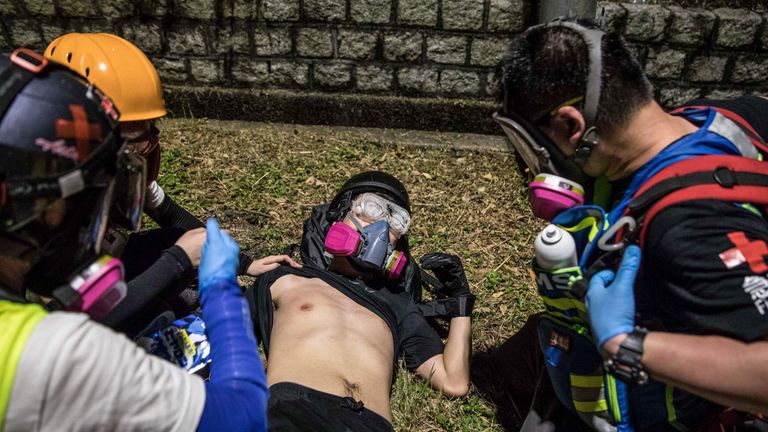 Over the harbour in Kowloon Tong, protesters smashed through glass railings and windows in luxury shopping centre Festival Walk, then set fire to its three-storey Christmas tree.
The violence is the latest in protests which started in June over a recently-abandoned bill that would have seen those suspected of crimes in Hong Kong facing extradition to China.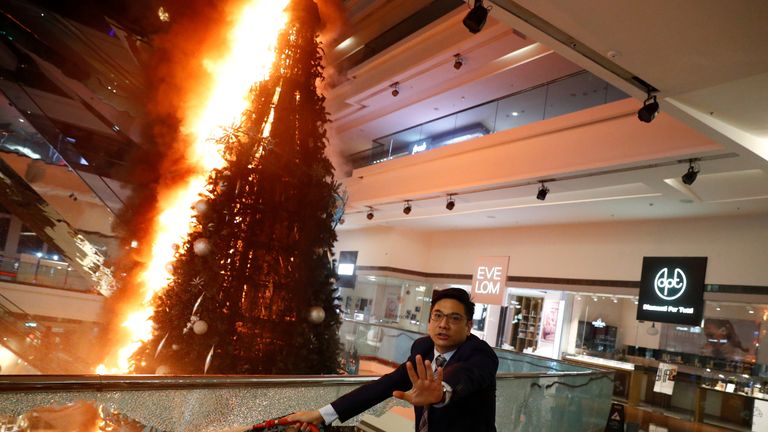 But over the past few months, the campaign has widened to encompass general anti-China feeling in the city, as residents fear their freedoms are being eroded.
Hong Kong retained those freedoms, which are not enjoyed by those on the Chinese mainland, after the former British colony was returned to China in 1997.
Major terror attack in West 'expected' over Syria inaction, Kurdish general warns | World News
Another Islamic State (IS) terrorist attack in a Western city is "expected" because of the West's inaction and indifference in the region, the top Kurdish commander in Syria has warned.
General Mazloum Kobani, commander of the Syrian Democratic Forces (SDF), told Sky News the combination of the Turkish incursion into northern Syria, Western indifference to that and the West's unwillingness to take back its IS fighters is creating the perfect environment for an IS resurgence.
"The danger of the resurgence of ISIS is very big. And it's a serious danger.
"I think there are many people who don't know this but it's true. The Turkish aggression opened the space and provided hope for ISIS members," the general said.
On the prospect of another "spectacular" terror attack like the Manchester Arena bombing or the Paris Bataclan attack, the general was blunt.
"This is possible. It's one of the expected things that may happen in the future," he said.
Referencing the 5,000 IS fighters who are being held in Kurdish-run prisons, he said his forces do not have the capacity to guard them.
"We don't know the fate of these prisoners in Syria and the balance here changes, so we don't know what the future is for these prisoners," he said.
"Yes, they pose a threat on other countries and they are extremely dangerous."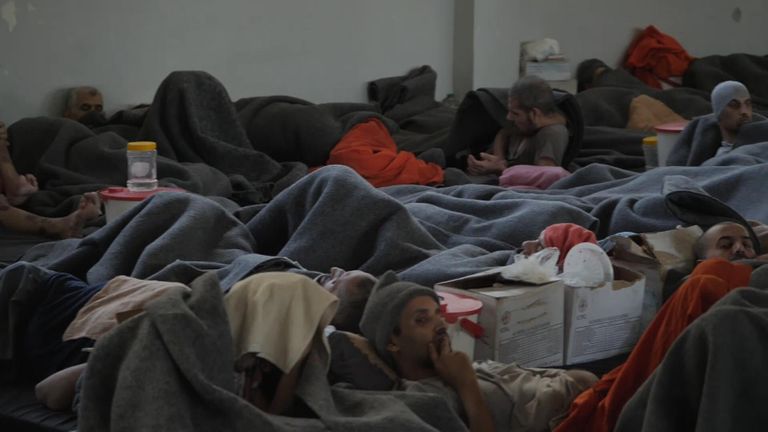 We spoke at a secret location in northern Syria. Despite being the key ally of the West in its fight against IS over the past five years, the general is also wanted by Turkey.
As a Kurdish People's Protection Unit (YPG) commander, he is considered to be a terrorist because of his links to the Kurdish separatist group inside Turkey – the PKK (Kurdistan Workers' Party).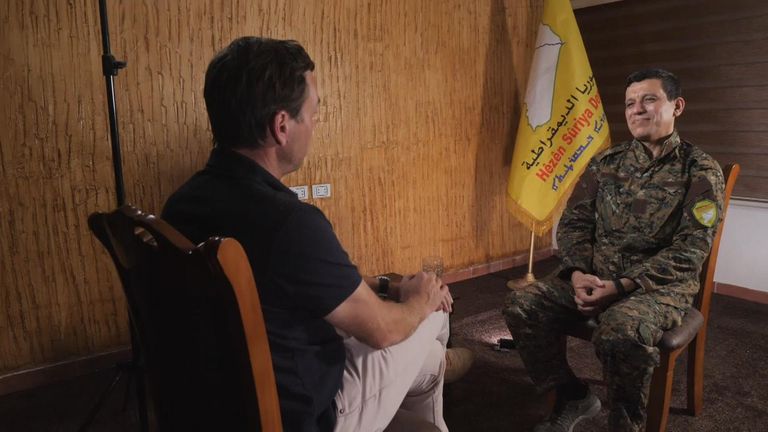 Speaking remarkably frankly, General Kobani claimed:
:: Turkey is actively aiding the resurgence of IS
:: Turkey will use captured IS fighters as bargaining chips against Europe just as it did with migrants inside Turkey
:: Intelligence from his men was the critical component in the successful US-led mission to kill IS leader Abu Bakr al-Baghdadi last month
:: The British government had "reacted positively" to his request for more military support – boots on the ground – in the urgent fight against IS
:: US President Donald Trump reversed a decision to pull out American troops from the region after a phone conversation with him.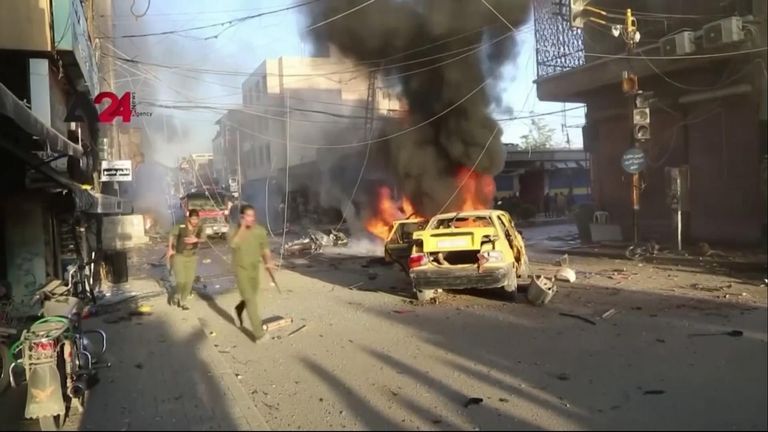 Turkey has said any suggestion it is aiding the return of IS is preposterous. Yet the general was insistent.
"Yes. It's a big allegation and there's evidence of it. Many people know it.
"Not just ISIS members but also former members of Al Nusra front and al Qaeda fighters and fought against our forces in 2013 and 2014."
Several Islamist jihadist groups, with extremist agendas, have been active across Syria throughout the conflict.
There is video evidence showing some of these groups are working with Turkey to attack Kurdish fighters in the region.
But there is no hard proof to suggest IS members are among them.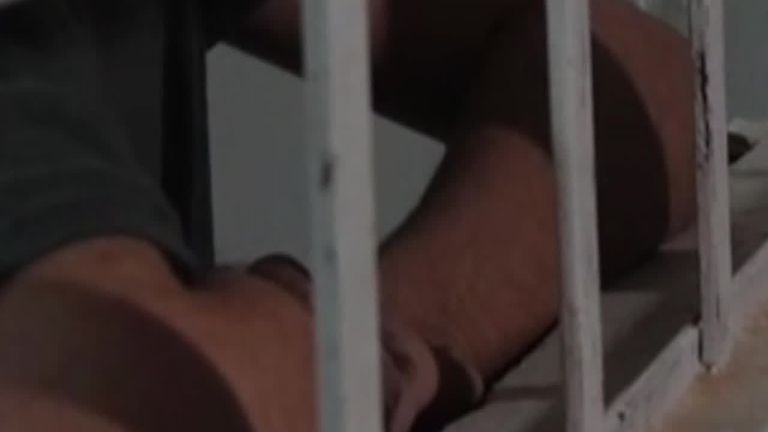 He confirmed he had discussed his concerns with Western leaders, including President Trump and his French counterpart Emmanuel Macron.
"Yes – we informed many of them," he added.
"We told President Macron of France, Senator Graham in America and we told the American president. All of them know. They promised they will address this issue. We don't know how… but they promised."
As we spoke two Apache attack helicopters were landing nearby.
"Are these American helicopters?" I asked.
"Yes, they are Americans and American support is continuing," he said.
:: Listen to the Daily podcast on Apple Podcasts, Google Podcasts, Spotify, Spreaker
Despite all the talk by Mr Trump of pulling US forces out of northern Syria, it was clear that not only are they still here, but they are providing protection for the man Turkey wants dead. A sign of the convoluted nature of the Syrian conflict.
General Kobani said: "Some of them withdrew and a part of them stayed. But then after, the withdrawal has stopped and some returned."
But he said the US objectives are now dangerously confused.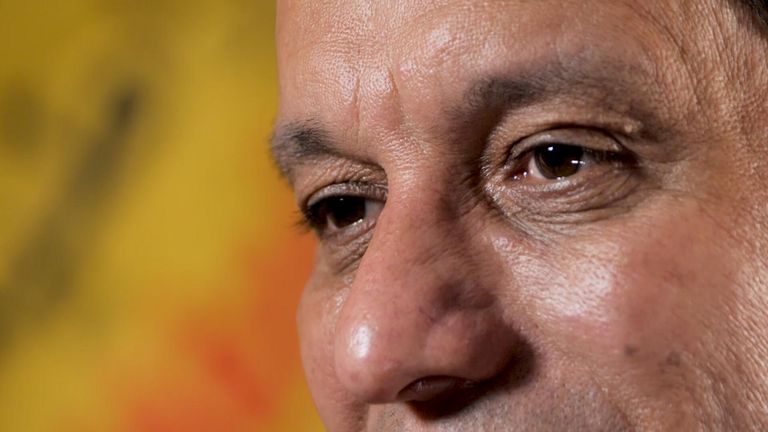 "America does not have a clear aim. We want something clear for us – what we want is for America to say we will remain here until we reach a solution in Syria.
"Otherwise, we have fear about the battle against ISIS and the safety of our population."
Before the Turkish incursion began, a small contingent of British special forces was on the ground inside northern Syria.
The general confirmed he has discussed with UK officials the deployment of more British soldiers.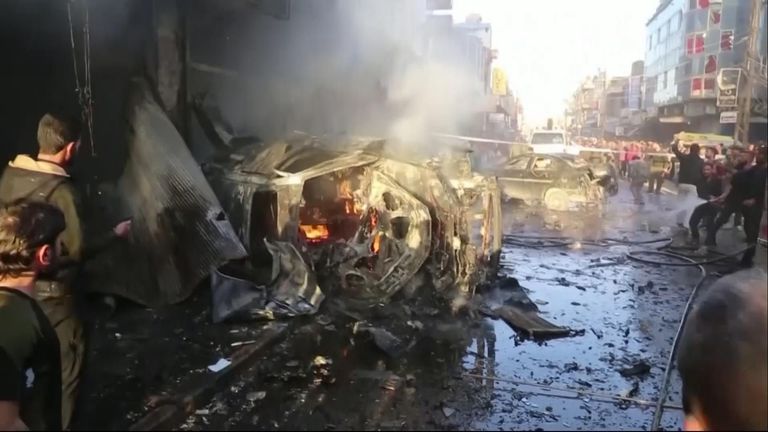 He added: "Yes, their reply was positive. And they said – announced – they will continue [as part of the coaltion]."
On the issue of the IS prisoners in Syria, the general said he is constantly pressing Western governments to come up with a sustainable solution.
"We repeatedly told them we have two choices for them: to take back their prisoners and put them on trial if they can do so. They have to honour their commitments.
"Or, they set up an international court here [in Syria] because we cannot hold them forever here."
Had either idea got traction within Western governments, I asked.
He smiled: "No, for either option."