Prince William shared a touching moment with a 14-year-old student as the pair reminisced about his late mother Princess Diana on the second day of the royal tour of Pakistan.
The Duke and Duchess of Cambridge were visiting a school in Islamabad where Aima told the duke that the students were "big fans of your mother".
"Oh that's very sweet of you," William replied.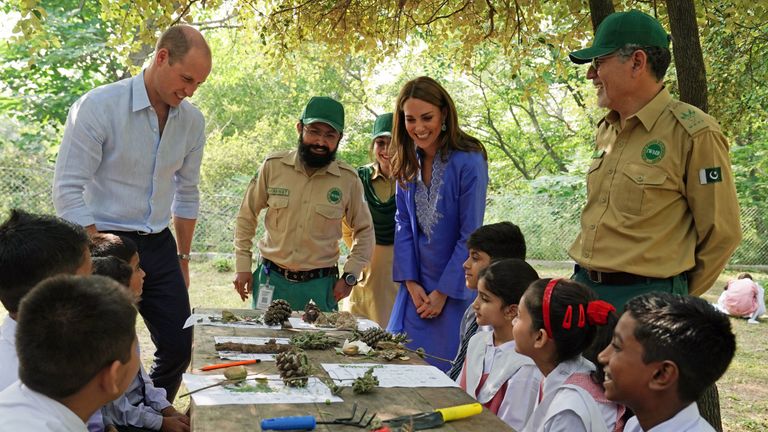 "I was a big fan of my mother too. She came here three times. This is my first time and it is very nice to be here and meet you all."
William and Kate later met Pakistan's prime minister Imran Khan, and they discussed the former test cricketer speaking of his political ambitions more than 20 years ago.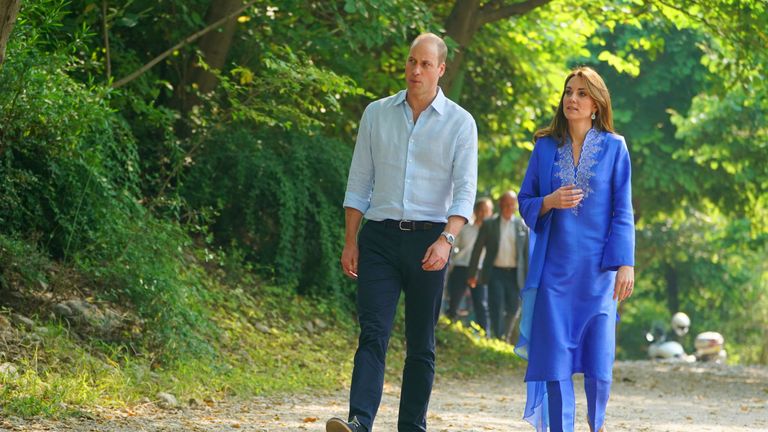 The former international cricketer was a friend of Diana, Princess of Wales Diana, who had taken the young duke to visit him and his then wife, Jemima Goldsmith.
On his younger aspirations of becoming a cricketer, Mr Khan said: "When I went with my mother to see a Test match my cousin was playing and he scored a century and I told my mother I wanted to be a Test cricketer.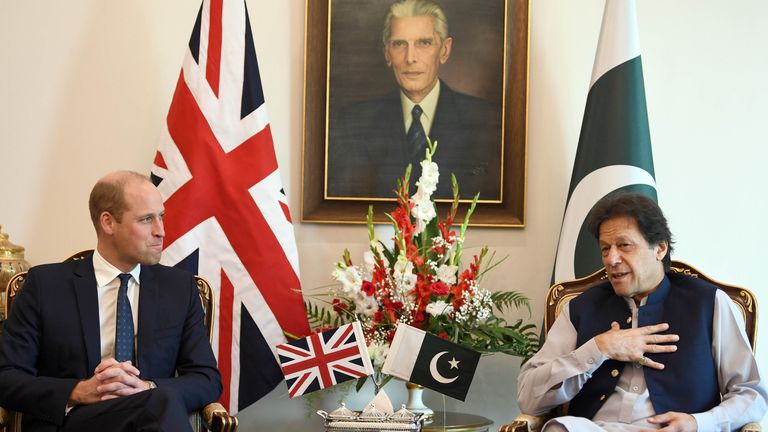 "I never realised how difficult it was to eventually become one.
"Similarly, when I told you that I wanted to succeed I didn't realise it would take me 22 years."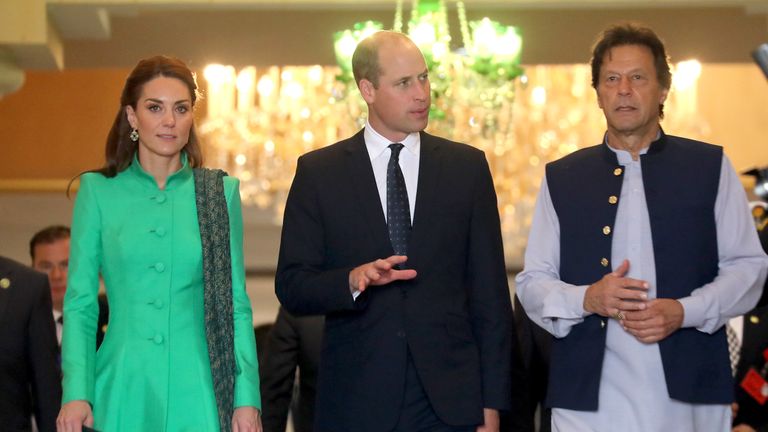 The duke replied: "Sure. It's not so easy."
Kate, wearing white trousers by the Pakistani designer Maheen Khan and an emerald green tunic by Catherine Walker, said: "You stuck with it."
The duchess also wore a navy patterned scarf by local designer Satrangi and earrings by Zeen – a Pakistani jeweller whose earrings she has worn in the past.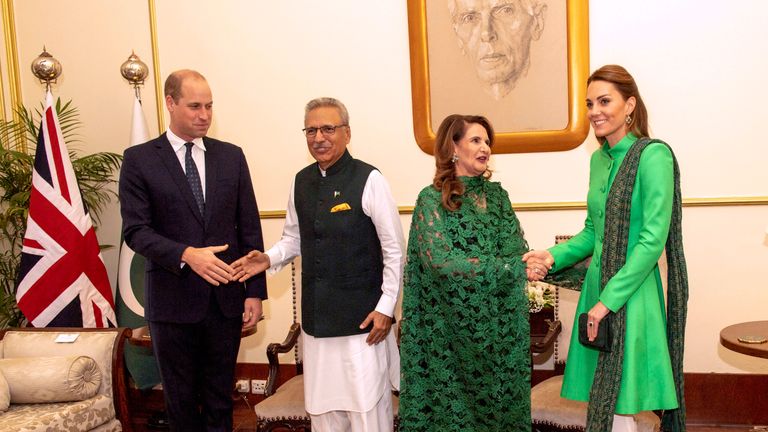 Diana visited a cancer hospital in Lahore as a guest of Mr Khan and his then wife, Jemima Goldsmith, in May 1997 – just three months before she died.
William and Kate also met President Arif Alvi and first lady Samina Alvi.
Welcoming the Duke and Duchess of Cambridge on their first tour of the country, the 70-year-old president recalled running along Victoria Road in Karachi to catch a glimpse of the Queen during her 1961 state visit.
"It was miraculous to see her," he told William, who spoke of the Prince of Wales's visit to Pakistan in 2006.
The duke will make a speech later at an evening reception hosted by Thomas Drew, the British High Commissioner to Pakistan.
He is expected to say the UK will continue to support the Commonwealth country as a "key partner and friend" during a visit which is aimed at strengthening ties between the two nations.
"We share unique bonds and so it will always be in our best interests for Pakistan to succeed," the duke is expected to say.
"You can always rely on the UK to keep playing an important role as a key partner and friend."
Uber CEO admits he was 'wrong' to call murder of Jamal Khashoggi 'a mistake' | World News
Uber's CEO admits he was "wrong" to say the murder of Saudi journalist Jamal Khashoggi was a "mistake" for which the country should be "forgiven".
Dara Khosrowshahi said in a tweet on Monday that his comments were made "in the moment" and were something "I don't believe".
He added: "There's no forgiving or forgetting what happened to Jamal Khashoggi and I was wrong to call it a 'mistake'."
He apologised for not making his views more clear.
There's no forgiving or forgetting what happened to Jamal Khashoggi & I was wrong to call it a "mistake." As I told @danprimack after our interview, I said something in the moment I don't believe. Our investors have long known my views here & I'm sorry I wasn't as clear on Axios https://t.co/RxapzktrXq

— dara khosrowshahi (@dkhos) November 11, 2019
Mr Khashoggi, a prominent Saudi critic who worked for the Washington Post, was last seen in October 2018 as he entered the kingdom's consulate in Istanbul to collect a document. His body has never been found.
Mr Khosrowshahi, an Iranian-American who has been CEO of Uber since 2017, said in an Axios interview that he believed Khashoggi's killing was "a serious mistake" by Saudi Arabia.
He then compared it to a fatal incident involving a self-driving Uber vehicle.
"I think that government said that they made a mistake," he said, adding: "It's a serious mistake. We've made mistakes, too. With self-driving, and we stopped driving and we're recovering from that mistake.
"So I think that people make mistakes – it doesn't mean that they can never be forgiven. I think they've taken it seriously."
Saudi Arabia has charged 11 people that it says are government agents over the killing, and has put them on trial – though it is being held in secret.
In an interview with CBS's 60 Minutes in September, Saudi Crown Prince Mohammed bin Salman said he "takes full responsibility" for the murder, but has denied making the orders.
The self-driving incident that Mr Khosrowshahi compared to the journalist's killing involved an Uber-operated Volvo SUV that hit a 49-year-old woman in Arizona in 2018 after it failed to recognise her as a pedestrian at a crossing.
Top US diplomat 'was told to oppose Donald Trump' by his team | World News
Donald Trump's former ambassador to the UN says she was told to oppose the president's policies by key figures in his administration.
Nikki Haley, who quit her role in October 2018, has revealed in an upcoming memoir that then-secretary of state Rex Tillerson and then-White House chief of staff John Kelly told her that they were trying to "save the country".
Ms Haley, 47, writes in With All Due Respect that she was "shocked" by the request which was made during a closed-door meeting lasting more than an hour.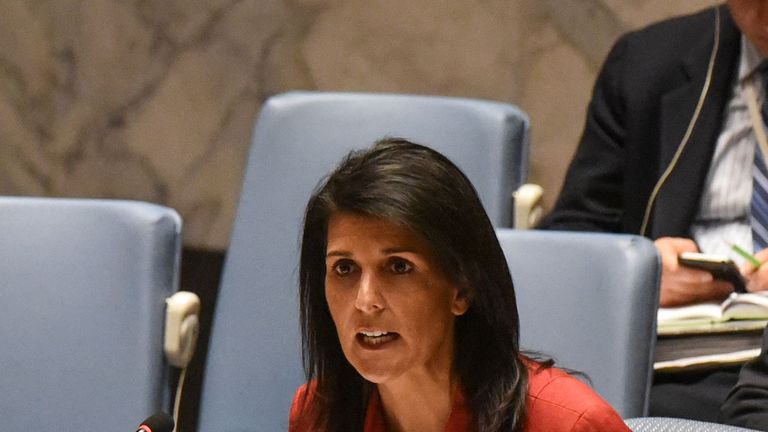 "Kelly and Tillerson confided in me that when they resisted the president, they weren't being insubordinate, they were trying to save the country," she wrote.
"It was their decisions, not the president's, that were in the best interests of America, they said.
"The president didn't know what he was doing… Tillerson went on to tell me the reason he resisted the president's decisions was because, if he didn't, people would die."
At the time, she reasoned that the pair were only trying to put their own imprint on Mr Trump's policies, but now she writes that "they should've been saying that to the president, not asking me to join them on their sidebar plan".
"It should've been, 'Go tell the president what your differences are, and quit if you don't like what he's doing.' But to undermine a president is really a very dangerous thing.
"And it goes against the Constitution, and it goes against what the American people want. And it was offensive."
.@NikkiHaley is out with a new book, "With All Due Respect" this week. Make sure you order your copy today, or stop by one of her book tour stops to get a copy and say hello. Good luck Nikki! https://t.co/uHKAAlVuLt

— Donald J. Trump (@realDonaldTrump) November 10, 2019
Mr Trump fired Mr Tillerson in March 2018 and Mr Kelly that December.
Later, Mr Tillerson said the president was "undisciplined" and did not like to read briefing reports, while his former boss described him as "dumb as a rock".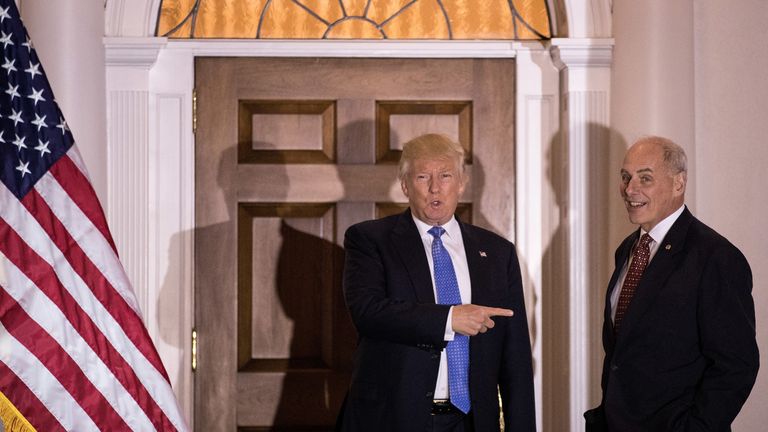 Ms Haley, a former governor of South Carolina, is widely seen as a leading potential presidential candidate in 2024.
In the book, she admits she had her own differences with the president, objecting when Mr Trump said "both sides" had been to blame for the violence at a white supremacist march in Charlottesville in which a woman died.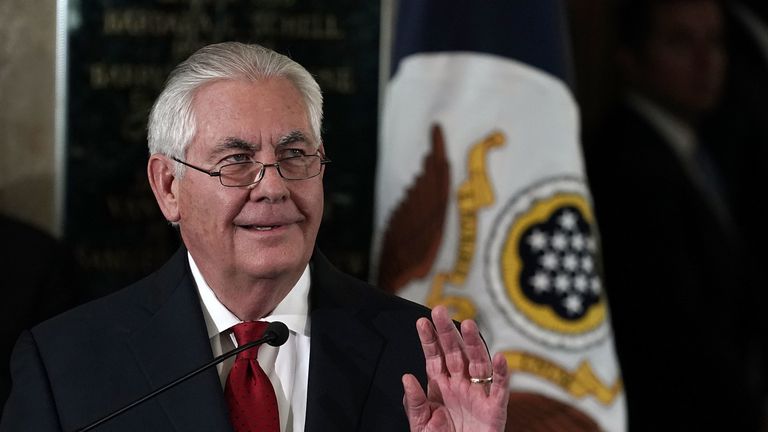 "A leader's words matter in these situations. And the president's words had been hurtful and dangerous. I picked up the phone and called the president," she writes.
The former ambassador says she told Mr Trump privately he had ceded authority to Russian President Vladi­mir Putin after the two leaders met in Helsinki in 2018.
But she is firmly opposed to the impeachment process, she told the Washington Post, even though it is wrong for a president to ask a foreign power to investigate a political opponent, as Mr Trump is accused of doing with Ukraine over Joe Biden.
Co-founder of White Helmets found dead days after Russia claimed he was a spy | World News
A former British Army officer who co-founded the White Helmets volunteer force in Syria has been found dead in Istanbul.
Last week, James Le Mesurier was accused of being a spy in a tweet from the Russian foreign ministry.
A neighbour said his body was found on Monday near his home in central Istanbul's Beyoglu district.
On Friday, the Russian foreign ministry posted: "The White Helmets' co-founder, James Le Mesurier, is a former agent of Britain's MI6, who has been spotted all around the world, including in the Balkans and the Middle East.
"His connections to terrorist groups were reported back during his mission in Kosovo."
The circumstances of Mr Le Mesurier's death are unclear.
The White Helmets – known officially as Syria Civil Defence – have been credited with saving thousands of people in rebel-held areas during years of bombing by Syrian government and Russian forces in Syria's civil war.
Mr Le Mesurier founded the Mayday Rescue group, a not-for-profit organisation with offices in Amsterdam and Istanbul.
Its projects have been funded by various governments and the United Nations.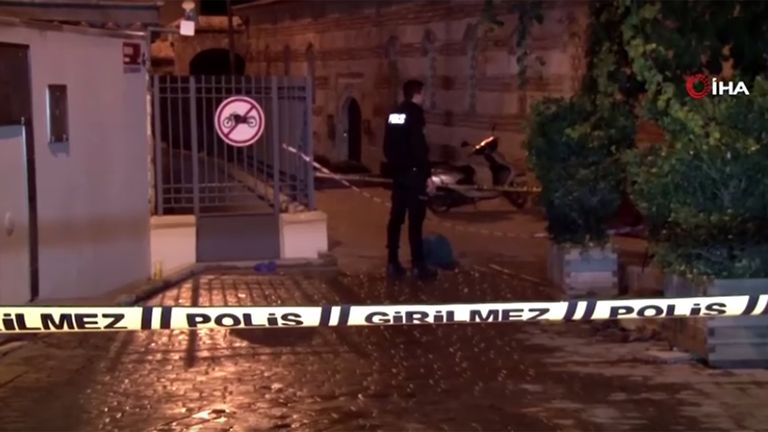 More follows…