France has called for Turkey to be punished after several Turkish international football players celebrated a goal with a military-style salute during a match in Paris.
It is the second time in three days Turkish internationals celebrated a goal in EURO 2020 qualifiers with a salute – a reference to the Turkish military's ongoing conflict with the Kurds in northern Syria.
UEFA, which prohibits any political gestures during internationals, said on Friday night that it would investigate after several Turkey players celebrated Cenk Tosun's last-minute goal against Albania with a military salute.
Despite this, several Turkey stars repeated the act last night after defender Kaan Ayhan notched a late equaliser against France.
In a post on Instagram, Tosun wrote that the salute was "for our nation, especially for the ones who are risking their lives for our nation."
The official Twitter page for the Turkish team also posted a photo of the side all giving the salute after the match.
UEFA told Sky News that it is waiting for official reports regarding the incidents and would be providing no other information or comment.
Merci à la @FFF et aux forces de l'ordre pour leur travail afin d'assurer le bon déroulement du match. Les joueurs turcs ont gâché ces efforts en réalisant un salut militaire, contraire à l'esprit sportif. Je demande à @UEFAcom_fr une sanction exemplaire.

— Roxana Maracineanu (@RoxaMaracineanu) October 14, 2019
The salutes made headlines in France, where many had called for last night's international fixture to be cancelled after Turkey's game against Albania on Friday.
France's sports minister Roxana Maracineanu thanked French police on Twitter, but condemned Turkish players, saying their actions were "contrary to sportsmanship"
Si les footballeurs turcs font des saluts militaires, ils doivent s'attendre à être traités comme les militaires d'une armée ennemie. On ne joue donc pas au foot contre eux. La base de l'esprit sportif n'est plus là ! #AnnulationMatchFranceTurquie

— Jean-Luc Mélenchon (@JLMelenchon) October 14, 2019
Earlier this week, Marine Le Pen, the leader of the far-right National Front party, tweeted: "Being the platform of #Erdogan's propaganda, whose actions in #Syria worry the international community, the Turkish football team has flouted the values of sport.
"It is time for UEFA to sanction this political drift of the Turkish Football Federation!"
The leader of the left-wing populist party Insoumise, Jean-Luc Melenchon, also tweeted, saying that the players must "expect to be treated as soldiers of an enemy army" after their actions.
:: Listen to the Daily podcast on Apple Podcasts, Google Podcasts, Spotify, Spreaker
Girl, 15, dies after bridge collapses into river in France | World News
A 15-year-old girl and a lorry driver have been killed after a bridge collapsed into a river in southwestern France, officials have said.
The 150m-long (492ft) suspension bridge in Mirepoix-sur-Tarn, near Toulouse, collapsed at around 8am local time on Monday.
A lorry, a car and possibly a van were crossing at the same time, the local prosecutor said.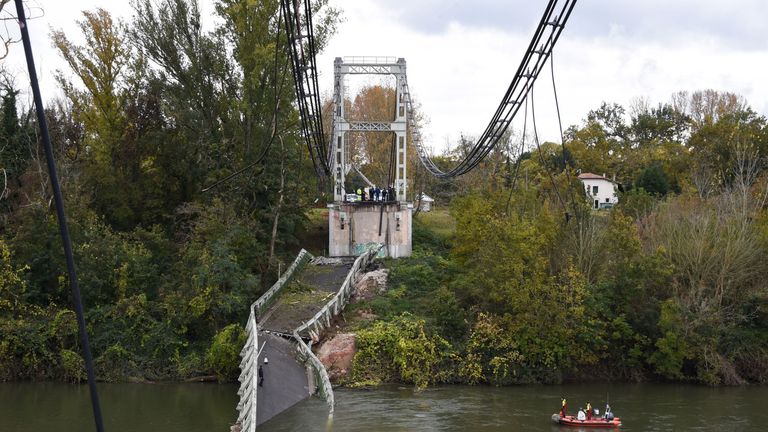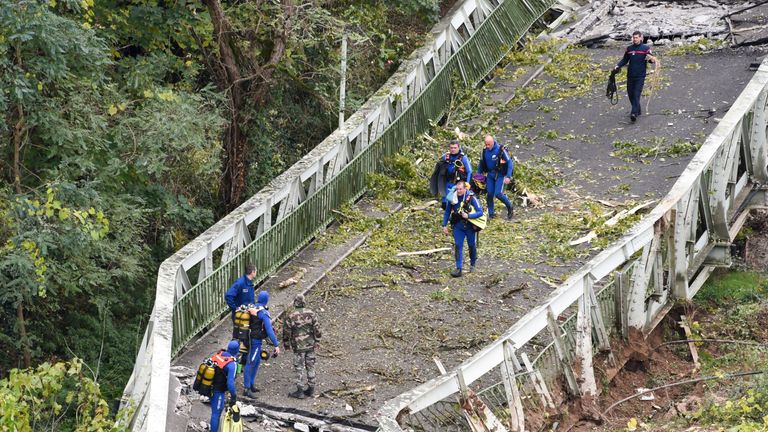 The bridge, which was renovated in 2003 by Haute-Garonne council, was limited to 19-tonne vehicles.
Television footage showed one car nose-down in the water with only its rear lights and bumper above the surface.
The mother of the deceased teenager was among three people rescued from the water, the prosecutor said.
The mayor of Mirepoix-sur-Tarn later said on French television station BFM TV that the lorry driver had also died.
The local prefect Etienne Guyot said the total number of casualties was not yet known.
The bridge was inspected every six years and had not shown any signs of structural weakness at its last inspection in 2017, according to the council.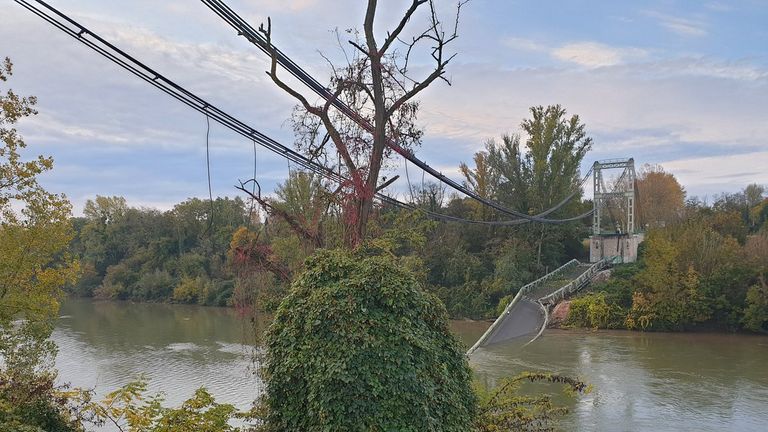 A criminal investigation into the causes of the accident has been opened.
Following the collapse of a motorway viaduct last year in Genoa, Italy, which killed 43 people, senators called for extra funding to check and repair bridges across France.
Tata Steel to cut 3,000 European jobs – report | Business News
Tata Steel is planning to cut around 3,000 jobs in Europe, with over half in the Netherlands, a source has told Reuters.
According to the agency, Tata said on Monday that the job cuts are necessary as it wrestles with excess supply and high costs.
But the report said the company insisted there will be no plant closures.
In a statement to Reuters, Tata Steel said that challenging market conditions had been "made worse by the use of Europe as a dumping ground for the world's excess capacity".
The move comes 10 weeks after the steel giant announced plans to close two UK operations with the loss of 400 jobs, blaming a failure to sell off its loss-making Orb Electrical Steels business in Newport, South Wales.
The steelworkers' union accused the company of "breaking its commitments" to the workforce.
Tata employs around 8,000 staff in the Wales.
All 26 jobs at its Wolverhampton Engineering Steels Service Centre will also be lost.
The Indian corporation began overhauling its European business in June, including its steel-making plants in the Netherlands and Wales and downstream operations across the region.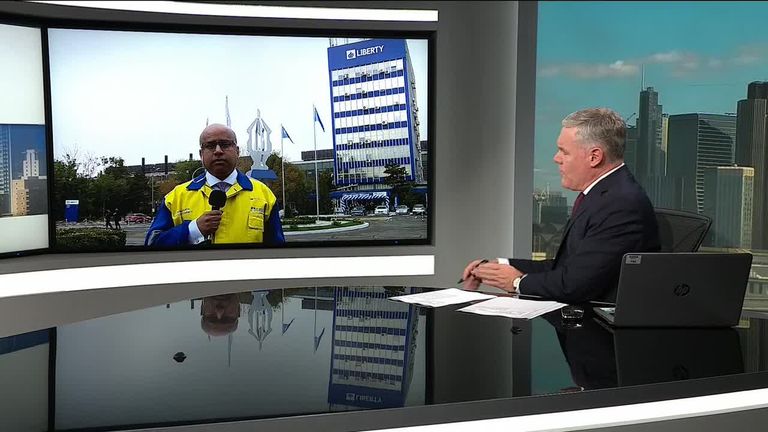 Tata's quest to boost profitability follows a European anti-trust decision to block a joint venture with Germany's Thyssenkrupp in May.
Last week Chinese steelmaker Jingye signed a provisional deal to buy British Steel, after it went into compulsory liquidation in May, safeguarding up to 4,000 jobs.
Jingye said it plans to invest £1.2bn in British Steel over the next decade.
Hong Kong: How long will China tolerate embarrassing protests and will it use force? | World News
China has accused the UK and US of interfering in the internal affairs of Hong Kong as authorities struggle to contain months of protests in the city.
It comes after fresh violence on Monday as Hong Kong police, firing rubber bullets and tear gas, clashed with anti-government protesters armed with petrol bombs and other weapons.
Here, Sky News looks at the options facing China and whether it is likely to use force to stop the protests.
How long can China tolerate this?
The protests are hugely embarrassing for China, without doubt.
They have put a huge dent in Chinese president Xi Jinping's carefully crafted image as infallible leader.
The Hong Kong government and Beijing have badly mishandled the unrest. The longer it goes on the more damage is done.
There is also always the danger that it could inspire protest and disorder on the Chinese mainland.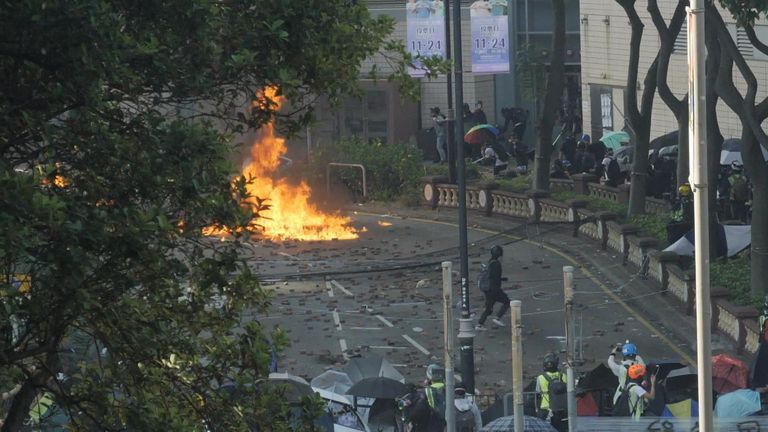 Is that happening?
No sign of it yet.
The government's total control of the media means most Chinese people aren't seeing the protests in the way we are.
There is also some evidence that those Chinese who do know about it have little sympathy for the protesters, who they see as privileged and more free and so with little to complain about.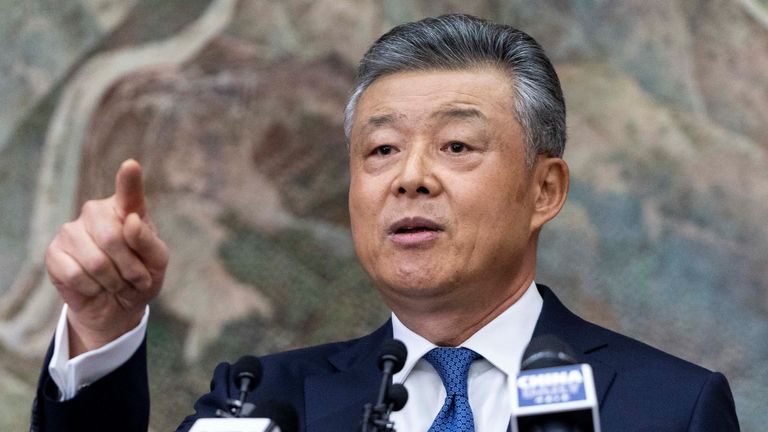 What else is China worried about?
The magic fraction to remember is two-thirds. That is the amount of China's foreign investment that comes through Hong Kong.
That makes it hugely important to Beijing. And it will only continue if Hong Kong continues to be seen as semi-autonomous, apart from mainland China and where the rule of law remains supreme. Otherwise investors will be scared away.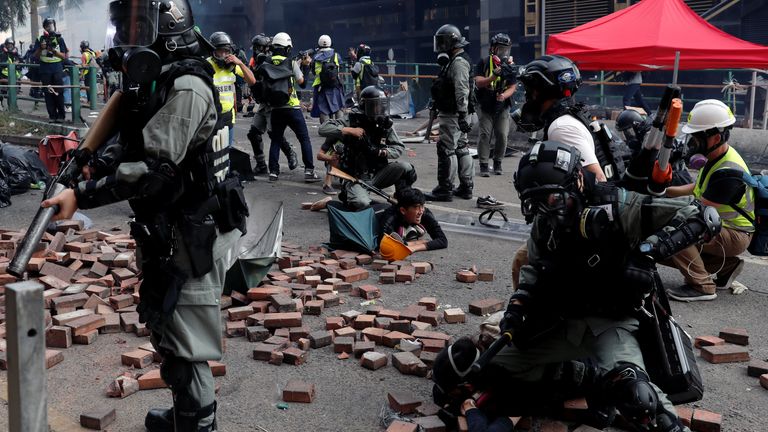 What's that got to do with the protests?
Protests don't seem to have reduced that valuable foreign investment pouring through Hong Kong. In fact it's gone up since they began.
But if China takes any action jeopardising Hong Kong's special status, the opposite could be the case.
Hong Kong is ruled on the principle of "one country two systems of government". Investors like that.
If Chinese forces were to replace Hong Kong police and crush the unrest it would be waving goodbye to "one country two systems". And farewell to a lot of foreign investment.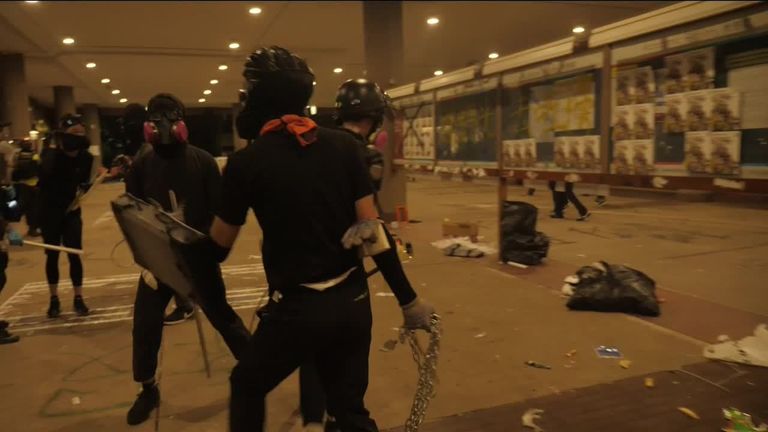 Is one country two systems still a thing?
Sometimes it looks like China is pulling all the strings, but it is still not getting involved directly.
It can still say this is Hong Kong's problem and quarantine some of the fallout. As soon as it intervenes directly, it has ownership.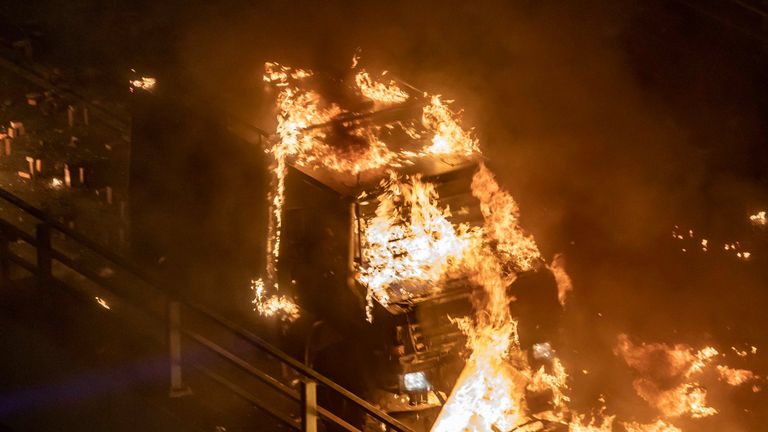 is China threatening to use force?
Not explicitly. But it has been staging very public "riot control" exercises on the mainland, showing Chinese forces tackling civilian protest.
It also has doubled its military presence. Since the UK handed back control of Hong Kong to China in 1997, Beijing has stationed People's Liberation Army (PLA) troops in barracks there.
They are rotated on a regular basis, but last time that happened, the existing garrison did not go home so it has twice as many soldiers as normal.
But these are PLA soldiers – trained to fight wars, not urban protest.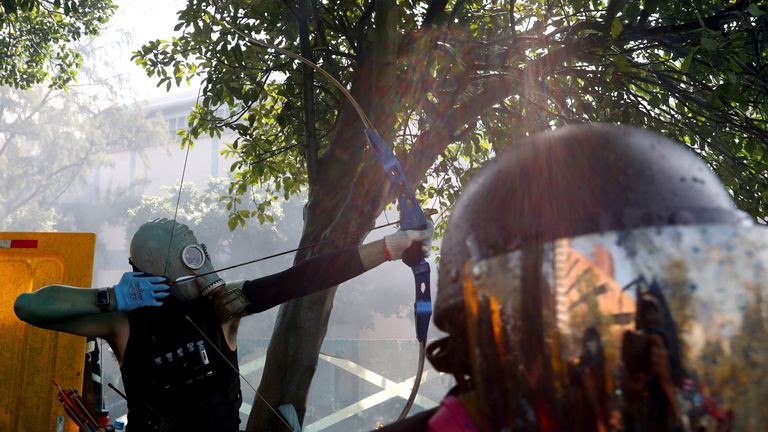 Might they still try it?
Analysts say only as a last resort.
The unrest is embarrassing and damaging but, without spreading, it is not an existential threat to the Chinese communist regime. So why risk jeopardising all that foreign investment?
What else are Beijing's options?
Covert means. Rumours are rife of Chinese agents-provocateurs engineering incidents turning public opinion against the protests. There's not a lot of evidence supporting it
Or it could play the waiting game hoping eventually the protests will subside? It has tried that for six months and so far they are only escalating
Western diplomats say the only way out of this crisis is a political solution involving compromise by the Hong Kong government and protesters. China could try and encourage this, but so far seems to be insisting on Hong Kong chief executive Carrie Lam holding the line