The UK has suspended sales of arms to Turkey for items that might be used in the country's military offensive in Syria.
Foreign Secretary Dominic Raab told MPs on Tuesday: "The UK government takes its arm export control responsibilities very seriously and in this case, of course, we will keep our defence exports to Turkey under very careful and continual review.
"No further export licences to Turkey for items that might be used in military operations in Syria will be granted while we conduct that review."
More follows…
Hong Kong official 'assaulted' by protesters shouting 'murderer' in London | UK News
British police are investigating an alleged assault on a Hong Kong government official in London after she was targeted by protesters shouting "murderer".
Hong Kong's secretary for justice Teresa Cheng suffered an injury to her arm during the incident on Thursday.
In a statement, the Met Police said: "A woman was taken to hospital by London Ambulance Service suffering an injury to her arm.
"Enquiries are ongoing to establish the full circumstances. There has been no arrest at this stage."
The alleged assault follows the death of 22-year-old Alex Chow Tsz-Lok, who died last week in Hong Kong after falling from a car park when police fired tear gas at protesters.
The Chinese and Hong Kong governments have condemned the "attack" on Ms Cheng.
A statement from the Hong Kong government said the official suffered "serious bodily harm", but gave no further details.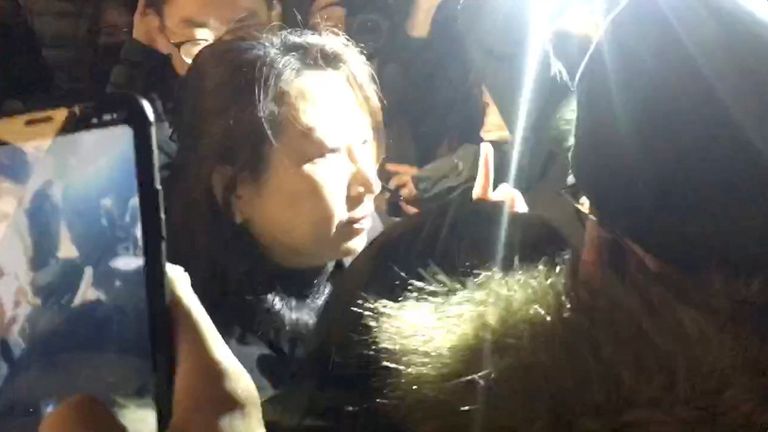 Video footage of the incident shows the minister surrounded by protesters and falling to the ground.
Hong Kong's leader Carrie Lam strongly condemned the "attack", saying the incident was "barbaric" and transcended the bottom line of a civilised society.
"The secretary denounces all forms of violence and radicalism depriving others' legitimate rights in the pretext of pursuing their political ideals, which would never be in the interest of Hong Kong and any civilised society," the Hong Kong government said in a separate statement.
The Chinese embassy in London said Ms Cheng was pushed to the ground and sustained a hand injury.
"(Cheng) was besieged and attacked by dozens of anti-China and pro-independence activists," the Chinese embassy said in a statement.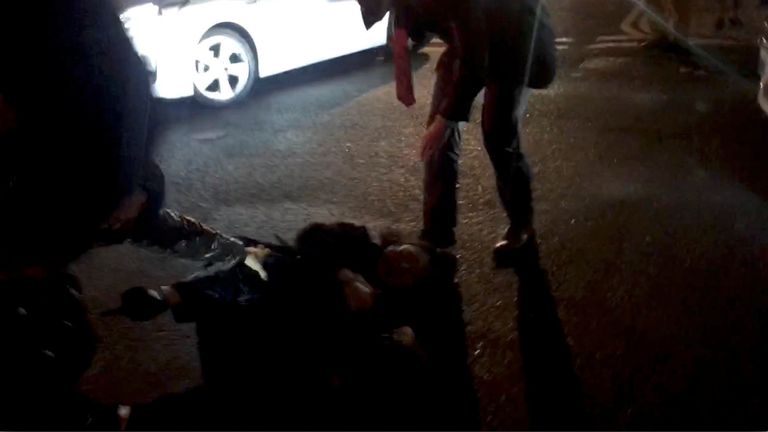 The incident showed that the "violent and lawless perpetrators" were now taking their violence abroad, it said.
China has lodged a formal complaint with Britain and urged British authorities to bring the perpetrators to justice.
A demonstrator who asked to remain anonymous told PA that the incident had been exaggerated.
"Hong Kongers of course took the opportunity to protest," they said.
"It was small scale and people were chasing after her and yelling at her, and amid chaos, she did trip over.
"Now, the Hong Kong government is calling the protesters "violent mob" and "radicals", reporting the case to Met Police, making it pretty big."
Ms Cheng is a chief legal adviser to Carrie Lam and was responsible for advising the Hong Kong leader on the controversial extradition bill.
In Hong Kong, a 70-year-old man has died after being struck on the head during clashes between government supporters and protesters.
Hong Kong's Food and Environmental Hygiene Department expressed "profound sadness" at the death of its cleaning worker and said it was providing assistance to his family.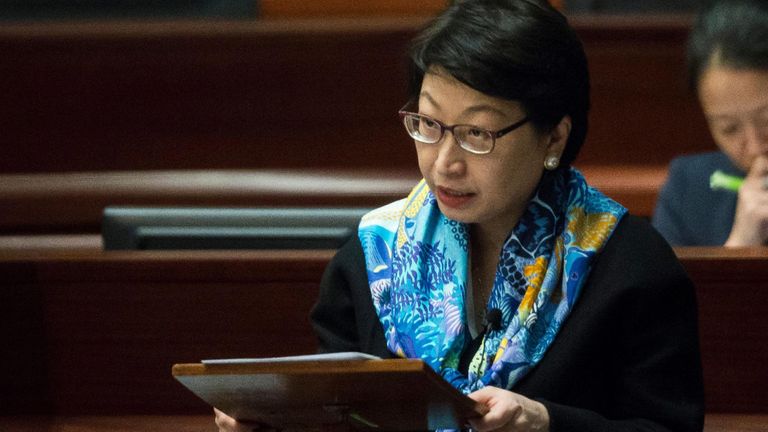 Authorities in Hong Kong are now treating the death as a murder.
Meanwhile, anti-government protesters have again paralysed parts of Hong Kong, forcing schools to close and blocking some roads as students built barricades in university campuses.
In a 3am statement, a masked protester at the Chinese University of Hong Kong announced a road being partially blocked by protesters would be cleared for 24 hours.
Workers sent to clean up a lane of the Tolo Highway were threatened by protesters with bows and arrows and hard objects, authorities said.
The protests escalated in June over an extradition bill that would have allowed people to be sent to mainland China for trial.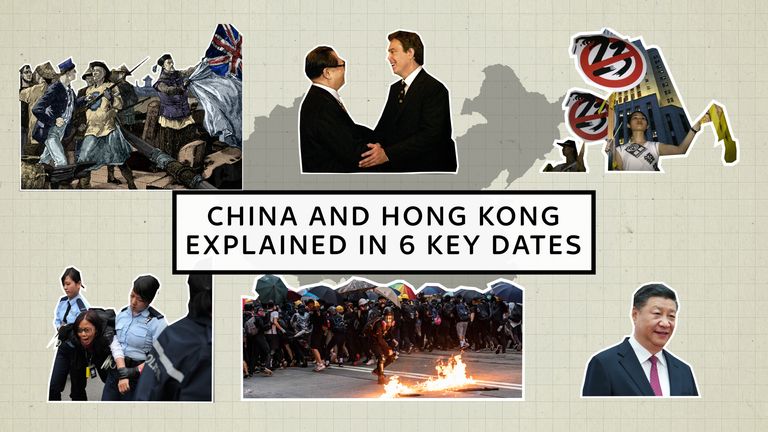 The bill was later scrapped but the protests have since evolved into calls for greater democracy, among other demands.
The demonstrations have plunged the former British colony into its biggest political crisis in decades and pose the biggest challenge to Chinese President Xi Jinping since he came to power in 2012.
Wild boar discover and snort £17,000 of cocaine in Tuscan forest | World News
Wild boar in Tuscany have sniffed out and destroyed a stash of cocaine in a forest, leaving drug dealers £17,000 out of pocket.
The hidden haul of white powder was strewn across the Valdichiana valley after being dug up and partly devoured by the feral hogs.
The drug dealers were heard complaining about their discovery by police who were listening in on a telephone conversation.
The gang – who are made up of one Italian and three Albanians – had buried the class A drugs in jars and were allegedly trafficking around two kilos of cocaine every month to the cities of Arezzo and Siena.
However, the jars were not enough to protect the cocaine from the curious snouts of the wild boar.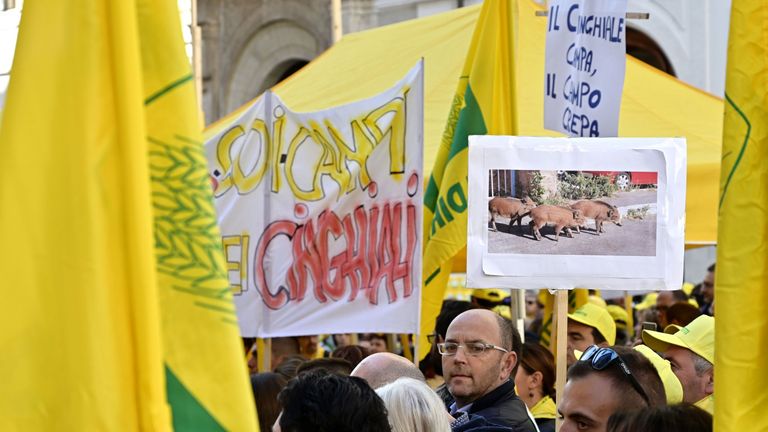 The wiretapped phone call lead to the detention of the men, with two jailed and two others placed under house arrest, according to Toscana Media News.
The gang were said to have been operating from September 2018 to March 2019 and charged £85 per gram for high purity cocaine, Il Tirreno reported.
A police investigation was sparked after a 21-year-old Albanian, allegedly a dealer, was murdered in May last year.
The drug dealers are not the only people concerned with the influx of wild boar in Italy, with farmers protesting in Rome earlier this month over the animals wreaking havoc on their land and causing fatal car accidents.
Two million boar are estimated to roam Italy, according to president of the farming association, Coldiretti Ettore Prandini.
He said: "It is no longer just a question of compensation but a matter of personal safety and it must be resolved.
"Ministries and leaders of regions and municipalities must act in a concerted manner to draw up an extraordinary plan without administrative obstacles, otherwise the problem is destined to get worse."
Australia and others seek compensation for Brexit trade changes | Business News
Australia is among a number of countries seeking compensation from Britain and the EU over Brexit disruption.
The Australians were backed by other countries including New Zealand, the US, and Canada when they raised the issue at a World Trade Organisation meeting on Thursday.
The country's case concerns losses in what is a $366m (£193m) annual agricultural export trade with the European Union and Britain.
In a statement reported by the Australian Financial Review, an Australian official told the WTO: "Compensatory concessions should be provided to affected WTO members for loss of market access.
"Australia cannot accept the assertion by both the EU and UK that no compensation is required."
The dispute stems from Brexit-related problems faced by Australia's lamb and beef exporters.
The European Union only allows a limited amount of agricultural produce to come in from other countries at reduced or zero tariffs.
After that, tariffs are at such a level that exporting anything further is not viable.
When Britain leaves the EU, the quotas will be divided between them and the bloc but it has not yet been revealed what the permitted tariff rate quota (TRQ) will be.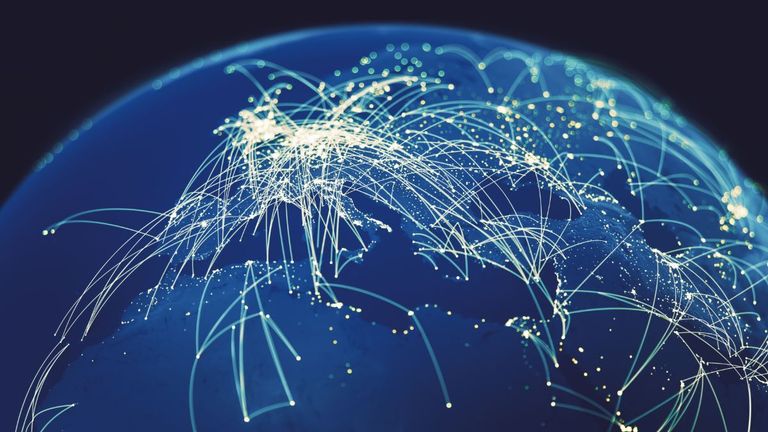 There are conflicting ideas as to how the division will be calculated and, to make matters more complicated, the date for Britain's exit from the EU has shifted a number of times.
Australia and those backing it are worried that the calculations might leave them with a smaller export opportunity.
The Australian statement said: "It is clear the proposed modification to TRQs will lead to significant economic loss, by not only removing flexibility in where product is sent year to year, but also by rendering some TRQ allocations too small to be commercially viable."
Australia's Department of Agriculture said on its website: "The EU intends to 'split' existing agricultural WTO tariff-rate quotas between the UK and the EU-27 post-Brexit. This will include Australia's country specific quotas for beef, buffalo, sheep and goat meat, cheese, sugar and rice.
"The Australian government is currently negotiating with the EU and the UK seeking compensation as a result of the 'splits'.
"We are progressing potential changes to the administration of the EU's existing agricultural WTO tariff-rate quotas to prepare for a 'no deal' Brexit."