An image of a stand-off between a Tibetan fox and a marmot has been named the winner of the Wildlife Photographer of the Year.
The photograph, taken by Chinese entrant Yongqing Bao, captures the two animals confronting each other in an apparent life-or-death scenario.
Titled The Moment, the image was taken on the alpine meadowland of the Qinghai-Tibet Plateau in China and shows the fox rushing towards its prey as the marmot reacts with its paw outstretched.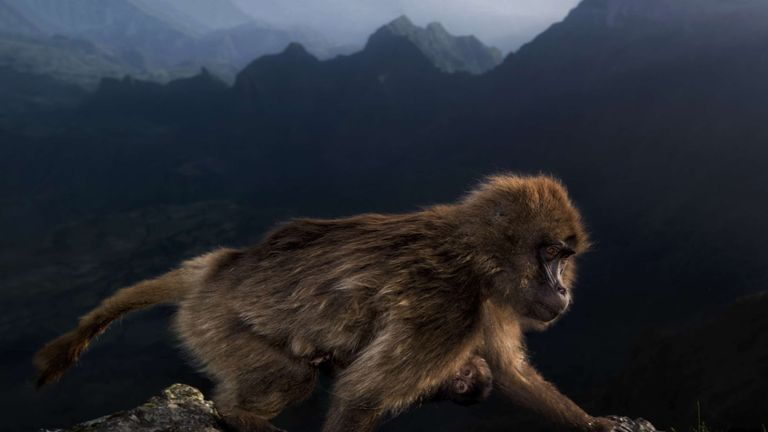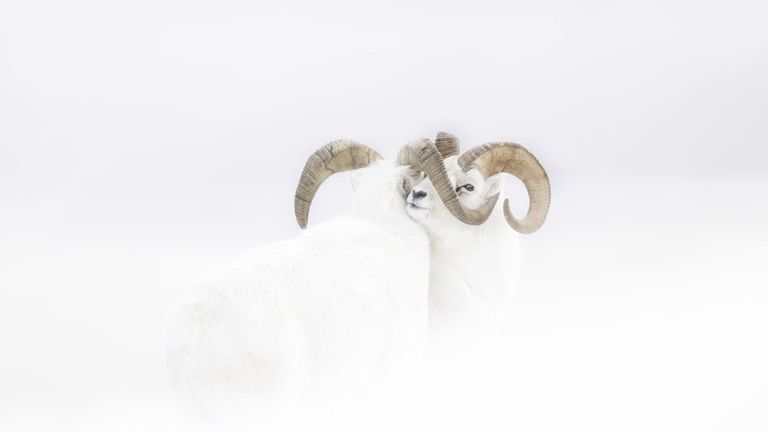 More than 48,000 people from 100 countries entered this year's Wildlife Photographer of the Year awards, which is developed and produced by the Natural History Museum in London.
Chair of the judging panel, Roz Kidman Cox, says Yongqing's image is "simply the perfect moment".
"The expressive intensity of the postures holds you transfixed, and the thread of energy between the raised paws seems to hold the protagonists in perfect balance," she said.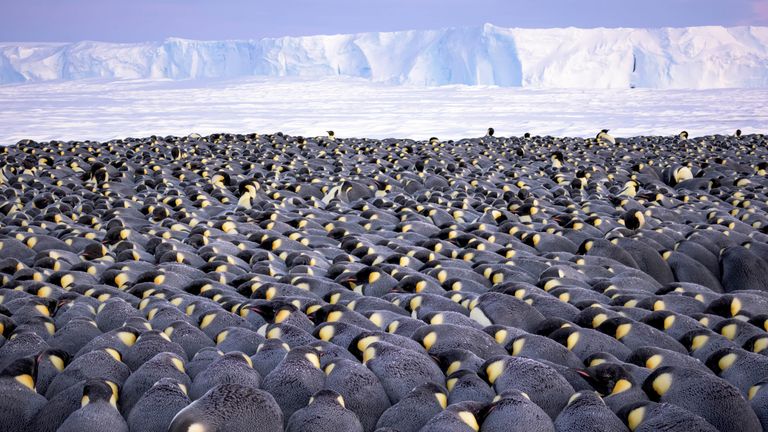 Natural History Museum director Sir Michael Dixon said it serves as a reminder to protect the world's wildlife.
He said: "The area in which this was taken, often referred to as the 'third pole', because of the enormous water reserves held by its ice fields, is under threat from dramatic temperature rises like those seen in the Arctic. "
The award for Young Wildlife Photographer of the Year went to 14-year-old Cruz Erdmann for his picture of an iridescent bigfin reef squid captured on a night dive in the Lembeh Strait off North Sulawesi, Indonesia.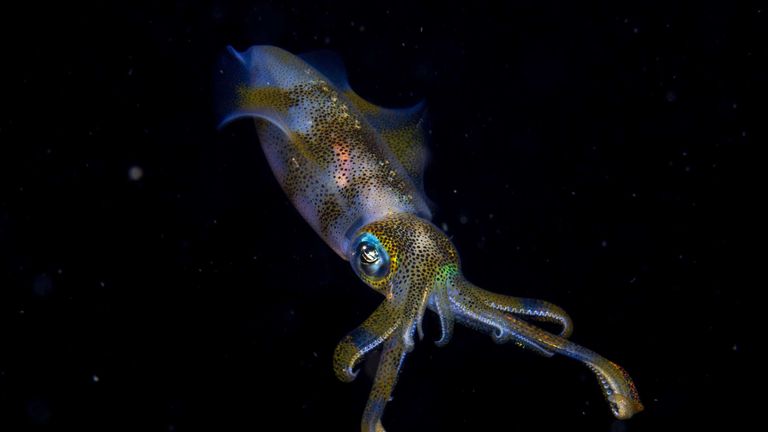 Cruz inherited his father's old underwater camera and has been in love with the ocean from an early age.
He gained his diving certification at 10 years old.
Theo Bosboom, a nature photographer and member of the judging panel, said the image was a "resounding achievement" for the young photographer.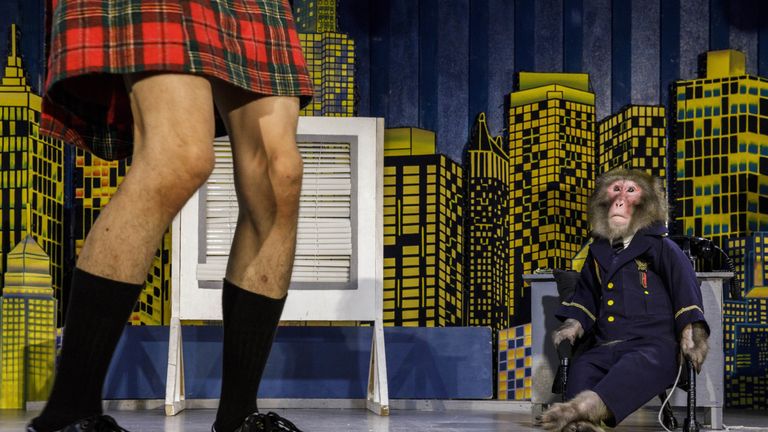 "To dive in the pitch dark, find this beautiful squid and to be able to photograph it so elegantly, to reveal its wonderful shapes and colours, takes so much skill," he said.
Other shortlisted photographs include Luis Vilarino Lopez's image of lava flows on one of the world's most active volcanoes, Kilauea, on Hawaii's Big Island, and Max Waugh's picture of an American bison standing in a snow storm in Yellowstone National Park.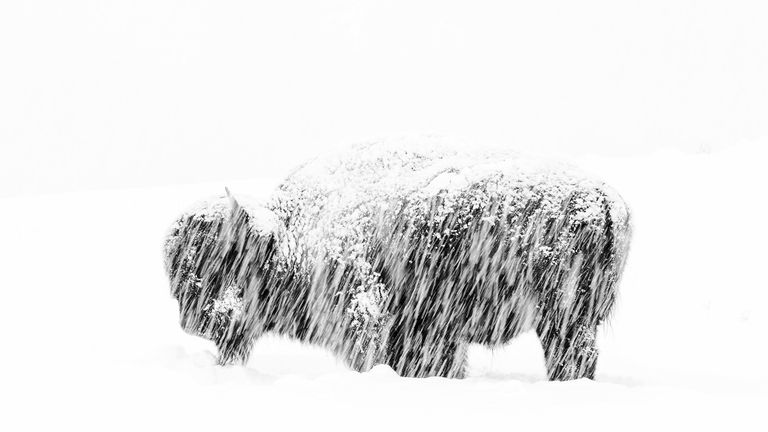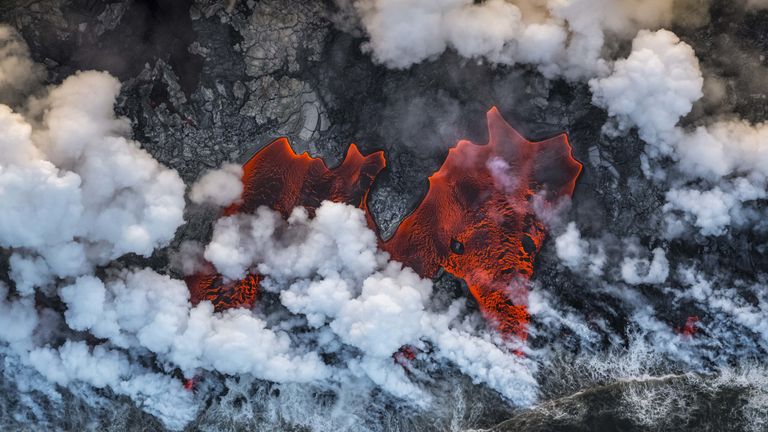 Another is Jasper Doest's photograph of Riku, a Japanese macaque who performs comedy skits at the Nikko Saru Gundan theatre in Japan.
The photographs will be on display at the Natural History Museum from 18 October before touring across the UK and internationally.
Venice floods: Race to save art as 70% of Lagoon city submerged by floods | World News
People in Venice are racing against time to stop precious artwork being lost to the rising flood waters.
The high tide in Venice has peaked at 154cm (5ft), with around 70% of the city centre under water.
The saltwater floods have meant that work needs to be done to protect the famous wall art from erosion.
The culture minister, Dario Franceschini, has said more than 50 churches have reported damage so far, with security forces and art experts being deployed to assess the state of art treasures around the city – a job expected to take some time.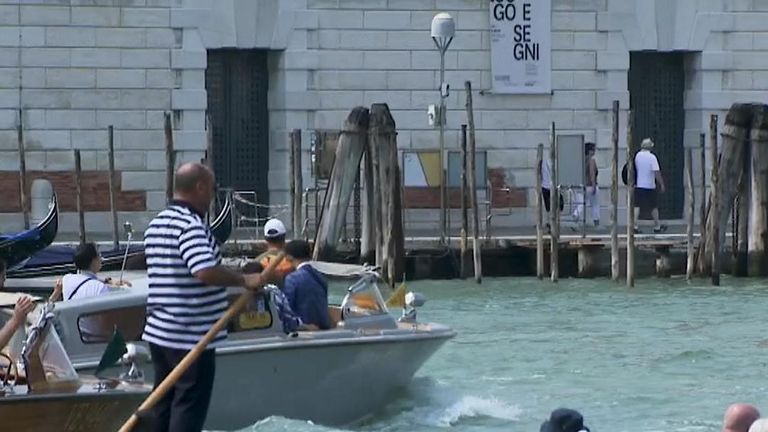 The famous St Mark's Square was blocked off and closed to tourists as it was covered in knee-high water, while shops and hotels were once more submerged.
Mayor Luigi Brugnaro said he had been forced to ask police to block off the square, calling Venice the "pride of all of Italy".
Earlier, authorities predicted the high tide would peak at 160cm (5.2ft) – far beyond the emergency levels that set off sirens in the streets.
In normal conditions, levels of 80-90cm are generally seen as high but manageable.
The waters also reached 149cm (4.8ft) in Burano and 146cm (4.7ft) in Chioggia.
The city saw the second-worst flooding on record on Tuesday when the water level reached 187cm (6.14ft) – just short of the 194cm seen in 1966.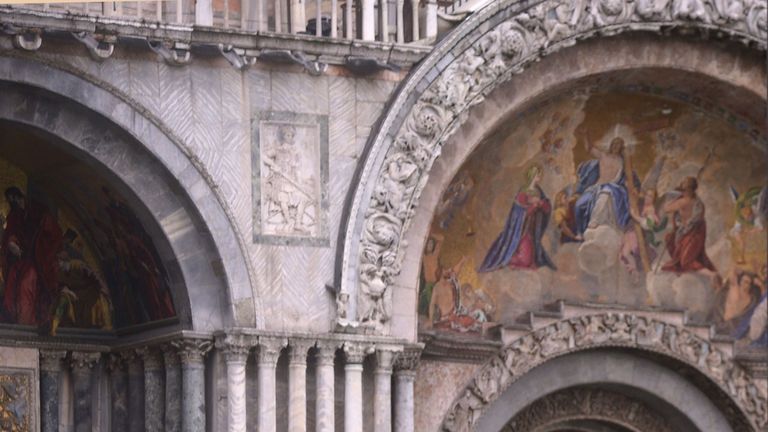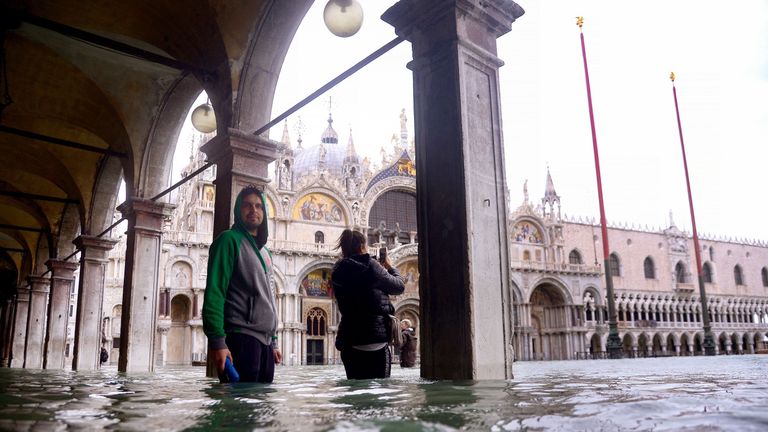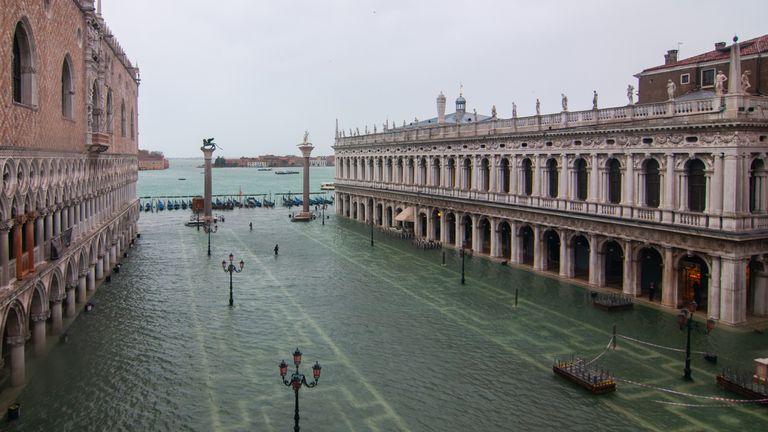 "Another day of alert for Venice. The sirocco wind keeps blowing. I invite all … to keep yourselves updated on the level of the water," Mr Brugnaro tweeted.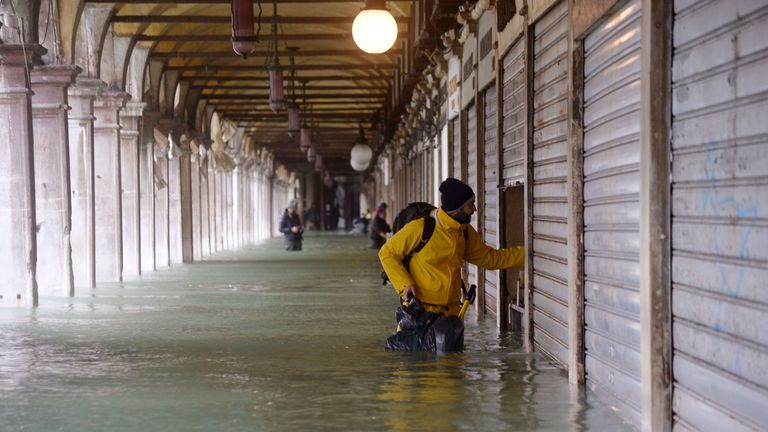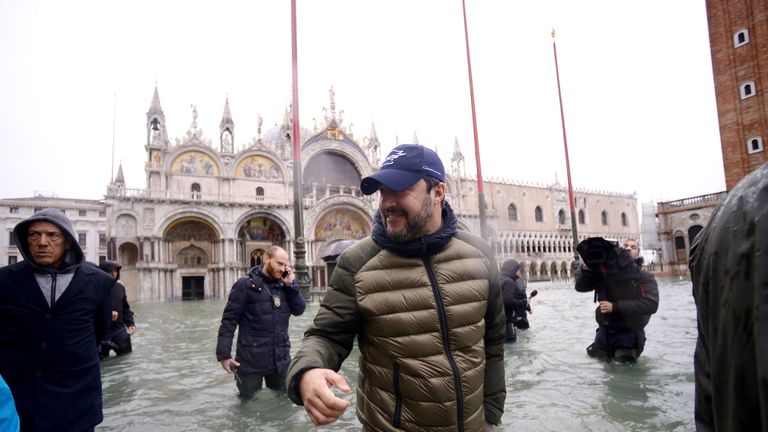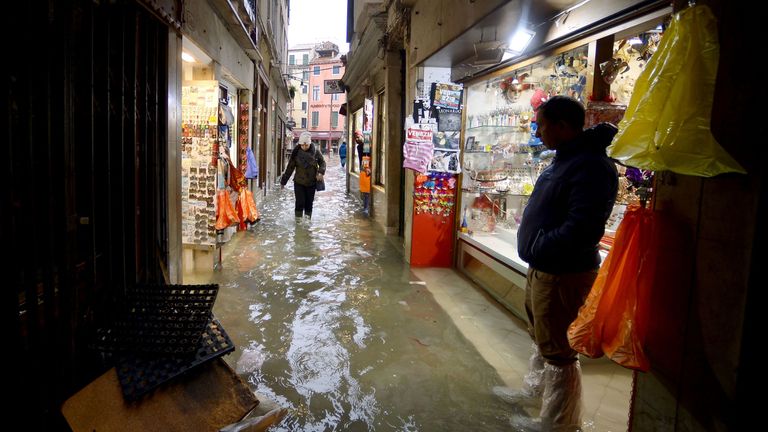 The mayor has blamed climate change for the severe flooding, which has swamped the city's historic basilica, squares and centuries-old buildings, and said the damage is estimated at hundreds of millions of euros.
Levels are due to ease to 110cm-120cm over the weekend, according to tide forecast centre CPSM Venezia.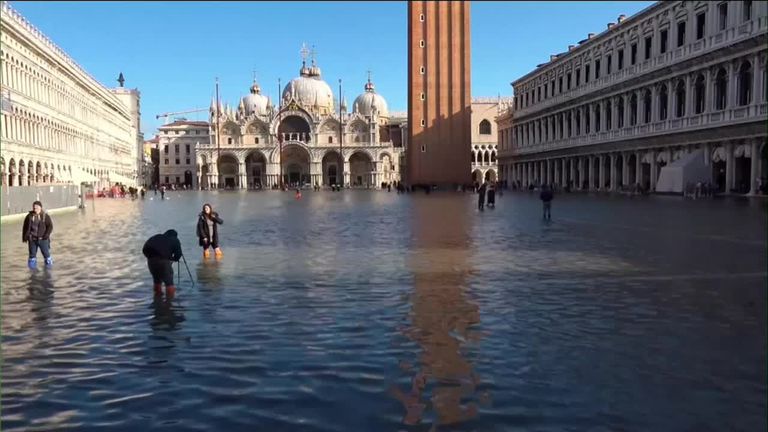 Many shopkeepers on St Mark's Square said they were forced to close their businesses 10 days ago when levels broke through the 110cm (3.6ft) threshold.
Saint Mark's Basilica, parts of which date back to the 11th century, was flooded, with an official even pointing to a risk of collapse during the worst of the flooding.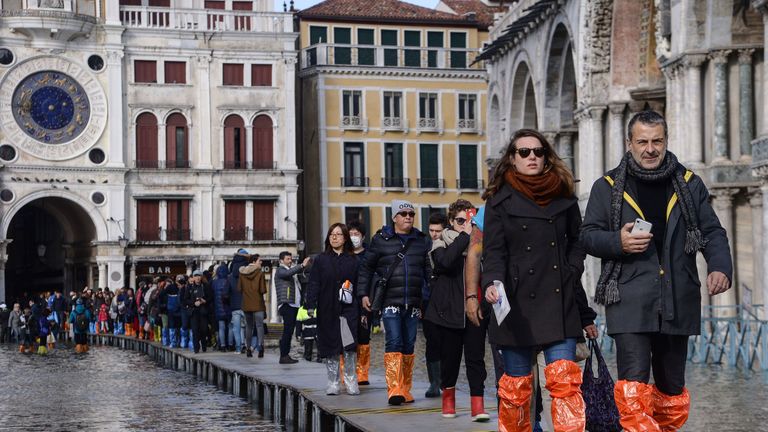 Visitors were forced to make their way along temporary platforms above the water, while others donned wet weather gear and sloshed through the floods.
Two people have reportedly died as a result of the flooding.
A man in his 70s died on the barrier island of Pellestrina after being electrocuted, and another person died on the same island, though the cause was unknown, Italian news agency ANSA said.
Meanwhile, much of Banksy's famous artwork in the Italian city is now under water, including a drawing showing a migrant child wearing a life jacket and holding a neon pink flare, which first appeared on a wall in the Campo San Pantalon earlier this year.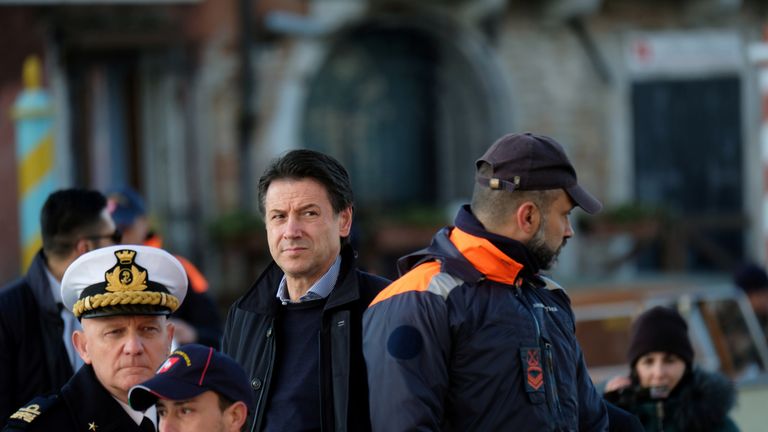 Snow was expected in the city of Belluno in the northern part of the Veneto region, at the foot of Dolomites, potentially aggravating the situation in Venice.
The government declared a state of emergency for Venice on Thursday and allocated an initial 20 million euros (£17m) to address the immediate damage.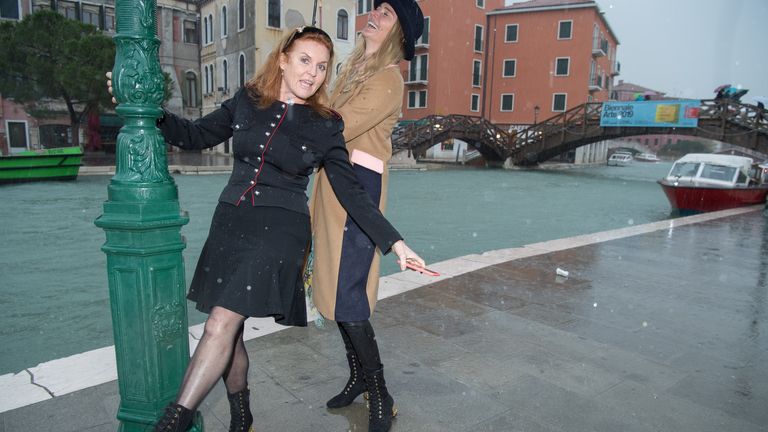 Prime Minister Giuseppe Conte said on Friday the government will hold an extraordinary meeting on 26 November to discuss the "governance and the structural problems of the city".
The severe flooding has also reignited a long debated on Moses – the multibillion-euro flood defence project that has been under construction since 2003 – with the mayor calling for its speedy completion.
Russian warplanes were behind airstrikes that killed 44 in Syrian school district, first-hand testimony suggests | World News
First-hand testimony gathered by Sky News suggests Russian warplanes were behind airstrikes which killed 44 in a Syrian district filled with schools.
The findings challenge Russian accounts of the four blasts in Ma'arat Al-Numan on 22 July, with military chiefs insisting their fighter jets were not in the area at the time.
However, spotters say they logged plane departures from a Russian base in Syrian president Bashar Al Assad's stronghold of Latakia which match the timings of the bombings.
Maps produced by Russian generals to denounce the claims focus on an area 300 metres away from a market hit twice in the strikes.
Experts believe the Russian air force is the only power in this area with the capability to carry out these strikes.
Sky News has presented its findings to the Russian Ministry of Defence, but has not received a response yet.
The four-month Sky News investigation involved making several trips inside the warzone to gather evidence from eyewitnesses and survivors, as well as documenting video evidence, audio testimony and scrutinising the scene of the strikes first-hand.
Sky News also spoke to underground observers who use radio transmitters to intercept fighter pilot communications, allowing spotters to warn residents of impending airstrikes.
Others spot drones in the area used by the Syrian regime and Russian allies to track the movements of residents and rebel fighters.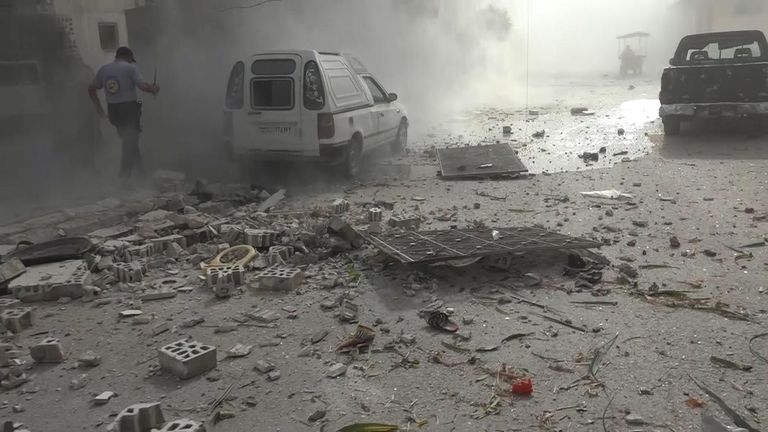 The four bombings on Ma'arat Al-Numan in one day were the worst in recent times in Idlib province, the last rebel area in Syria. Eight of the 44 people who died were children, and more than 70 were injured.
The airstrikes started early in the morning while many of the victims were still asleep. The initial strike was at 8.35am in an area known as the school district because of the high concentration of schools and training centres in the area.
Although it was summer break, a number of them were running holiday courses with children about to arrive for the day's lessons. According to witnesses, the bomb was so devastating it shattered windows and homes in many of the surrounding streets.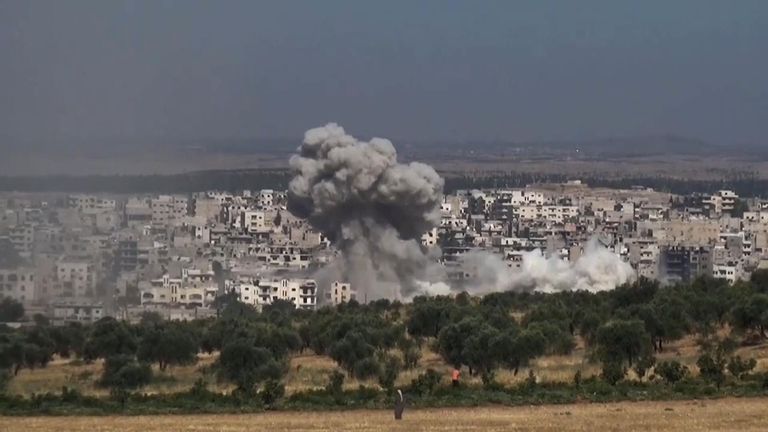 Camera and mobile phone footage shows first-aiders hurrying to the scene with the atmosphere clouded with dust and strewn with debris.
Residents stumbled out of their homes and into the roads covered in dust, having just woken but already struggling to take out their injured. Eight minutes later another bomb hit almost the same spot.
The moment of impact is captured on a mobile phone by one of the residents.
Successive airstrikes on a single location are known in Syria as a "double tap". This had the most devastating effect on life and limb in Ma'arat Al-Numan that day.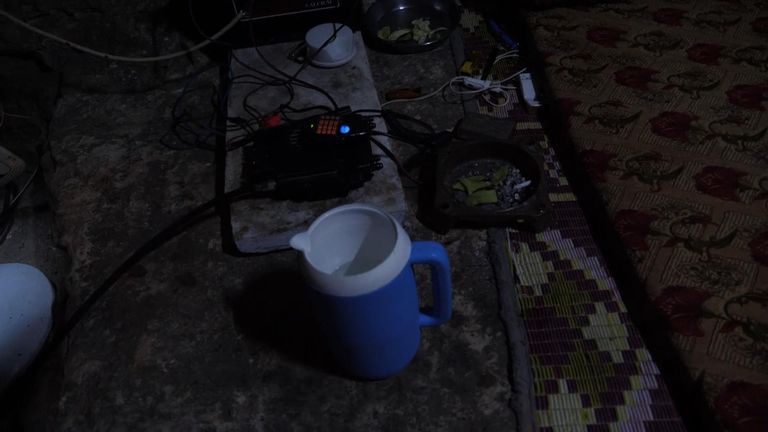 Within minutes of the first blast, the market area was crowded with first responders from the Syrian Civil Defence, known as the White Helmets.
There was also a large number of residents in the streets – all trying to help the wounded from the initial attack. Many of them were among the worst hurt or killed when the second bomb landed.
Young workers in a falafel shop where many residents ate breakfast had been scrambling to leave when the second strike happened.
Those who had been catching an early morning tea at a bakery, only to drop everything to help the wounded, now found themselves terribly injured and many others killed.
A motorbike repair shop which had been in full operation was obliterated, and all the workers were killed.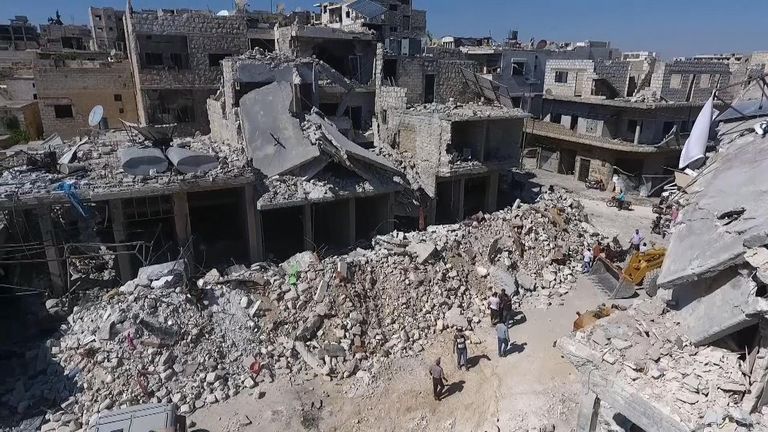 A medic with the White Helmets who had just arrived at the scene had run into a shop to take cover. The ceiling collapsed on him, killing him outright, and injuring two other volunteers.
All six families living in the three-storey apartment block above the market stalls were wiped out.
The entire building pancaked in the blast. There was so much devastation that most rescue workers believed at first that no-one inside the apartments could have survived.
Rania Kisar, a Syrian-American teacher who was in Ma'arat al Numan running a charity school, told us of the horrific scene as she rushed to check her institute. The students were due to arrive when the successive strikes hit, causing a shrapnel rainstorm.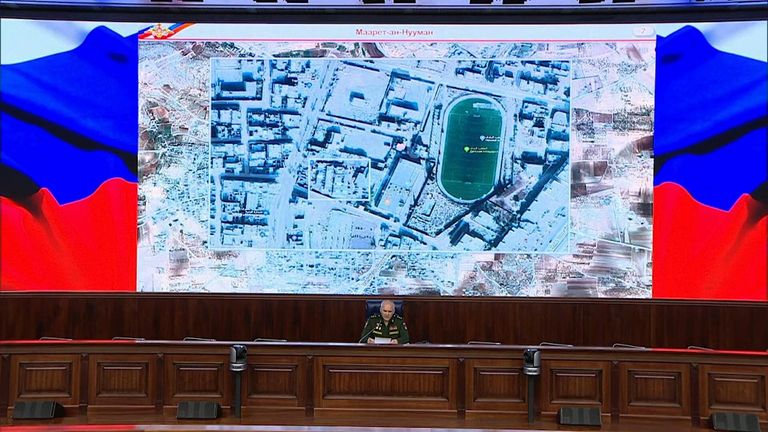 "I went along the street and the first thing I saw was a leg," she told us. "There were body parts everywhere."
"There were little metallic pieces like screwdrivers just coming out of the sky," she added. "I can't even describe what they were like, all metallic pieces, sharp and edgy, like tiny screwdrivers and it was falling on us like rain."
The footage she filmed on her phone documents much of what happened that morning in horrific detail. She can be heard sobbing throughout much of it as she repeatedly comes across dismembered limbs.
At one point, another resident, also clearly in shock, is waving a dismembered leg at her while screaming.
She rushes into a building with a crowd of others as they hear another aircraft, which they fear is preparing to drop another bomb.
"We were all praying," she said. "We thought we were going to be killed."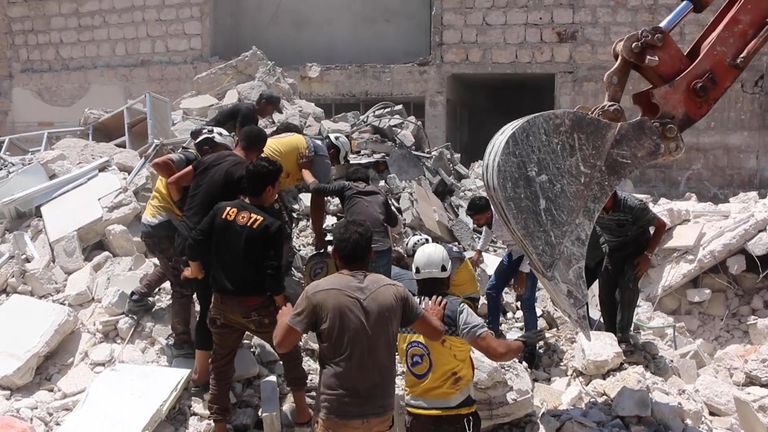 Barely 11 minutes later, at 8.54am, there was a third strike which hit northeast of the market area where the twin bombings struck.
It is little over a kilometre away, near a mosque and a hospital where the White Helmets tried to take casualties for treatment.
At 9am, a fourth airstrike landed near a cultural centre.
The bulk of the dead and injured were in the "double tap" bombings near the market. It was six hours before they pulled out a survivor there.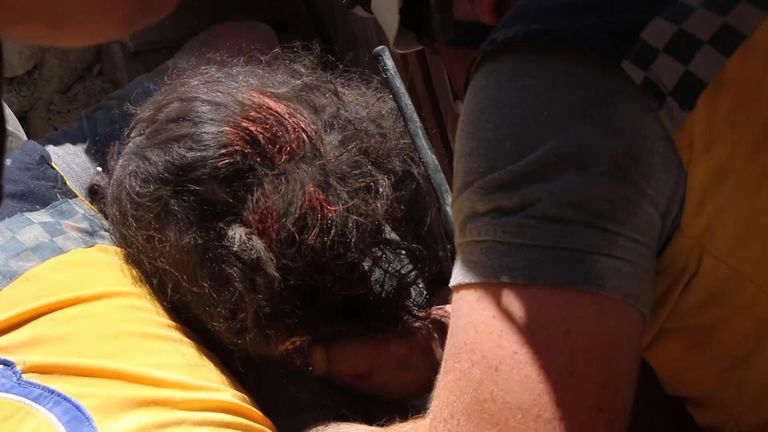 She was seven-year-old Batul, her hair caked in blood but pigtails still intact.
Obada Zikra, the White Helmets volunteer who worked to pull her free, told Sky News he heard her crying.
He said: "We spoke to her, tried to reassure her we are coming. 'We are very close,' we kept saying but she was crying a lot, calling for water."
Batul told the White Helmets her baby brother, three-year-old Ahmed, was near to her under the rubble and it seemed like a miracle when the volunteers managed to pull him out alive too.
Both their parents and all their siblings were killed in the blasts.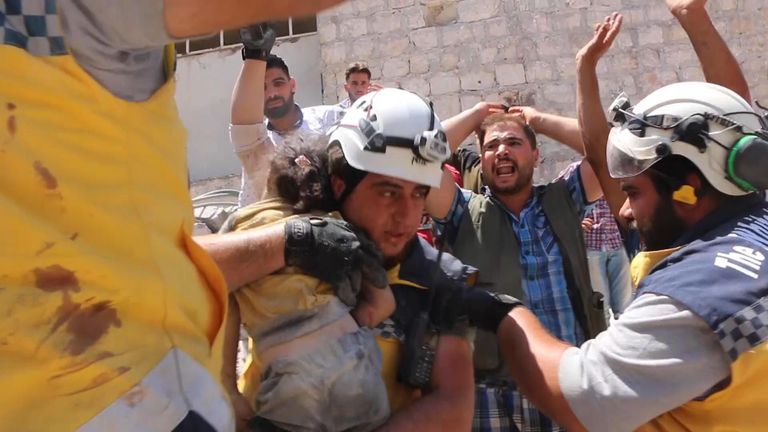 "If this isn't a war crime, I don't know what is," one survivor of the airstrikes told Sky News.
We have monitored the progress of the two children since that day. Both were taken out of the warzone and across the border to Turkey through a complicated series of arrangements because of the lack of legal documentation and the deaths of all their immediate relatives.
They had to spend weeks in hospital because of the severity of their wounds.
Batul, seven, had several operations and needs further surgery after suffering severe internal injuries.
Ahmed had operations on his eye but both of them are recovering well and now being cared for by elderly relatives.
Their futures are still far from certain with no guarantees about how long they will be allowed to remain in Turkey.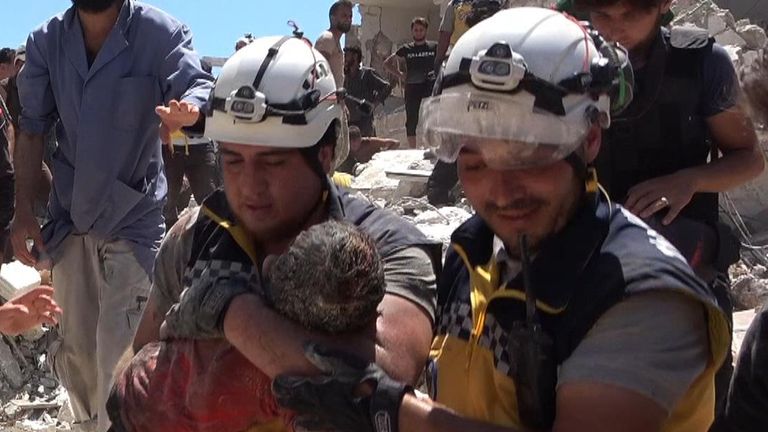 Weeks later when we went back to Ma'arat Al-Numan with the man who pulled both of them free, the White Helmets volunteer showed us the huge crater where the children's home used to be.
They had been sleeping with their family on the second floor but because their bedroom was near the corner of the apartment, they somehow survived.
It was exhilarating for the White Helmets who worked for more than 12 hours straight that day trying to save lives.
Realising the children were alive made their dangerous work worthwhile, Obada Zikra told us.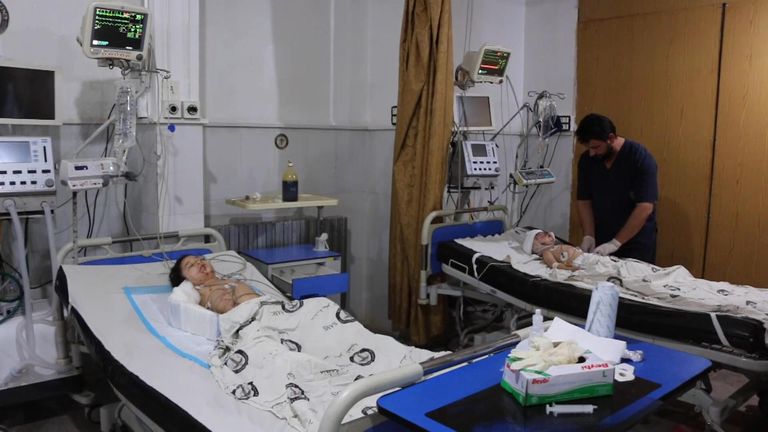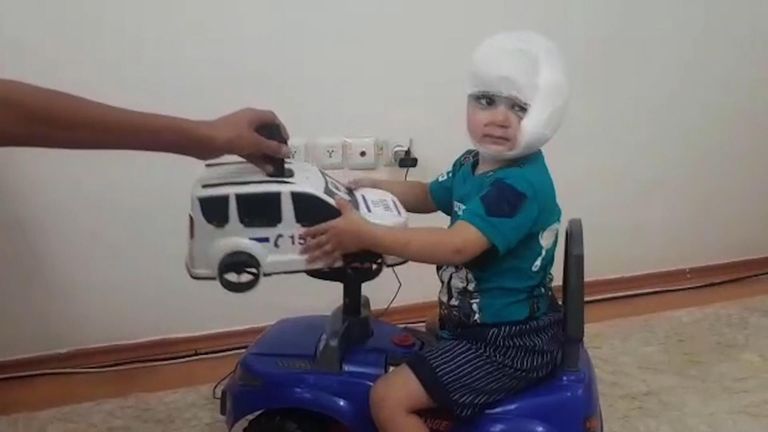 But their efforts come at a high price and he spoke of the lasting trauma many of the volunteers are still enduring.
Mr Zikra said: "At the beginning it was very difficult, at night we all have nightmares. I sometimes see myself trapped in the rubble or I dream about aircraft targeting us."
Hadi Abdullah, a freelance filmmaker who had been living in Ma'arat Al-Numan for months before the bombings, told us the area was a fully residential one.
He insists there were no military camps in the city; no fighters; no armed personnel at all. It is a view backed up by other residents.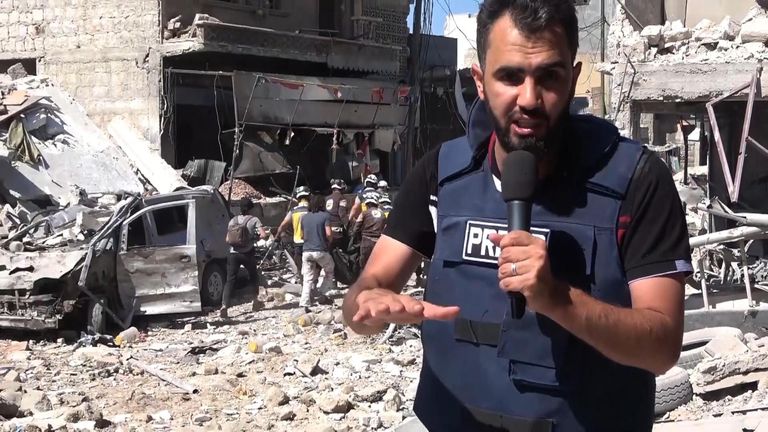 The city is considered critical of both the Syrian authorities led by Bashar al Assad and the different militia groups operating in Idlib province, including the dominant group Hayat Tahrir al-Sham.
For this reason, they've resisted any fighting group setting up bases in the city. And now they want justice.
Hadi Abdullah told us: 'Although the Russians denied responsibility for this massacre, we're positive they did this and it is a war crime."
He is not alone in that view. Doctors and residents also insist the repeated bombings of homes, civilian places and health facilities is a systematic tactic by the Russians and the Syrian regime to force the population to move out of the area.
A hospital we went to in Idlib at the end of August had been struck by multiple bombs just a few days earlier.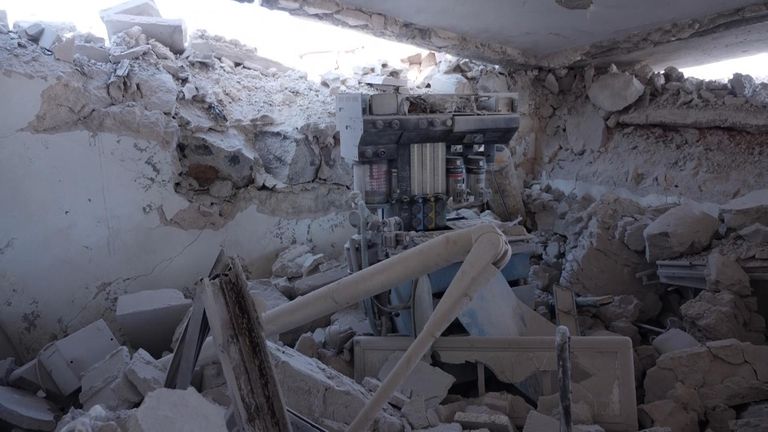 The wards were still full of medical equipment, medicines, oxygen bottles and other hospital paraphernalia. This is the hospital the children might have expected to have been treated in, had it not been situated in a warzone filled with groups flouting international laws.
Hospitals in Idlib are now seriously dangerous places to be because they are repeatedly targeted and attacked. We collected and examined a lot of the hospital paperwork and documents which were still strewn around.
Among the evidence we collected was a folder listing the patients due for blood analysis that day.
It showed a number of patients listed as receiving treatment on the day of the bombing. We found no reason to doubt this was a fully functioning hospital.
Russian and Syrian regime supporters often claim the hospitals are used to harbour weapons and fighters, therefore making them viable targets.
Targeting health facilities is listed as a war crime, as well as a crime against humanity by the United Nations.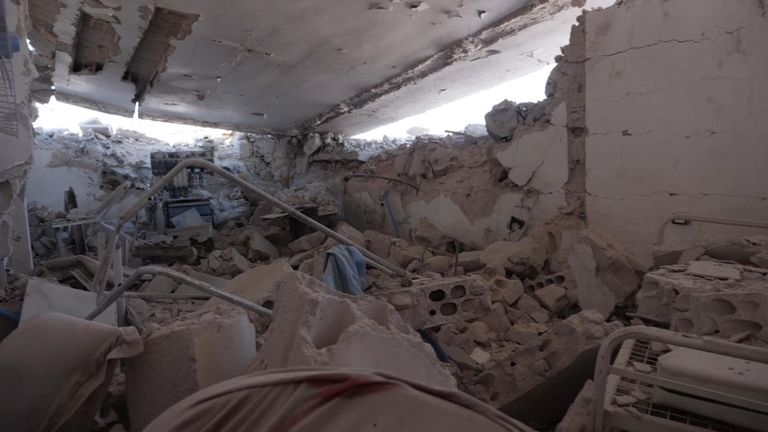 The GPS co-ordinates of all health facilities still operating in Idlib have been supplied to the UN (of which Russia is a member) to be disseminated to the fighting groups in Syria to ensure protection.
But doctors working in Idlib insist this is being constantly disregarded.
Dr Samir Qaddour told us: "We share our hospitals and public centres (locations) with the UN so they know where there are hospitals here."
He went on: "But this is continuously ignored and no one follows up these war crimes. No-one cares about what is happening here."
Hong Kong: Meet the people behind the barricades keeping the protesters fed | World News
The "frontliners" – the most violent and daring protectors – have been at the barricades all summer.
In a siege, though, it is supply lines that count.
Hong Kong Polytechnic University has been turned into a fortress, occupied by protesters.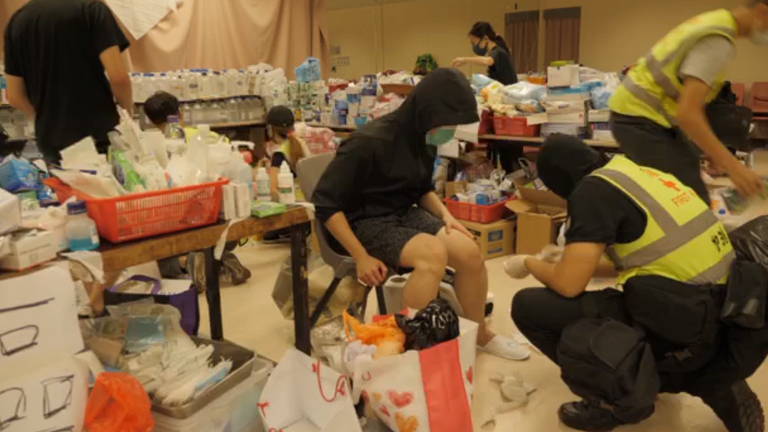 Inside, that fortress is staffed by a volunteer logistics brigade.
All summer and into autumn, the Hong Kong protests have relied on a network of supporters – taxi drivers, medics, graphic designers. Unwilling to hurl a petrol bomb but all of them willing to lend a hand.
Here, though, they are running a campus, one designed for 20,000 people. And they're running it well.
There is no hierarchy nor assigned role.
People show up and find themselves a job. And out of that chaotic approach, an efficient, busy operation has emerged.
The food court is the hub of the university – this is Hong Kong after all. Tired protesters clad in black queue to pile their plates high with food.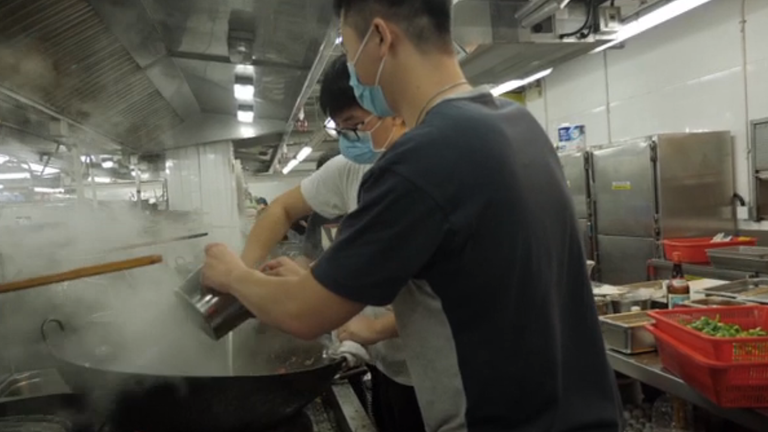 The kitchen is all go at lunchtime. There are different stations – one for separating eggs, another for chopping vegetables.
One protester wearing a mask instructs another on the best technique for peeling a courgette.
The dish-washing section declines an interview because they don't want to be identified.
Industrial-size woks hiss with oil. Most of these people are not protesters but fellow citizens who have come to lend a hand.
:: Listen to the Daily podcast on Apple Podcasts, Google Podcasts, Spotify, Spreaker
One man (everyone I spoke to asked not to be named) is cooking chilli chicken. "I wanted to do something to help the protesters, to support them," he says. He adds they are cooking 3,000 meals a day.
Behind him are rows of freshly chopped ingredients and next to him is another, older man, who is retired, a former primary school teacher. "The Hong Kong government is doing something really wrong.
"So I saw the students, I come and help them."
He's been frying pork all morning but is done: "They don't want any more pork chop!"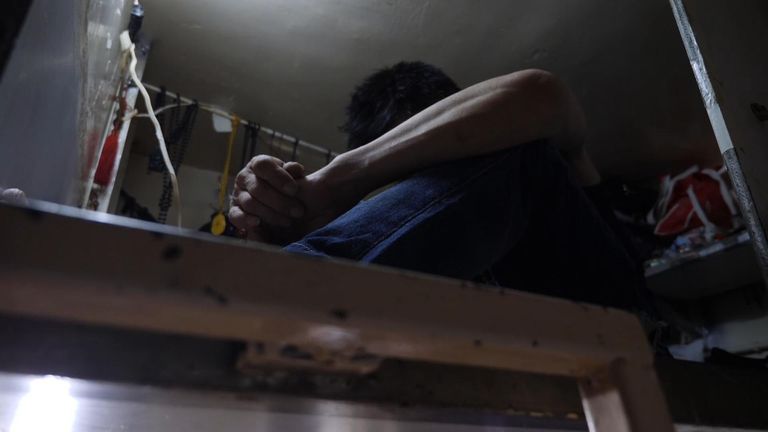 If an army marches on its stomach, this one will do just fine.
In another part of the university, there is a field hospital. It is stacked with medical supplies and strewn with beds to treat their wounded. Most of the injuries so far have been sustained in building roadblocks.
About 40 people work here, giving first aid. One of them, a young student from a different university, explains why.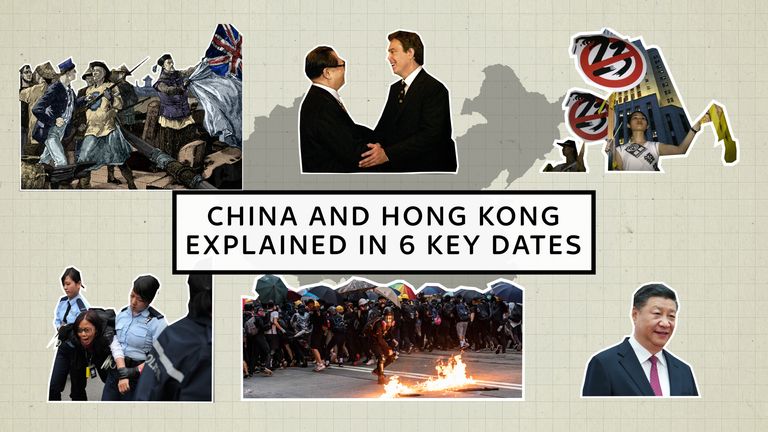 "A lot of people still refuse to be in the frontline so they try to find a role. People drive their car to transport people back home. They try to support the students and youth in any sort of way they want. Because I think everyone in Hong Kong is enraged.
"People in the frontline can do their work. People in the back can support them. Just like us."
He shows me a home-made stretcher. "This one actually has wheels. It kind of moves," he says, rocking it.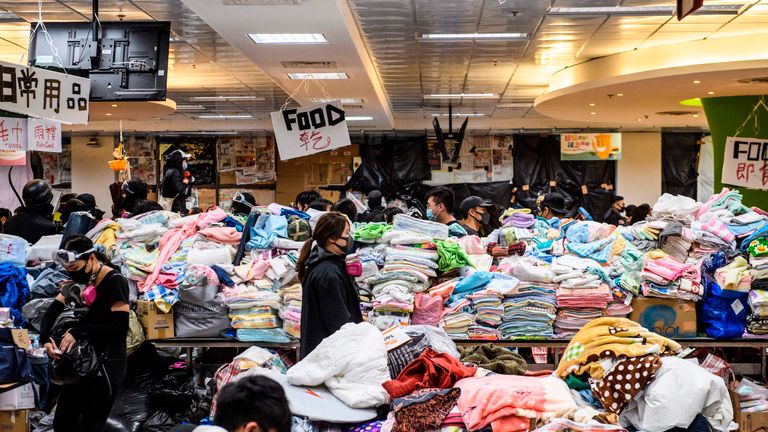 "A few months ago, we never thought we'd need to bring stretchers. We thought that the only wound we'd need to deal with are bruises or being affected by tear gas. But a few months later we see gun wounds, we see all sorts of stuff. And it's kind of crazy when we think about it."
More menial jobs are just as important.
I saw one middle-aged man scrubbing the toilets, then pushing a cleaning machine in the corridor. He studied at this university 19 years ago and has come to support the younger generation.
"This is the only thing I can do," he says. "Those who stand in frontline – it's not for me. I'm too old. So what I can do here, only do some cleaning, give them a good environment to stay, that's the only thing I can do."
He says he will stay as long as the protesters do.
But it works the other way too. The longer people like him lend a hand, the longer the protests will endure.