Women with higher levels of testosterone can run for significantly longer and have leaner muscles, a study has found, amid the debate over Caster Semenya's future in athletics.
Women with more of the hormone took 21 seconds longer on average to reach the point of exhaustion when running, according to new research published in the British Journal of Sports Medicine.
It comes after the International Association of Athletics Federations (IAAF) ruled that trans female athletes must lower their levels of testosterone to compete in the female category.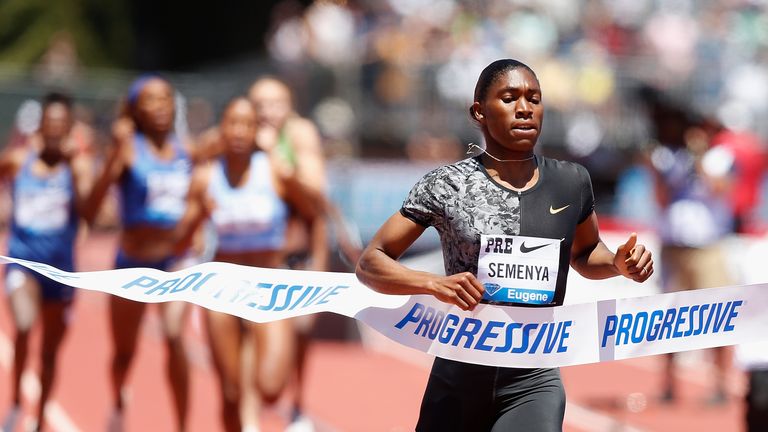 World athletics' governing body said athletes must now keep their levels of natural testosterone below five nanomoles per litre of blood in order to compete in women's races.
The new regulation is the same as that which applies to athletes with differences of sexual development (DSD), including double Olympic champion runner Semenya.
The South African has high levels of testosterone due to a condition called hyperandrogenism.
She is challenging the IAAF's rules that she and other athletes with DSD must take testosterone-reducing medication in order to compete in track events from 400m to the mile, or change to another distance.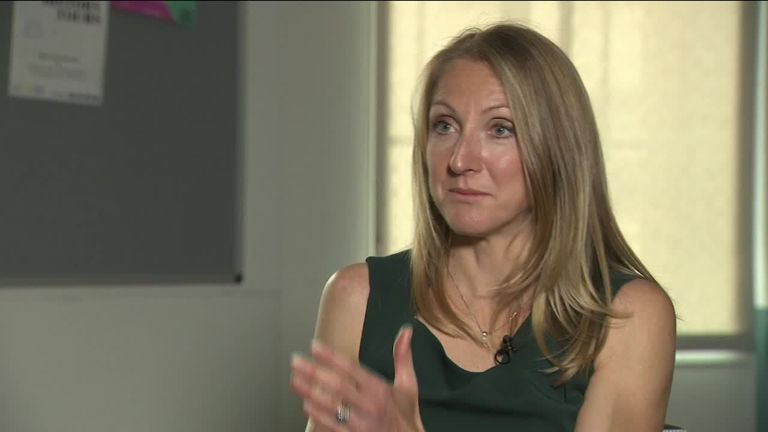 In the study, experts led by the Karolinska Institute in Sweden said there was surprisingly little evidence on the effects of testosterone in women.
They took 48 healthy, physically-active women aged 18 to 35 and randomly split them into two groups.
For 10 weeks, one group applied 10mg of testosterone cream daily while the other group applied a placebo cream.
Hormone levels, weight and muscle mass were all assessed at the start of the trial, and again after 10 weeks.
The results showed that those women in the testosterone group were able to run on a treadmill for longer before reaching the point of exhaustion – by an average of 21.17 seconds – compared to those in the other group.
Testosterone also led to an increase in lean muscle mass, even though body weight did not change, according to the study.
The total change in lean muscle mass over the 10 weeks was 923g for the testosterone group compared to just 135g for the placebo group.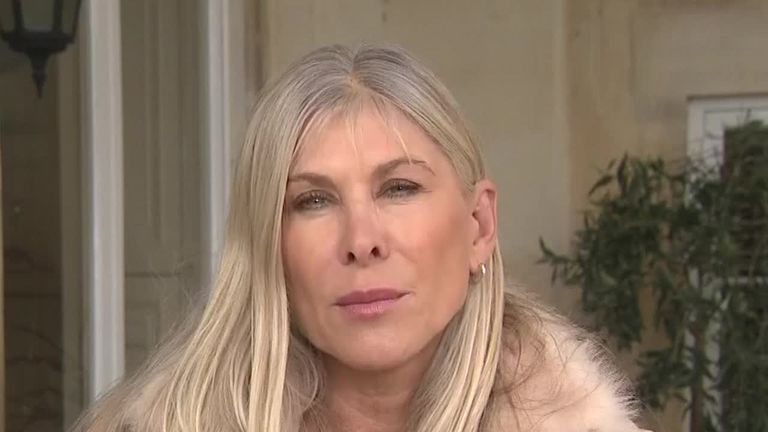 There were no differences between the groups in other tests such as cycling on an exercise bike or squat jumps.
The authors concluded: "The study supports a causal effect of testosterone in the increase in aerobic running time as well as lean mass in young, physically active women.
"Our results are therefore of great importance for the ongoing discussion of whether it is fair to allow athletes with naturally high testosterone to compete in the female category without reducing their hormonal concentration to the female range."
Israel and Islamic Jihad reach ceasefire after dozens killed | World News
Israel and the militant group Islamic Jihad have begun a ceasefire after at least 34 Palestinians were killed in the heaviest fighting in months.
Almost half of the dead were civilians, including eight children and three women, medical officials in Gaza said.
Eight members of one Gaza family were killed by an Israeli missile strike shortly before the truce came into effect, officials and residents said.
They claimed none of the victims were militants.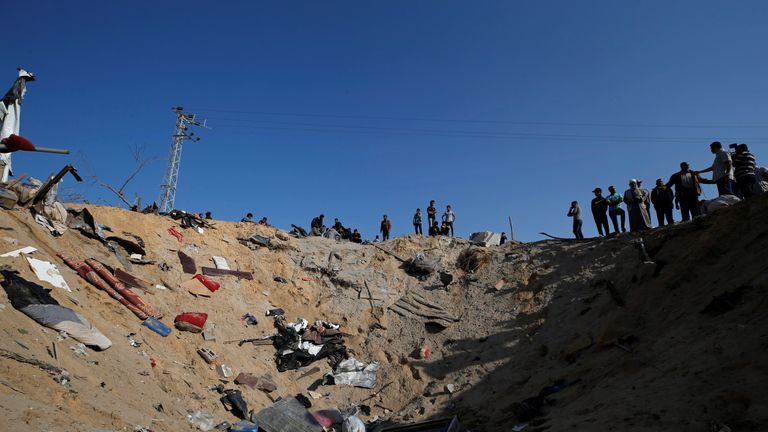 However, Israeli military spokesman Major Avichay Adraee said the head of the family, Rasmi Abu Malhous, who was among the dead, was the commander of Islamic Jihad rocket crews in the central Gaza Strip, although the group has not claimed him as a member.
Some of the family's bodies were completely buried in sandy earth, neighbours helping rescue workers to pull them out.
In two days of fighting, southern Israel was paralysed as militants fired hundreds of rockets across the border, injuring dozens of people.
Hamas, the dominant faction in Gaza, appeared to stay out of this round of fighting.
The clashes began early on Tuesday after Israel killed one of Islamic Jihad's senior commanders, Bahaa Abu el-Atta, who it had deemed to be an imminent threat.
He was claimed to be behind a string of rocket attacks, and was believed to be planning cross-border infiltration, Israel said.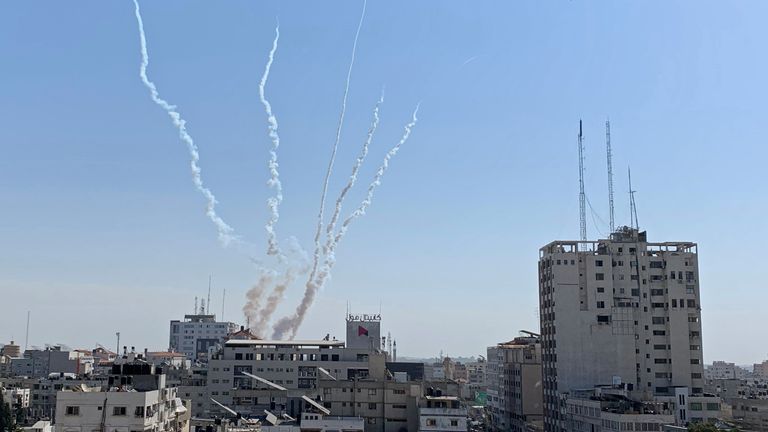 The Egyptian-brokered ceasefire began at 5.30am (03.30 GMT), about 48 hours after the fighting began, Islamic Jihad spokesman Musab al-Berim said.
"The ceasefire began under Egyptian sponsorship after the Occupation (Israel) submitted to the conditions set by Islamic Jihad on behalf of Palestinian resistance factions," he said.
An Israeli military spokesman announced that its Gaza operation was over on Twitter.
"Quiet will be answered with quiet," Israel's foreign minister, Israel Katz, told its Army Radio.
Islamic Jihad, like Hamas, refuses to accept permanent coexistence with Israel.
Germany narrowly escapes recession but growth fragile | Business News

Germany has bucked expectations and narrowly avoided a widely-feared recession but growth remains weak, latest figures show.
Europe's biggest economy unexpectedly expanded by 0.1% in the third quarter, driven by strong consumer spending.
Analysts had expected a 0.1% contraction.
But the Federal Statistical Office revised down the GDP figure the second quarter to a 0.2% contraction, greater than the 0.1% decline previously reported.
On the year, the economy grew by 0.5% for the period from July to September, following a 0.3% expansion for April to June.
Household spending was higher than in the second quarter and the state also increased spending, the statistics office said, adding that construction also supported growth.
The country's economy minister Peter Altmaier said: "We do not have a technical recession, but the growth
numbers are still too weak."
The German government's independent panel of economic advisers said last week there was no sign of a "broad, deep recession" or current need for a stimulus plan.
While exports edged up, imports remained at about the level of the previous quarter, the office said, suggesting overall trade had a positive impact on the economy.
Services companies and the jobs market have held up well in Germany, but the industrial sector, including car manufacturing, has seen declines in the face of trade tensions.
More follows…
Grace Millane murder accused: Putting body in suitcase 'didn't seem right' | World News
The man accused of murdering British backpacker Grace Millane has said he struggled to put her body in a suitcase bought for the purpose "because it just didn't seem right".
The 27-year-old, who cannot be identified due to legal reasons, told police he had buried Ms Millane in a shallow gave in the woods before taking dozens of pills in a suicide attempt.
Ms Millane, from Wickford in Essex, died in Auckland, New Zealand, the night before her 22nd birthday during a Tinder date with the man at the beginning of December last year.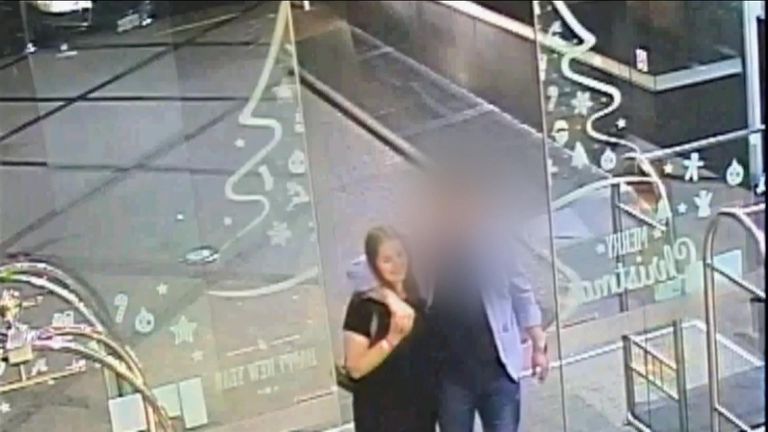 Prosecutors say he strangled her before burying her naked body in a suitcase in the Waitakere Ranges, near the city.
The man denies murder, claiming her death was an accident after she asked him to choke her during sex.
The trial at Auckland High Court heard on Thursday that Ms Millane had told him she was a fan of the 50 Shades of Grey movies.
In his second police interview a week after the pair shared a Tinder date, the man said she told him she had practised a number of BDSM sex techniques with a previous boyfriend.
Two days earlier, he had insisted he parted from Grace on the street with "a hug and a kiss on the cheek", hoping to see each to celebrate her 22nd birthday the next day.
In footage of the second interview played to the jury, he still denied being responsible for her death, saying he had woken to find her lying dead on the floor, bleeding from the nose.
"I picked her up and tried to wake her," he said. "I was like screaming Grace, Grace.
"I was trying to shake her. I was listening to see if her breathing was coming through and that's when I panicked. She was cold."
He told police he began dialling for an ambulance, adding: "But I didn't hit the button because I was scared how bad it looked. There's a dead person in my room. I thought it looked terrible.
"I was just terrified and scared. I went to The Warehouse (a chain store) and bought a suitcase."
Asked in the interview by his own lawyer why he was changing his story, he said: "I want her family to know that it wasn't intentional but I also want her family to have closure."
He said he had invented his previous, bogus account, because: "I was still shocked and I apologise for misleading."
He agreed to show officers where he had buried Grace's naked body in a shallow grave in dense woodland 10 miles from the city centre.
The court has heard that CCTV footage showed him entering the CityLife hotel, where he lived, arm in arm with Grace just before she died.
They had been seen kissing and cuddling as they shared a number of cocktails and tequila shots, and Grace had messaged a friend to tell her: "I click with him so well."
Inside the room, he told Detective Sergeant Ewen Settle that "she asked me to turn the TV off so I turned it off".
"I had it on the music channel and she started talking to me about 50 Shades of Grey which is a sex fantasy movie that's out.
"She told me that were a few things she likes doing and that she had done with her ex partner."
They started having sex, said the man, adding that she asked him to bite her and they both took intimate photos of each other.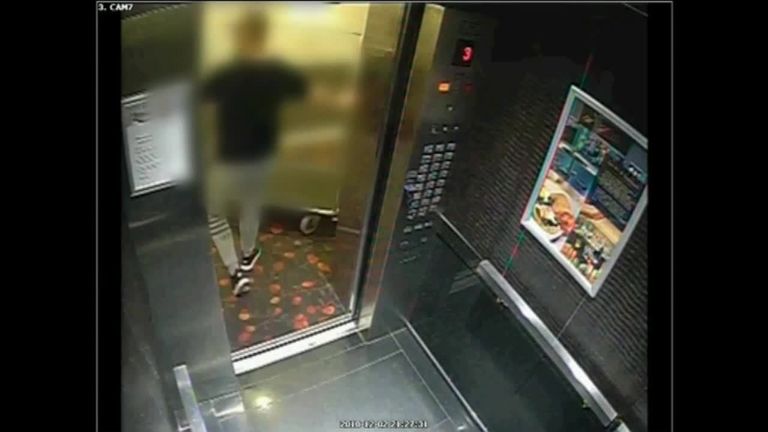 The prosecution say Grace was already dead when the pictures were taken of her, shortly after the accused allegedly searched on Google for "Waitakere Ranges", the hills where she was later buried, and "hottest fire".
Grace's phone has never been found, and the defendant has admitted dumping it in a rubbish bin along with her clothes, bag and shoes.
Prosecutors also say that his phone shows he searched for and watched hardcore pornography while Ms Millane lay dead in the room.
This was not mentioned in the police interviews.
He said he had then fallen asleep on the floor of his shower before going to bed thinking Grace had left the apartment.
He did not see her on the floor, he said.
By 8am, he was arranging another Tinder date for that afternoon at a bar, he said, adding that he had trouble finishing his beer with the second woman because he was "not 100 per cent there".
He was still thinking Grace "would wake up and she would be okay".
"I spewed up a few times because I couldn't put Grace in the bag because all I could think about was what we shared the night before," he said.
"And then I put her in the bag and the whole time I just kept saying, 'I'm sorry, I'm sorry'."
The trial, expected to last four weeks in total, continues.