As we head into awards season, all eyes are on the films that will catch the eye of critics and take home the trophies.
Big budget movies by well-known directors may have a head-start, but there's also plenty of room for independent, art house and world cinema.
Here, Sky News selects five under-the-radar films, worthy of a second glance.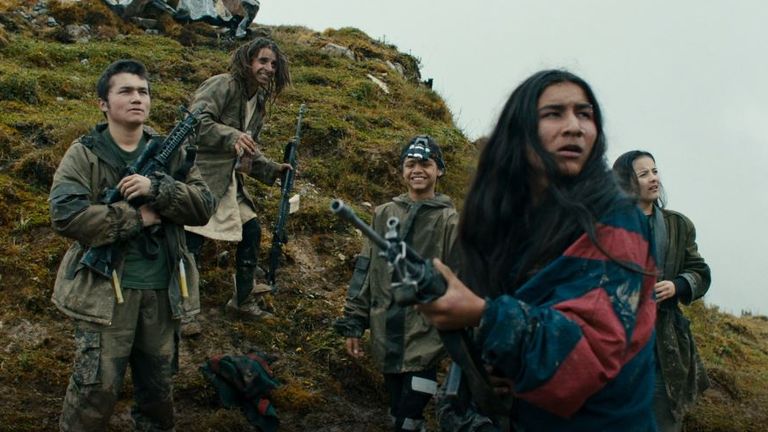 Monos
This immersive and hallucinatory tale of child soldiers fighting a conflict in an unnamed South American country won best film at London Film Festival (LFF).
Stationed at high altitude up in the clouds at the edge of the world, a battalion of barely-teens – with nicknames like Smurf, Bigfoot, Wolf and Rambo – train, flirt and fight.
The only adult in their midst – a female American hostage – negotiates an uneasy relationship with her lethal teenage captors.
After a power struggle opens-up amongst the squad, they relocate to the jungle, where they fracture even further into a feral and fearsome state.
Mica Levi's rumbling, percussive score adds an otherworldly, surreal atmosphere to director Alejandro Landes' kaleidoscopic visual style, while intensely physical and committed performances from his young cast enhance the film's grip.
Comparisons to Apocalypse Now and Lord Of The Flies are well earned, but there is something distinctly original and modern at work here.
In UK cinemas from 25 October.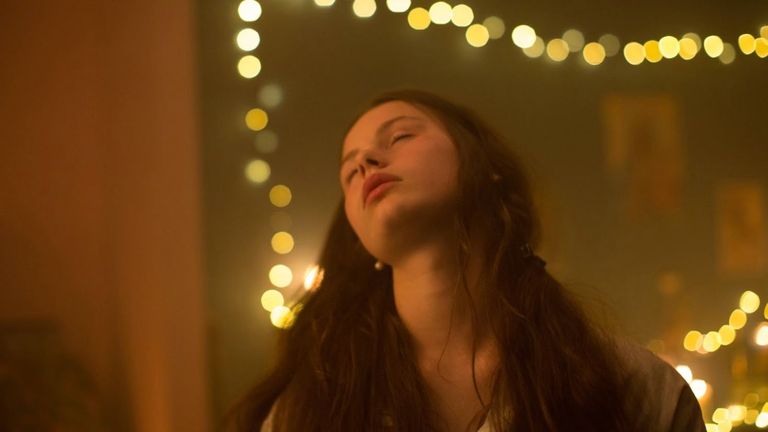 Zombi Child
French stylist Betrand Bonello's Zombi Child is a hypnotic curio of a movie.
Telling a tale of voodoo and possession over intertwining timelines, the film radiates strangeness and a dreamy sense of dread.
In 1962 Haiti, a voodoo curse strikes down a man, who is exhumed from his grave and put to work in the moonlit sugar cane fields as half-dead and docile slave labour.
Meanwhile in present day Paris, a lonely and lovesick young girl develops a fascination with the dark energy of a new pupil at her elite girl's school.
The girl just happens to be the granddaughter of the aforementioned Zombi from the Haitian timeline.
:: Listen to the Backstage podcast on Apple Podcasts, Google Podcasts, Spotify, Spreaker
At once suggestive and surprising, the film is full of visual and aural grace notes which ripple across a subtext questioning the sins of colonialism and cultural appropriation.
The film builds to a suitably intense finale but maintains a playful engagement with its mysterious materials.
In UK cinemas from 18 October.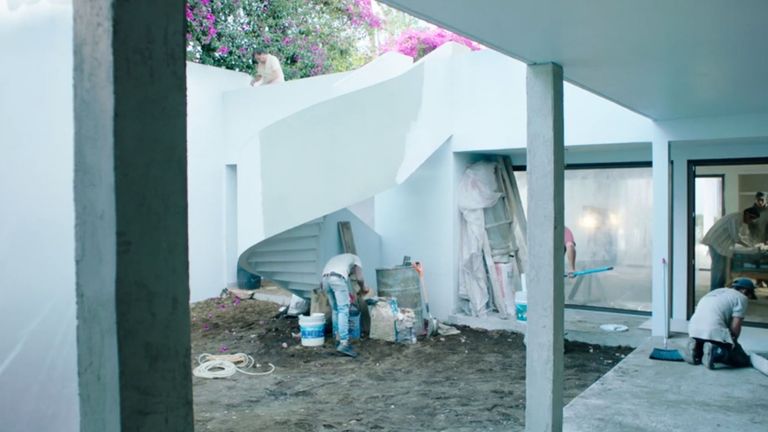 Workforce
David Zonana's debut feature follows a group of Mexican labourers renovating a luxury home.
The builders – played by a cast of non-professional actors – take an unexpected revenge when their unscrupulous bosses continue to exploit them in the aftermath of a workplace accident.
The film plays out in short, observational snapshots but delivers a surprising and complex study of solidarity and shifting allegiances in the face of exploitation.
UK release not yet announced.
Waiting For The Barbarians
Ciro Guerro, director of the well- received Embrace Of The Serpent and Birds Of Passage, returns with Waiting For The Barbarians, an adaption of JM Coetze's novel of the same name.
An allegorical fable set in an unnamed desert frontier town occupied by a European army, it pits Mark Rylance's benign Magistrate against Johnny Depp's sadistic Colonel Jol, ice cold in fascistic uniform and sunglasses.
Despite handsome cinematography from DP Chris Menges and the star power of Rylance, Depp and Robert Pattinson, the film is strangely inert and sags under its own earnestness.
Audiences will undoubtedly get a chance to judge for themselves however as the high-profile acting talent will undoubtedly secure a wide UK theatrical release.
UK release not yet announced.
Deerskin
An altogether less ponderous affair, Deerskin is deeply eccentric and unpredictable black comedy.
It stars Jean Dujardin (who won an Oscar winner for The Artist) as George, a divorced middle-aged man who develops an unhealthy obsession with a vintage deerskin jacket.
Holing up in a remote country hotel, George poses as an independent filmmaker in order to carry out a bizarre scheme in which his beloved deerskin jacket directs him into some questionable and ultimately murderous behaviour.
Dujardin is a hoot in the central role and the film is wild and nimble enough to sustain itself despite its bizarre central conceit.
It will receive its UK release in May next year.
Should Trump be impeached? Voters are as split as politicians | US News
It was a fascinating end to a week of intense testimony.
Fiona Hill, the daughter of a British coal miner, started with a stark warning to those claiming that it was Ukraine and not Russia who meddled in the 2016 US election.
The former aide to then national security adviser John Bolton delivered a stern rebuke of lawmakers, and implicitly Donald Trump, for pushing a "fictional narrative".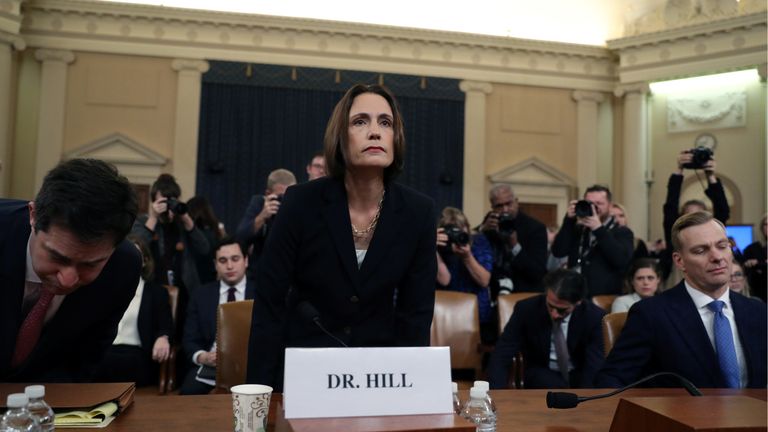 They were, she said, perpetuating a Putin lie and undermining public faith in American democracy.
Some Republicans on the intelligence committee, including ranking member Devin Nunes, continue to advance the idea that Russian interference was a "hoax".
In Moscow, Vladimir Putin sounded almost gleeful with the fact that theory was getting such a public and official airing.
"Thank God," he declared. "No one is accusing us of interfering in the US elections anymore. Now they're accusing Ukraine."
But Ms Hill – composed, robust and clearly concerned – told the hearing that Russia was busy gearing up to meddle in 2020 too.
She also provided a withering assessment of Gordon Sondland, the EU ambassador who, in a stunning U-turn on Wednesday, stated that there was definitely a quid pro quo and that "everyone was in the loop".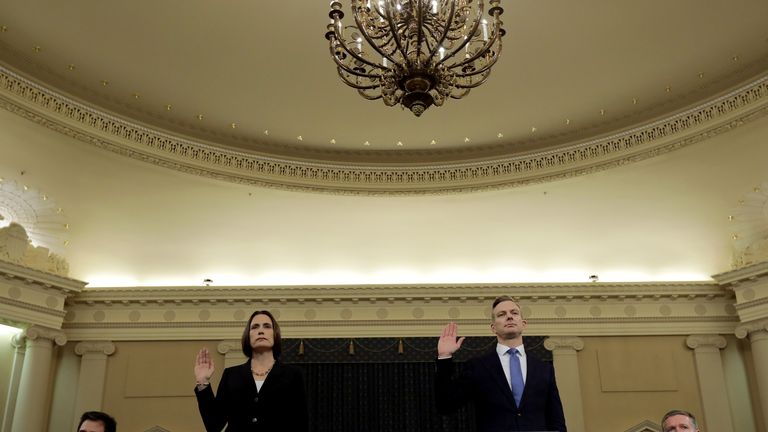 Ms Hill said Mr Sondland had carried out a "domestic political errand" for Mr Trump while she and her colleagues were involved in "national security policy".
She told House investigators that she came to realise he wasn't simply operating outside official diplomatic channels, as some assumed, but was in fact carrying out instructions from Mr Trump.
Mr Sondland had admitted exactly that the day before.
Ms Hill and David Holmes, a state department adviser in Kiev, claimed it was abundantly clear that Mr Trump's personal lawyer Rudy Giuliani was pursing political investigations of Democrats and Joe Biden in Ukraine.
She said she knew then it would "come back to haunt us". She added that her former boss, Mr Bolton, had also expressed concern that a "drug deal" was being cooked up.
But he, like so many in the White House, has not testified.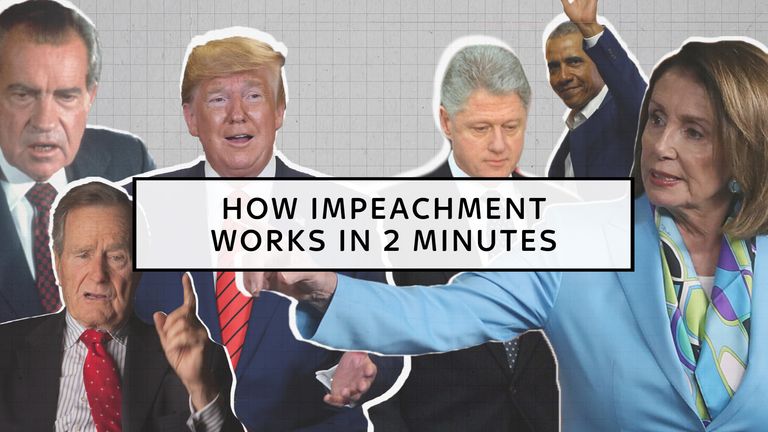 You only have to step outside for a few minutes to see how differently the public viewed their pair.
One man declared her "elitist and "irrelevant". Another woman called her "the very best of America". It all comes down to who you believe.
As a long day drew to a close, Mr Nunes told the room that this was simply a "show trial", driven by Democrats who had reached their verdict before they had even begun.
Today and throughout this impeachment process, Republicans have characterised the evidence as third-hand and third-rate.
Ms Hill was not on the July call that sparked this inquiry and she like so many others, they argue, should be discounted.
I would say up to half of those I have met in the long queues outside the hearing think the Republicans have a point.
:: Listen to the Daily podcast on Apple Podcasts, Google Podcasts, Spotify, Spreaker
Voters are just as split as those who are representing them.
So what next? Well, Democrats could file articles of impeachment before Christmas and hold a vote.
Given they have the majority, it is certainly looking like they would vote to impeach President Trump.
But it is also likely that the Republican-controlled Senate won't vote to convict him.
It's also absolutely plausible that he wins a second term.
The president's supporters seemed almost resigned to the idea that he'll be impeached, but also determined to keep him in office.
UK defies US over 'illegal' Israeli expansion into West Bank | World News
Britain has defied the US by urging Israel to stop its "counterproductive" expansion into the occupied West Bank.
The Foreign Office has waded into the debate after US Secretary of State Mike Pompeo announced the White House was softening its position on Israeli settlements in the territory.
It was the latest move from the Trump administration to anger Palestinians, as it weakened their claims to ownership of the state and put Washington at odds with other nations working to end the long-running conflict.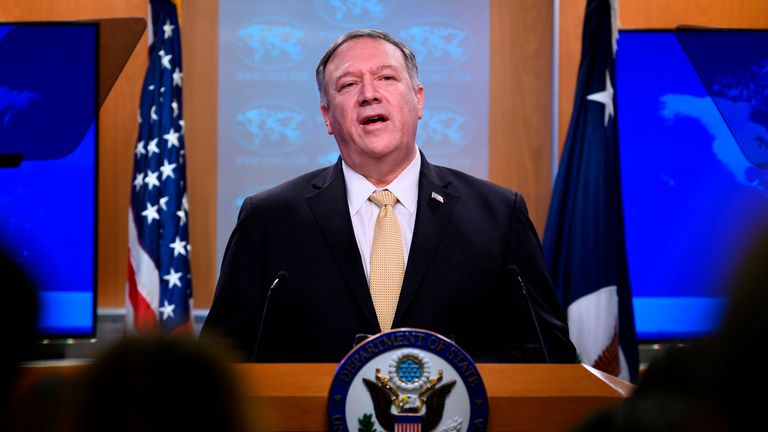 Responding to the change in policy, the Foreign Office said: "The position of the UK on settlements is clear. They are illegal under international law, present an obstacle to peace, and threaten the viability of a two-state solution.
"We urge Israel to halt its counterproductive settlement expansion."
The announcement by Mr Pompeo had angered Palestinians, with a spokesman for President Mahmoud Abbas claiming settlements are illegal under international law.
Nabil Abu Rudeineh said the US government had "lost credibility to play any future role in the peace process".
Since becoming US president, Donald Trump has made a number of foreign policy decisions in favour of Israel.
The most controversial move was to officially recognise Jerusalem as the capital of the Middle Eastern country, angering those who labelled it a severe blow to the Middle East peace process.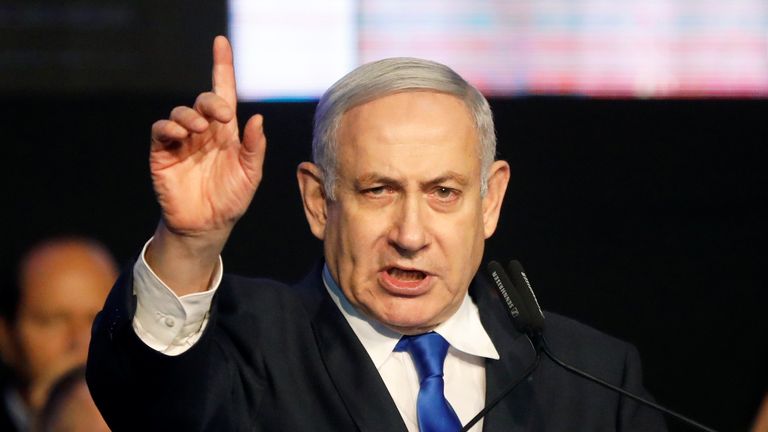 Israeli Prime Minister Benjamin Netanyahu has repeatedly welcomed the support of Mr Trump, although his backing has done nothing to help him form a new government despite two elections this year.
In more bad news for Mr Netanyahu, he has been indicted on corruption charges including fraud and bribery.
The allegations include suspicions that he accepted hundreds of thousands of pounds' worth of champagne and cigars from billionaire friends – and offered to trade favours with a newspaper publisher.
Mr Netanyahu has denied wrongdoing in three corruption cases and – in Donald Trump style – has previously dismissed the investigations into him as a "witch hunt".
Israeli PM Netanyahu indicted on corruption charges


Israeli Prime Minister Benjamin Netanyahu has been indicted on corruption charges, the country's attorney general has announced.

Source link