A pregnant woman was killed by several dogs in a forest in northern France, investigators say.
Elisa Pilarski, 29, was walking one of her own dogs when she was bitten to death in the Forest of Retz, south of the Aisne, on Saturday.
Dozens of dogs were taking part in a hunt near to where she died at the time, French daily newspaper Le Parisien reports.
Ms Pilarski phoned her husband when she felt threatened by a pack of dogs she had encountered in the forest, and reportedly said: "I'm scared, come quickly. There are plenty of dogs barking around."
Her husband Christophe reportedly left work and arrived at the scene an hour later.
He found Ms Pilarski in the forest after hearing the screams of their own dog who was curled up against her body, French news site L'Union reports.
She was said to have been found on the edge of the woods not far from where she lives.
Her unborn baby, who the couple are said to have named Enzo, was also killed in the attack, L'Union added.
A woman who lived nearby told the news site that the husband came to her house and said: "My wife has been killed by dogs."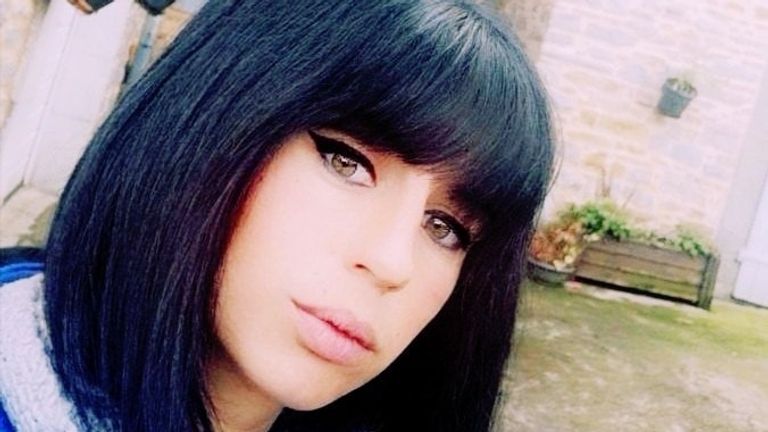 French prosecutor Frederic Trinh, quoted in L'Union, said: "The autopsy determined that the death occurred between 1pm and 1:30pm and was due to haemorrhage following several dog bites in the upper and lower limbs and in the head, some bites being before death and others after death."
He added: "The lifeless body of a 29-year-old woman was discovered by her partner in the vicinity of a forest trail in Retz, located in the commune of Saint- Pierre-Aigle.
"According to the declarations of the deceased's companion, the latter had gone to walk her dog and called him to report the presence of threatening dogs. "
French police have opened a manslaughter investigation and are investigating who the dogs that killed Ms Pilarski belong to, Le Courrier Picard reports.
Angela Van Den Berghe, a person associated with the hunt, is quoting in L'Union as saying: "To our knowledge, the tragic accident that occurred has no relation neither with our dogs, nor with the hunt with hounds. A very thorough investigation is underway."
Police have reportedly taken samples from 93 dogs, as well as five others that belonged to the couple.
Ms Pilarski and her husband were dog lovers who met at a dog show, L'Union reports.
Friends have been paying tribute on Ms Pilarski's Facebook page since her death.
Arocas Axel wrote: "Rest in peace this is so sad and unfair.
"Courage to the loved ones."
Peter Tpq wrote: "So shocked. I so loved seeing your posts every day with your amazing dogs."
France strike: Protests turn violent as industrial action causes travel chaos | World News
Police have been seen dragging and beating protesters as demonstrations in Paris turned violent.
Officers deployed tear gas and used pepper spray as demonstrators threw projectiles and firecrackers.
More than 180,000 union members took to the streets as part of a general strike across the country which led to widespread chaos.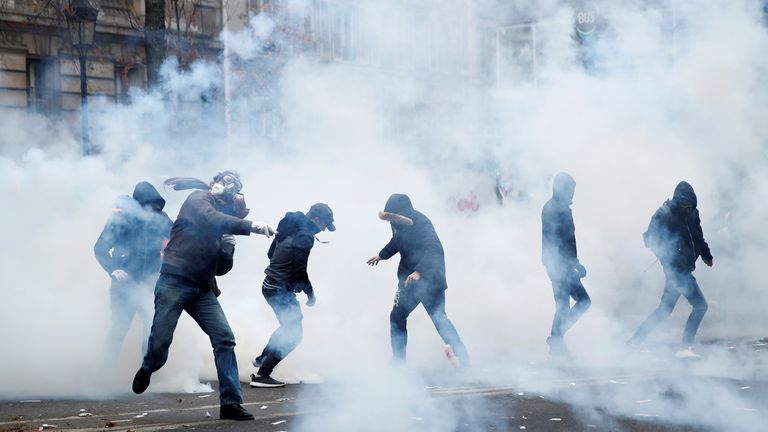 Thousands of protesters marched towards Place de la Nation into the evening.
French public sector workers began the walkouts on Thursday over President Emmanuel Macron's plans to reform the nation's pension system.
The president says the system is unfair and too costly. He wants a single, points-based system under which for each euro contributed, every pensioner has equal rights.
The current system allows rail workers, mariners and Paris Opera House ballet dancers to retire up to a decade earlier than the average worker.
Railway and airport workers, firefighters, teachers, truck drivers and medics are among those who joined the action.
Yellow vest protest groups, or "Gilets Jaunes", who brought much of Paris to a halt last year, were also there.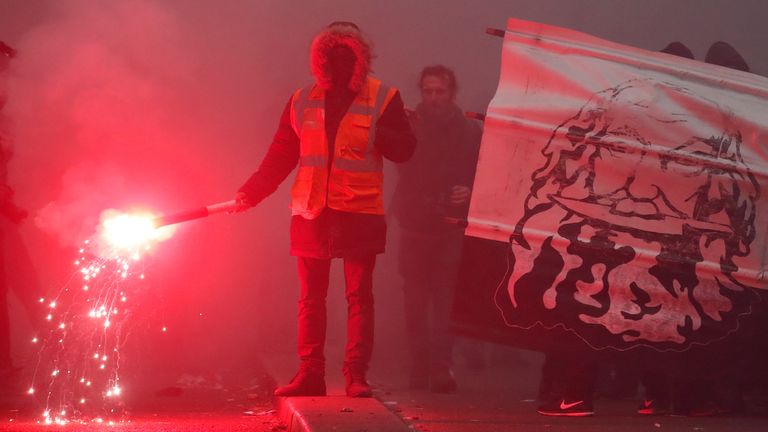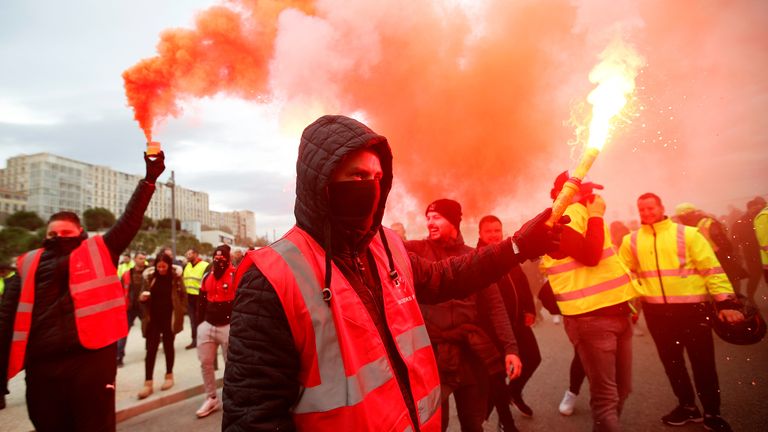 The demonstrations began peacefully as protesters marched along the Boulevard de Magenta.
But the atmosphere shifted when protesters wearing black clothing and protective gear began smashing bus stops and store fronts near the Place de la Republique.
Police struggled to control a number of fires set by demonstrators in the area and had cordoned off the square by the early evening.
The action is expected to paralyse the nation for days, as flights, trains and buses face the biggest wave of industrial action the country has seen for decades.
There are no tickets available on Eurostar trains until Tuesday, with the company saying it has cancelled almost 100 services between now and then.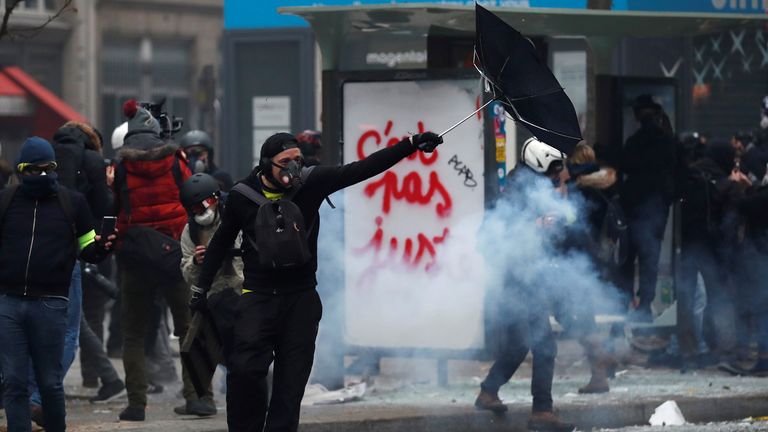 Airlines including Easyjet, British Airways and Ryanair have opted to cancel many of their flights to and from France, while Air France has said up to a third of its domestic flights would be cancelled.
Signs at Paris Charles de Gaulle Airport showed "cancelled" notices.
A number of P&O Ferries services from Dover to Calais were delayed due to the industrial action.
The firm advised people to check its Twitter page for updates.
The SNCF railway company earlier said it expected nine out of 10 high-speed trains to be cancelled and said its services were "severely disrupted".
Most of the subway system in Paris is also affected.
Commuters in Paris got out their bicycles, turned to carpooling apps or worked from home to avoid the crush on the limited train and metro services.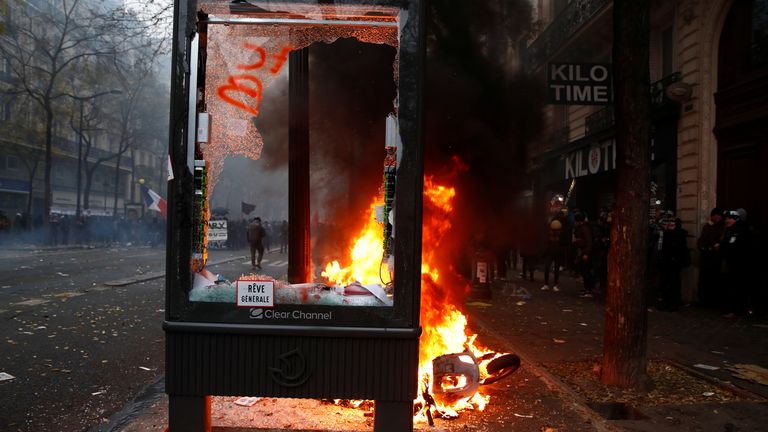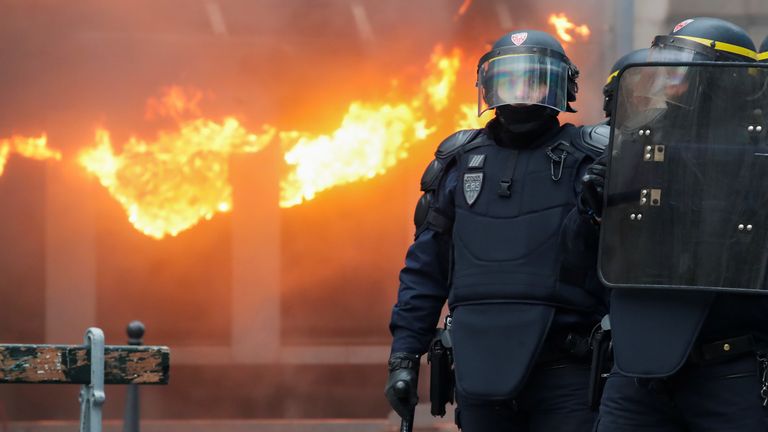 All businesses, cafes and restaurants along the route in Paris were ordered to close for the day by police.
Hotels across Paris have reported receiving cancellations from tourists who have decided against travelling to France during the industrial action.
"For 30 years successive governments have tried to bring reform and fail because the unions cripple the country," said 56-year-old cafe owner Isabelle Guibal.
"People can work around it today and tomorrow, but next week people may get annoyed."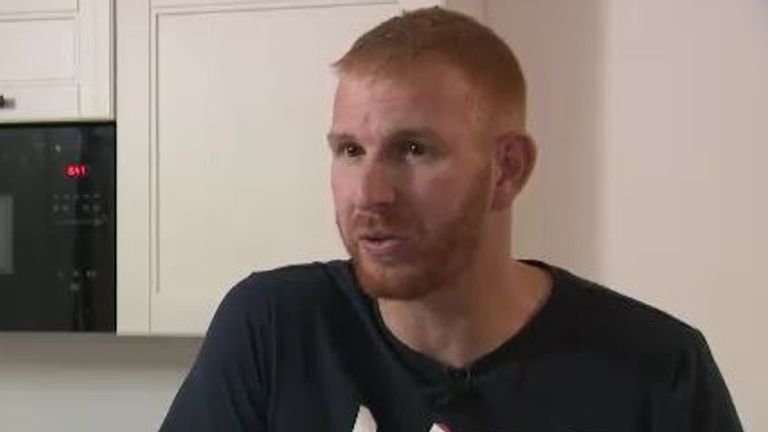 Elsewhere around France, thousands of red-vested union activists marched through cities from Marseille on the Mediterranean to Lille in the north.
Riot police in Nantes, western France, fired tear gas at masked protesters who hurled projectiles at them.
In Lyon and Marseille, thousands more protesters carried banners that read: "Don't touch our pensions".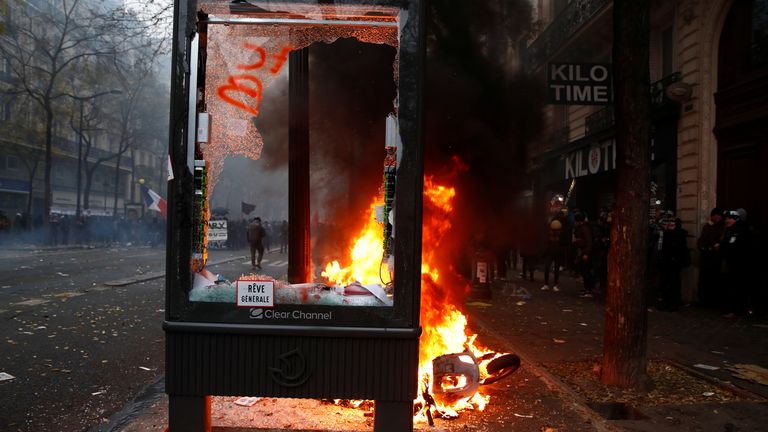 Ghislain Coutard, who started the yellow vest movement, told Sky News on Wednesday the protests could lead to a "new beginning" for his country.
"For me, it's make or break. This is either a new beginning or it's the end," he said.
The national strike across France comes as thousands of rail passengers in southern England face misery as a 27-day walkout until New Year's Day by South Western Railway staff entered its fourth day.
More than 140,000 killed by measles last year as number of cases rises | World News
An "unprecedented global measles crisis" caused more than 140,000 deaths last year, with most of those who died under five years old, new figures reveal.
Cases of measles are continuing to rise after more than doubling in 2018 compared with the previous year, according to a report by the World Health Organisation (WHO) and the US Centres for Disease Control and Prevention (CDC).
Some countries which previously had high coverage rates or had eliminated the disease are seeing "devastating measles outbreaks" due to falling vaccination rates, Unicef said.
The charity added that although children in some areas are hard to vaccinate due to conflict or a breakdown in services, in other places some parents are not vaccinating their children "due to complacency, mistrust or misinformation about vaccines."
Parents are being urged to vaccinate their children in places where vaccines are available, including the UK, while efforts are being stepped up in countries without ready access to the jabs.
The UK lost its measles-free status in August as cases rose sharply.
In 2017, the number of laboratory-confirmed cases in England was 259, but this more than tripled to 971 in 2018.
A further 532 cases were reported in England between January and June this year.
There has been a drop in vaccination rates for all nine vaccines given to children under the age of five in England, including the measles, mumps and rubella (MMR) jab.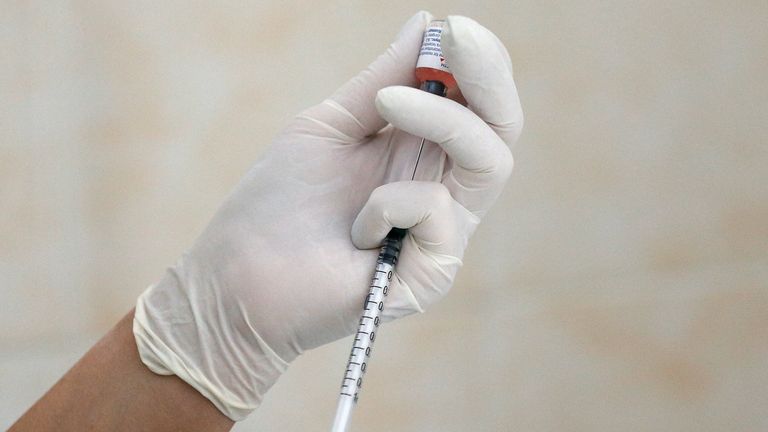 A charity leader has called the issue in the UK a "ticking time bomb" and said trust needs to be built with parents.
Liam Sollis, head of policy and advocacy at Unicef UK, said: "Vaccines are the safest and most effective preventative measures against highly infectious disease, but currently too many children are being put at unnecessary risk – with half a million children in the UK unvaccinated against measles."
However, half of measles cases reported in 2018 were from five countries – the Democratic Republic of Congo, Liberia, Madagascar, Somalia and Ukraine.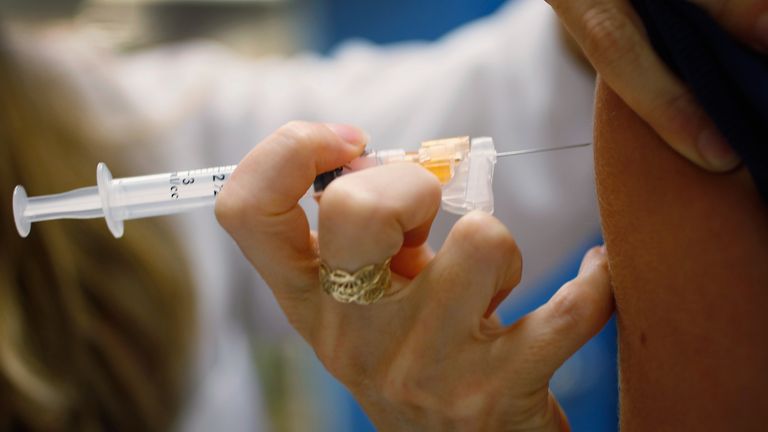 Nearly 5,000 people have been killed by measles in the Democratic Republic of Congo so far this year, while close to a quarter of a million have been infected.
In recent weeks, more than 53 people have died in a measles outbreak in Samoa, 48 of whom were children.
The country declared a state of emergency on 20 November and has been placed on lockdown to contain the disease.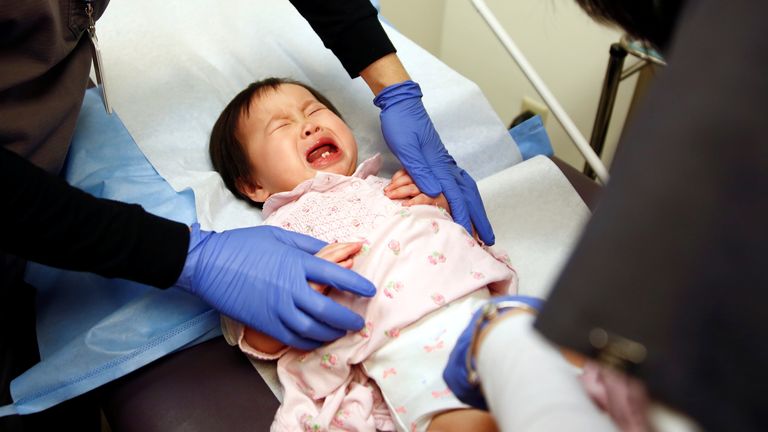 The director-general of the WHO, Tedros Adhanom Ghebreyesus, called the worldwide measles deaths an "outrage" and a "collective failure to protect the world's most vulnerable children."
It is estimated more than 19m children worldwide did not have the first dose of the measles vaccine by their second birthday in 2018.
Briton brought back to life after six-hour cardiac arrest in Spain | World News
A British woman says it was a "miracle" she was revived after her heart stopped for six hours when she was caught in a snowstorm.
Teacher Audrey Schoeman collapsed while out walking in the Spanish Pyrenees last month and developed hypothermia before going into cardiac arrest.
Mrs Schoeman, 53, who lives in Spain but has a British passport, started "talking nonsense" as her eyes rolled back into her head and she stopped breathing, her husband Rohan said.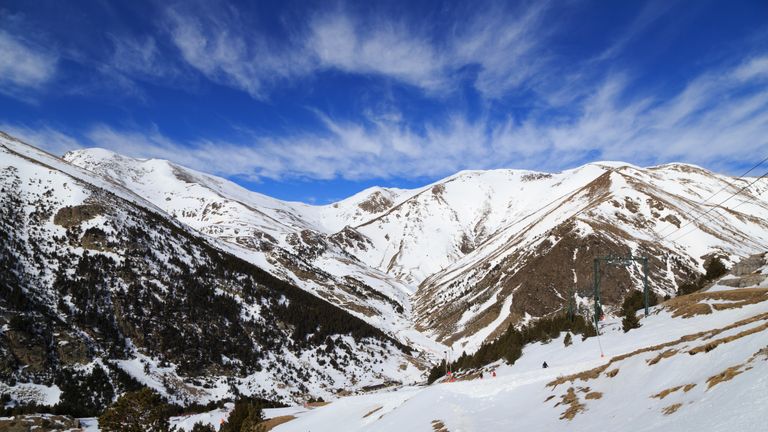 He added: "I thought she was dead.
"I was trying to feel a pulse… I couldn't feel a breath, I couldn't feel a heartbeat."
Mrs Schoeman was airlifted to hospital, where her temperature was recorded as 18C (64.4F) – less than half what it should have been. Doctors could also not find any vital signs.
Medics at the Vall d'Hebron Hospital in Barcelona said Mrs Schoeman had suffered the longest cardiac arrest ever recorded in Spain, calling it an "exceptional case".
Dr Eduard Argudo said: "She looked as though she was dead, but we knew that, in the context of hypothermia, Audrey had a chance of surviving."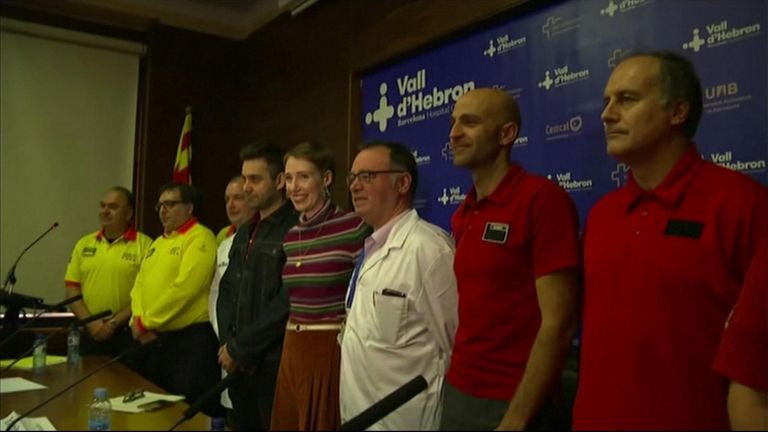 Hypothermia, although causing her body to shut down, also meant her brain and organs had been protected.
Dr Argudo added: "If she had been in cardiac arrest for this long at a normal body temperature, she would be dead."
In hospital, she was put on a machine that removed her blood, re-oxygenated it, and then pumped it back into her body.
Then, once her body temperature had reached 30C (86F), she was switched to a defibrillator. It was then that her heart began working again, six hours after emergency services were called.
Speaking to local media, she said: "It's like a miracle except that it's all because of the doctors."
"Probably this winter, I won't go to the mountains, but I hope that in Spring we'll be able to start hiking again. I don't want this to take away that hobby."
Mrs Schoeman was discharged from hospital 12 days after being admitted.