Brazil's environment minister has told Sky News that the international community shouldn't "point fingers" at his country over the Amazon rainforest fires.
Ricardo Salles also said nations who are "rich because they've destroyed the environment" have a moral obligation to give more financial support to developing nations like his own.
We met Mr Salles in Madrid, where he's attending the UN conference on climate change.
His country is under pressure.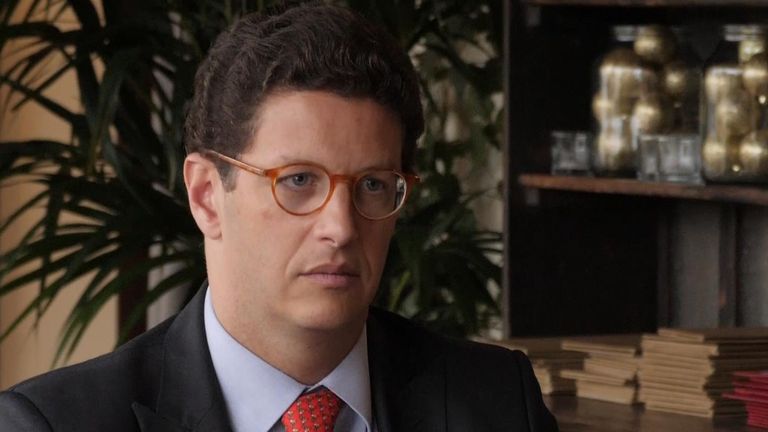 Last August, the world watched in horror as a record number of fires burned through the Amazon rainforest.
Brazil's populist president Jair Bolsonaro has been accused of bringing in anti-environment policies and creating the conditions for illegal deforestation that made the situation much worse.
But Mr Salles defended the increasing rate of deforestation.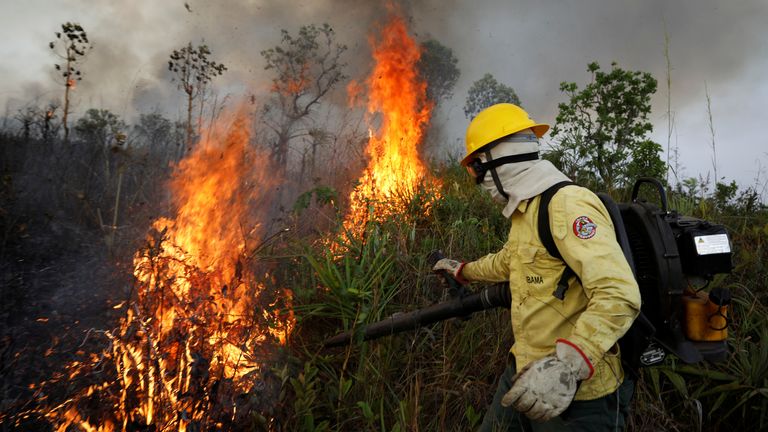 He said: "It's been happening since 2012, it didn't begin with Bolsonaro.
"It's not a good thing to point fingers to countries or to say to Brazil that you are doing bad, since other countries were doing bad in the past too.
"In terms of moral obligation we believe that countries who are rich and are rich because they destroyed the environment and also have destroyed the environment because of the industrial processes, they do have this moral obligation in giving support for developing countries."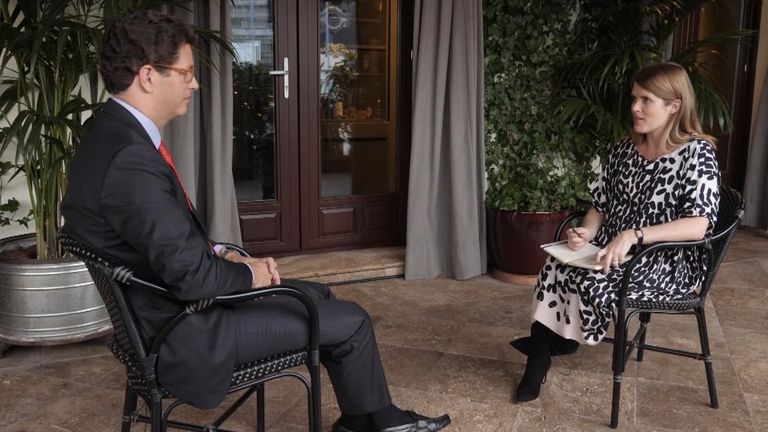 Mr Salles has come to Madrid intent on securing funds for Brazil as part of a global carbon credit and trading scheme that is currently being discussed.
He said his country had made efforts and progress in preserving large parts of the Amazon, but that as a sovereign nation, Brazil should be allowed to use its natural resources to lift people out of poverty.
He said: "We must understand that poverty is the biggest enemy of environmental measures and preservation.
"We are not destroying the world's lungs, it's not true."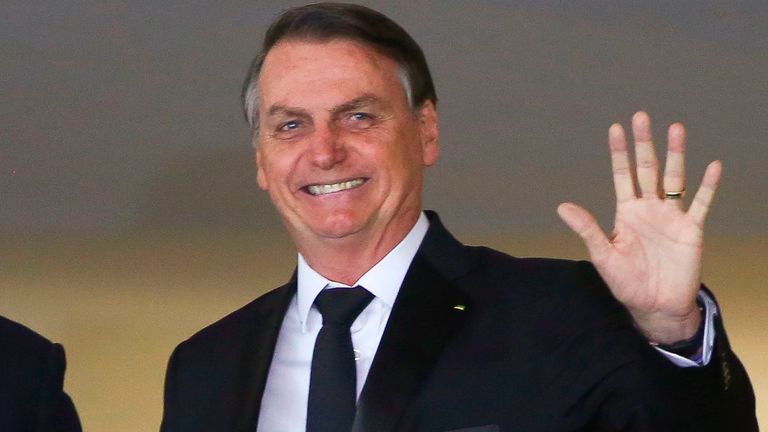 When pressed on the fact that deforestation is increasing on his government's watch, he said: "It's getting worse because we are not focusing on the alternatives for the people who live there."
He argued that 20 million people who live in the Amazon region are more susceptible to illegal and criminal deforestation practices because they don't have an alternative means of supporting themselves.
But we spoke to two indigenous leaders attending the Madrid conference who have very little sympathy for that view.
Telma Marques da Silva and Francisco da Silva Riyako, who both live in the northern region of the Amazon rainforest, told me through a translator that the Brazilian government was guilty of short term, cynical exploitation.
They said the Amazon belongs to both Brazil and the whole planet – a treasure that needs recognition and protection from the Brazilian government, who must see it for its true value to the world.
But while President Bolsonaro is in power, little is likely to change for one of the world's biggest polluters.
It is another example of the many differences between the countries gathered at this climate conference, and how difficult meaningful agreement can be.
Climate change: Sight of Victoria Falls cut to a trickle is heartbreaking | World News
It's a heart-breaking sight in some places – and yet the magnificence of this geological natural wonder is no less awe-inspiring.
As a child I came here many times.
I was brought up in Kitwe in the Copper Mining Belt and I remember on holidays scampering over Knife Edge Bridge with my sister, feeling like I was running through a full-on shower and getting thoroughly soaked.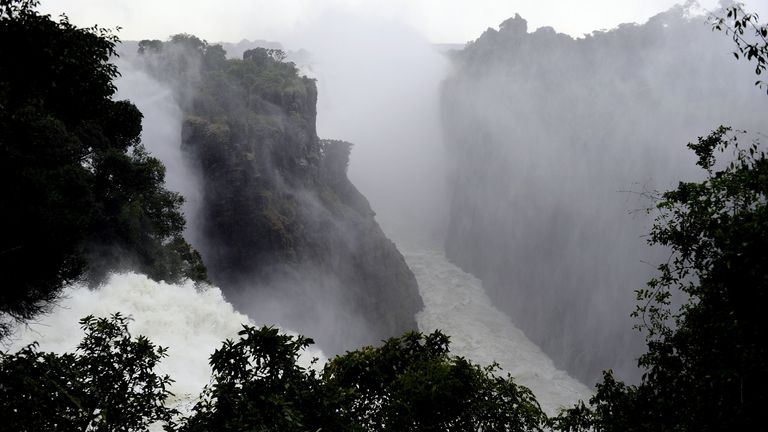 The spray and mist was so strong we couldn't see the end of the narrow 420 foot-long bridgeway.
The roar of the water storming over the edge was enormous. You had to shout to be heard.
It's said, at its height, you could hear the sound of the falls from 12 kilometres away.
It's not called Mosi-oa-Tunya (the Smoke that Thunders) for nothing.
But the crashing noise and wet all added to the excitement and adrenalin we felt as children, being in the shadow of one of the truly great natural wonders of the world.
We fell in love with it there and then. I returned with my own family many years later and my four children felt the same marvel looking at the world's longest curtain of falling water and they too fell in love with the place.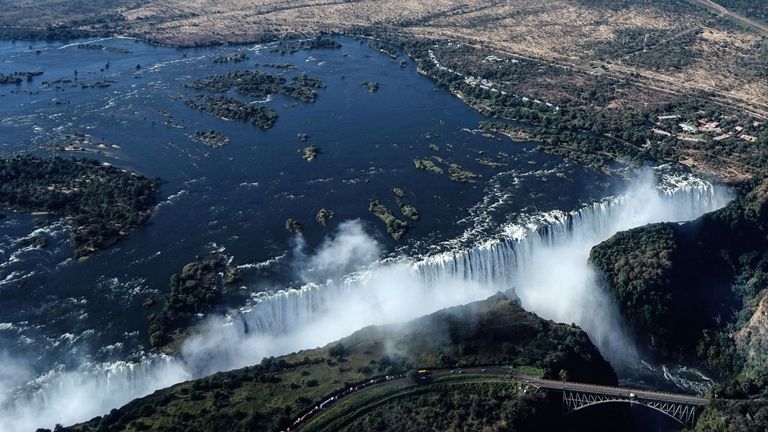 I told them, if I could, I would come every single weekend until the end of my life to feast my eyes on the magical Victoria Falls.
So, I was shocked to my core seeing it so dry. And terribly sad too. Of course, there are seasonal periods where the falls have always dried up in sections.
But an extended drought in this region has meant a dramatic drop in water levels in the Zambezi River and today, right now, it seems a fraction of its magnificent self.
The huge chasm which divides Zambia and Zimbabwe is running to a trickle in places and water levels have dropped to their lowest in 25 years.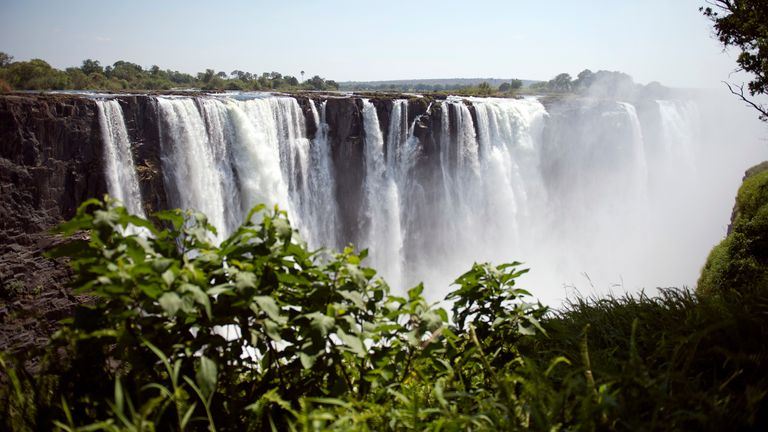 The falls are a source of national pride in Zambia and Zimbabwe – fiercely protected and defended.
And people in both countries are angry, and it has to be said, it seems to me a little frightened – not just at what many perceive to be the mismanagement of the drought emergency; the endemic corruption in both countries (which has meant less money used to combat the effects of climate change) but also at the international spotlight being thrown on the falls.
Tourism is already down 40% in Zambia.
They don't want to dissuade any more tourists from avoiding the area.
"Look at the Grand Canyon," Rodney Sikumba, from the Livingstone Tourist Association told me. "That's still a spectacular sight. So is our Victoria Falls. We want people to come. And there are so many other activities to do throughout Zambia too. We have the Big Five; we have bungee jumping; we have other waterfalls."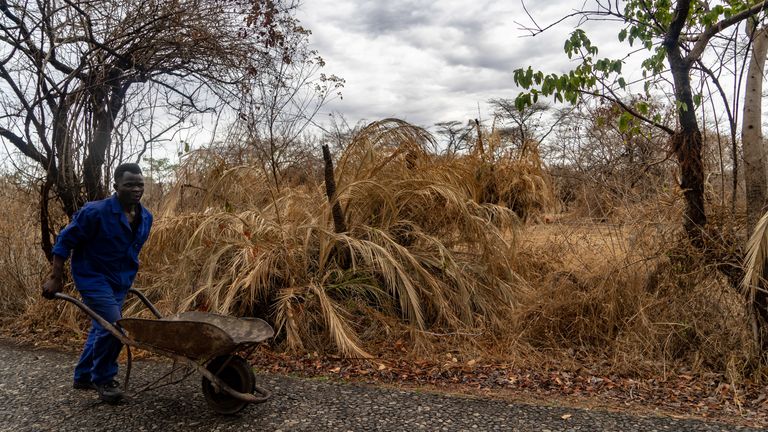 It's true: there are many other places to visit and explore in Zambia.
But avoiding the Victoria Falls would be like going to Rome and avoiding the Colosseum, or travelling to Paris and not seeing the Eiffel Tower, or visiting China and by-passing the Great Wall.
You wouldn't do it. And you shouldn't do it.
Even now, at its lowest, it's still an incredible visual feast, staggering in its size, magnificent in its natural energy and beauty.
It still has the power to take your breath away, even now at its weakest and most depleted in a quarter of a century.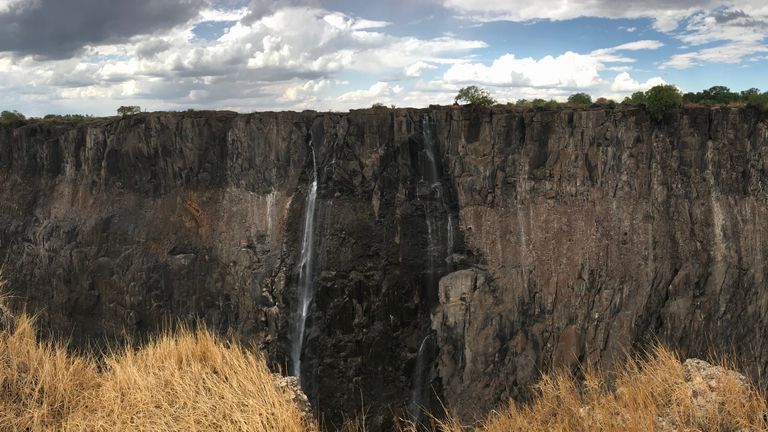 The rains have been delayed and they are praying for several months of downpour in order to replenish stocks.
The Kariba Reservoir which straddles the Zambezi River and provides power to both countries is operating at only 11% capacity right now.
That's meant a dramatic impact on almost everything that Zambia does.
Mining, agriculture and tourism: their top three money-generators have all been hit.
The rains will come, sooner or later, and by early next year, the falls will, nature dependant, be back to its former glory.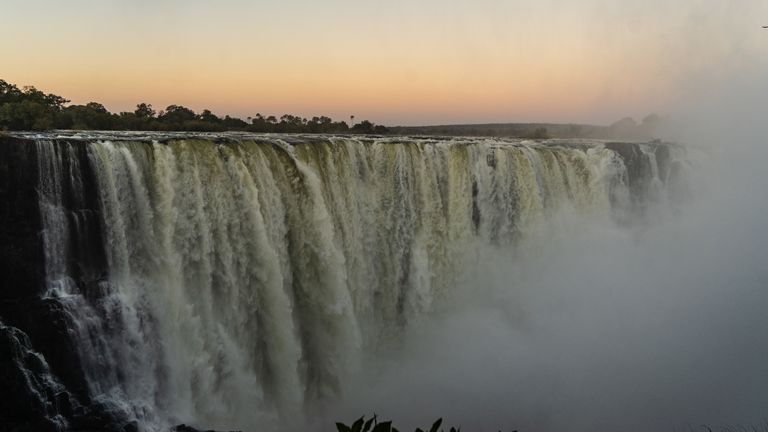 But the extreme and changing weather patterns around the world are having an impact – and developing countries like Zambia and Zimbabwe are at the 'coalface' and feeling the effects most.
Sitting down in the State House in the Zambian capital, Lusaka, and talking to President Edgar Lungu, he made it clear, it's less well-off countries like his own which are least able to afford its consequences.
The president stressed he felt it was incumbent on those countries generating much of the world's pollution to accept some responsibility for its clean-up too – being felt most keenly by those countries with the least money.
But he accepted too that his own country and his own government had a duty to do more too.
"We haven't done enough preparation as a country and we are paying the price for that," he told us.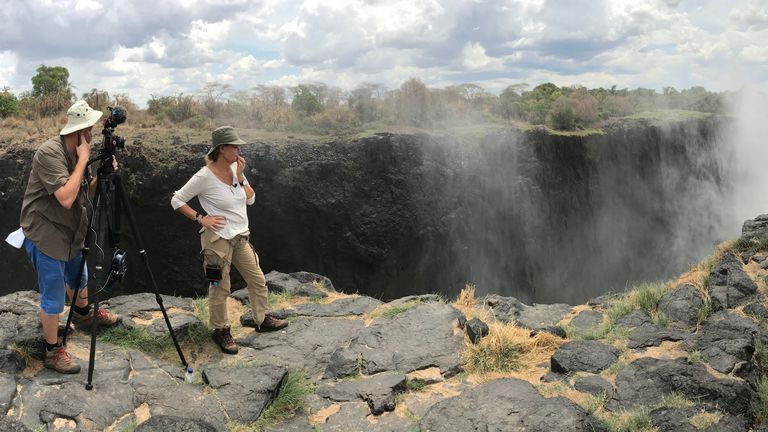 Around two million people in Zambia are estimated to be hungry and needing food assistance because of the drought.
The president's critics insist he's using climate change to divert attention from his government's failure to tackle the drought adequately; the misappropriation of public funds; the complaints about widespread corruption; and his desire to remain in power beyond the 2021 election.
Whatever the veracity of these arguments, there are many complex contributory factors which have led to the water crisis. Zambia's unhealthy dependency on hydropower must surely be one of them.
The country's near total dependence on hydropower (it provides 80% of the country's electricity) means there is an undue strain on the ever-dwindling water supplies.
That affects electricity, businesses, mining, and every day surviving.
But temperatures are going up and water levels have been going down incrementally over the past few years and that means countries the world over would be wise to try to mitigate some of the climate change impact.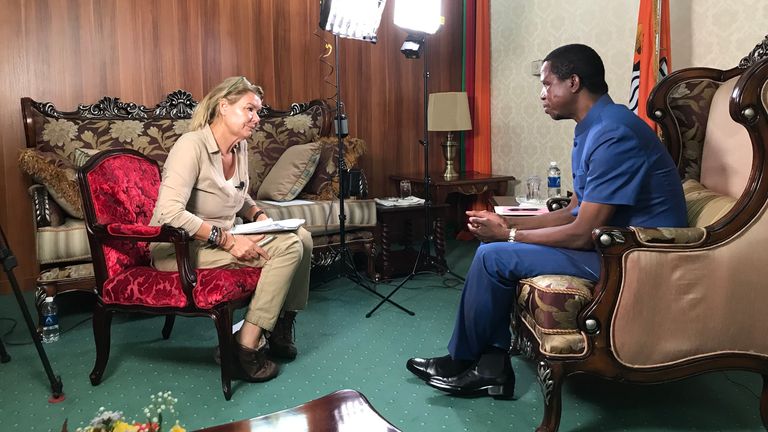 President Lungu told us: "Climate change is real. Its effects are slowly destroying mankind and we have to address it. Do we want to pass on the Zambezi without the mighty Victoria Falls? Do we want to do that? Is that what we want for future generations? There are practices and measures we can take now."
He is, of course, right.
The Victoria Falls are still one of the most beautiful sights you will ever be lucky enough to gaze on in your life.
It is truly bucket list material. And by trekking to Zambia or Zimbabwe to enjoy its splendour, tourists will be putting more money in the coffers so they can do more to save and protect this spectacular vision.
Given the chance, I'd still be going there every weekend to feast my eyes on it.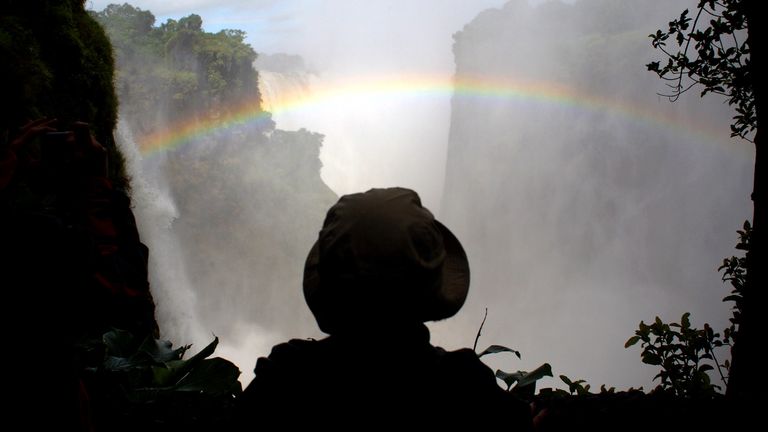 We can only hope the political leaders meeting in Madrid at the COP25 come up with a potent action plan for the future so these treasures are protected.
NATO allies issue strongest warning yet over Russia threat | World News
Britain and its NATO allies have used their strongest language yet against Russia, mentioned China for the first time and agreed to a rethink about the future.
In a joint declaration, the 29 heads of state and government also pledged to ensure that each country's next-generation 5G communications networks, which have been dogged by suspicion over Huawei, rely "on secure and resilient systems".
The document was published at the end of a half-day mini-summit at a golf resort in Watford, northwest of London, to mark NATO's 70th anniversary.
Its content was overshadowed by a public fallout between US President Donald Trump and Canadian Prime Minister Justin Trudeau over a video that emerged of the latter apparently gossiping about his US counterpart to other leaders.
But despite the public rancour, genuine issues of substance were agreed at the meeting, overseen by Jens Stoltenberg, the bloc's Norwegian secretary general.
Most strikingly perhaps, the allies issued their toughest language yet about Russian President Vladimir Putin's regime – even though French President Emmanuel Macron had previously voiced a desire for a thawing in relations with the Kremlin.
"We, as an alliance, are facing distinct threats and challenges emanating from all strategic directions," the joint declaration said.
"Russia's aggressive actions constitute a threat to Euro-Atlantic security."
A communique issued at the previous summit in 2018 also had tough language for Russia.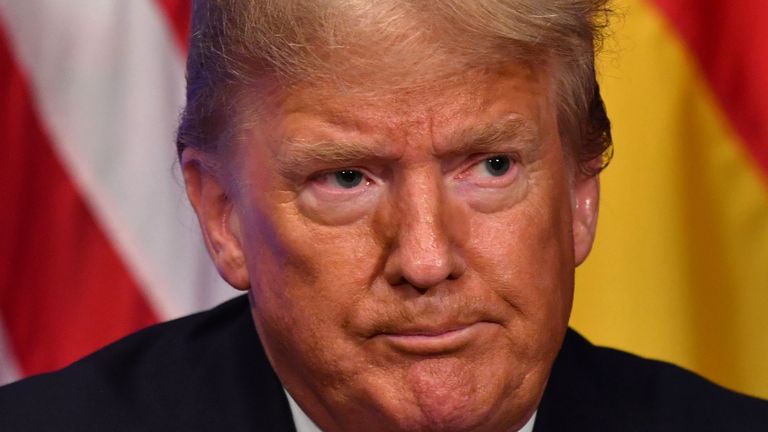 It talked about Russia as a destabilising influence and how it was challenging the security environment but stopped short of calling it a direct threat.
Wednesday's much shorter document also touched on terrorism – a topic that Mr Macron has cited as the one unifying threat for all NATO members.
The declaration said terrorism "in all its forms and manifestations remains a persistent threat to us all".
It also called out cyber and other forms of non-conventional threats.
The US has made clear it views the rise of China as its main foreign policy challenge.
Other member states have different opinions on their approach to Beijing but it is significant to see NATO widening its focus to include China.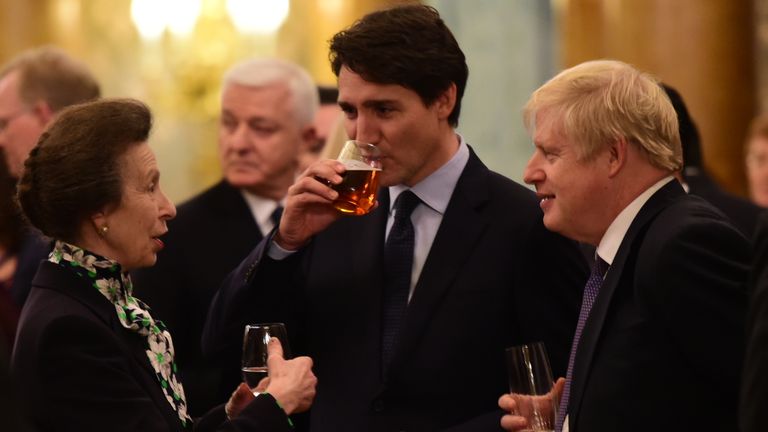 "We recognise that China's growing influence and international policies present both opportunities and challenges that we need to address together as an alliance," the allies said.
They touched on 5G, an issue of particular sensitivity for the UK as the next government will have to decide whether to allow Huawei access to its next-generation technology.
Mr Trump has made clear he would be opposed to this, creating a possible point of serious strain in the special relationship.
"NATO and allies, within their respective authority, are committed to ensuring the security of our communications, including 5G, recognising the need to rely on secure and resilient systems," the declaration said.
Mr Johnson was asked about 5G in a press conference at the end of the summit.
"On Huawei and 5G, I don't want this country to be unnecessarily hostile to investment from overseas," he told reporters.
"On the other hand, we cannot prejudice our vital national security," he added.
:: Listen to the Daily podcast on Apple Podcasts, Google Podcasts, Spotify, Spreaker
"Nor can we prejudice our ability to cooperate with other vital Five Eyes security partners – and that will be the key criteria that informs our decision about Huawei."
The allies also took action to address a declaration by the French president that the alliance was "experiencing brain death".
Since making the remarks in an interview with the Economist magazine, Mr Macron has pushed the idea of a group of experts, or wise elders, being tasked with thinking about the future direction of the alliance and its purpose.
The joint declaration addressed this point.
"Taking into account the evolving strategic environment, we invite the secretary general to present to foreign ministers a [North Atlantic] Council-agreed proposal for a forward-looking reflection process under his auspices, drawing on relevant expertise, to further strengthen NATO's political dimension including consultation," it said.
NATO summit: Donald Trump caught on mic laughing about Trudeau jibe | World News
Donald Trump has been overheard hailing his "funny" comment about "two-faced" Canadian Prime Minister Justin Trudeau.
At a Buckingham Palace reception for NATO leaders on Tuesday night, Mr Trudeau was caught on camera apparently gossiping about the US president.
Mr Trump gave his cutting assessment the day after his Canadian counterpart was seen talking to French president Emmanuel Macron about an unnamed associate during the reception to welcome leaders to the NATO summit in London.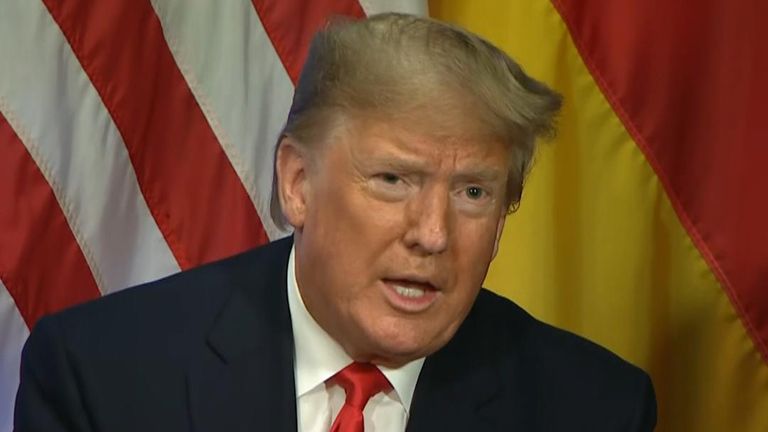 The US president branded Mr Trudeau "two-faced" and suggested the Canadian prime minister was not impressed with him pointing out Canada is not paying its promised 2% of GDP on defence.
"I find him to be a very nice guy but you know the truth is that I called him out the fact that he's not paying 2% and I can see he's not very happy about it," he said.
"He's not paying 2% and he should be paying 2%. Canada – they have money."
Mr Trump was later caught in an audio recording commenting to an unidentified individual about his decision to cancel his close-of-summit news conference.
The individual said: "You'll be in double digits for press conferences."
The US president replied: "And then you know what they'll say? He didn't do a press conference! He didn't do a press conference!"
In apparent reference to Mr Trudeau, Mr Trump then added: "That was funny when I said the guy's two-faced."
Prime Minister Boris Johnson, who was standing with Mr Trudeau, Mr Macron and Princess Anne when the footage was recorded, dismissed the video as "nonsense".
He told Sky News' foreign affairs editor Deborah Haynes he "doesn't know where that's come from".
Mr Trudeau also also moved to play down the video, insisting he enjoys a "very good relationship" with Mr Trump and that the pair shared a "great meeting" during the NATO summit.
Luxembourg Prime Minister Xavier Bettel later passed on some advice, saying: "Don't speak – even when you think no-one is listening."
Ahead of the Buckingham Palace reception, Princess Anne appeared to be in trouble with the Queen who pointedly looked at her daughter while greeting Mr Trump and his wife, Melania, before the princess, who was talking to someone else, shrugged her shoulders and laughed – as the Queen looked away stony-faced.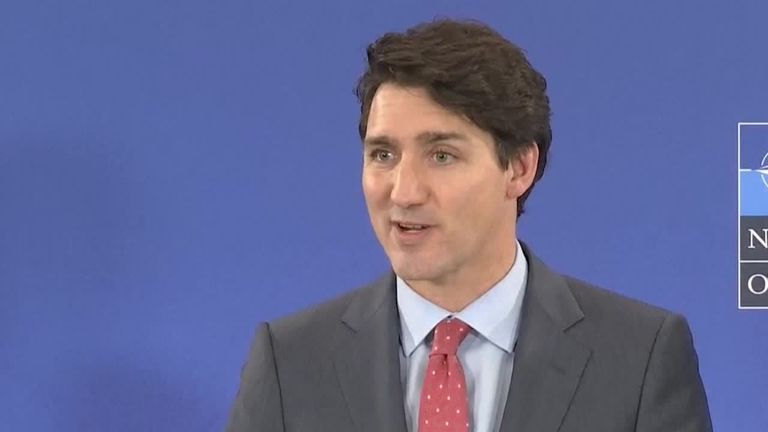 During the ensuing reception Mr Macron, who riled Mr Trump by describing NATO as suffering from strategic "brain death", was heard joking with Mr Trudeau, Boris Johnson and Dutch prime minister Mark Rutte about a "40-minute press conference" that had run late.
When Mr Johnson asks Mr Macron "is that why you were late?", Mr Trudeau replies "he's late because he takes a 40 minute press conference off the top" – seemingly a reference to the Macron-Trump meeting earlier in the day.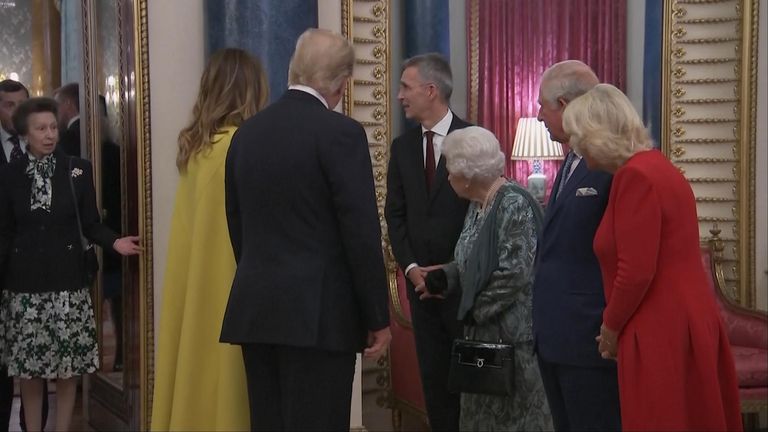 Princess Anne is also seen on the fringes of the conversation, which appeared to show Mr Trudeau making another cheeky remark about the press conference.
He tells his fellow leaders: "You just watched his team's jaws drop to the floor."
The NATO summit in London was notable for a few frosty meetings between the prime ministers and presidents who have gathered, notably between Mr Trump and Mr Macron.
Mr Trump certainly made his presence felt in London during several media briefings on Tuesday, not just in his tense appearance alongside Mr Macron.
The US president used a press conference with NATO Secretary-General Jens Stoltenberg to say he would not be offering any comment on the UK general election – only to then immediately do just that.
:: Listen to Divided States on Apple podcasts, Google Podcasts, Spotify, and Spreaker
Mr Trump said: "I'll stay out of the election. I'm a fan of Brexit, I called it. I was here, they asked if it was going to happen and I said yes and they smiled, it was just my opinion.
"I'll stay out of it, but Boris is very capable and I think he will do a good job."
Mr Trump and his fellow leaders capped off the day by marking the 70th anniversary of NATO at Buckingham Palace, where they posed for a traditional group photo alongside the Queen.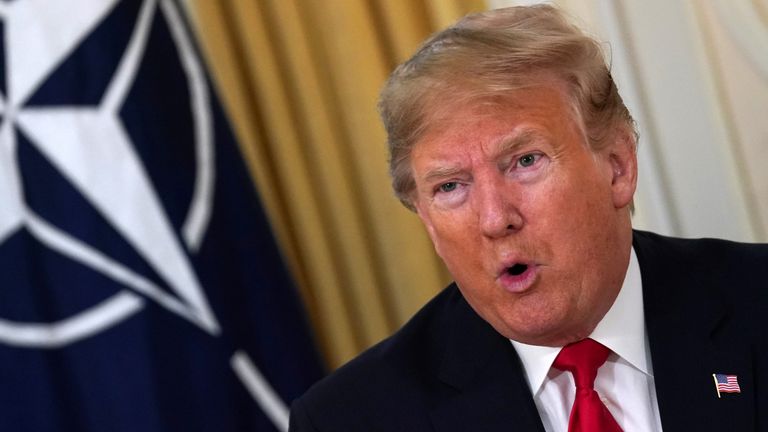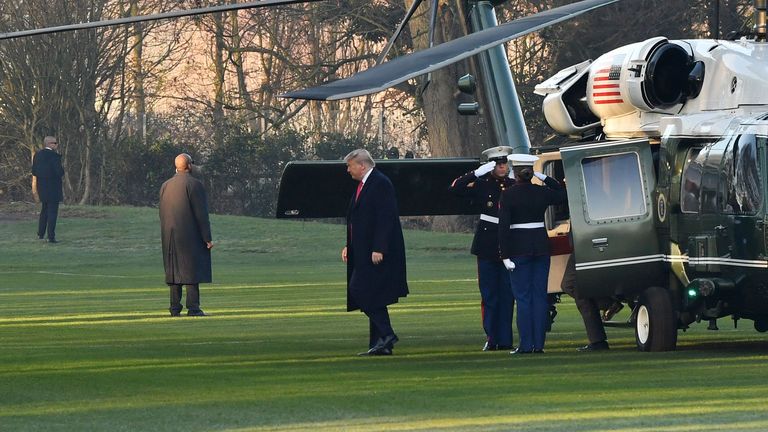 On Wednesday, Mr Johnson addressed leaders from all 29 member states at The Grove hotel in Hertfordshire.
Upon his arrival at the venue, Mr Macron said he did not regret saying NATO was experiencing "brain death" because it had spurred the right kind of debate about the direction of the alliance.
He told reporters that the remark "allowed us to raise some crucial debates".
Mr Johnson used a speech at the summit to attempt to bring harmony to the top of the alliance by echoing a famous phrase from the classic French adventure story The Three Musketeers, reminding colleagues that it is "one for all, and all for one" in the quest to keep their people safe.
The meeting was expected to consider new threats, including in the areas of cyber and space, after NATO last month declared they were among its operational domains alongside air, land and sea.
In his opening address, Mr Johnson said members were "rock solid in our commitment to NATO" and that leaders had the opportunity to "strengthen the unity of purpose" of the alliance.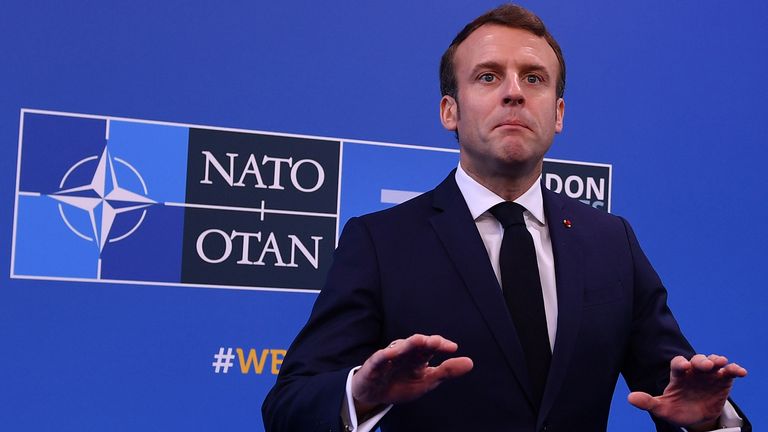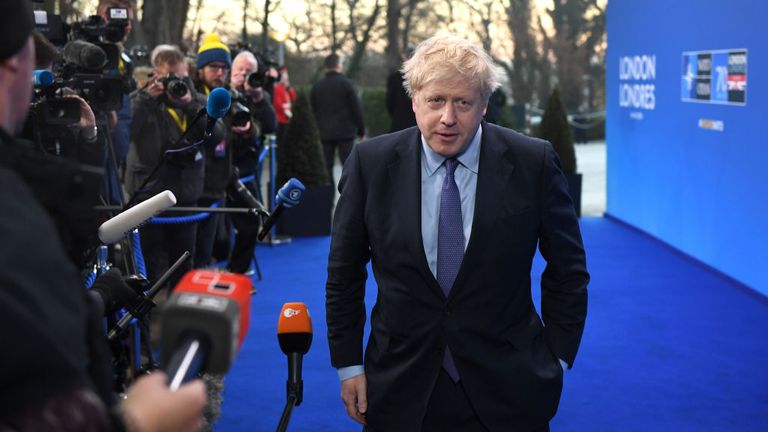 Analysis: Airing spats out in the open plays into the hands of Russia
By Alistair Bunkall, defence and security correspondent
After 48 hours of public bickering, the NATO leaders' gathering ended with two almighty sighs of relief.
First, the final declaration was passed without dissent; and then, secondly, Donald Trump cancelled his planned news conference and decided instead to head straight back to Washington.
That either of those can be considered good outcomes tells you much about how the rest of the meeting went.
We all knew it would be tense. NATO itself kept the event short to avoid opportunity for dissent.
Even so, some leaders (one in particular) just couldn't help themselves.
Usually these spats are played out behind closed doors.
To air them in the open only plays into the hands of NATO's main enemy, Russia, which seeks to divide wherever possible.
Read full analysis here.