While the controversy rumbles on the UK over the desire of the Duke and Duchess of Sussex to follow their own path, on the surface the people of Vancouver have accepted Meghan as one of their own.
The warmth felt for her is there for all to see in a photo from the Vancouver Downtown Eastside Women's Centre – she looks happy and comfortable in their collective embrace.
That warmth is not being felt by everyone.
Canadians are famously polite – but the media frenzy around the Duke and Duchess of Sussex is proving to be the thing that gets some of them riled up.
Being heckled in the street is an occupational hazard for news crews, it is unexpected when it comes from the nicest people on the planet.
It is clear, in British Columbia at least, that Canadians are taking very seriously their role as protectors of the royal exiles.
One couple were determined to make their point, interrupting our filming to tell us: "The media drove them out of England. You should just leave them alone."
Numerous business owners declined, politely of course, to talk about the royals at all. Some who have spoken publicly about their interactions with the couple, they said, have suffered a nasty backlash for doing so.
There is an odd mood: they are delighted and fascinated on the one hand but wary and defensive on the other, conscious that this circus might become the new normal.
Whatever media interest there has been on Vancouver Island, the duchess has on the whole very successfully avoided it behind the gates of a private estate in the town of North Saanich. She was photographed only as she stepped out in public to board a seaplane bound for Vancouver.
And plenty of people in this rugged and remote outpost, while respecting the couple's privacy, are very interested in discussing what their arrival will mean.
John Gill, who moved to Canada from the UK 65 years ago, said the couple should follow his example and earn their own living. He used some colourful language to describe how hard they should work.
Clutching his shivering Pomeranian called Samson, he said it wasn't right for the couple to expect the Canadian tax-payer to foot the bill for the new life. Others we spoke to share that view.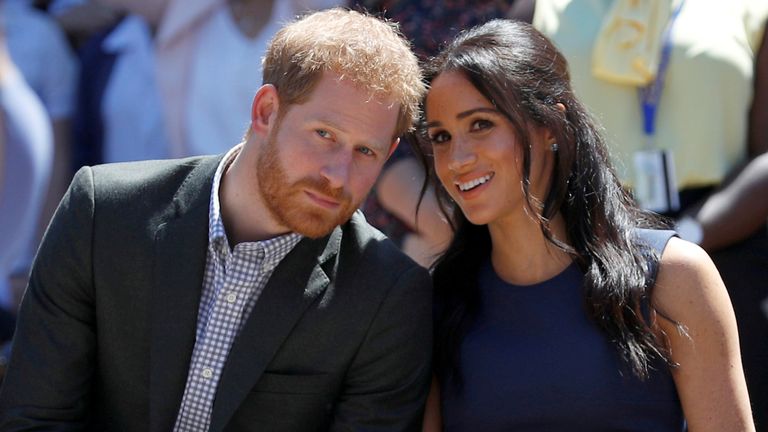 The financial implications are just one of the evolving issues surrounding the couple's touted move west.
An editorial in Canada's biggest selling newspaper suggested the country's government should refuse the couple permissions to settle here if they remain members of the Royal Family.
:: Listen to the Behind the Headlines podcast on Apple Podcasts, Google Podcasts, Spotify, Spreaker
"If they were ordinary private citizens, plain old Harry and Meghan from Sussex, they would be welcome," thundered the Globe and Mail.
"But this country's unique monarchy and, its delicate yet essential place in our constitutional system, means that a royal resident – the Prince is sixth in the line of succession – is not something that Canada can allow. It breaks an unspoken constitutional taboo."
The royals are fine at a distance, in effect, but not on our own doorstep.
For Canadians, the sooner some clarity comes about exactly how the Sussexes will make it work, the better.
'Gang life almost impossible to escape,' says former addict in wake of teenager's murder | World News
A former teenage drug addict and dealer says it is "nearly impossible" for young men enticed by the gangland crime lifestyle in Ireland to escape.
Philip Richardson, 51, spoke to Sky News ahead of a rally in Drogheda, County Louth, a community stunned by the brutal murder of a 17-year-old.
Keane Mulready-Woods, who had links to a criminal gang, was killed and his body dismembered in a ruthless escalation of a feud in the underworld.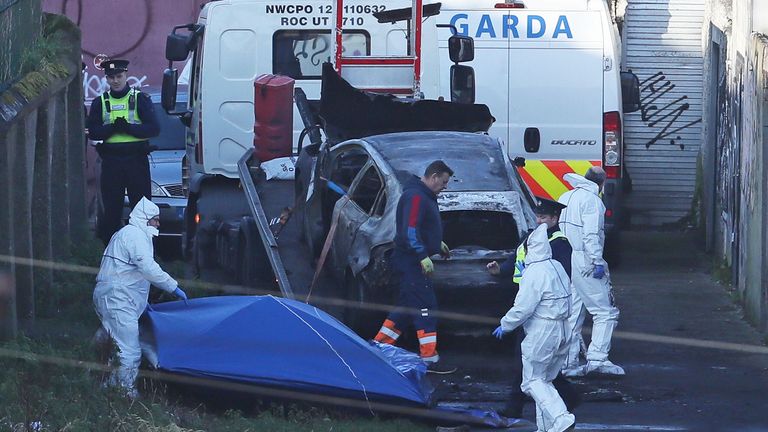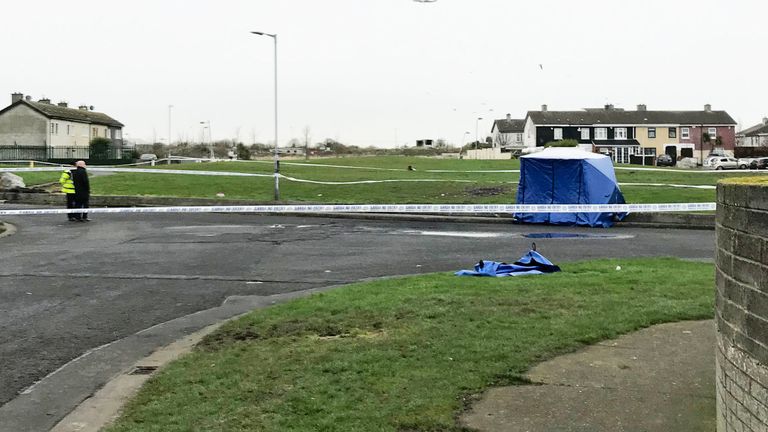 Mr Richardson said: "When you're so young involved in it and you get a taste of the money, and you get a taste of the power as a young boy, and you're drawn to people who you see as having made it, there's a tremendous power that takes over your life.
"It's nearly like you're addicted to the whole lifestyle. To break out of it is nearly impossible.
"The money, the recognition, you just want to please people and then of course, you've access to drugs, the best clothes, the best cars, all the things that you see in a Hollywood movie.
"It's just at your own doorstep and you think it's never going to end."
Police in Ireland have had some success in tackling the activities of major criminal figures, but smaller groups are filling the vacuum and some of them are more ruthless.
The teenage victim's limbs were found in a sports bag on a housing estate, and his head in a burnt-out car on the outskirts of Dublin.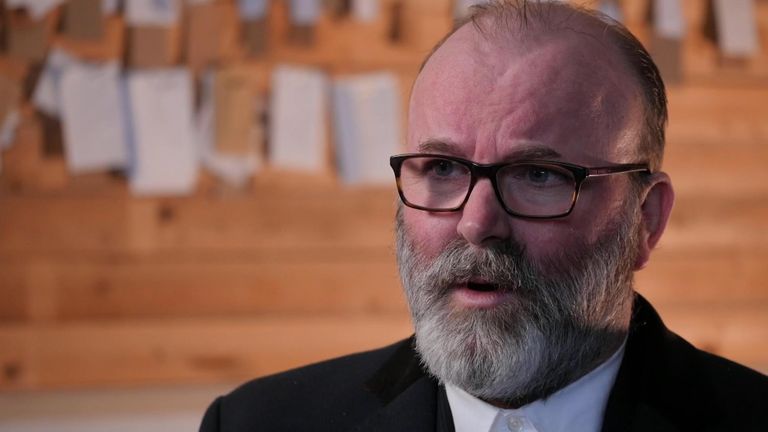 Detectives believe his killers were forced to abandon their plan to intimidate rivals by dumping his body parts on the doorstep of another local godfather.
Mr Richardson said: "Everything has changed. People are terrified. We're witnessing stuff now where we're becoming desensitised to people being murdered.
"We're losing our sense of decency and families are absolutely in fear. They want to protect their kids. They want to protect their communities."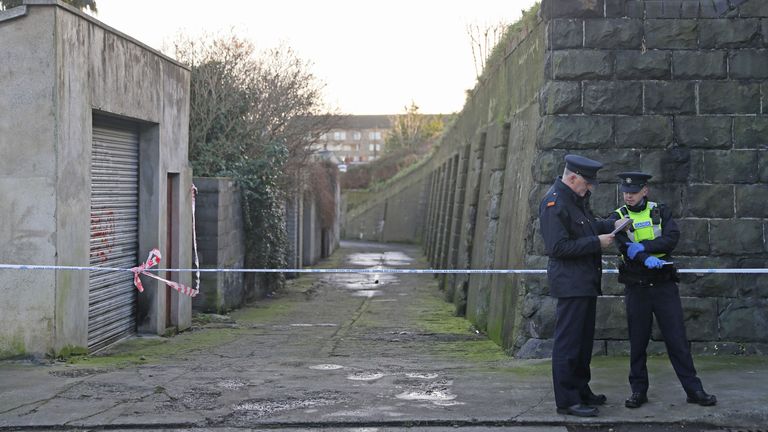 Mr Richardson, who says he would be dead by now had he not found faith, is pleading with this generation of young people to seek help.
He said: "I think what brought me to my senses was the reality that if I keep going the way I am, I'm going to die. I didn't want to die. I did an awful lot of damage in my world at that time.
"If I had have been around in the level of what's going on, I would have died.
"I would have ended up like any of those people in that world. I don't judge any of them. My heart breaks for them because human life is precious."
Coronavirus deaths rise to 41 in China as outbreak spreads to 11 other countries | World News
The number of people killed by the coronavirus has risen to 41 from 26 a day earlier, as the outbreak has spread from China to 11 other countries.
China's National Health Commission reported a jump in the number of people infected with the virus to 1,287.
All 41 deaths have been in China, including 39 in the Hubei province, the centre of the outbreak, one in Hebei and one in Heilongjiang.
The virus has also been detected in Thailand, Vietnam, Singapore, Japan, South Korea, Taiwan, Nepal, France, the US, Australia and Malaysia.
Health authorities across the world are scrambling to prevent a global pandemic.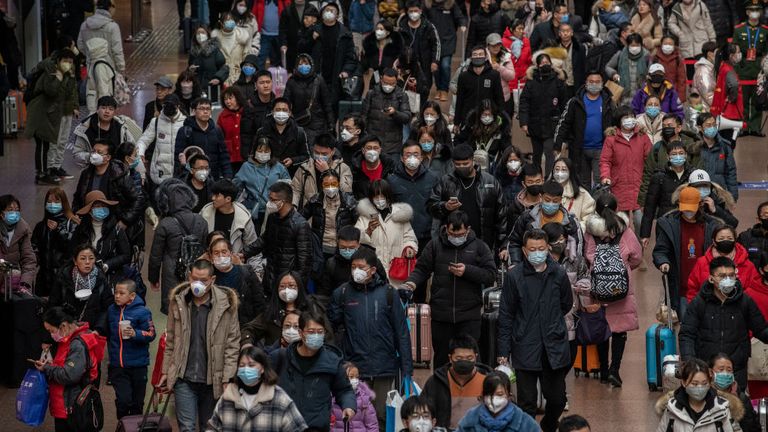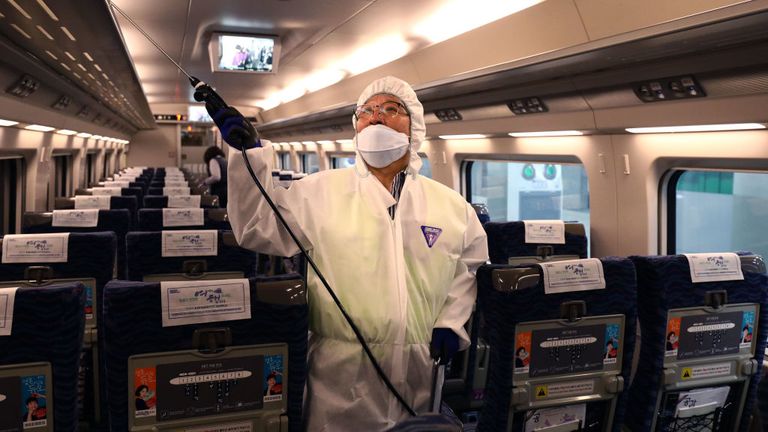 Australia announced its first case of the virus on Saturday – a Chinese man in his 50s who returned from China last week.
He had been in Wuhan and arrived from China on 19 January on a flight from Guangzhou. He is in a stable condition in hospital.
France said that three people had fallen ill with the virus – the disease's first appearance in Europe.
The US reported its second case, involving a Chicago woman in her 60s who was hospitalised after returning from China.
Malaysia has also confirmed three cases of coronavirus, the first in the Southeast Asia country.
Health Minister Dzulkefly Ahmad said the people infected were Chinese nationals related to a 66-year-old man that was confirmed by Singapore health authorities to have tested positive for the virus. Mr Dzulkefly said the individuals were the man's 65-year-old wife and his two grandsons, aged 11 and 12.
Medics are trying to trace 2,000 people who have flown from Wuhan to the UK in the weeks since the coronavirus outbreak.
Liang Wudong, a 62-year-old doctor at Hubei Xinhua Hospital who had been at the front line of the coronavirus outbreak, died from the virus, according to China Global Television Network.
It was unclear if his death was already counted in the official toll of 41.
Transportation was shut down in Wuhan, the city with a population of 11 million where the outbreak originated, along with 12 other cities in central Hubei province.
The unprecedented lockdown has kept 36 million people from travelling as China's most festive holiday began, with authorities cancelling a host of events for the Lunar New Year, which began on Saturday.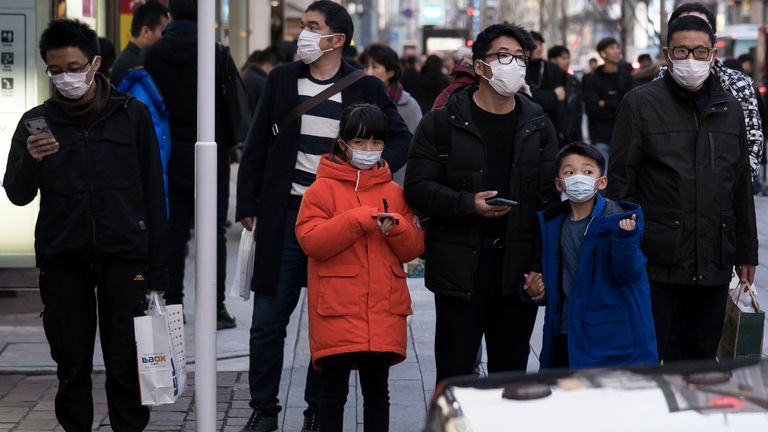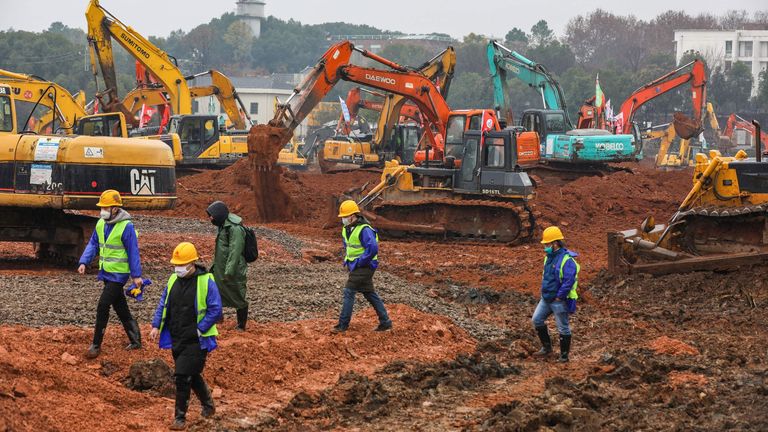 Airports across the world have stepped up screening of passengers from China, though some health experts have questioned the effectiveness of them.
Hospitals in Wuhan struggled with a flood of patients and a lack of supplies, while videos circulating online showed throngs of people in chaos as they lined up for examinations.
Some complained that family members had been turned away at hospitals that were at capacity.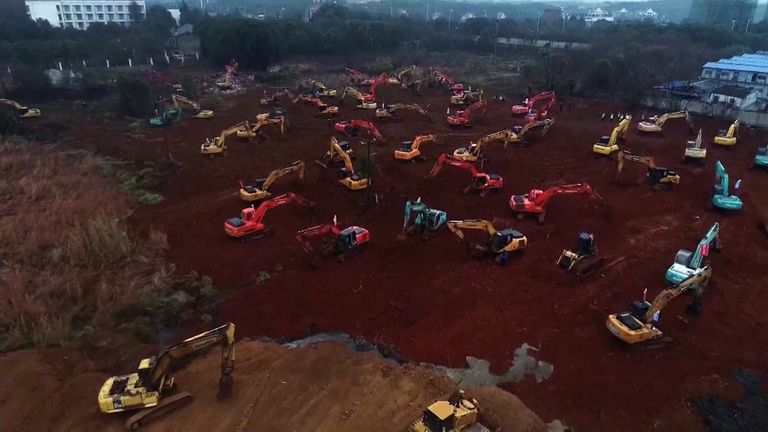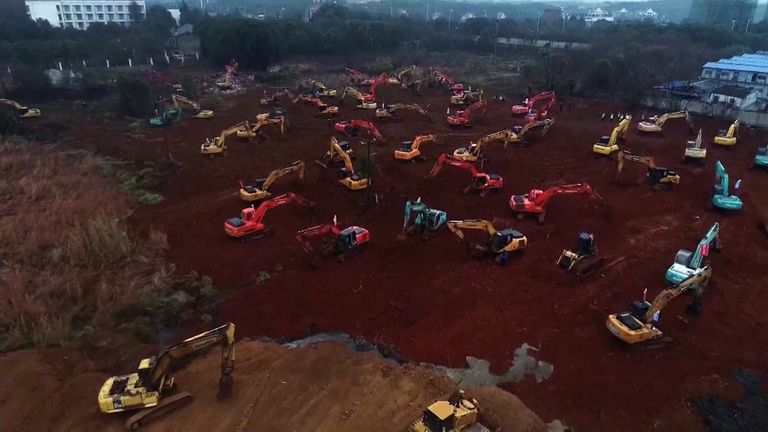 Authorities in Wuhan and elsewhere have put out calls for medicine, disinfection equipment, masks, goggles, gowns and other protective gear.
Officials added they are rapidly constructing a new 1,000-bed hospital to deal with the crisis, which will be completed by 3 February.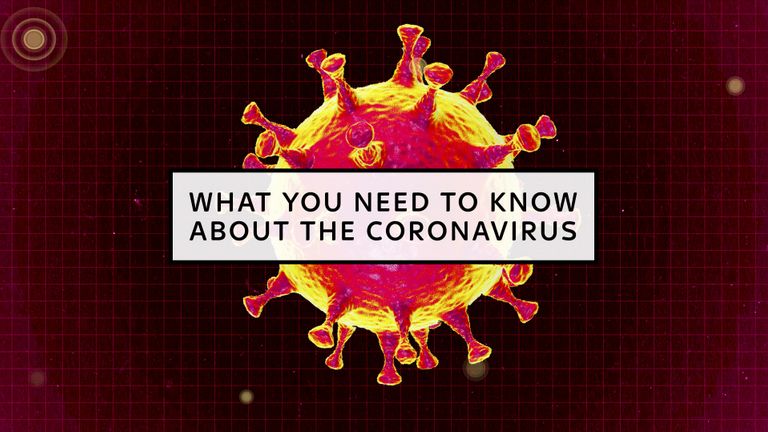 Hubei's health authority said on Saturday there were 658 patients affected by the virus in medical care, with 57 in a critical condition.
The US Centres for Disease Control and Prevention said it had 63 patients under investigation, with two confirmed cases – both in individuals who had travelled to Wuhan.
Apple Podcasts
,
Google Podcasts
,
Spotify
,
Spreaker
Human-to-human transmission has been observed in the virus – leading health authorities to believe it originated in a market in Wuhan that traded illegally in wildlife.
The World Health Organisation (WHO) declared the new coronavirus an "emergency in China" this week, however did not declare it of international concern.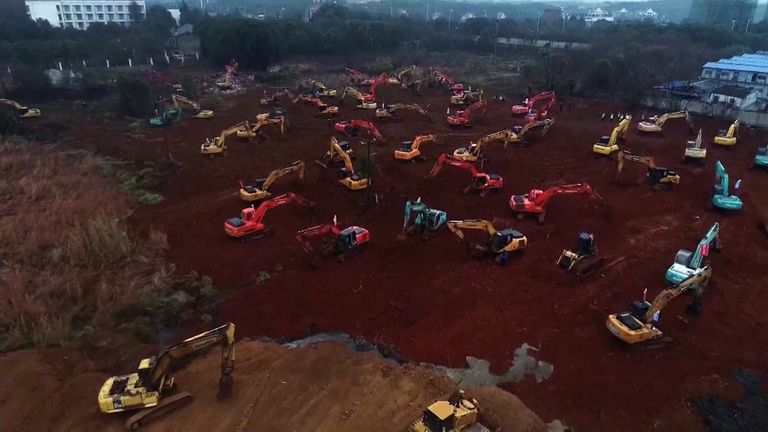 The virus has sparked concerns over the many unknowns surrounding it, such as how dangerous it is and how easily it spreads between people.
It can cause pneumonia, which can be deadly in some cases, and symptoms include fever, difficulty breathing and coughing.
WHO said most of the fatalities have been in elderly patients, many whom had pre-existing conditions.
As China works to contain the outbreak, some sections of the Great Wall near Beijing will be closed as well as other tourist attractions across the country including Shanghai Disneyland.
Turkey: Powerful earthquake kills 18 and injures more than 500 | World News
At least 18 people have been killed after an earthquake with a preliminary magnitude of 6.8 struck eastern Turkey.
Turkish officials said more than 553 people are injured, including 11 who are in a serious condition, and around 30 were left trapped in the wreckage of toppled buildings.
Hundreds of residents were left homeless or with damaged homes and buildings collapsed in affected towns near the centre of the tremor, which was felt in several neighbouring countries.
The quake jolted Elazig province, which is around 340 miles (550km) east of the capital Ankara, and was followed by dozens of aftershocks.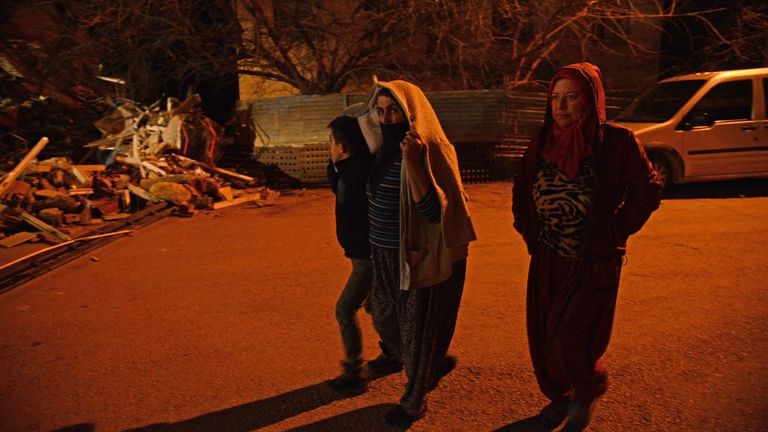 Health Minister Fahrettin Koca said 14 people were killed in Elazig and five more in the neighbouring province of Malatya.
He said two people suffered heart attacks and five others died in Malatya.
Meanwhile Interior Minister Suleyman Soylu said emergency workers were looking for 30 people under the rubble, adding that more than 500 people were hurt.
He described the earthquake as a "level 3" incident according to Turkey's emergency response plan – meaning that it called for a national help response but did not require international help.
Around 30 buildings had collapsed from the quake in the two provinces, according to Environment Minister Murat Kurum.
State broadcaster TRT showed footage of police and emergency workers searching a partly collapsed building in Elazig, as well as smashed windows and balconies that had crashed to the ground.
Rescue teams could also be seen working by hand to remove bricks and plaster from the ruins.
Emergency workers used drills and mechanical diggers to clear the debris, while injured people were taken to stretchers on ambulances.
Elazig residents whose homes were damaged were being moved to student dormitories or sports centres amid freezing conditions.
Mr Soylu added that the country, which is prone to earthquakes, had learnt lessons from past disasters which helped it address Friday's quake.
Drones were deployed in search operations and communication between provinces.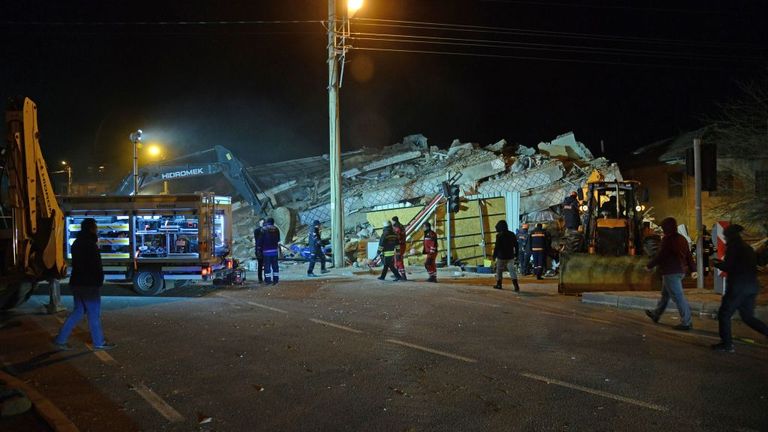 Turkish President Recep Tayyip Erdogan tweeted that all measures were being taken to "ensure that the earthquake that occurred in Elazig and was felt in many areas is overcome with the least amount of loss".
The quake struck at 8.55pm local time (5.55pm GMT) at a depth of 4 miles (6.7km) near the town of Sivrice in Elazig, the Disaster and Emergency Management Presidency (AFAD) said.
Several aftershocks followed, the strongest with 5.4 and 5.1.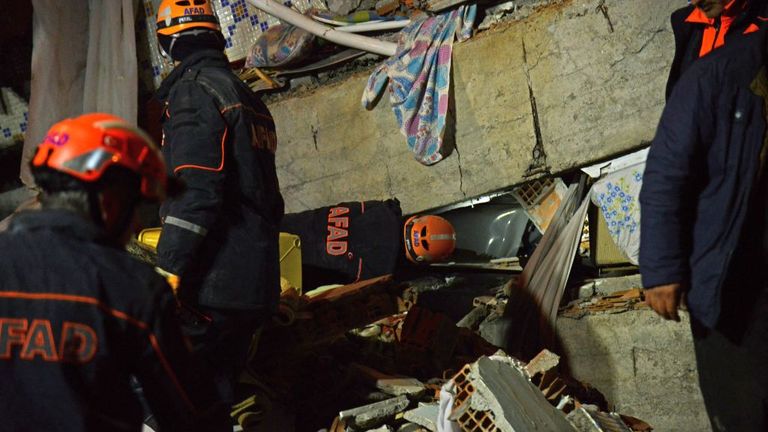 The AFAD warned residents not to return to damaged buildings because of the risk of further aftershocks.
It said beds, blankets and tents were being sent to the area, where the overnight temperature was below 0C (32F).
Syria in Iran both reported feeling the earthquake, according to the countries' state media.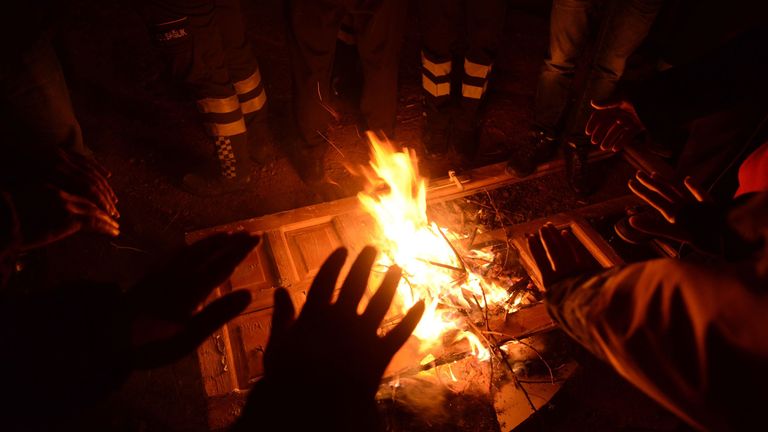 Turkey straddles seismic faultiness and has a history of powerful earthquakes.
In 1999, more than 17,000 people were killed when a 7.6 magnitude quake struck the western city of Izmit, around 55 miles (90km) southeast of Istanbul. Around 500,000 people were made homeless after the disaster.
And in 2011 an earthquake struck the eastern city of Van and the town of Ecris, killing at least 523 people.